Looks like hair pulled back is the most popular for hair styes whilst working out. Sometimes when I zumba I like to have my hair in my face so I can throw in some hair flips to get it out of the way. 😉
Also, slight correction to the slider from the other night. The chef sent me this far-more detailed description:
First we start off with the bowl, then 2.8 lbs of lean burger meat from costco. Olive oil, about 10 pinches of salt, lots of pepper, sauteed mushrooms and (preferred) vidalia onions, then a large amount of Hawaiian BBQ sauce and grated pepper jack cheese. Now that is all inside the burger. Then sliced up tomato and a few washed baby spinach leaves on a little roll and then you have an Awesome Slider!
Thanks chef!
***
On to today!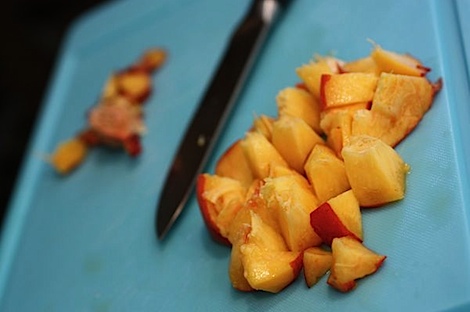 Have I mentioned I'm now addicted to my (vegan/GF) breakfast crisps. I mean…it's like eating dessert but for BREAKFAST! Amazing!
This morning I used a combination of farmers market peaches and blueberries – so fresh and so clean-clean!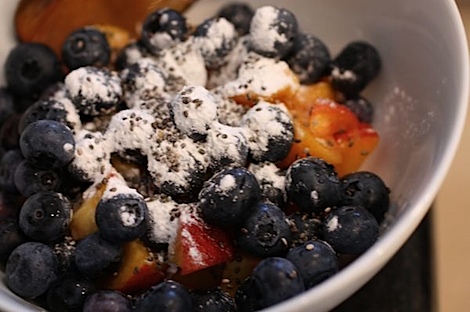 I added more chia seeds today, too.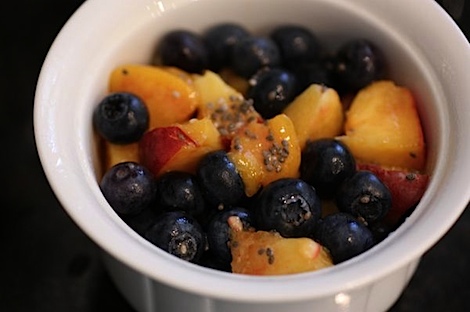 Ready for topping!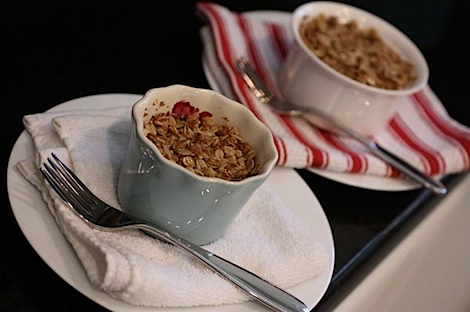 Even hubby wanted in on today's breakfast!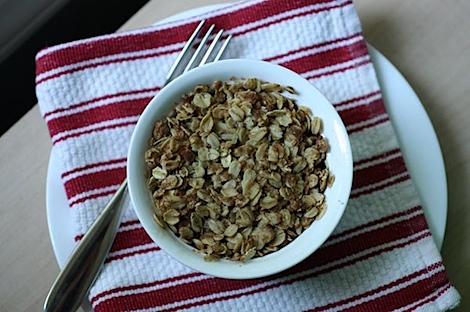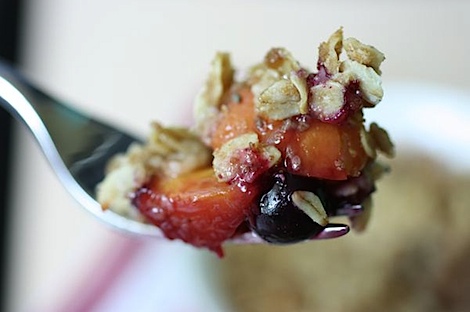 Besides being a delicious breakfast, this may be one of my fave ways to squeeze in a fruit serving!
Anywho, I actually took today off to try to get ready for the house warming on Saturday. Unfortunately, I slept in (good for me, bad for house-organizing) and the cabinets are still not done, so I couldn't put anything away!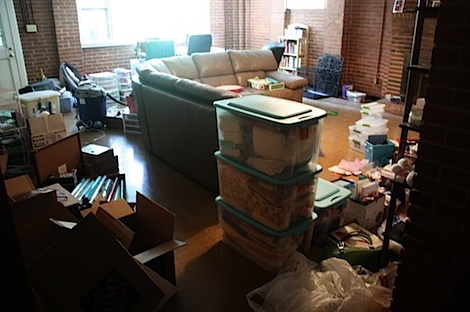 I managed to get some of this put up, but most importantly, I strategized on how to find a place for everything. A place for everything and everything in its place, right? I think so. When I have a specific place to put something, I'm pretty good about putting it back there. It's having that SPACE without any freakin FURNITURE! Grr. Anywho, I also managed to pick up some more bins from Target (made 2 trips there today…eek!), so I should be ready to go whenever those cabinets are finally done. Man, I really think I could take a month off work to just go through my stuff and get it organized like I want. A non-budget (as in endless funds) would be fab, too if we're thinking big here. lol
Hubby and I also had a nice date lunch since I was actually home and not on a phone conference.
Plus, we picked out some beautiful plants for the planters in front of the house! One of the main things I wanted in front of our house were 2 standing planters to greet our guests with friendly plants. Well, after working on hubby for the last couple months, we finally got some! And now, we even have plants in them!
***
Had another fabulous night of zumba! Tonight I led another slew of songs:
Work
Chaiyya Chaiyya
Elevator
Tik Tok
Valio la Pena
Plus I got to make class introductions and closing announcements – scary! Did I mention I have stage fright! I get nervous talking in front of a lot of people! I think I did ok tonight, though! 🙂
***
Post-class, I took my second Target trip, picked up stuff to cook and headed home. First thing…while there was a glimmer of light outside, I planted the plants from earlier (heard you should plant at the end of the day, not beginning).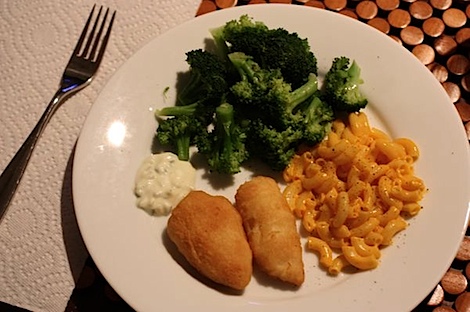 Dinner: TJ's breaded halibut, Annie's mac and cheese (scored this for $2 for the creamy kind at target!), steamed broccoli.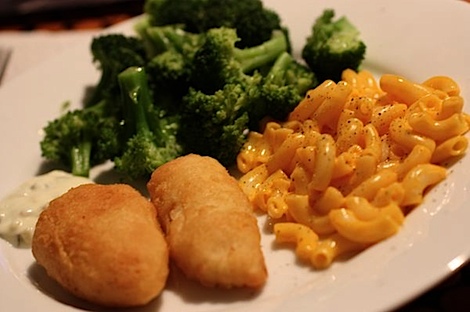 This is one of my fave easy-peesy meals to make. Though, hubby actually did most of the cooking tonight! 🙂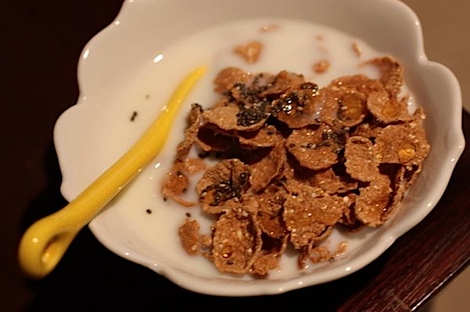 Post work cereal for dessert: multigrain flakes, honey drizzle, skim milk, chia seeds – b/c zumba works up an appetite for me!
What is your favorite easy/fast meal on your busy weeknights when you still want to cook but are short on time? (feel free to leave a couple!)