I LOVED reading everyone's "I Can't Believe I Used to Eat That!" foods. I think I was guilty of most of the same. lol
Here are some examples:
Diet Sodas
Chicken fingers (with a soup terrine of honey mustard!)
Fast Food
Hot Dogs
Ramen
Spagettios
Livermush
Snickers Ice cream
Fake parmesan
We're much better off nowadays, right?! *high five*
I was thinking today, the opposite of "I Can't Believe I Used to Eat That!" foods would be "I Can't Believe I LIKE Eating This Now!" foods. Sure you used to love your diet Dr. Pepper, but did you ever think you'd LOVE brussels sprouts?! If you had told me 10 years ago that today I'd really look forward to eating a big plate of brussels sprouts, or kale chips, or tempeh, I probably would have laughed in your face. But here I am, and I'm eating healthy foods and finding them delicious!
I'm surprised I now like:
vegetables in general (I really do love them now but could care less for them when I was a kiddo)
tofu
tempeh (didn't even know what this was until a couple years ago)
kale chips
spelt flour
quinoa
vegan and vegetarian entrees (I used to think I had to have meat in a meal for it to be complete – now I just want a protein)
non-dairy milks (almond, soy, hemp)
chia seeds
goji berries
veggie juices
What are your "I Can't Believe I Like Eating This Now!" foods?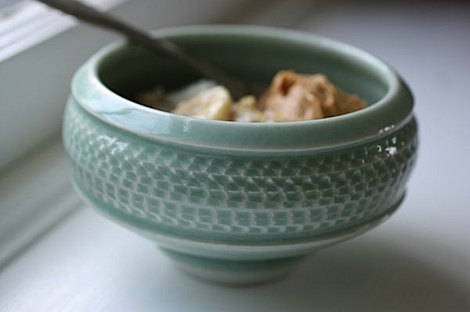 I started today with a big bowl of banana oats in my gorgey light turquoise handmade bowl.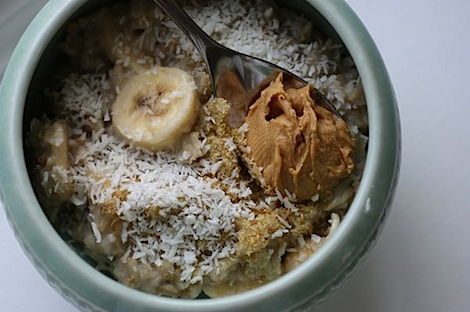 The bowl also contained chia seeds, almond milk, coconut flakes, flaxseed meal and White Chocolate Dreams.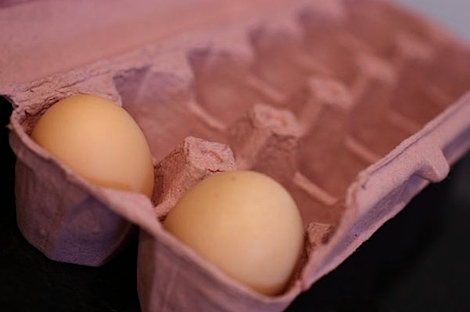 I used my last 2 farm-fresh eggs (from my first carton – I have a new one already!) to make lunch today.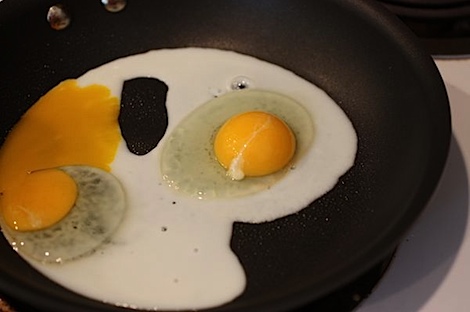 On the menu: Toasted Wraps with Sloppy Scrambled (aka Hubby Scrambled) Eggs.
Where might the name come from? Well, one of the first things hubby ever cooked for me was scrambled eggs. They were easy and safe. I like scrambled eggs. I have fond memories of making scrambled eggs with my family. My parents would carefully crack eggs into a large bowl, add salt and pepper, and a dab of milk, then whisk everything together till the yolks and whites were well-mixed. Imagine my surprise when I saw hubby cracking the eggs directly into the pan! The horror! How would the yolks and whites incorporate properly? Turns out they wouldn't…but I kind of liked it that way. There was something to that mix of yellow and white in separate, distinguishable colors and textures. I really enjoyed it.
These days, I switch between scrambling my eggs in a bowl or directly in the pan. I think each style has its own pros and cons, but the Hubby Scramble definitely means easier clean-up with one less dish to wash. (probably why I lean towards his method when I'm feeling lazy…heehee).
Sloppy Scramble How-To:
Step 1. Crack the eggs into a prepped pan (I spray non-stick in the pan) – don't worry if the yolks break.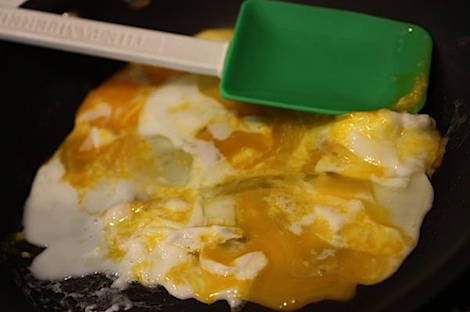 Step 2. Lightly stir the eggs so the whites and yolks are evenly distributed but not well-mixed.
Step 3. Continue cooking as you would regular scrambled eggs, flipping etc to ensure the eggs are cooked through.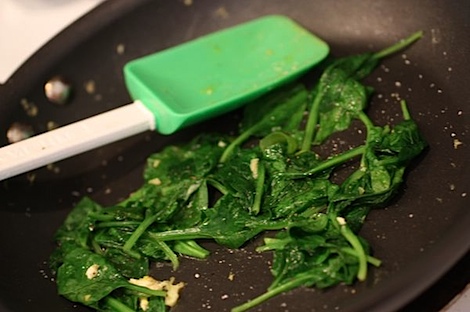 Today I also used the same pan to saute some baby spinach.
I spread the egg onto two small WW tortillas, then added spinach, feta, and a wee bit of tomato juice. I think sun-dried tomato pesto or tomato paste would have been better, but I had the juice leftover from Sunday's brisket so it seemed like a good idea. It turned out to be a bit watery…oops!
I wiped out the saute pan and used it to toast my wraps. I love that lightly crispy outside.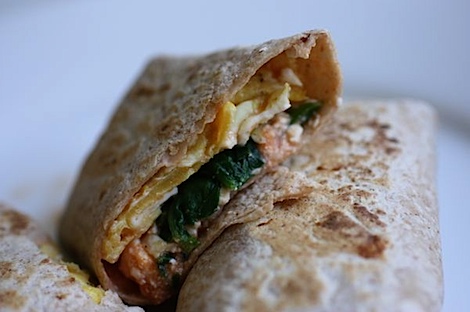 Beautiful colors inside! Tasty too! I loved the tender/crispy tortilla/wrap outside with the warm eggs and spinach. I think a cheese that melted better may have been more up my alley, but it's nice to change up my flavors…I almost always do a more cheddar-type cheese with my eggs.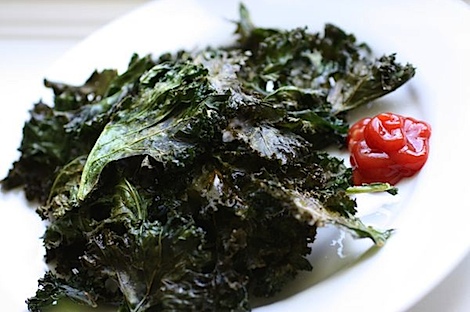 Nice and crispy and tasty dipped in ketchup.
***
This must have been a longer week than I thought. I ended up falling asleep on the couch for about an hour. I usually don't nap unless I'm really stressed or sick/getting sick. I hope it's not the latter!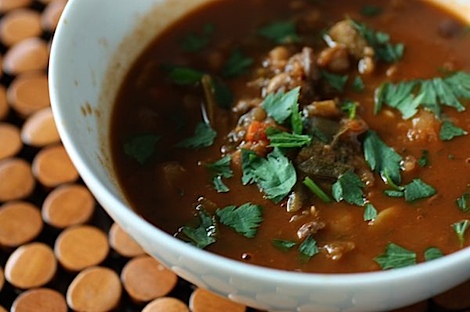 My impromptu nap + an impromptu thunderstorm outside got me craving comfort food. I turned to some of mom's soup stashed away in the freezer – Beef + Bean. I freshened up my bowl with some parsley from my herb garden. The soup was hot and cozy and hit the spot with brothy bites of tender beef and beans. So delish!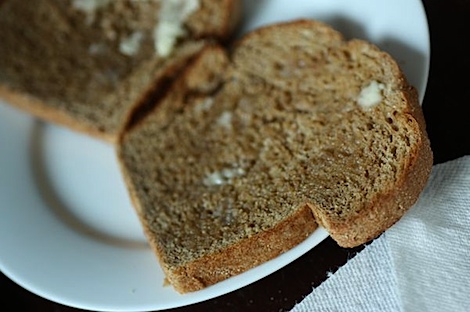 Plus a piece of buttered WW toast on the side. I love great bread with my soup. It's so superior to crackers!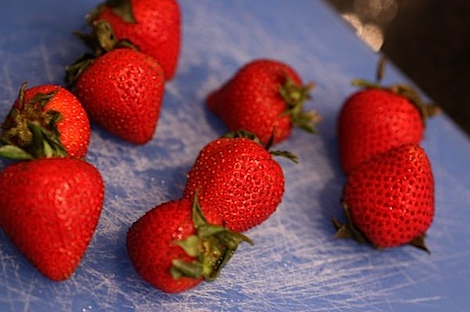 I decided dessert would be a good idea, too. Keeping with my comfort food theme, I thought a lovely berry crisp would be perfection.
I chopped up the last of my organic strawberries for tonight's dessert. They were not as ripe as the others I've already eaten and weren't looking their freshest. I figured baking them would help make them taste their best.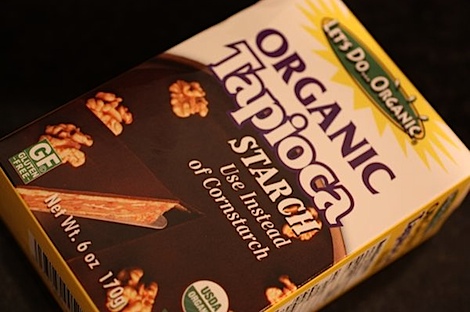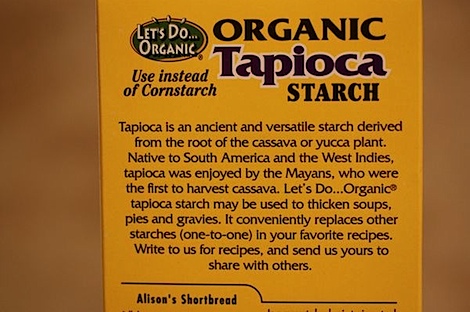 I busted out some Organic Tapioca starch to try out in place of corn starch.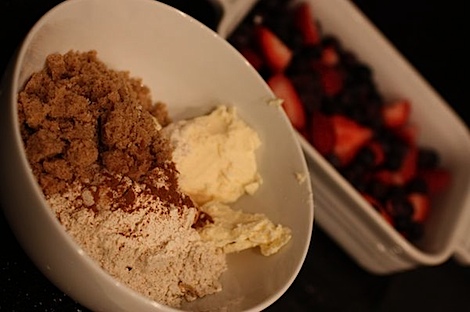 Ingredients.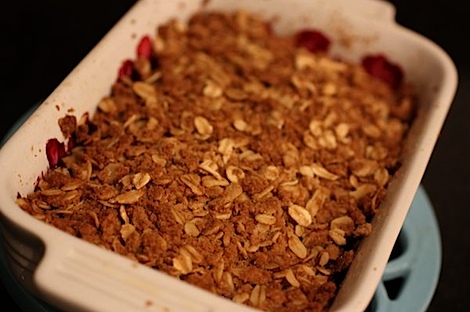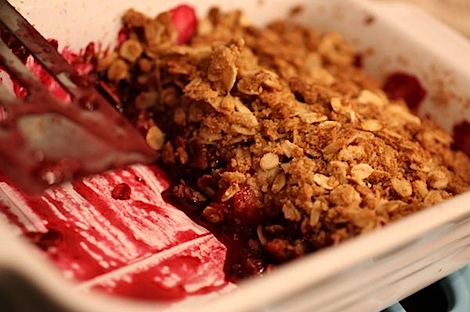 Fresh out of the oven. Gosh it smelled like heaven!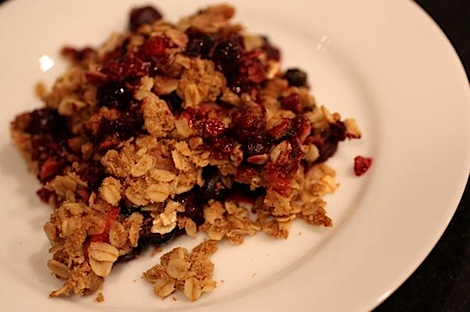 I enjoyed a big piece whilst catching the end of Part 1 of the Real Housewives of NY reunion. I can't believe they have 3 parts! It must be juicy!
Mixed Berry Crisp/Crumble
Note: I like a lot of crumbly topping so I went a little heavy on the toppings. Serves 2. (vegan) (can be gluten free too if you ensure the oats and spelt are GF)
Ingredients:
1 1/2 cups mixed berries (I used fresh strawberries and frozen blueberries)
1/2 tsp tapioca starch (or cornstarch)
1 tsp sugar
1/2 cup oats (I used rolled oats)
1/4 cup spelt flour (or use whatever flour you have)
heaping 1/4 cup brown sugar
1/4 cup EarthBalance (or butter)
dash cinnamon (or 1/4 tsp)
pinch salt
Directions:
Pre-heat oven to 350 degrees F and prep a small baking dish (mine was 4 1/2″ x 7″) with non-stick spray.
In a medium bowl, mix berries, tapioca starch, and sugar. Pour into baking dish.
In another medium bowl, mix oats, flour, brown sugar, salt and cinnamon. Use fingers to mix EarthBalance into the dry ingredients. Pour the topping over the fruit and use fingers to spread evenly.
Bake for 30-35 minutes or until the top is just browning and the sides are starting to bubble.
Let cool for 10-15 minutes before serving.
Enjoy!
Remember to tell me your "I Can't Believe I Like Eating This Now!" foods.
Can't wait to see what you guys have to say about this one! 🙂