So…as you guys know, I'm tuning the big 3-0 later this year. ARGH! lol. I've always said that instead of dreading it, I want to throw a massive party and celebrate my new age. I mean, 30 is the new 20, right?
Anywho, I definitely am starting to notice some signs that I'm leaving my 20's and entering my 30's.
Example: The new MTV Real World cast just hit TV and I'm not really interested…at all. Not that I was ever a raging Real World fan, but I used to enjoy watching it. Now I find it…kind of…boring? (though I do still like the Hills) I know there are some more good examples, but this one popped into my head since the Real World came on TV tonight. lol
Anyone else out there departing your 20's? What about 30's? 40's? 50's? More? What's a sign you've noticed lately that you're growing up and older?
***
I had an impromptu mid-week breakfast out with my friends Megan and Alex. We hit up The Flying Biscuit where I made a pint-sized High Flyer. Ok, it didn't have all the elements, but it did have my faves: that freakin irresistible oatmeal pancake and peach topping, plus a fried egg over medium. Megan was a doll and gave me half a chicken sausage (which is what I probably should have gotten instead of the egg – I like to get things I don't make at home when I'm out) and a wee piece of her biscuit.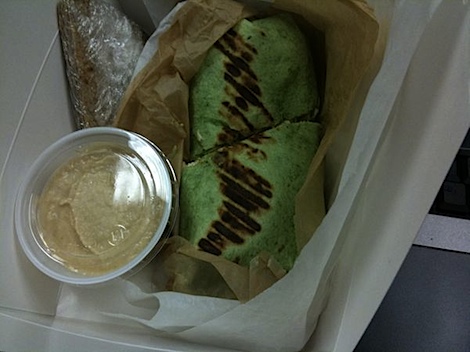 I had co-workers in town for some meetings and they let me order food again! I ordered eats from a local healthy restaurant that sources as much organic as possible. The food was a big hit with everyone. Yay for healthy eating!
I had a chicken wrap with spinach, guac, tomatoes, cucumbers and a side of hummus and WW pita.
I ended up staying at work till after 7pm and then chatted with a co-worker till 7:45pm! I didn't get home till 8pm, but lucky me, hubby is turning into quite the chef.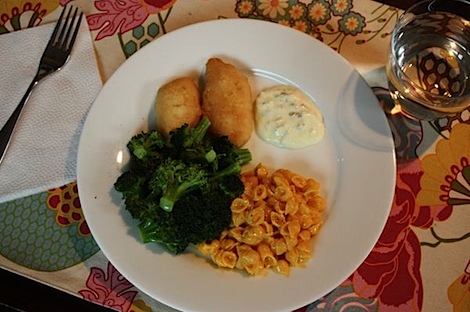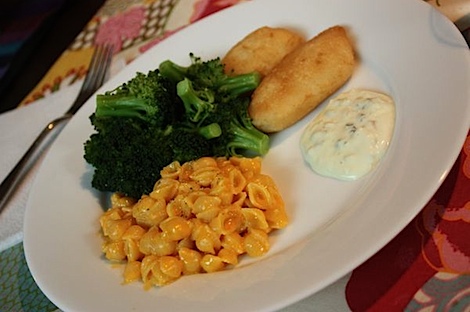 He whipped up some TJ's breaded halibut, Annie's mac and cheese (the creamy kind) and steamed broccoli with a drizzle of real, melted butter.
Remember to weigh in on signs you're growing up! What have you noticed lately?