After breakfast, I quickly headed upstairs. Check out came faster than I thought and I was literally rushing out the door with my bags mostly packed by my swag not quite fitting.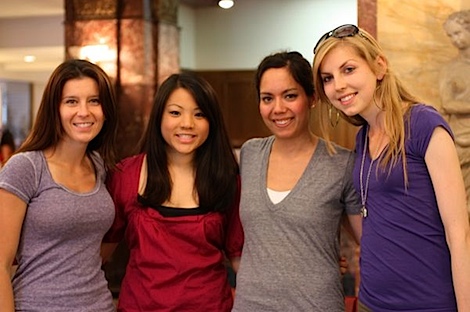 I chatted with friends in the lobby…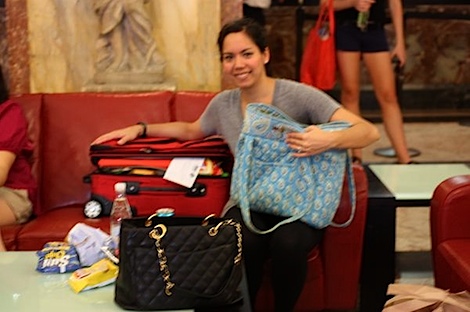 …while trying to fit my swag into my bags. They weren't kidding when they said bring an extra bag for the swag alone!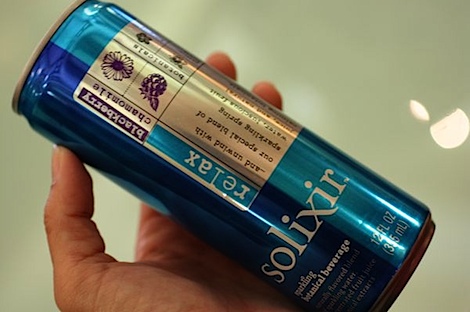 Since we can't take liquids on planes, I went ahead and drank this solixir sample from the swag bag. It was pretty good and basically reminded me of a mocktail.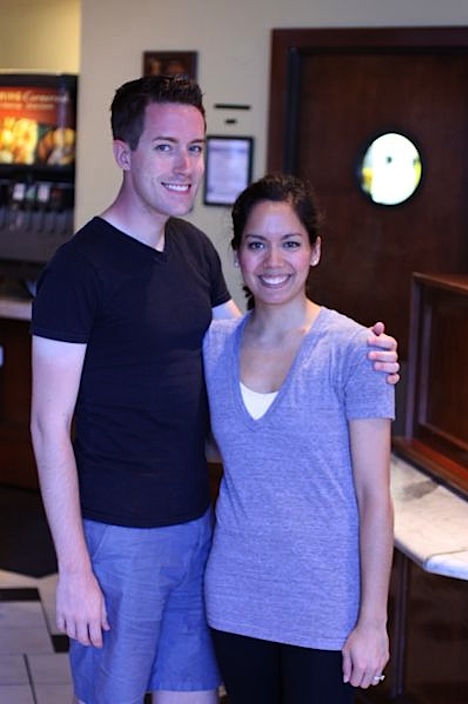 I was so happy to have time to see one of my bestest friends Steven while I was in town. Steven and I grew up figure skating together so we've spent quite a bit of QT together over the years. So funny hanging out now that we're all adult-y. 🙂 I had a blast catching up over lunch and was quite thrilled to learn he was on twitter! Hooray!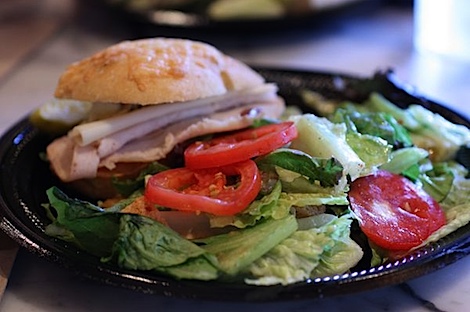 We went to Corner Bakery and I grabbed a Turkey Frisco and garden salad combo – both were quite tasty (though I wish the sammie was on WW bread).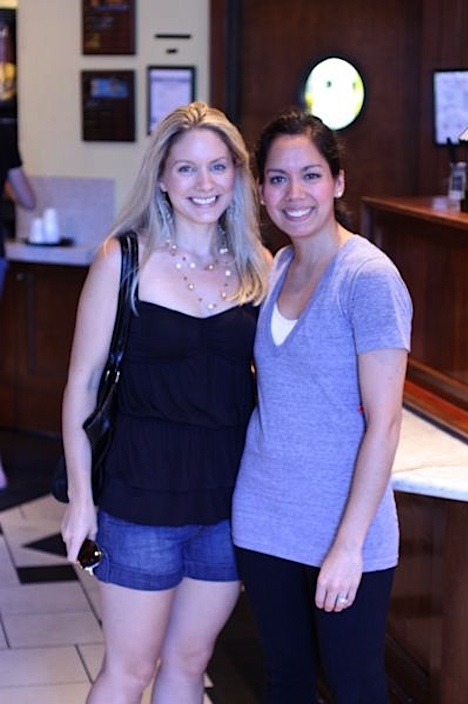 And look who I ran into over lunch!
***
After bidding a sad farewell to Steven, it was time to head home! I thought by booking a 6pm flight that I'd have all day to see Chicago, but by 2:30pm, it was already time to head to the airport (takes about an hour+ to get there from where we were).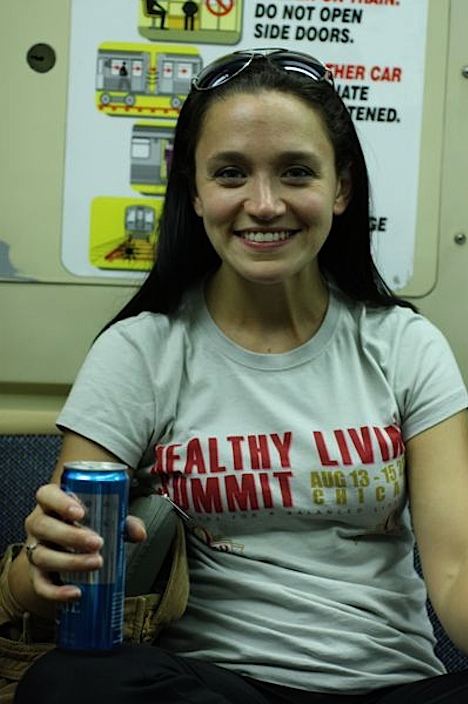 Emily was my travel companion.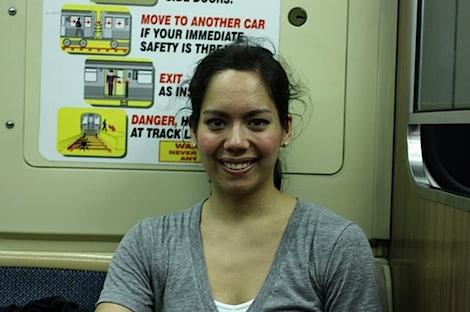 I was feeling frazzled (you can probably tell from the photo) all day (I hate the hassle of traveling) but Emily helped keep me cool.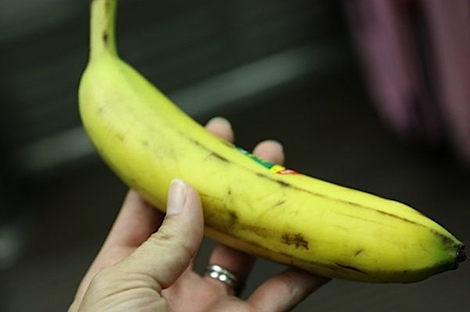 Banana on the train.
Got to the airport around 3:30pm and decided to head to my gate and hop on the wifi. Too bad Emily and I were not on the same flight! 🙁
And thank goodness for the swag bags and for kind roomies because I had the longest trip home!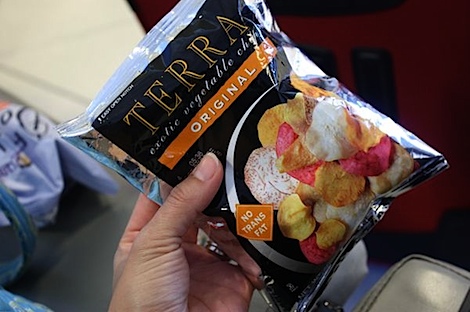 I downed this Terra chip sample… (thought they were pretty good but wished they were more salty. I know less is healthier but sometimes you just want something salty)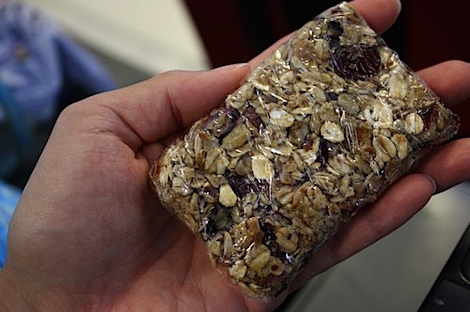 …and an Alliebar before boarding the plane.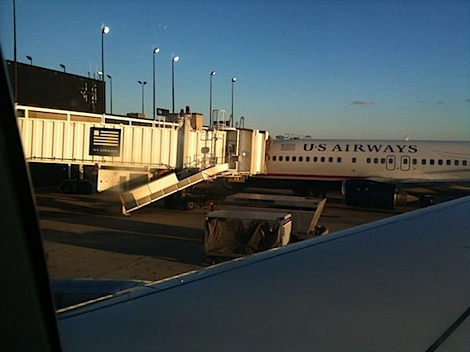 My flight was supposed to leave at 6:20pm. Around that time, we pulled back but then stopped. After 5 minutes, I knew something was off. They waited a bit longer before announcing there were maintenance issues and we had to go back to the gate. We sat on the plane for an hour while they worked on the technical difficulties. Here's my lovely view – thank goodness I had a window seat!
I think most people would be pretty frustrated by being stuck on a plane for that long but I was just glad they discovered the issue BEFORE we got the plane in the air. I'm afraid of plane travel so I don't get upset about delays, etc…all I care about is getting home SAFELY.
Anywho, eventually they announced that we'd be getting on another plane. We had to get off the first plane and onto a new one.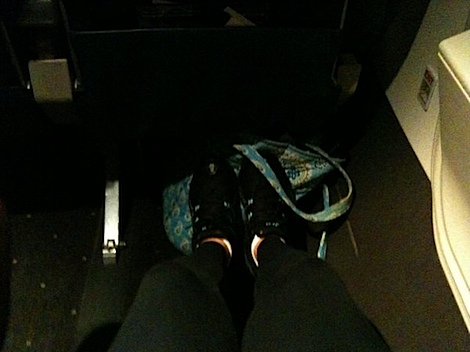 My new seat came with an exit row (which I didn't have on the first plane) and therefore extra leg room. Score!
It would have been daylight when we originally left but we didn't end up taking off until around 8:15pm.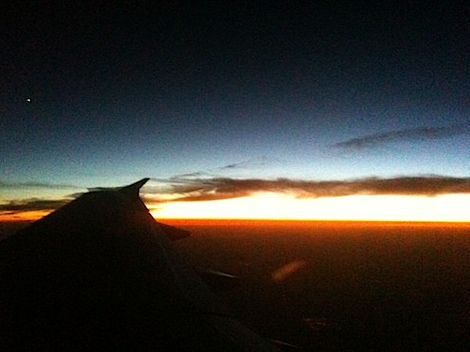 By that time it was dusk and I enjoyed one of the biggest sunsets I've ever seen. It seemed to span across the horizon as far as I could see and it was just gorgeous.
Hubby had planned to cook up a healthy dinner for me, which would have been late – around 9pm. By the time we got in the air, I was feeling pretty hungry and almost ordered a Ramen noodles. Hot soup sounded so comforting, but I held back in hopes of home-cooked food.
Finally arrived with our flight touching ground at 10:37pm. 1 1/2 hours behind schedule but SAFE. Thank God!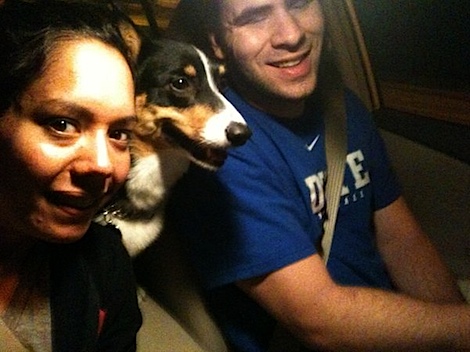 Hubby picked me up with Bailey in the car. It was so cute to see both of them driving up to get me at the airport.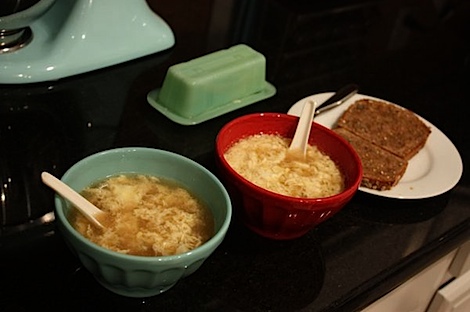 Even though it was late, I whipped up a quick egg drop soup with some Whole Grain Goodness toast (with a dab of real butter) for a light dinner.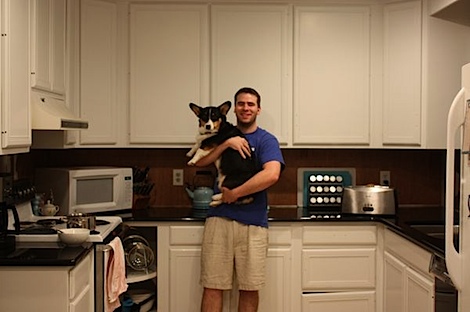 Doesn't the kitchen look fab (besides the obviously missing backsplash)? Hubby was a busy bee this weekend and cleaned and polished our countertops! Lovely!
So glad to safely be home now. Too bad I still have to work Monday even though I didn't get in till so late!
Luckily I have a recorded Drop Dead Diva to catch! Yay!