Greetings from the Carolinas!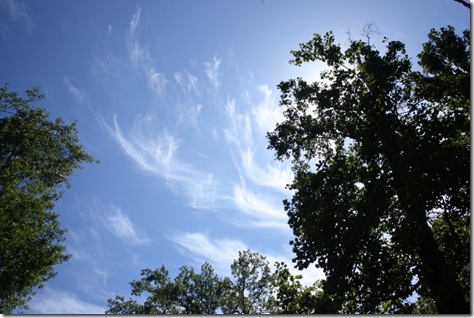 The weather here is amazing!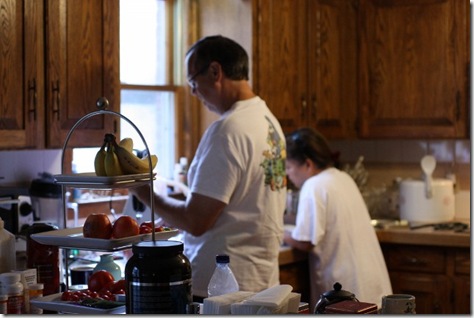 My parents put together a beautiful breakfast today.
Fluffy eggs and cheese, banana nut muffin, potatoes and fresh fruit.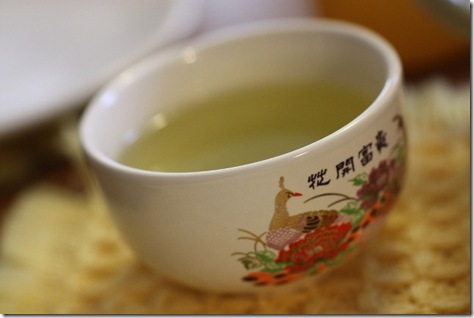 Plus green tea sis made.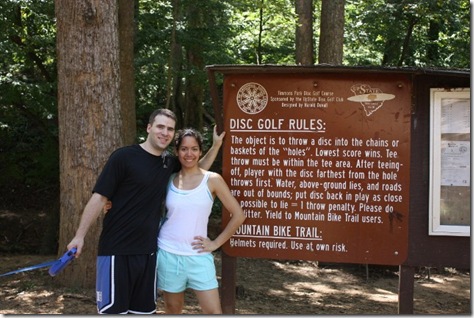 Immediately after breakfast, hubby, Sis and I took off to meet friends for disc golf.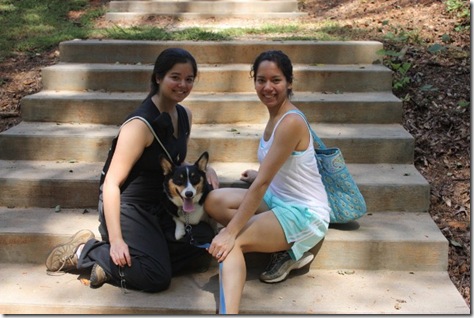 To be completely honest, I really didn't want to go. I've dodged the last few invites from Sis due to her inviting me when I couldn't go (just as we were leaving town…shucks!), but today I had no excuse. I told Sis last week that I'd go so I was locked in this time. I was dreading disc golf all morning.  🙁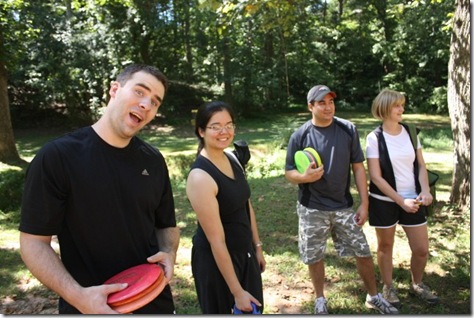 See, I don't like to do things I'm not good at, typically. Never having done disc golf, I just figured I'd be terrible at it. Not only that, I didn't want to embarrass myself in front of my sister's friends (or sis or hubby) looking like a moron.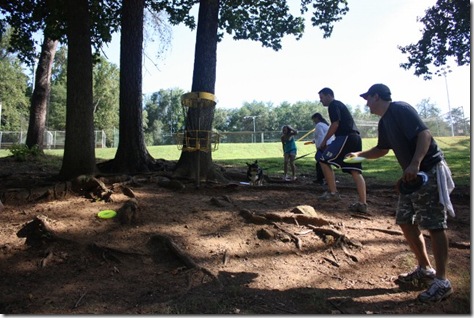 But, you know what…I reminded myself that the first time I went to zumba I had similar feelings. I was worried I wouldn't be good at it, that I'd be too uncoordinated and that I'd embarrass myself in front of others. But I went anyways, fell in love and became an instructor. If I had let fear get the best of me, I wouldn't be having the fun workouts that I enjoy like I do and I wouldn't have met many of my amazing friends.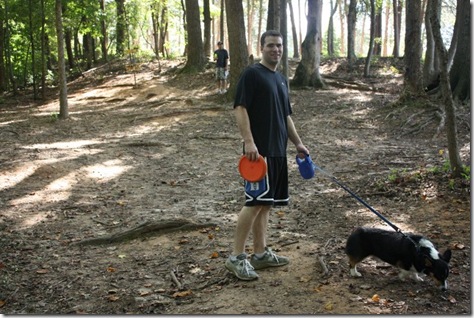 So, I sucked it up and headed out for disc golf today, determined to give it a fair shot. Hubby and I even brought Bailey along for the fun.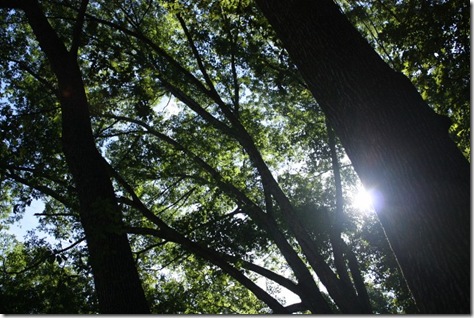 And guess what…I had a great time! 🙂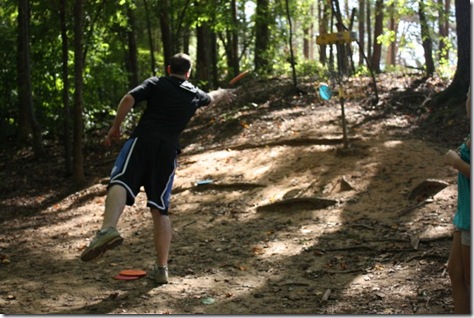 I wasn't all that great at disc golf, but I did meet some cool people, got some QT with hubby, Sis and Bailey and enjoyed plenty of fresh air and sun.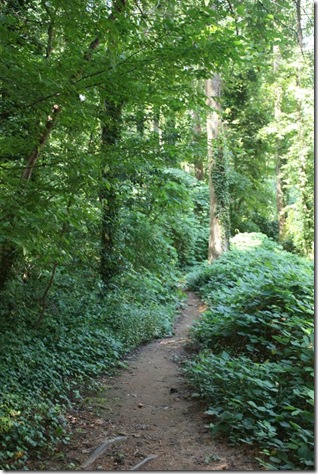 The weather was so nice today, it was really great to be outside.
Group shot: Hubby, Cheri, Michael, Regina, her grand-daughter, Sis.
Action shot!
I had some really terrible throws, but most were average. I did however have 2 highlights:
1 fabulous long-distance put that surprised even me
1 par hole (got it in 3 shots!)
Sweet!
Cheri got her disc stuck in one of the baskets – totally 0n accident!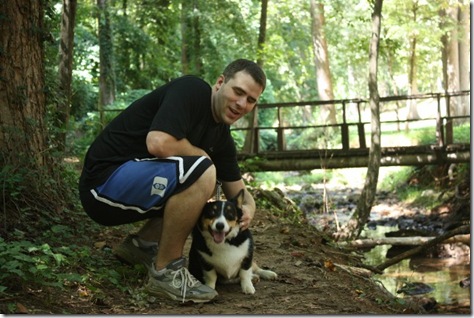 Bailey had a really great time – he's all tuckered out now!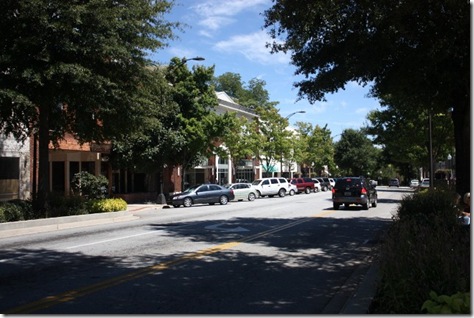 Post disc golf, we headed downtown in search of a treat.
Froyo! We hit up the local froyo place I've been wanting to try for the longest time – BlueberryFrog.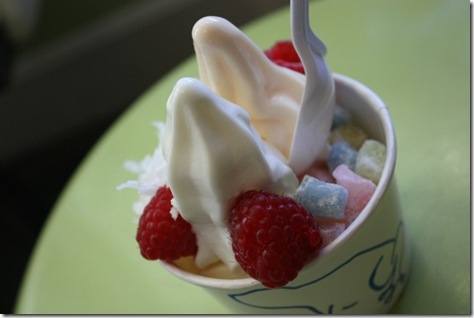 I got 1/2 plain, 1/2 peach with mochi cakes (colored ones this time!), raspberries and coconut. It was sooo good and hit the spot!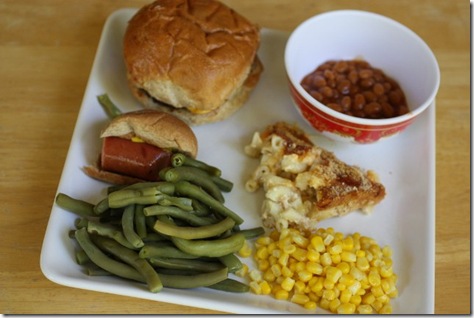 We came home to a feast: hamburger, hot dog, green beans, corn, macaroni and cheese and baked beans.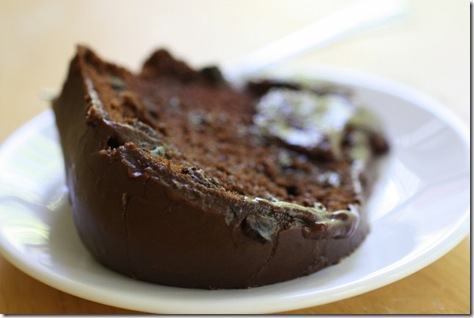 I definitely had more dessert – that cake!
After some chill time and watching a couple episodes of Snapped, sis and I went out to Whole Foods for Chic Bar ingredients.
We decided to get Indian for dinner while we were out and hit up Saffron Indian Cuisine, which had gotten a lot of recommendations per Sis.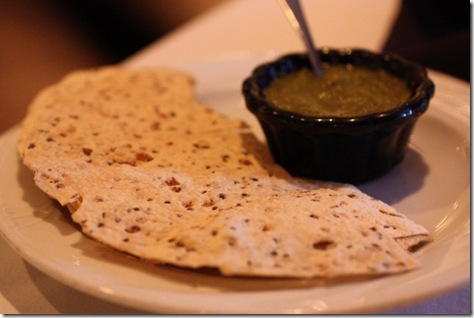 We were greeted with a lentil cracker with mint/cilantro sauce. It was neat and very good!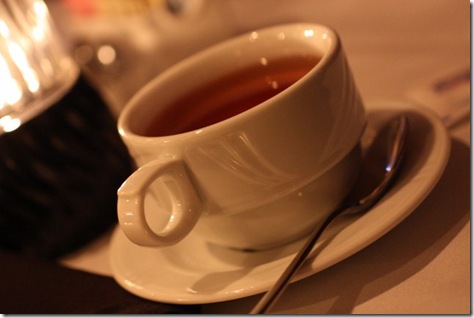 Sis and I also each got Indian tea with milk and sugar. It was fabulous!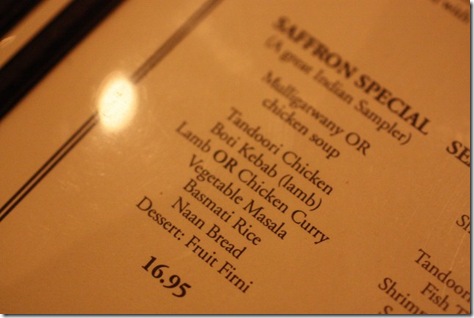 We decided to split with Saffron Special with soup, Tandoori Chicken, Boti Kebab, Chicken Curry, Vegetable Masala, Basmati Rice, Naan and even a dessert!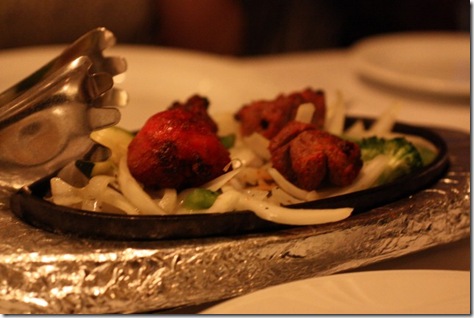 They first brought out this single sizzling platter. At first I thought this was the entire meal and silently thought "Ooops" at the thought that we had ordered one entree to share.
Luckily more plates came out next.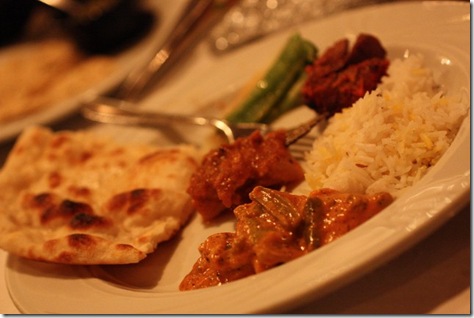 Yummy yummy eats!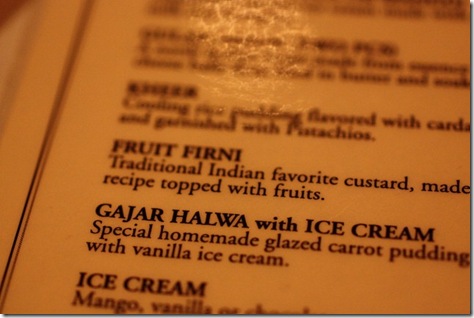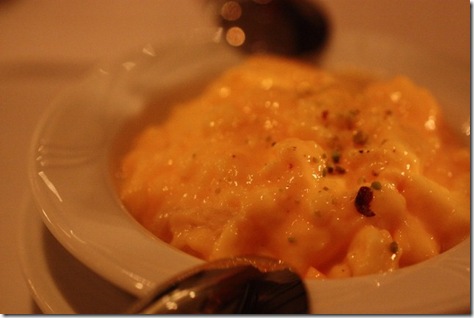 Our combo dessert was Fruit Firni. It reminded me of tapioca pudding, but fruit flavored with a couple pieces of fresh fruit tossed in. It was really, really good!
Totally awesome birthday dinner – Thanks Sis!
Do you like to only do things you're good at, too? Or is it just me who fears embarrassing themselves in front of others? 😆