Sis and I had plans to make Chic Bars first thing this morning.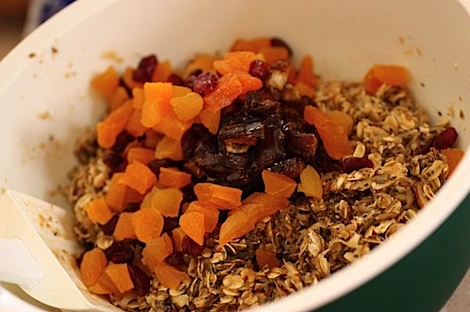 So we threw a batch together. Easy-peesy.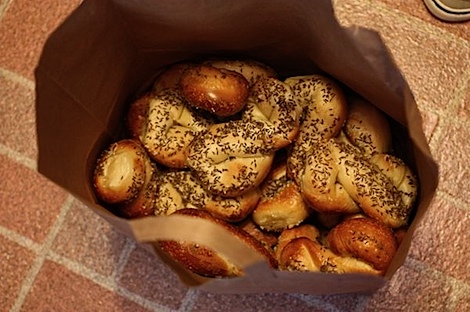 Mom went out for a bagel run and came home with 2 dozen of these delicious rye bagels that I adore. I thought she was just getting some for breakfast (though I was hopeful she'd get extra so I could bring some home), but I was really (happily) surprised to see TWO dozen! We obviously can't eat all of these, but they freeze quite nicely and will be sure to serve as delicious breakfasts for many upcoming mornings.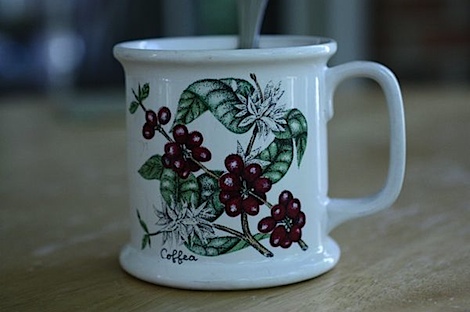 My parents have had this mug since I can remember. All these years I thought the graphic on the mug was grapes.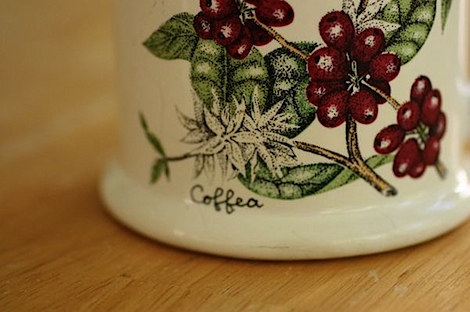 Guess I never paid much attention where it clearly says "Coffea". Doh!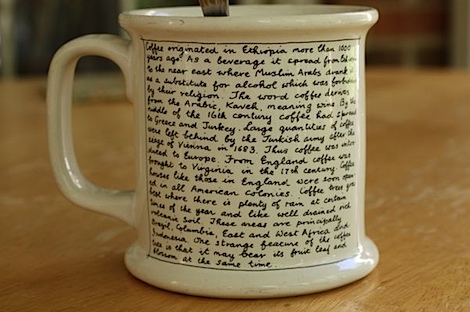 There's even a story about the origin of coffee on the back of the mug. heehee…guess I know better now! I read the story for the first time today.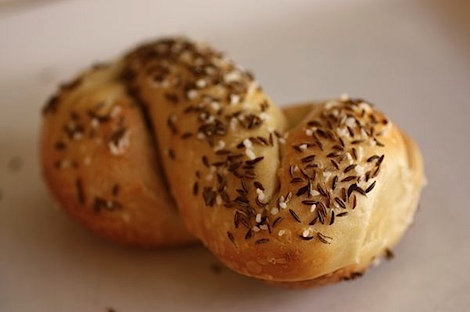 Since we had fresh-baked bagels in the house, still warm from baking this morning, we made breakfast around them.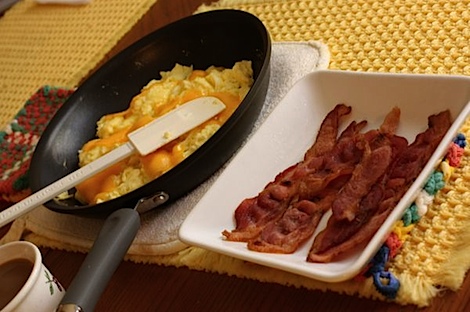 Eggs and cheese plus bacon.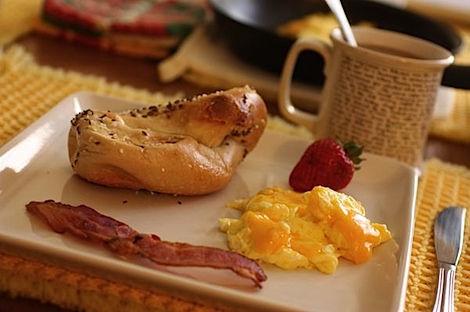 All together now.
***
Before we knew it, it was time to eat again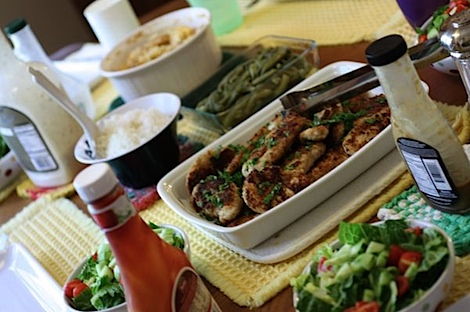 We had another feast!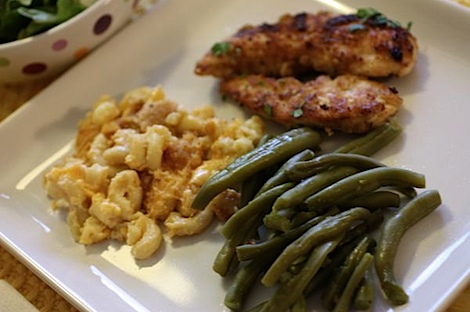 Breaded chicken tenders, leftover mac and cheese (Dad-style) and steamed green beans (from their garden).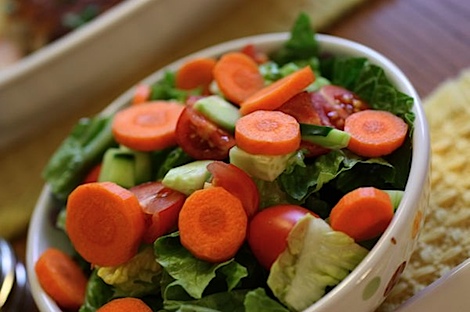 Plus a nice, sizeable salad with romaine, cherry tomatoes, cucumber, and carrot.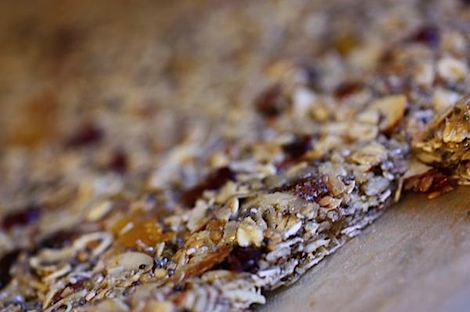 By the time lunch was over, the Chic Bars were cool and ready to be cut.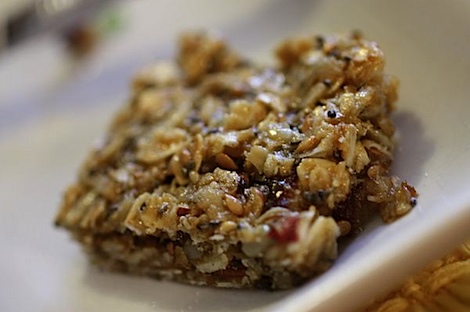 I of course had to sample to verify tastiness. Approved!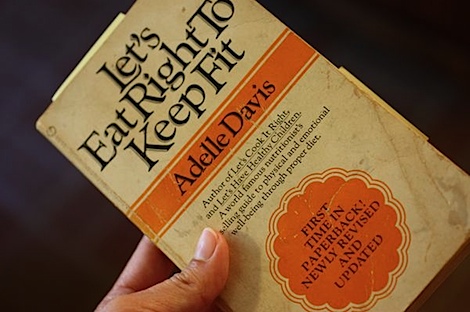 Check out what Dad dug out while we were home – Let's Eat RIght to Keep Fit by Adelle Davis. This is one of the first books on nutrition…by Adelle, who was quite the pioneer in the nutrition industry. As I've mentioned before, Dad is quite the health nut and even carried this exact book with him in college!
I read through a few pages and turns out a lot of the info is still relevant today! The saddest thing was that she seemed to talk a lot about areas where we needed to improve the country's nutrition (school lunches anyone?) that it seems haven't moved much since she first made her suggestions. Oh well, maybe one day "healthy" will be the prevalent?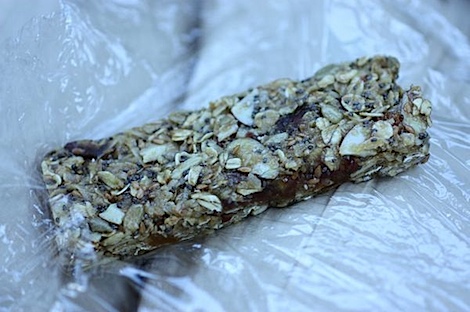 Soon enough it was time to get back on the road to head home. Luckily, Sis sent us home with 4 granola bars, which we munched on during our car ride.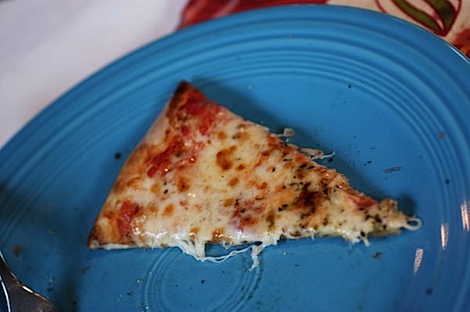 Did you know yesterday was National Cheese Pizza day?! Too bad I was too busy stuffing my face with delicious Indian food with Sis to notice. So, today hubby and I celebrated a day late with hot pizza from our fave pizza joint.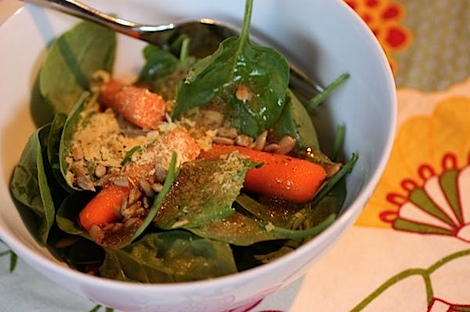 We also had salads with baby spinach, baby carrots, sunflower seeds and nutritional yeast (which I got hubby to eat by saying it tasted like parmesan…hey, that's what I heard for real!).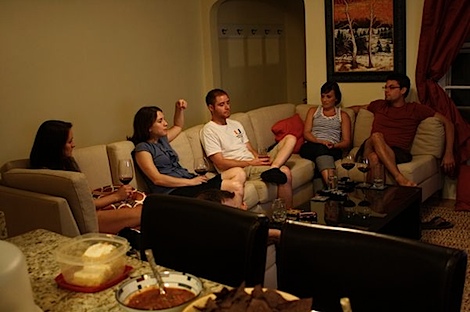 And post dinner, it was time to head to Caitlin and Kristien's place for football, friends (Kelly, Brad, and Nicole)…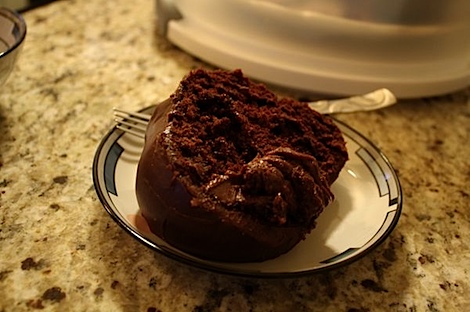 …more Darn-Good-Chocolate Cake…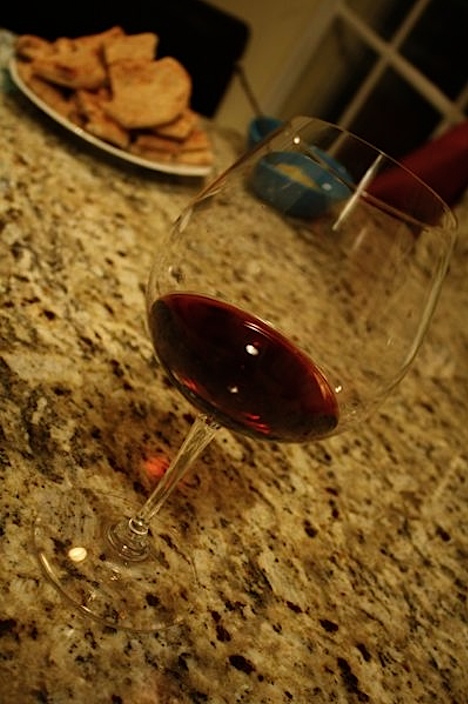 …and VINO!
Thanks Caitlin and Kristien for having us over!
What a fabulous end to a fabulous weekend! I can't believe tomorrow is Tuesday already!
What did you do this past weekend?