I had another 12 hour away day today. I left the house around 9am and got back just after 9pm. Phew! Doesn't being away from the house that long make for the longest day?! Not to mention I was at the office till almost 7pm.
But let's start with breakfast…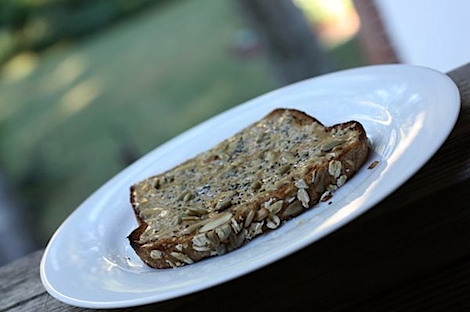 I broke out an old favorite – Power Toast!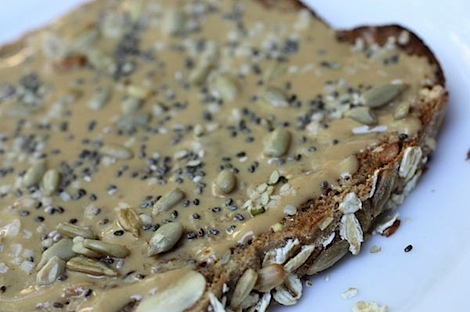 This toast was on Dakota with Maranatha Peanut Butter, sunflower seeds, chia seeds, and hemp seeds.
I forgot how easy, fast, delicious, and nutritious this stuff is!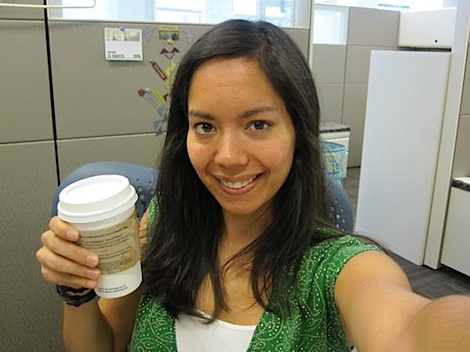 I celebrated Starbucks Monday sans makeup but with a Pumpkin Spice Latte…this time with only 2 pumps (they put 3 in a tall!).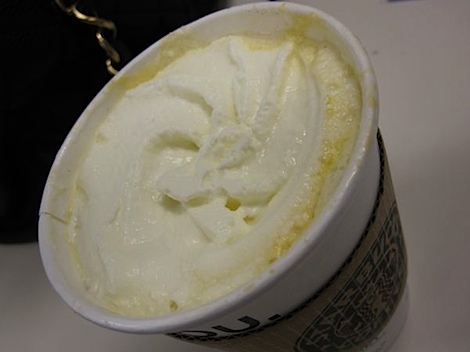 And I think I may have found another culprit to the too-sweet drink before…the whipped cream! I didn't realize the pumpkin spice lattes had whipped cream on them. Whoops!
Still, by reducing the pumps by one, it made a huge difference!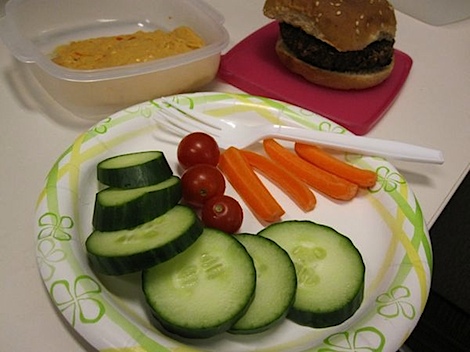 Lunch was fabulous!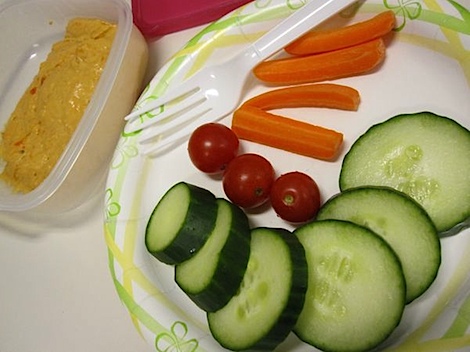 First up, some fresh veg – cucumber, tomatoes from my garden, organic carrots with hummus leftover from my cookout the other night.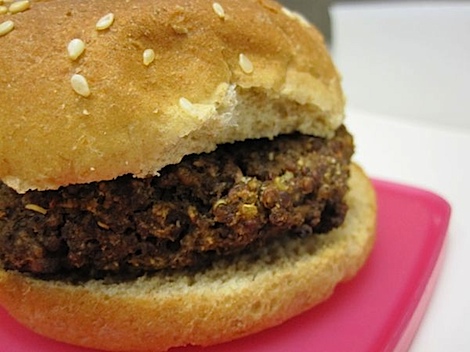 Also making an appearance leftover from my cookout was one of those fabulous vegan quinoa burgers….man these things are good! I know, I need to share the recipe, but give a girl a break? 😉 Remember how I was away from the house for 12 hours today? Makes it hard to type recipes up.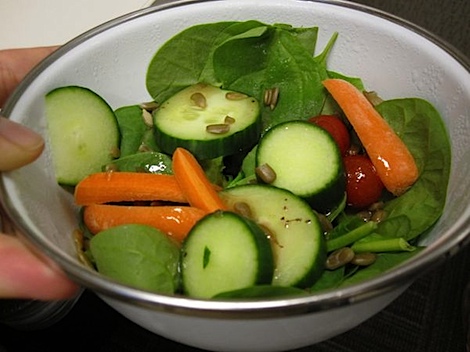 Lunch #2 was a salad with baby spinach, cucumber, carrots and tomatoes….plus sunflower seeds. I used a new dressing from Trader Joe's – red wine vinaigrette. I must say…I don't like to say negative stuff much, but that salad dressing was terrible. It just tasted like flavorless oil.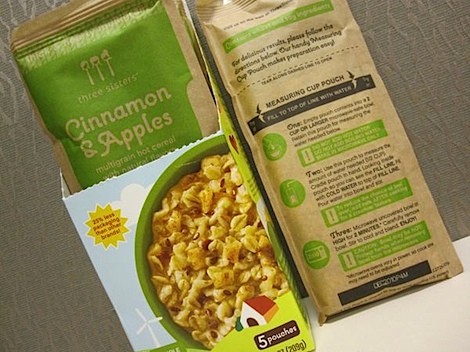 For a snack, I tried something new that I found at Whole Foods – Three Sisters Cinnamon & Apples Oatmeal.
I specifically bought this product to keep at my desk at work. It's good for busy people like me to have healthy snacks readily available, so you don't get stuck hitting up the vending machine.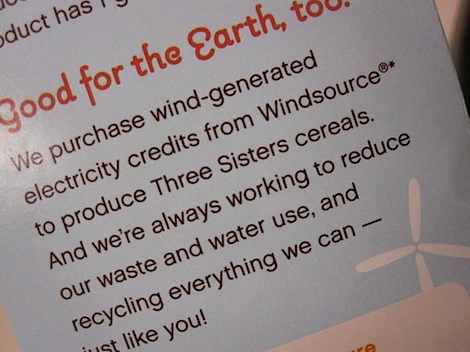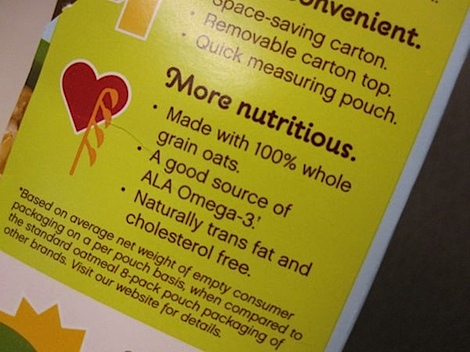 Box info.
Nutrition…and check out that ingredient list! Nice and readable.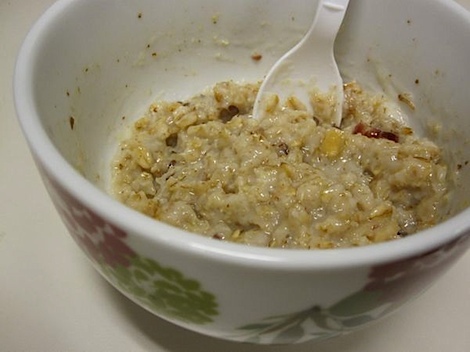 The oatmeal heated up quite nicely and I loved how you could even use the pouch to measure the water (they have a fill-to-this-line mark on the package). So easy and convenient! I only wish I had some milk at the office to stir in.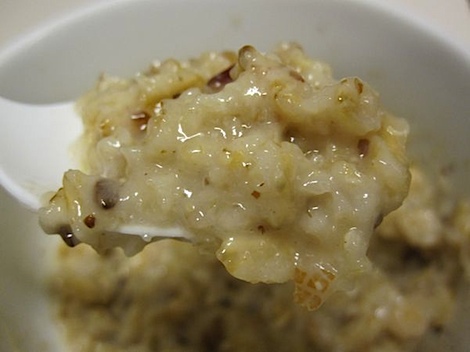 The oats were really tasty – I loved the chewy apple pieces. The flavor was sweet but not too sweet. I really enjoyed it.
***
So, as I was saying before, I stayed at the office till just before 7pm today…phew! Long day!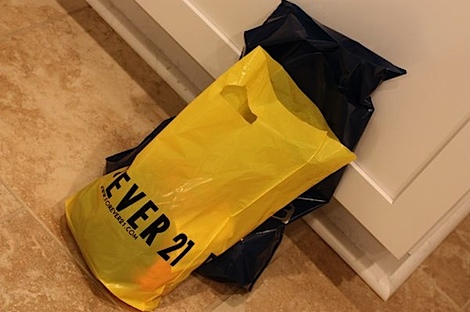 My long work day meant I missed zumba, so I decided to go shopping in hopes of finding great stuff to wear to the Lady Gaga concert this weekend! So excited!
Any guesses what's in the bags?
While we're on the topic of Lady Gaga…I'm going to declare this week Lady Gaga Week!
Here's how I plan to celebrate Lady Gaga Week:
Listen to my Lady Gaga Smart Playlist all week (at home, in the car, at work, etc.) – I may not listen to any other music this week…lol
Wear non-pant outfits…as in skirts (don't think the whole leotard thing would fly at the office) since Lady Gaga doesn't like pants
Don't give a flying f what people think (this one will be hard for me, but I'll try to channel my inner Gaga)
I may be adding to the list as I think of things. 😉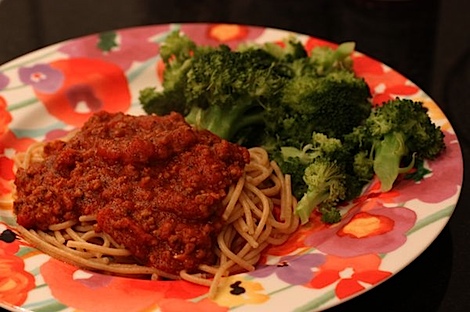 Hubby was a doll and had dinner almost done by the time I fiiinally got home.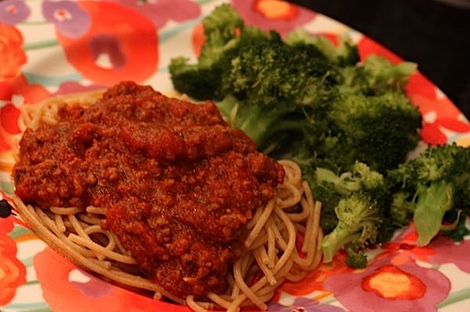 We had spaghetti with meat sauce over whole wheat pasta, plus steamed broccoli with a real butter drizzle. It was super good and so great to be able to eat so soon after getting home from a long day.
Just because you're not going to the concert doesn't meant you can't be festive this week…How will you celebrate Lady Gaga Week?