Now that the weather is getting cooler, my mind is turning towards cozy and comforting eats like slow-cooked stews and casseroles.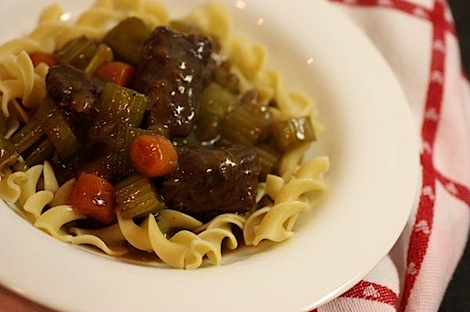 There's something about a home-cooked meal simmering away gently on the stovetop that just makes you feel more relaxed.
Like you want to cozy up on the couch with a good book or knitting project so you can casually wait for your cold-weather feast to finish.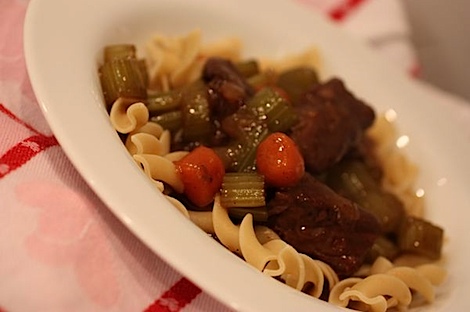 And then maybe enjoy your stew couch-side whilst enjoying the show outside of golden falling leaves drifting slowly down from the trees.
This beef stew is particularly easy and has a simple and short list of ingredients, which makes it a popular recipe in our household.
Cozy Beef Stew
Serves 2-3 (Though the recipe is easy to multiply)
Adapted from this recipe by Paula Deen
Ingredients:
1 pound stew beef
1 tbsp extra virgin olive oil (EVOO)
1 1/2 cups water
1/2 cup red wine
1/2 tbsp Worcestershire sauce
1 clove garlic, peeled
1 bay leaf
1/2 medium-large onion, sliced
1/2 tsp salt
1/2 tsp sugar
1/4 tsp pepper
1/4 tsp paprika
Dash ground allspice or ground cloves
1 cup baby carrots, chopped (I used baby because we have them on hand for snacking or adding to salads. You can also use 1 large carrot or 2 small carrots, chopped)
2 ribs celery, chopped
1/4 cup water
1 tbsp tapioca starch (or cornstarch)
Directions:
Heat a medium-large pot over medium heat. Add EVOO. Add beef to the pot and brown all over, roughly 5-8 minutes.
Add wine and cook for just a minute, stirring a bit.
Add water, Worcestershire, garlic, bay leaf, onion, salt, sugar, pepper, paprika, and allspice/cloves and stir to combine. Bring to a boil, cover, reduce to simmer and cook for 1 1/2 hours.
Remove bay leaf and garlic. Stir in carrots and celery. Cover and cook 35-40 minutes.
In a small bowl, whisk together water and tapioca/corn starch. Whisk in a bit of the hot liquid, about 1/4 cup. Stir mixture into the pot. Cook till sauce is thickened (should be just a minute).
Serve over rice or pasta or with biscuits or cornbread.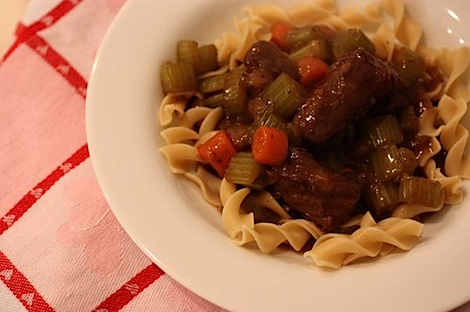 Enjoy!