Gosh, you guys really liked my pink shoes! In case you didn't see the comments from yesterday's post, the hot pink mary jane pumps are from J Crew. I actually got them on sale, too!
Oh and I was glad that some of you said your prime was your 30's! That gives me something to look forward to…besides motherhood (which actually both excites and terrifies me).
Aaaand…we found out bad news on the birthday front. The space we wanted to use is taken. 🙁 I'm thinking we can either find somewhere new or…bombard the location anyways with all my friends. 😉 Yikes either way. Guess I need to make a decision and finally get an evite out!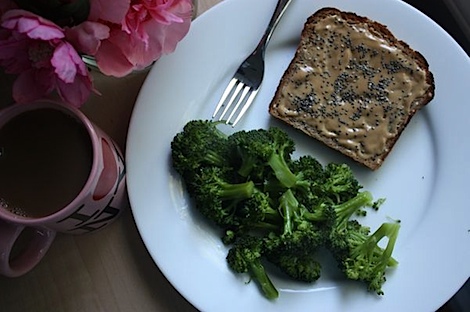 Anywho, I pulled out some old favorites for breakfast today: PB toast with chia seeds on Whole Grain Goodness with steamed broccoli and a bit of real butter. We've discussed veggies for breakfast before and I still think it's a great idea. 🙂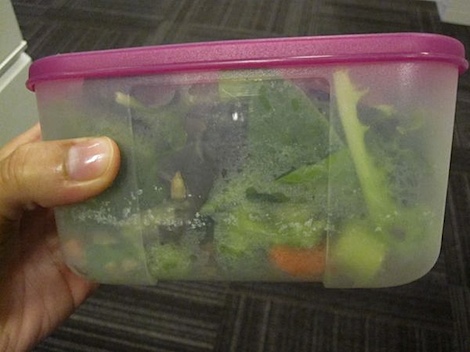 I couldn't find a tupperware large enough that I could eat from.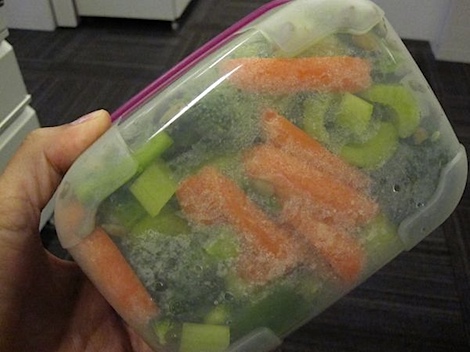 So, I packed my salad with the toppings on the bottom.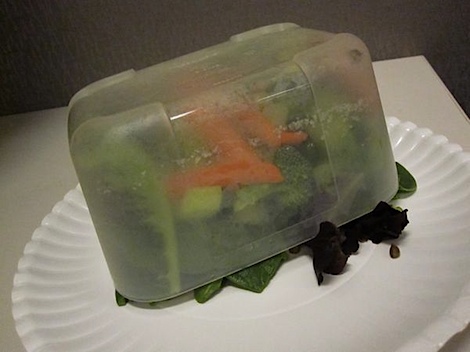 Why?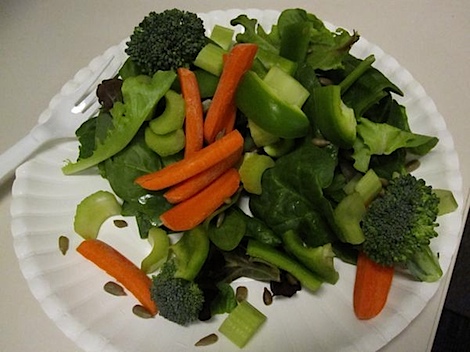 So when I turned the container upside-down the toppings ended up on the top!
I did feel bad wasting the paper plate, but the salad was still less wasteful than if I had purchased it out.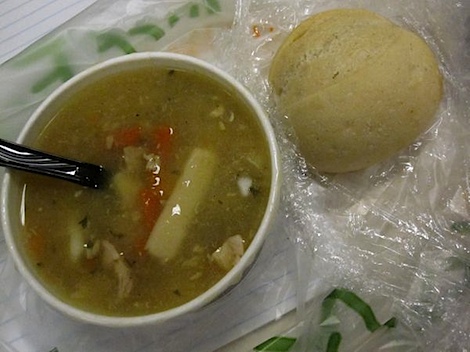 And I had a sweet potato packed with me to micro-bake, but I decided that would be a lot easier to make from home. So, I went out for a little chicken noodle soup to combat the cold weather we've been having lately.
I wore a sweater, scarf and boots today! Whoa! Where did fall go? Please can we have some cool but not too-cold fall days first??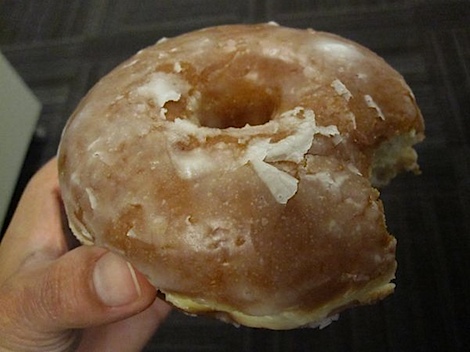 Hubby brought me a fave I haven't had in awhile to work – local DONUTS! Gosh I just love these things.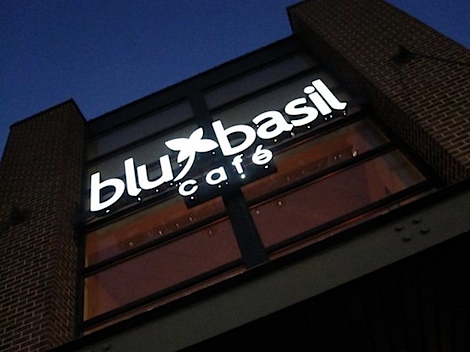 And post work, I ended up meeting some bloggie friends for a late dinner at Blue Basil Cafe.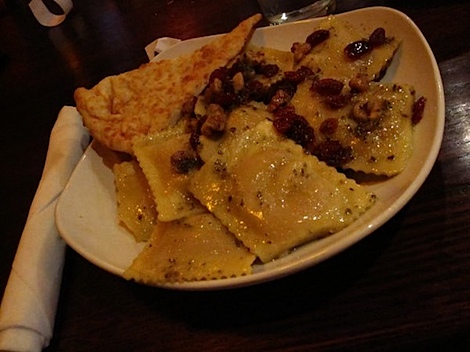 I kind of was craving fettucini alfredo, but decided to get the butternut squash since it was more festive and the waitress highly recommended it.
The pasta was really nice, with a sweet inside and warm buttery sauce. I really loved the bites of sage. The serving size was quite large, too, and I ended up taking some pasta home for hubby.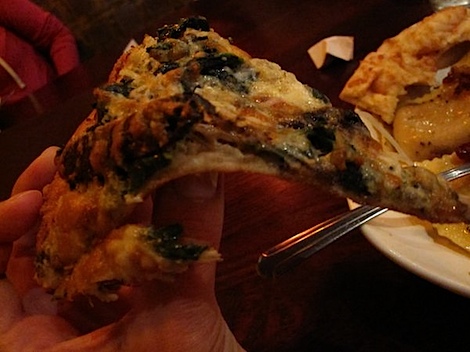 Plus Katie let me sample her spinach mushroom pizza.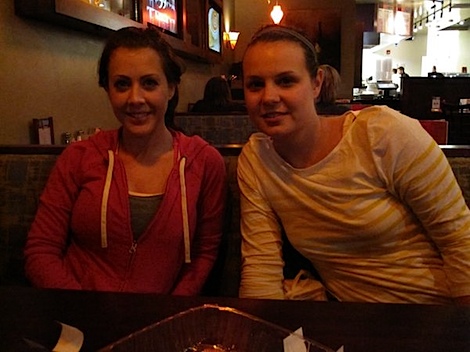 Blog friends: Lindsay and Jessie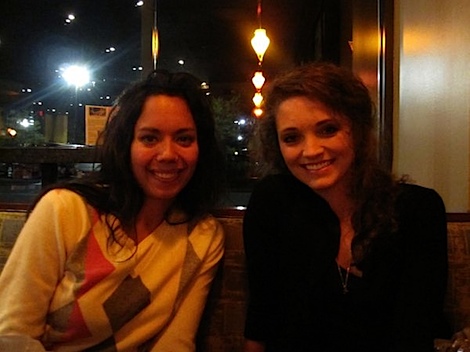 Me and Katie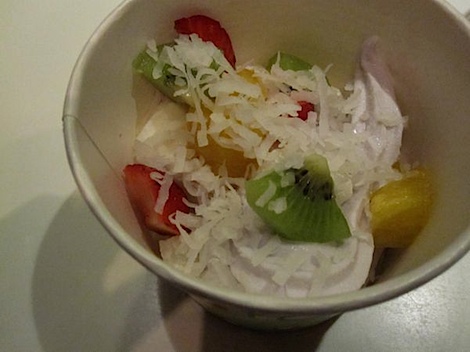 And what bloggie outing wouldn't be complete without a trip for frozen yogurt:
taro and plain froyo
pineapple
kiwi
strawberry
mochi cakes (which I made the girls try…lol)
coconut
Yum!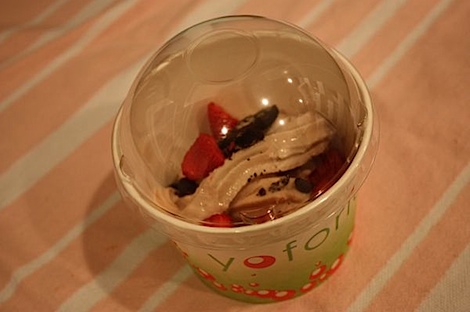 I even brought some home for hubby: chocolate froyos, chocolate chips, oreos and berries.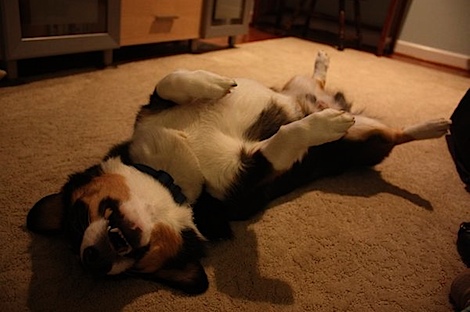 Bailey was just excited I was home.
I've been loving all the fall-ish eats I've been enjoying lately: pumpkin spice lattes, butternut squash ravioli, pumpkin oatmeal, etc.
What's your favorite fall food?