Ahh…the cooler weather is here!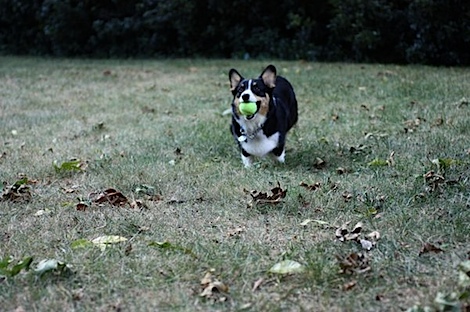 Signs of fall are everywhere – from the cooler air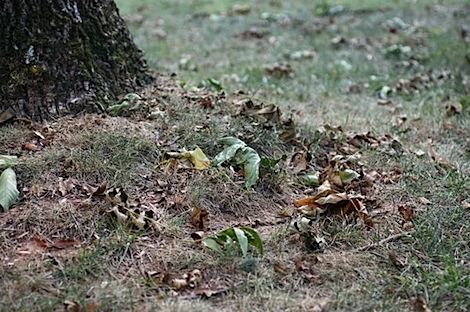 to the leaves on the ground.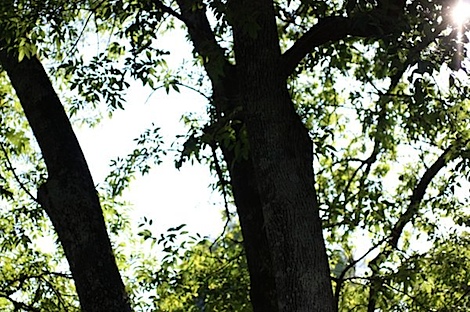 These trees are going to be pretty bare soon.
Are you seeing signs of fall around you?
***
Eat Your Greens…For Breakfast!
People put too many rules around the things they eat. I prefer rule-free eating. 🙂 One of the "rules" that seems to be most commonly observed is what one can and cannot eat at certain times of the day. I mean…you wouldn't typically eat chocolate cake at breakfast or a hamburger and fries for breakfast, right?
People just…know…what to eat and when.
One thing I've never really seen is servings of veggies at breakfast. I mean, sure…sometimes you see omelets or egg scrambles with a lil bit of veggies tossed in, but you don't ever really see a whole SIDE of veggies! Well…I'd like to change this way of thinking…starting with moi. There's no real reason to not eat veggies at breakfast! It's an easy way to get another veggie serving in for the day and gets your day started off on the right foot with extra nutrients and goodness fueling your body.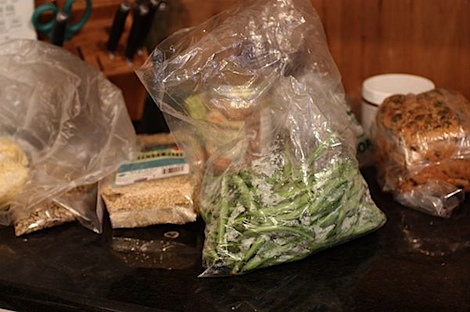 My family sent me home with a giant bag of green beans after our weekend with them, so I decided to go ahead and dig into them first thing this morning.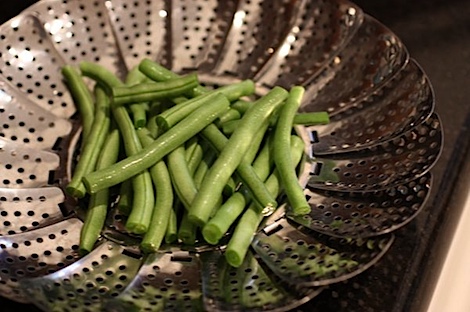 A quick trip in the steamer basket and…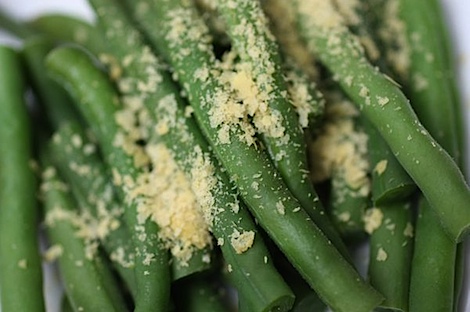 Behold! Breakfast green beans (topped with some nutritional yeast)!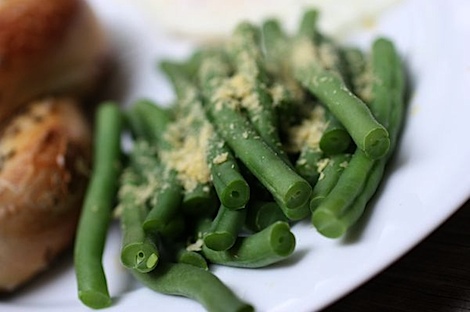 And poor little green beans just don't get the credit they deserve. I mean, I've always just thought of them as boring ole' green beans because they're so commonly eaten.
Did you know this about green beans:
The Vitamin K in green beans helps keep your bones strong.
They're a great source of fiber, plus goodies like Vitamin A, Vitamin C, Potassium, Folate, Magnesium and Ribovlavin.
Green beans have anti-inflammatory nutrients.
And they're a really good source of iron! (who knew?)
Read more at WHFoods.com (click).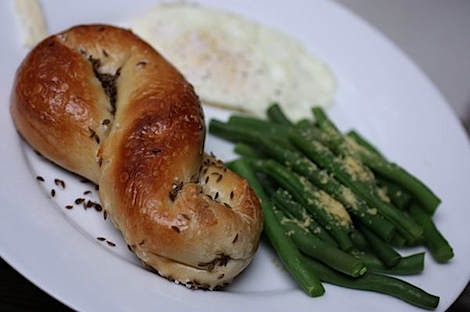 Breakfast was rounded out with one of those fabulous rye bagels and a fried local egg.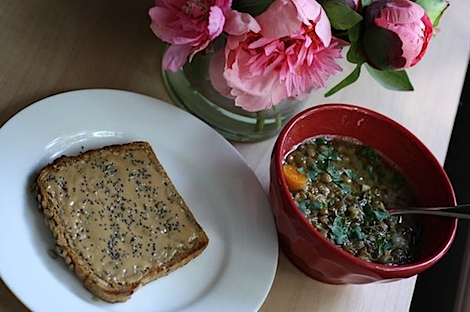 For lunch, I found one last container of that yummy Lemony Lentil soup in the freezer…score!
Plus I had some Dakota toast with MaraNatha Organic Peanut Butter, which I picked up on sale at Whole Foods this past weekend.
Other stuff I picked up…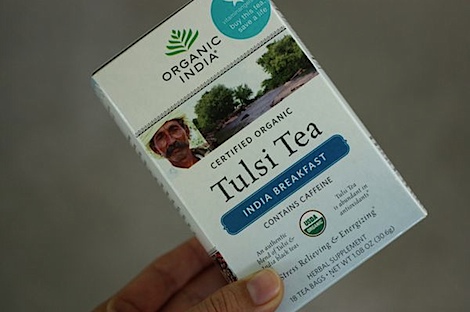 Tulsi Tea (needed to re-stock!)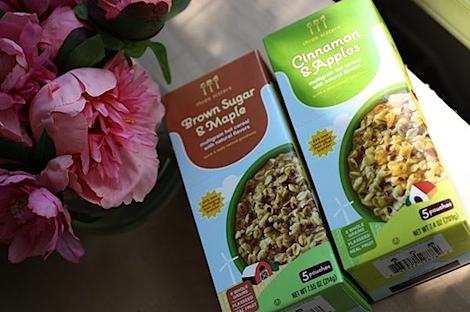 Oatmeal to keep at my desk at work when I need a snack.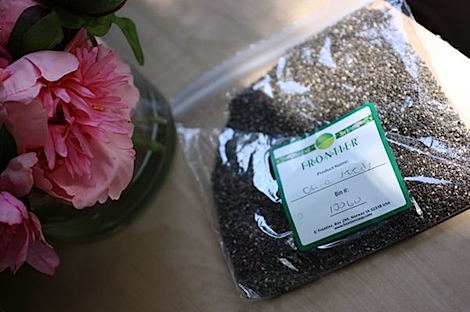 More chia seeds.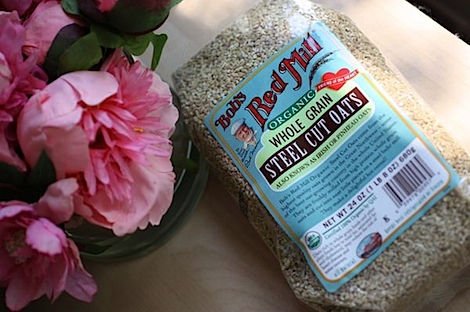 Steel cut oats (think I need to cook some of these in the slow cooker…stat!).
Healthy "Lucky Charms". Bailey inspected and approved.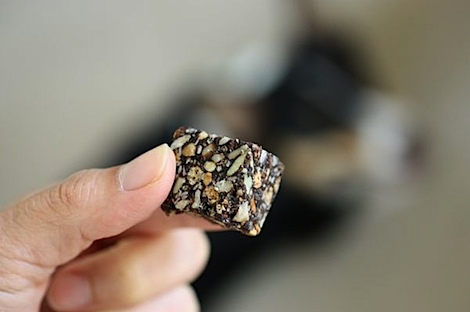 Plus I found these neat carob-spirulina-energy squares in the bulk bins! Nom!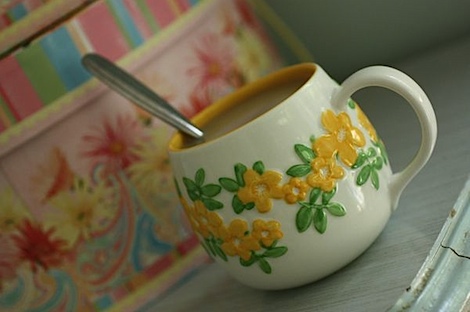 Enjoyed 2 mugs of tulsi tea this afternoon. I missed this stuff!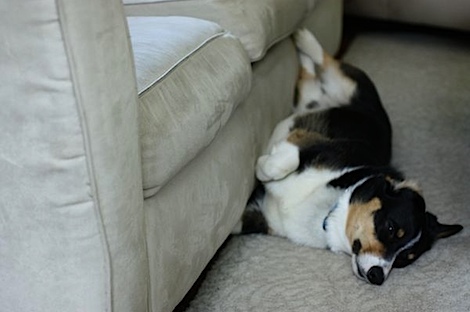 Check out Bailey napping today.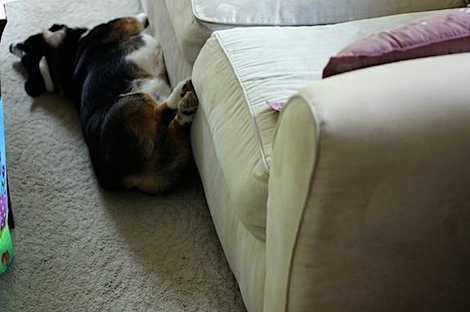 What a weirdo!
I can't believe he actually gets himself into these positions!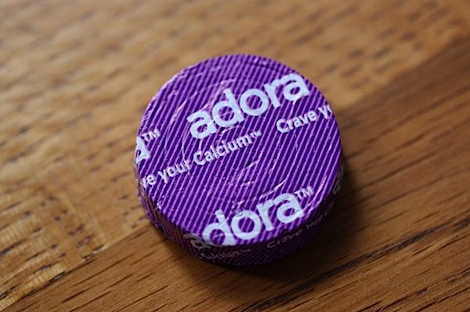 Adora!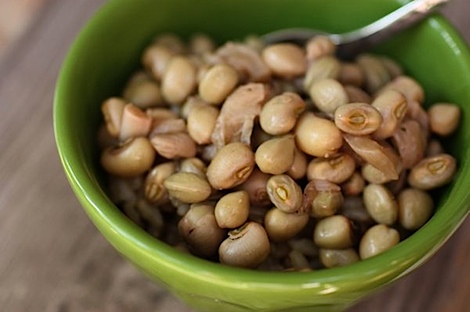 I cooked up some crowder peas from my parents garden today. I figured if I just went ahead and cooked them I could eat them the rest of the week.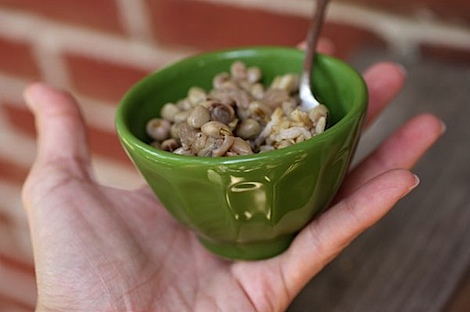 I had a mini bowl with some brown rice for a pre-workout snack.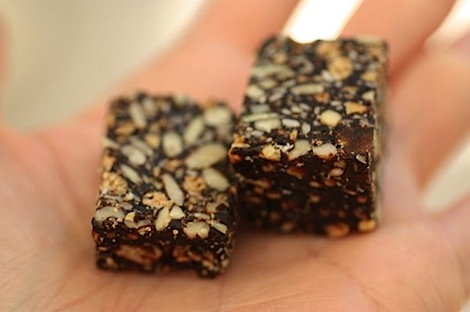 Plus a couple of those energy squares.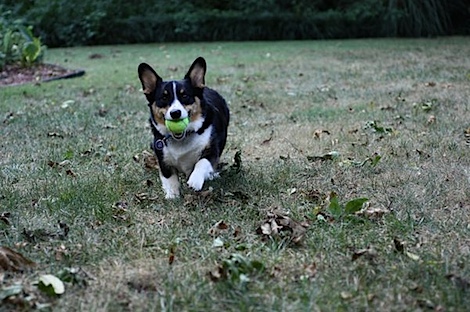 We played fetch with Bailey today.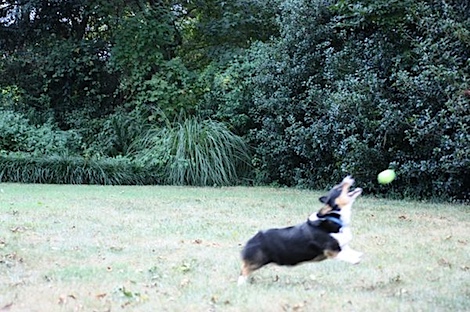 He looks like an alligator jumping at that tennis ball, doesn't he?!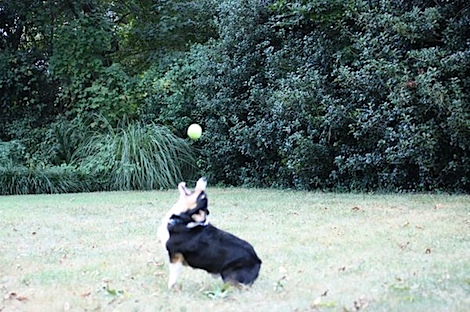 GRRRROMMMPHHHFFFFF!!!!
***
Post work, I went to ZUMBA! I had too many pre-workout snacks so thank goodness I wasn't teaching tonight and could lay a little low in the back. Still got a great workout and had a FUN time! 🙂
***
Post dinner, I went to The Flying Biscuit with some friends.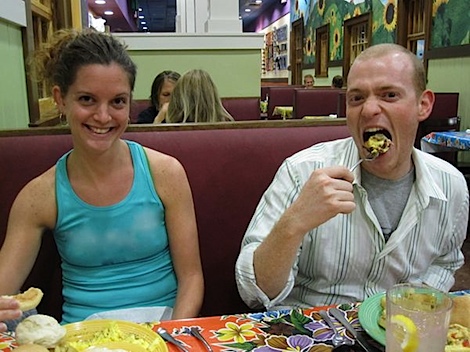 Sarah and Alex.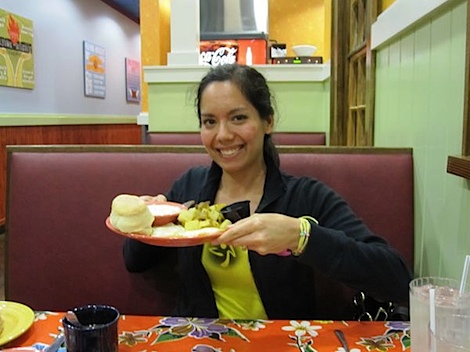 Me – happy for such yummy food!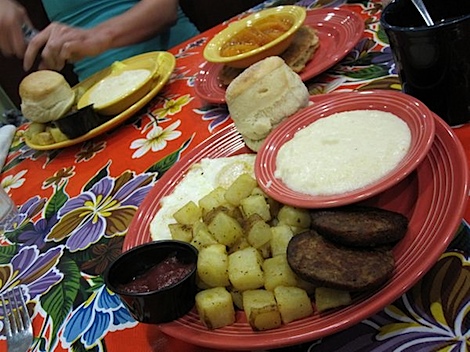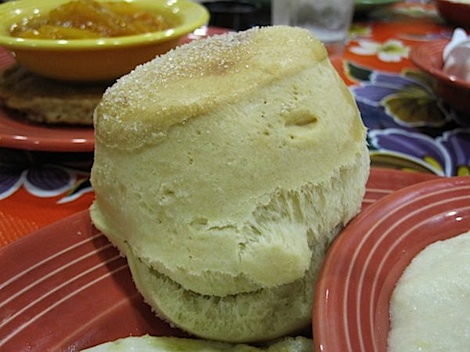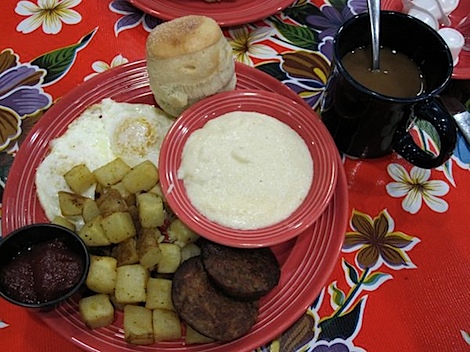 I managed to eat about half of this plate.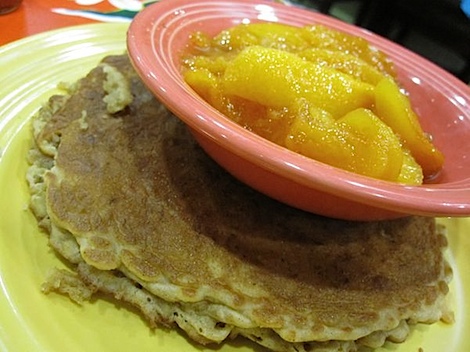 And none of this pancake…guess I know what I'm eating tomorrow!
***
So whadya think…would you eat veggies at breakfast? C'mon…I dare you! 😉