This weekend, I finally got around to making that new salad creation I've been dreaming about the last few days.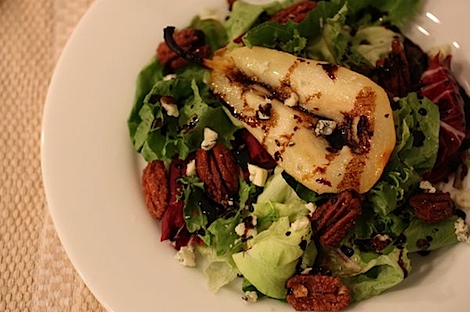 Ever since I received those coupons for free Fresh Express salad blends as part of the Foodbuzz Tastemaker program, all I can think about are creative salad concoctions.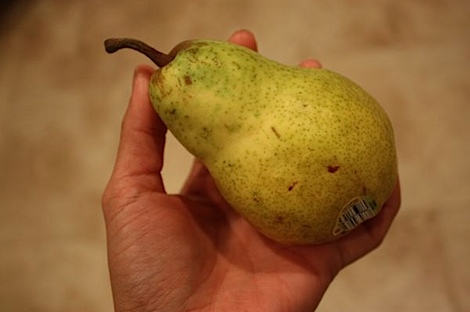 Tonight's salad focused on a fall fruit as the star ingredient – pears! I used Bartlett because I read online they are good for roasting. I chose a nice, firm, organic pear for my recipe.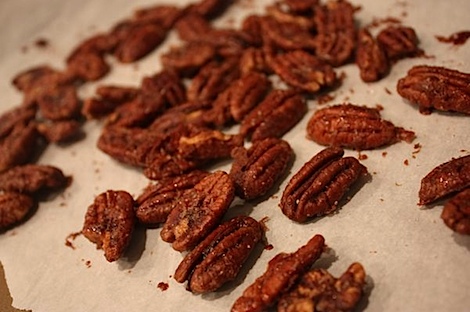 And I made some quick and easy candied pecans. These are vegan, too, because I didn't use the traditional egg white. I actually really like my recipe because it's easy to make in small batches. You can't really use half an egg white (unless you use the stuff in the jugs).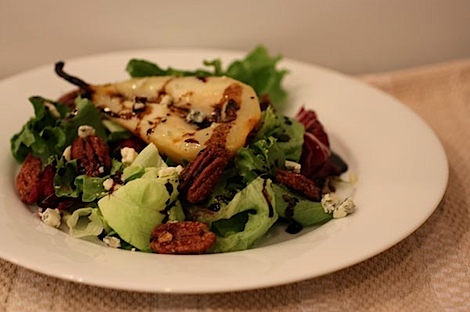 All in all, I'm pretty proud of my little fall salad. I had another turn feeling like a real chef with all my you-can't-rush-this cooking: the reduction of the balsamic, the roasting of the pecans, and the roasting of the pears.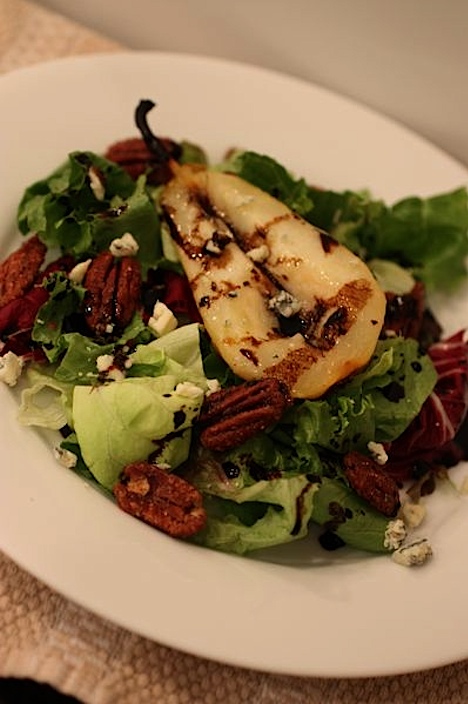 It was so worth it for this yumminess!
This salad would be so pretty to entertain with. And if you're on the fence about trying it because it looks complicated, maybe just go for the roasted pears, but use a store-bought dressing? I'd go with something on the sweeter side if you do that. If you have company over, make extra of the pecans and put them out in a bowl for your guests to snack on. I know from personal experience that they are quite tasty to snack on. 😉
Roasted Pear Salad with Gorgonzola, Candied Pecans, & Balsamic Reduction
Serves 2
Ingredients:
1 pear, peeled, halved horizontally, seeded/cored (I used Bartlett)
2 cup tightly packed Fresh Express Five Lettuce Mix, rinsed and dried
1/4 cup gorgonzola
extra virgin olive oil (EVOO)
balsamic reduction, cooled, recipe below
candied pecans, cooled, recipe below
Directions:
Pre-heat oven to 400 degrees F. Prepare a baking sheet with parchment paper.
Cut a small slice from the bump of each pear to help it lay flat on the rounded side.
Place pear wide side down and drizzle with a bit of EVOO.
Bake for 10 minutes. Flip. Drizzle other side with a bit of EVOO. Bake for 10 more minutes. Remove to cool.
Place salad mix on 2 large plates as your salad base.
Place cooled, roasted pear on top of each salad. Top with gorgonzola, candied pecans, and drizzle with balsamic reduction to finish (use portions to your preferences). Enjoy!
Balsamic Reduction
Ingredients:
1 cup balsamic vinegar
pinch salt
Directions:
Add balsamic vinegar and salt in a small pot. Bring to a boil over medium heat, while whisking often. Reduce heat to simmer.
Continue cooking, whisking often, till vinegar is to as thick a consistency as you like. (It should reduce to about 1/4 – 1/2 cup).
Quick Candied Pecans
Easy and Vegan!
These are great for salads, topping for bread or breakfast casseroles, over oatmeal, in cereal, over mashed sweet potatoes, or even served straight up as a party snack.
Ingredients:
1 cup pecans (I used whole)
1 1/2 tbsp maple syrup
1 tsp canola oil
1-2 tsp sugar
1/4 tsp ground cinnamon
Directions:
Pre-heat oven to 300 degrees F. Prepare a baking sheet with parchment paper.
In a medium bowl, whisk together maple syrup, cinnamon, and oil until well combined.
Add pecans and stir till sauce is well-distributed and all nuts are coated. Pour nuts onto prepared baking sheet and spread out a little so nuts aren't touching.
Bake for 10 minutes. Turn pecans. Sprinkle with a bit of sugar. Return to oven and bake 10 more minutes. Remove from oven and sprinkle lightly with sugar.
Set aside to cool.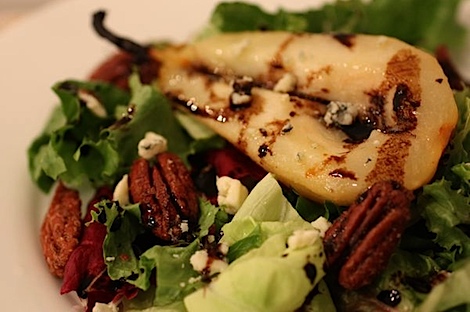 Nommmmm!