Greetings friends!
So, my posts this week haven't exactly been as real-time as I like to do. I blame the red-eye I took Sunday night…or was it…Monday morning?
Backing up for a minute…This past weekend, I was in San Francisco with a whole bunch of my bloggie friends (new ones and old ones) for the fabulous Foodbuzz Festival 2010. I decided that, instead of wasting all day Sunday to travel, I'd enjoy Sunday in San Fran and do a red-eye home. The catch…I had to work on Monday.
So on Sunday, you know my plans were mostly rained out. But, I still had a really great time hanging out with my blog friends, then another friend, and then blog friends again before taking the red-eye back. There were two crying babies on the flight home but the main thing keeping me from sleeping was my sore neck (still having some pain in my neck, shoulders, and back…ugh!). Even the travel pillow I purchased at the airport in hopes that I may get sleep seemed to do no good. I think I slept one hour of the 4 hour and 20 minute flight.
The red eye wasn't my primary pain. It wasn't even the one hour of sleep. It was the fact that I had to work a full day at the office, tackling an inbox of requests that had surely piled up for the two days of vacation I took. My group likes to say "no vacation time goes unpunished." 🙁 And that is sad, but true. Monday was definitely one of those days that I was completely envious of those who do not have a 9 to 5 job. Oh how lucky were the others who could just go home and sleep more, or relax all day, or leisurely blog or cook delicious things while I was stuck at my computer doing technical things.
But, I survived Monday and Tuesday was much easier.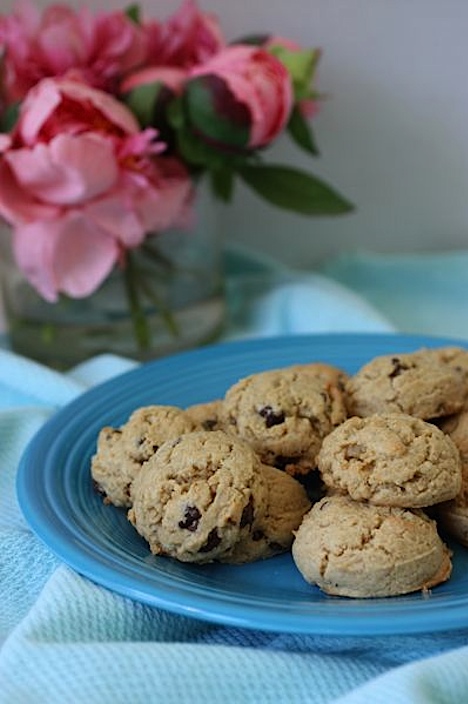 On Tuesday, I even found time to bake. I decided to try to re-create Annie the Baker's famous dough balls.
My first batch came out completely flat. Fail. My second batch more resembled dog treats than human treats.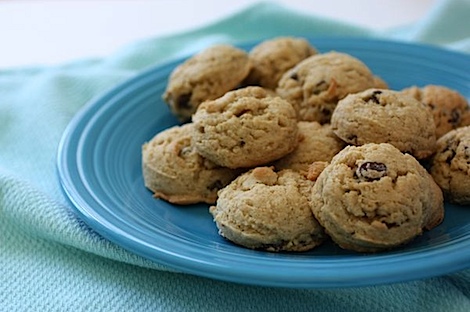 My third and fourth batches came out pretty tasty, but not quite like cookie dough. I guess that's what I get for trying to healthify the cookies (I took out a lot of the butter and sugar). Something tells me that for the dough balls to really taste like chocolate chip cookie dough, they'll have to have full fat and full sugar.
So, I guess I have a fifth batch in my future. Perhaps Thursday night?