No, you didn't read the title wrong. Today I made Green Tea Soup for lunch…and it was wondrous and certain to become a new staple item in rotation (at least at my house).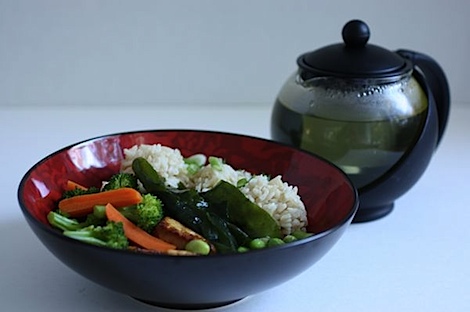 I tasted my first tea soup just a couple days ago at a fascinating tea lounge in San Francisco called Samovar. I liked the restaurant as soon as I spotted it, but for the teas and eats, it was love at first taste. I'm hoping to soon try to re-create the delicious little squash dumplings I had at Samovar, but today…today, I went for that curious combination of tea and soup. I love tea. I love soup. It should come as no surprise that I would love tea soup. Really…why hadn't I thought of it before? But that's neither here nor there, the fact is, I've tasted it and I want more.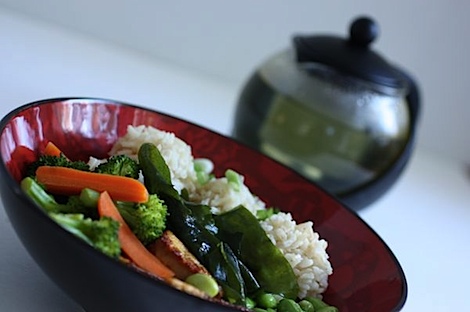 The nice thing about the soup is it's really more of an idea than an exact recipe. You could probably add anything you wanted to a bowl and pour tea over it and call it tea soup.
But there were a few features of the bowl I tried that I really liked:
Lots of crisp-tender cooked veggies
Tender tofu
Brown rice
A sea vegetable
Flavorful sauce
The bowl basically had everything I want in a meal (protein, carbs, and vegetables) and then some (bonus points for a sea vegetable). So, when I went to re-create the tea soup chez moi, I tried to hit all those points.
So…how do you create this deliciousness? It's easy…and you could probably even use leftovers to do it.
And apologies if you're really particular about recipes, but this soup recipe is really more of a non-recipe. There isn't really an exact science to this soup. At least, you don't really need one. Think of this as a way of freeing yourself from quadruple-checking that you're doing a particular step correctly. This tea soup non-recipe is really more like a set of guidelines, which, in my opinion, are much easier and more stress-free to follow.
NOTE: The following directions are primarily for 1 bowl of soup, so multiply as needed if serving more than one.
Tea Soup Non-Recipe
Inspired by the tea soup at Samovar Tea Lounge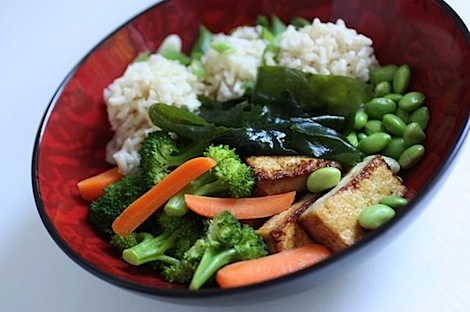 Step 1: Gather Your Soup Contents
Add the following to a bowl (use portions to your personal preference):
Steamed broccoli
Steamed baby carrots (quartered lengthwise)
Steamed shelled edamame
Cooked brown rice
Sauteed tofu*
Wakame (reconstituted**)
Sliced green onion
And of course…green tea (the star ingredient!)
Like I said, you could probably pull together leftover cooked veggies, leftover cooked tofu (or chicken, etc. if you want to add meat) and you could easily substitute out some different ingredients.
*I used my tofu press to remove excess liquid, then sliced the tofu into small rectangles about 1/2 inch thick. I skipped the marinating step I typically do, but instead cooked the tofu over medium heat with a little olive oil. I drizzled the top with soy sauce while it cooked. Flipped the tofu once the bottom was brown and drizzled the top with soy sauce again. I cooked the tofu till it was brown on two sides before adding to the bowl
**The wakame I used said to place the dried wakame in water for at least 5 minutes to reconstitute. So, I did that before adding to the bowl. Check your package as your directions may differ.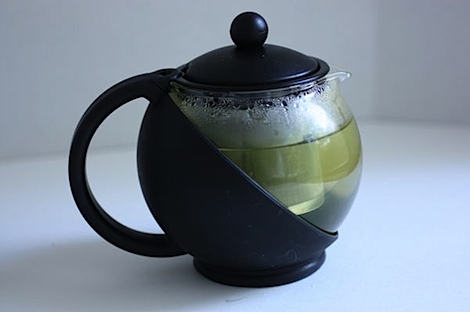 Step 2: Brew Some Green Tea
I brewed about 2 cups worth and used about 1 1/2 in my bowl. I just used regular old green tea…nothing fancy.
Step 3: Make Your Sauce
In a bowl, combine:
1/2 tsp fresh minced ginger
1 tsp tahini
1 tbsp soy sauce
Mix to combine. Taste and adjust as needed.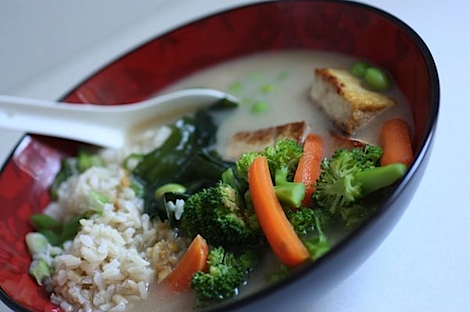 Step 4: Assemble Soup
Add a little bit of the sauce to the soup (start with a little, add more to taste) by drizzling over the bowl.
Pour the brewed green tea in the bowl of veggies (use as much or as little as you like depending on how brothy you want it).
Give the soup a bit of a stir to get the sauce to mesh with the tea.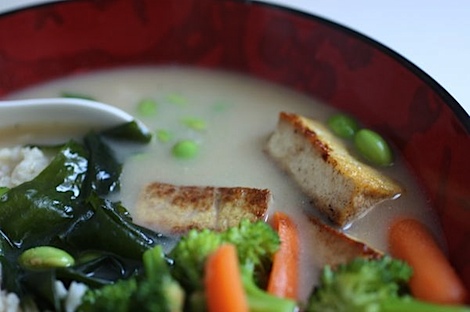 Step 5: Enjoy!
Adjust the seasoning as needed by adding more sauce for flavor or more soy sauce for a more salty flavor. Look for the little bits of fresh ginger in the bowl for a little kick of heat. 😉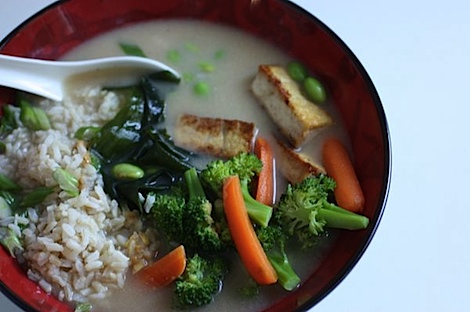 Refreshing, light, healthful
Oh and do I have any office workers reading now? Remember the water cooler with the hot water option you use to brew tea when you're on the job? Oh yea…that will make it extra easy to quickly prepare a bowl of tea soup at work. Just bring your veggies, rice, tofu (whatever you want) and sauce, brew tea at the office, combine ingredients and tea in a bowl, and voila…a hot and healthy lunch at the office. And so much better than the fish leftovers that make everyone at work want to kick you out of the office.