Have you tried carob oatmeal yet?!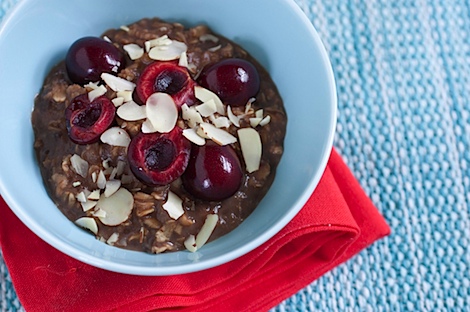 Do itttttt! It's divine! If you're getting sick of oatmeal, add a teaspoon of ground carob to your oats and it will give your bowl of oats a whole new flavor!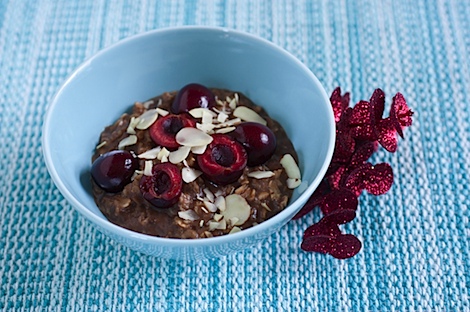 Today, I made Carob-Cherry Oatmeal. Nom!
I've had a couple requests for how to cook oatmeal, so I'm going to break it down today. 🙂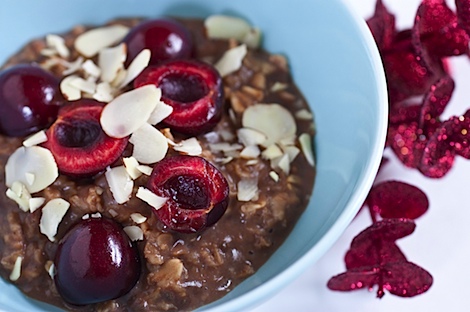 Carob-Cherry Oatmeal
For 2 people who like small oatmeal portions
Ingredients:
1/2 cup old fashioned oats
1/2 cup water
1/2 cup milk or non-dairy milk
2 tsp carob powder (ground)
1 tbsp agave syrup (or to taste)
1 tsp chia seeds, optional
6 seeded and halved cherries
sprinkle of sliced almonds, optional
Directions:
Combine oats, water, milk, chia seeds, carob powder and agave in a small pot over medium low heat.
Heat mixture till thickened to your preference, careful to not boil, stirring occasionally.
Serve in bowls and add cherries on top with any additional toppings you want.
Enjoy!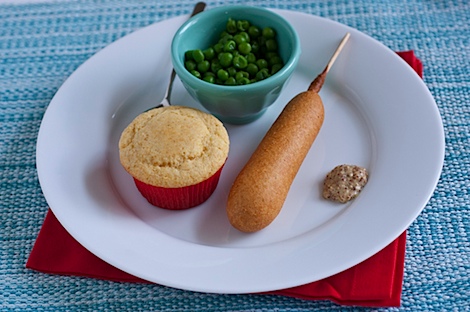 Lunch was super weak. I was planning to go to the grocery store first thing this morning, but instead of being off, I had to work! 🙁 I scrounged around in the freezer to come up with this: a TJ's soy "corn dog", a corn muffin (re-baked from a frozen batch), and peas.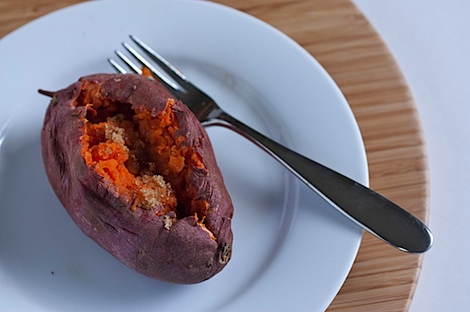 For a snack, I had a micro-baked sweet potato with a dab of real butter and a wee bit of brown sugar.
Then, it was time for ZUMBA! I was super tired in class today. I think it's because I was stressed about work today and not doing a great job of hydrating. Doh! I downed a coconut water pretty fast near the beginning of class and was actually feeling more energized towards the end of the class than the beginning. Guess that stuff really works!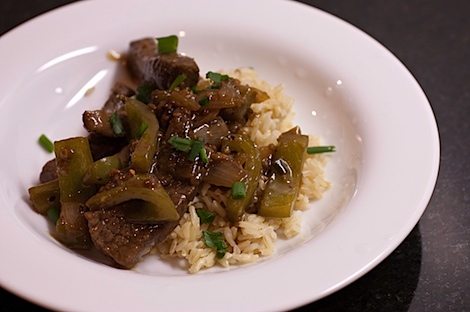 Hubby cooked dinner tonight – a little concoction of his own. Bulgogi over brown rice.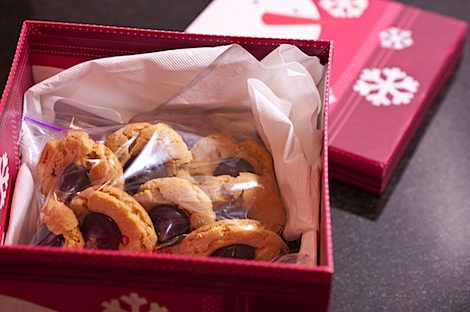 For dessert, we had cookies we got from our neighbor! Woohoo! Our first neighborly perk. 🙂
Wow, it's been so long since I've had a day off with nothing major to do. I have a million things I could be doing, but I'm just not sure where to start! I feel like I've waited so long to have a free day of my very own. Normally, I feel like I rush from one to-do to another, barely accomplishing the must-dos (work, eat, sleep, Zumba, blog) in a day. Now that I have a free day, I'm so excited! I just have so many ideas I've wanted to execute and fun things I've wanted to do for so long that I want to do ALL of them! I am trying to get organized, though. I actually have a to-do list I've started and am hoping to share tomorrow.
In the meantime, here's a funny little list that I put together about being busy all the time.
Top 5 Signs You're Too Busy
Your email inbox has more than 1000 unread emails (ok, maybe closer to 5000…yikes!)
You've waited 2 years to buy a laptop so you don't have to rely on your desktop and can work away from home. You got your laptop 2 weeks ago. You haven't had the chance to even crack open the box.
You find yourself blogging half asleep after midnight because it's the only time you can do it.
Your clean laundry sits in piles on your couch because you haven't had time to fold it yet.
Your significant other asks when they can see you again…and you live with them.
Reader question #1: What's your sign you're too busy?
Reader question #2: What do you like to do with your days off from work?