Back to our regularly scheduled blogging…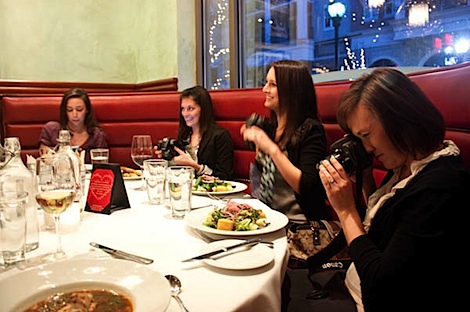 I went to a bloggie outing tonight!
But first, re-wind.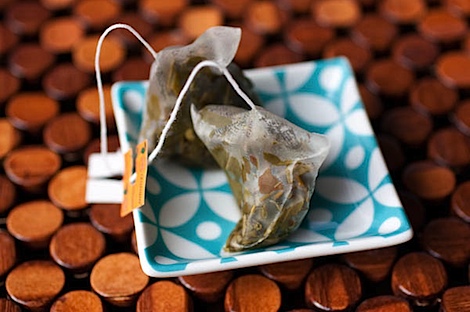 Do you guys re-steep your tea bags? My family grew up getting 2-3 cups of tea out of a single tea bag, but I find the second never tastes as good. What do you think?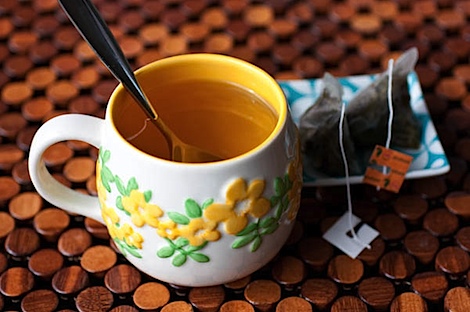 I had some nice exotic flavored tea today – a Christmas present!
Tea = awesome present!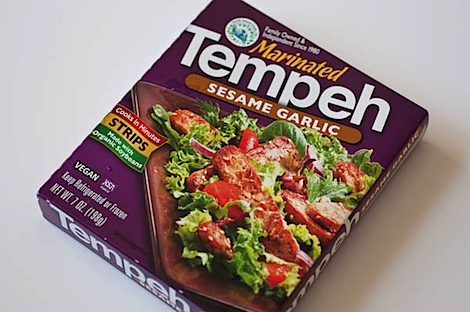 I realized around 1:30pm that I hadn't eaten lunch, and was too tired (lazy?) to go to the store. So, I whipped up one of those pre-marinated tempeh packages I got awhile back.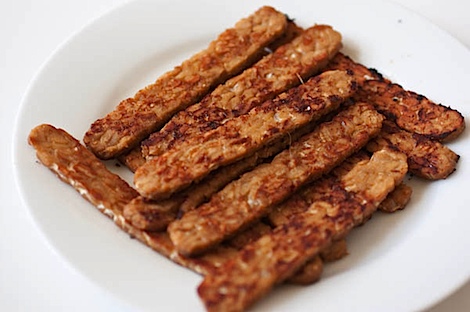 I thought this sesame garlic tempeh was much better than the curry flavired one I had awhile back. The flavor was much more subtle.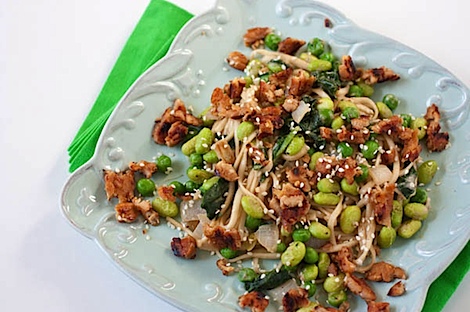 I ended up doing a quick noodle stir fry, which has become my go-to meal when I don't have a lot of fresh groceries in the house.
I threw in:
frozen, shelled edamame
frozen peas
frozen, chopped spinach
udon noodles
frozen, onion (I freeze extra chopped onions when I'm cooking)
I made a quick sauce using:
tahini
soy sauce
water
sesame oil
And I sprinkled crumbled pieces of the cooked tempeh on top. NOM!
I'll have to draft a more formal recipe, but it was a really great Soy Tahini Noodle Stir Fry!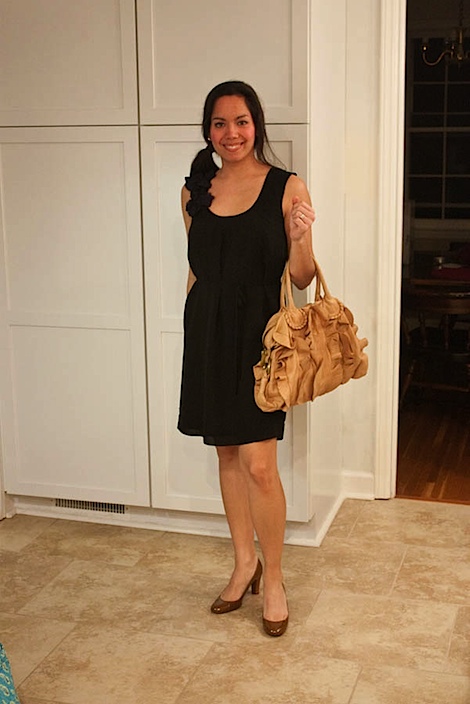 Soon enough, it was time to get dressed for a fun bloggie outing.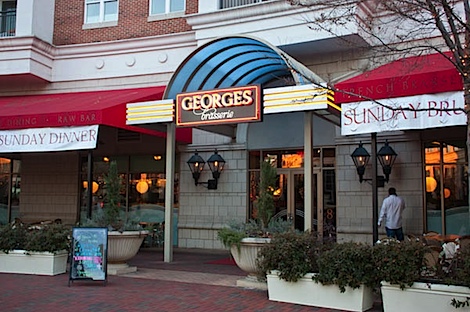 I used my Eat In Month cheat pass to enjoy restaurant week (where restaurants offer a multi-course meal for only $30) at Georges Brasserie.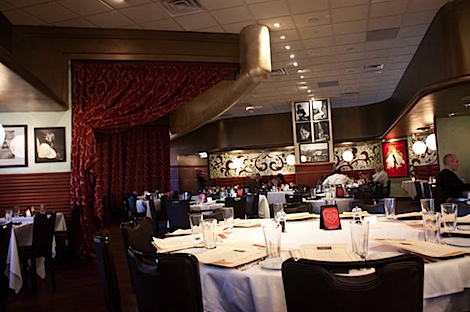 The restaurant was really swanky inside and would make a great romantic date.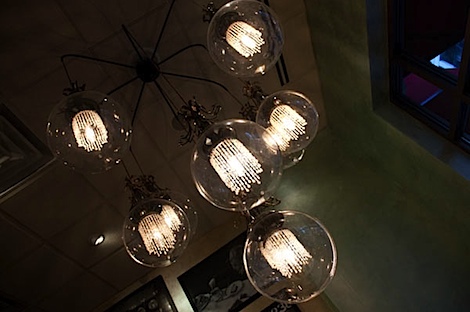 Chic Chandelier shot. 😉
Food bloggers in action!
We had a great group together tonight – Brittney, Jaclyn, Heather, Caitlin, Kelly and Brittany.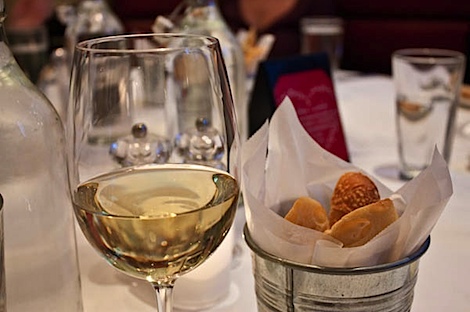 I ordered a glass of La Crema to go with my meal. The wine was very nice and light.
Yay carbs!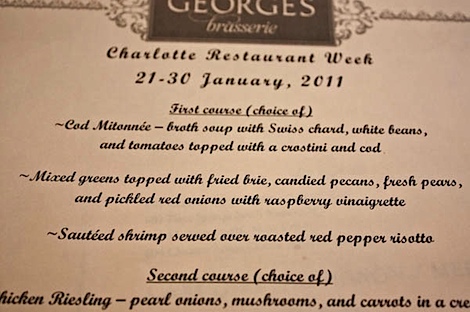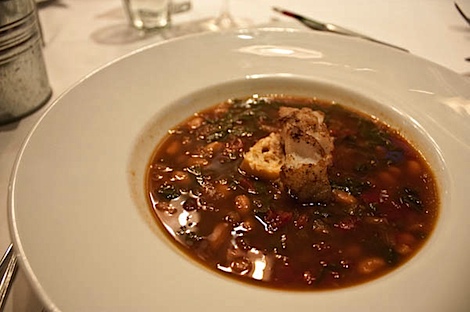 For my first course, I had the Cod Mitonnee – broth soup with swiss chard, white beans, and tomatoes topped with a crostini and cod.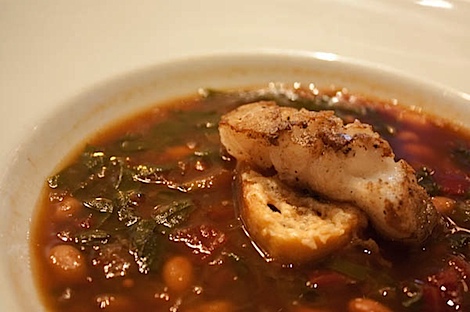 It was so good! I never would have ordered this normally, but I love to play around with new selections on prix fixe menus.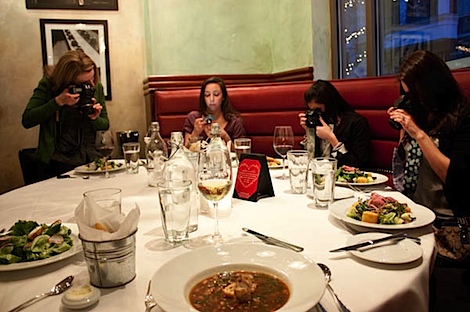 More action shots…because I couldn't resist.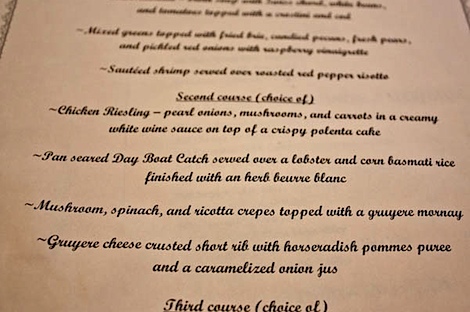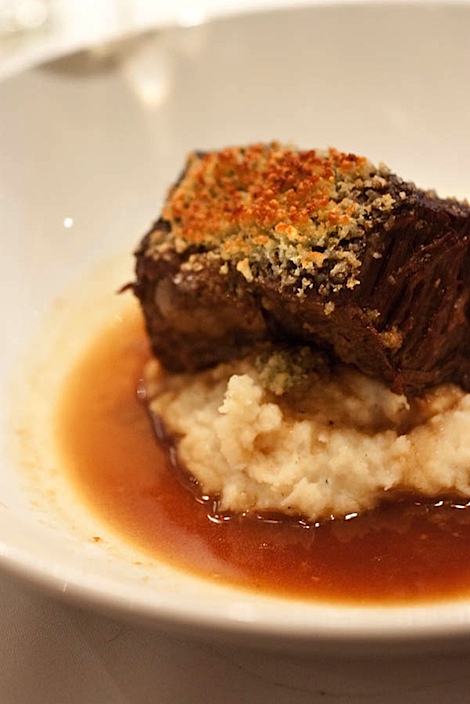 For my second course, I had the Gruyere cheese crusted short rib with horseradish pommes puree and a caramelized onion jus.
Wow, this was reeeally tasty. The meat was so tender, and I really enjoyed dipping it in the warm, flavorful onion jus.
For a sweet ending, I chose the Rustic apple tart with chantilly cream. The tart dough was crispy on the outside, tender on the inside, like the way a slice of pie has a crunchy upper edge and doughy bottom. I really liked the crunchy bites with the large sugar pieces on the top. And each bite with a little drizzle of caramel sauce and dab of chantilly cream was extra heavenly.
It was pretty nice to be eating out again. I don't know about the other Eat In Monthers, but I'm ready for it to be OVER!
In fact, I think I'm declaring February Eat OUT Month. Any one interested?
Hahahaha juuuuust kidding. 😉 But, I am looking forward to eating out more again. I definitely have learned that eating in pays off with healthier eats and saving money, but there are certain situations where eating out really is the best solution. I'll be blogging more of my thoughts about the challenge later.
***
I cooked some cannelini beans in my slow cooker earlier today, so I think I'm going to make a quick cannellinni and kale soup for later this week. Plus I have some laundry to fold. Ahhh Sunday night. I think sipping some tea over The Real Housewives of Atlanta will be my down time.
How do you spend Sunday night? Getting ready for the week? Relaxing?