Thursday… the first day of the end of the week. lol. I think of Wednesday as the middle and Thursday the beginning of the end. A sign that we're closer to 2 days of freedom. Yesssssss!
The work day was incredibly hectic, but luckily, I had Zumba to save me later. I taught a small but mighty class. So fun!
My favorite songs of the night:
Hella Decale
Diva
Right Round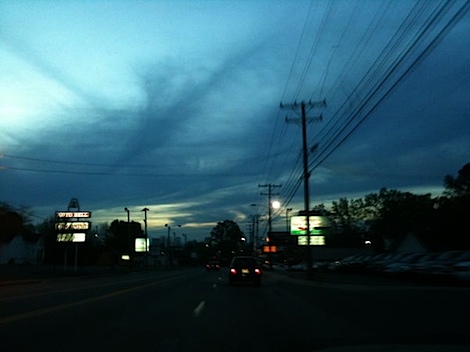 As sun was setting, I headed out with some friends from class for dinner.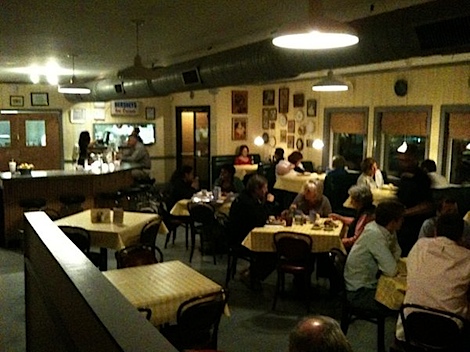 I only had my iPhone, so I just snapped a couple photos from the restaurant of the evening – Dish. A local favorite with some of the friendliest staff I've seen in a restaurant.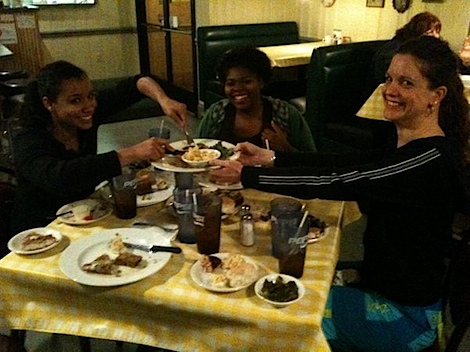 My friends (Shamecia, Talicha, and Sarah) and I went family style for dinner, sharing 1 appetizer and 3 entrees:
Nachos
Blacked Tuna, collard greens, mac and cheese
Pecan Chicken with honey butter, mashed potatoes, and extra deviled eggs (the eggs are a key feature of the restaurant)
Cajun meatloaf with extra mashed potatoes and extra collard greens
After a few minutes of divvying up food (without contamination for me – the sole germiphobe of the table), we were ready to eat. And eat we did. The food was fabulous, as always! I just love this place. 🙂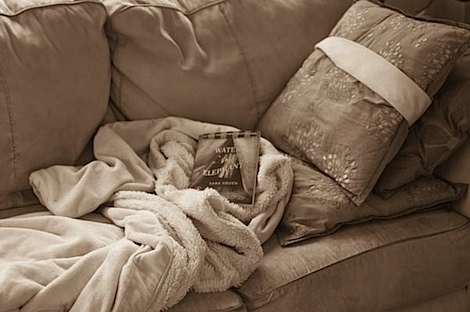 Upon getting home, I decided to try something new. The house was quiet, as hubby had already gone to bed. Instead of downloading photos to my computer, blogging, or turning on the TV, I changed, made hot tea, and got cozy on the couch with Bailey.
I spent 45 glorious minutes doing something I haven't done in ages – reading. My book of choice – Water for Elephants. I bought it because the trailer for the movie looked really interesting, and I figured the book would better.
So far, so good. It's quite the page turner. It's not so much an exciting or thrilling story where you have to know what happens next. But the author, Sara Gruen, does a fantastic job of pulling you right into the story.
I can't wait to read more. It feels good to be reading again. To lose yourself in a story completely different than your every day life.
I know it sounds silly to not really spend time reading books, but when you get into the crazy schedule of a working life, sometimes things you enjoy doing get pushed aside for must-dos or other hobbies. When I was a kid, I would spend days upon days just reading books. One of my favorite childhood authors was Christopher Pike. I blogged about his book series before and was happy to read that many of my readers are also fans. And for one of my all-time favorite books – Interview with a Vampire. Maybe it was because I saw the movie and thought Brad Pitt was a smokin hot vampire. But, I credit the fantastic storyline and writing style of Anne Rice. I read that book 3 times, and I would happily read it again. In fact, I probably should. It's been about 10 years since I last read it.
What's your favorite book of all time?