I know I've been a bit MIA lately, but I've been working on a top secret project. Read at the bottom for a little more info, though I'm not spilling the beans just yet!
***
This weekend was quite the blur with so many things going on. I had to work on Saturday morning, through torrential rain and a trip from a plumber because we had a back-up and things weren't looking pretty. Then, there was fashion week, a bachelorette party, macaroons at 2am, and all this before Sunday (ok so I guess the macaroon part was technically on Sunday, but you know what I mean).
Luckily for me, the rain on Saturday moved a picnic I wouldn't have otherwise been able to attend to Sunday. Woohoo! I was really excited when I heard about a local food blogger get-together. You know I love my bloggie outings. This one was with a whole new group of blog friends – the Charlotte Food Bloggers – a group organized by Julie (my roommate from Foodbuzz!) and Taylor.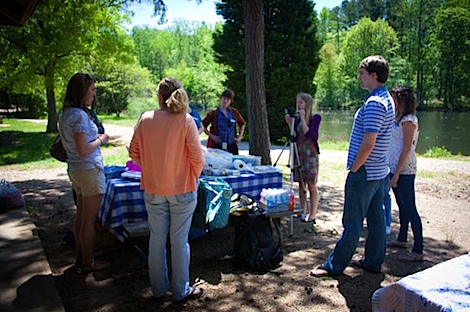 We met up at a local park here in Charlotte, NC.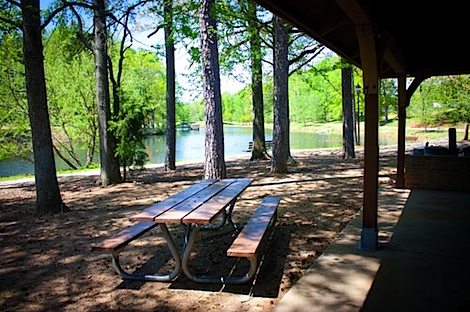 The storm passing left beautiful weather on Sunday.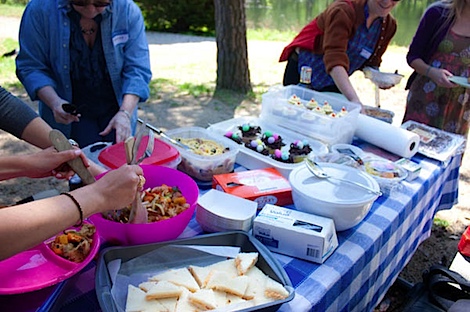 The best part of getting together with food bloggers – lots of yummy eats!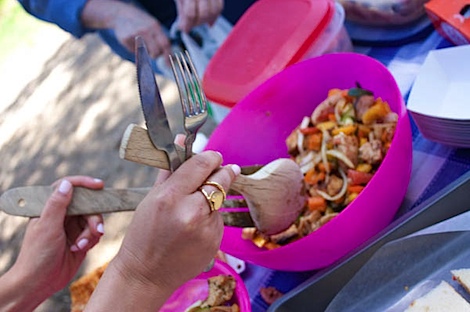 We chatted lightly before getting to business.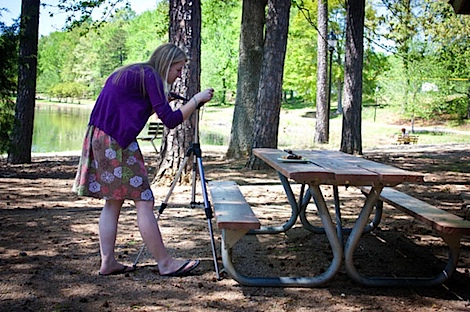 And we did our usual bloggie things – taking pictures of food…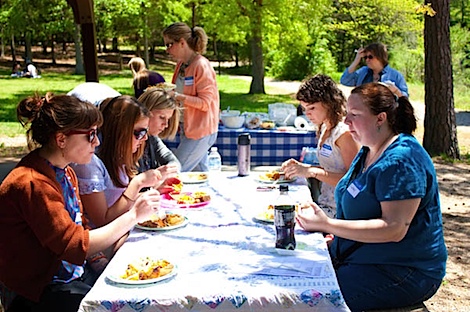 …eating. You know. The good stuff! 🙂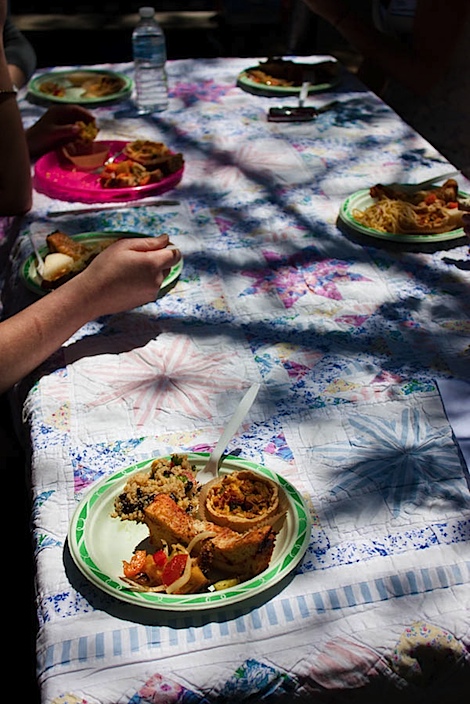 I loved how Julie brought this quilt-style blanket for the picnic. It made for a great tablecloth.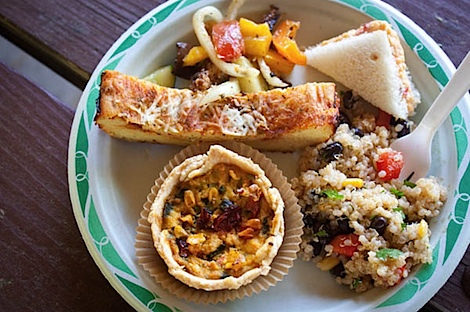 My savory plate – panzanella by The Preppy Vegan, vegan tarts by Julia, pimento cheese sandwiches by Taylor, pizza bread by Brooke, and Southwest Quinoa Salad by moi (click for recipe).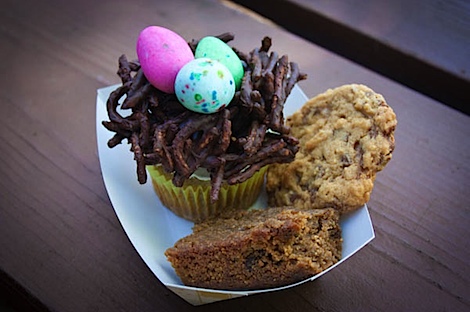 My sweet plate – a banana coconut cream cupcake by Julie, a chocolate banana sunflower butter blondie by Katie, and a chocolate malt cookie by Martha.
As you probably guessed, everything was amazing! I was so full. I couldn't quite fit a bite of everyone's food, but I sure tried my hardest!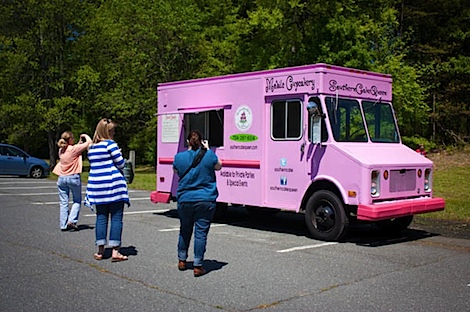 And we even had a guest visit from the Southern Cake Queen.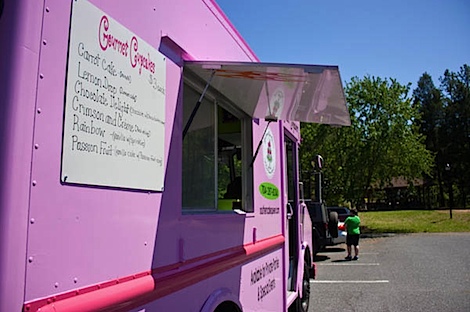 We even got to take a peek inside the truck.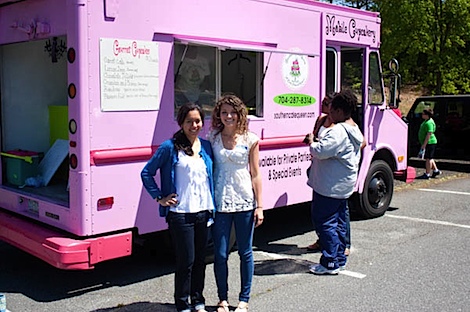 Me + Katie 🙂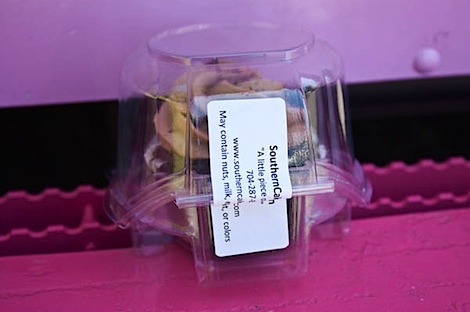 Ooh and I got a free chocolate cupcake sample to take home.
Big thanks to Julie and Taylor for organizing the fun picnic!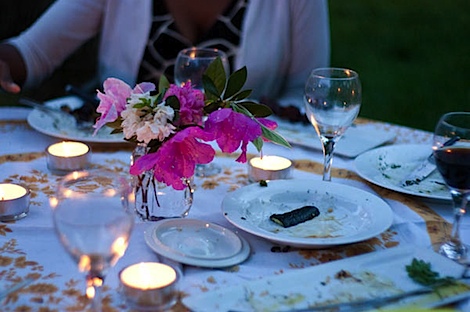 Then there was another secret project. Gah! I forgot I did two in one day!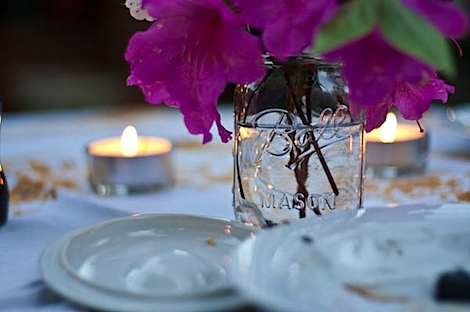 Don't worry friends, all will be revealed soon! 🙂 One sooner than the other, but hopefully soon enough.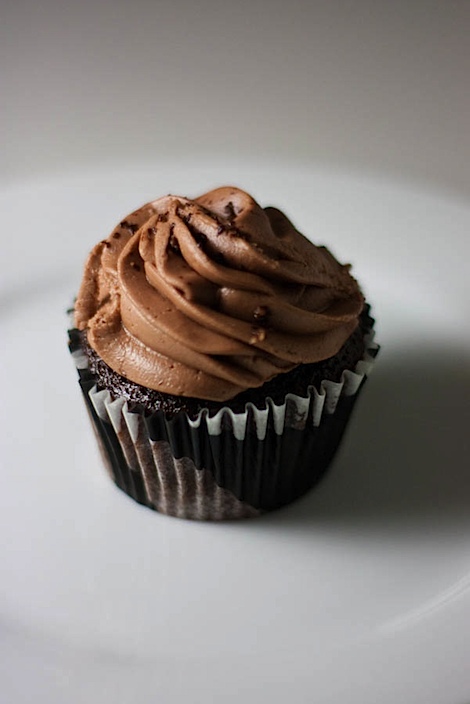 I ended up saving my cupcake from the Southern Cake Queen for much later in the day. I actually split it with hubby. The cake was nice and most and I really liked the icing, too. Great cupcake! And you guys know I'm a bit of a cupcake connoisseur. 😉 haha jk
***
Attention Healthy Living Bloggers…
(and other bloggers who aren't officially HLB bloggers, but are involved in the community…you know who you are! 😉 )
Re: Top Secret Project – If you're a healthy living / food / fitness blogger and you have questions about blogging tips or just general questions for the healthy living community (WordPress or Blogger? What camera to get? How to migrate a blog to self-hosted? What are some good quinoa recipes? Which other bloggers are going to races in my area?), please email me. I'm working on a project and if you're interested, I will email you as soon as additional details are available.
Interested?
Click here to go to my Contact form, and send me your email address.
Or… you can just email me directly…
Here's what to send:
to: thechiclife at gmail dot com (that's me!)
subject: secret project alert
body: say whatever you want, but please include your email address
***
Reader question: What's your favorite thing to eat at/take to a picnic?