On Saturday, I had the pleasure of attending a unique wine event put on by Slow Food Charlotte. Katie, Caitlin, and I were invited to attend the event as media.
For those not familiar with the Slow Food movement, I found this excellent paragraph on the Slow Food Charlotte web site:
The culture of food connects us with our communities and our traditions. Slow Food works to build those communities and preserve the traditions of the table. From local and regional heirloom fruits and vegetables, to farmhouse cheeses, rare animal breeds and handcrafted wine and beer, Slow Food is dedicated to joining farms to markets and marrying soulful pleasure to the table. Carlo Petrini, Slow Food's founder says, "Taste is pleasure that reasons." Our tastes are our preferences — and we take our preferences to the marketplace. Every time you lift your fork you are sending a message to the market about your preferences. Eat local and change the world to a place of good, clean and fair food.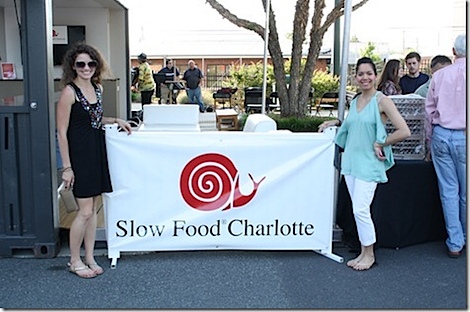 (top photo credit – Healthy Tipping Point) (all others by moi) 😉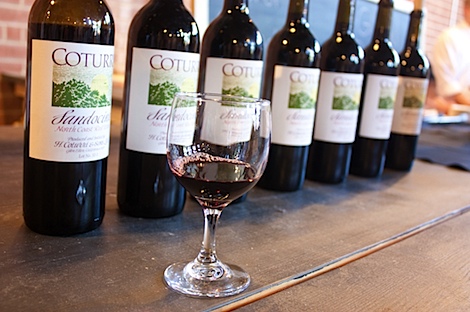 The star of the show – Coturri wines – made with organically grown grapes.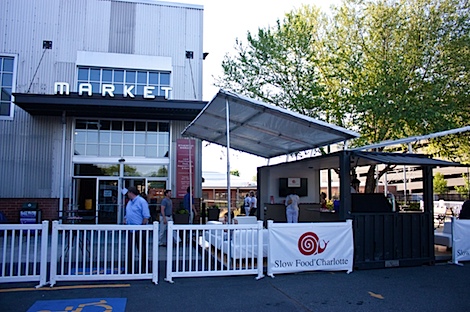 The event was put on at the Atherton Mills Market.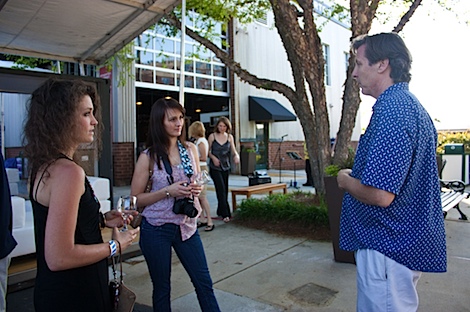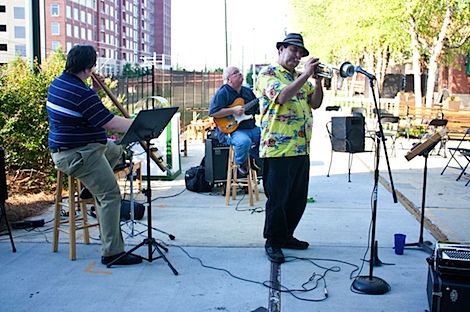 There was live music!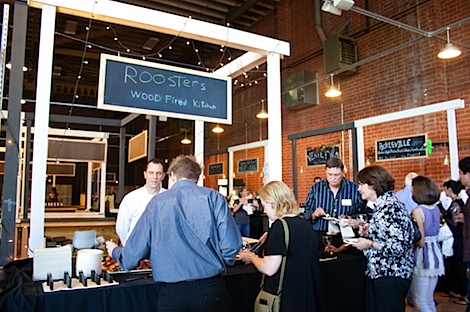 And inside, several local restaurants had booths set up with samples of food created for specific wine pairings with various Coturri wines.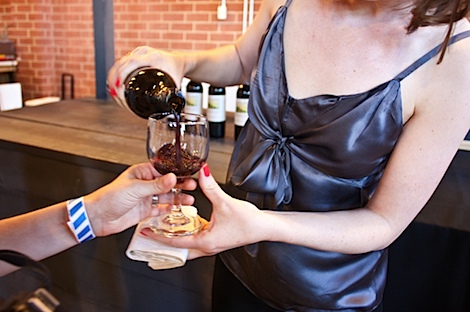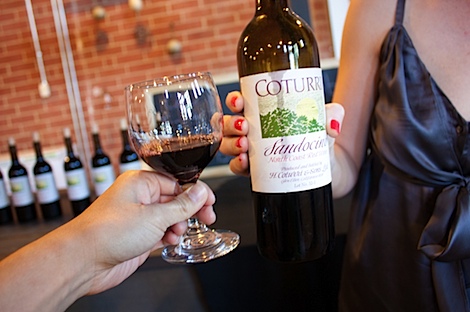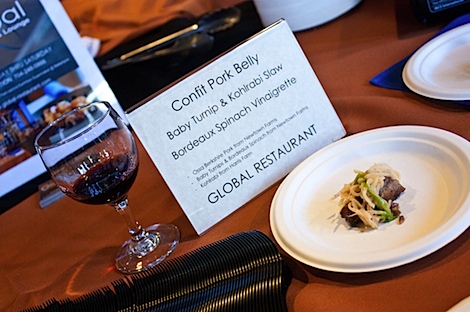 For my first food sample, I did my best to channel Anthony Bourdain to try something that pretty much terrifies me – pork belly. I've never had it. I guess it sounds weird to be afraid of something I've never tried, but the name itself strikes terror in me. I willed myself to pick up the sample. Best to try it when it's in a tiny portion, right? Right?! For a split second, I almost chickened out and didn't try the pork belly, but then, I mustered up the courage to take a bite. And you know what…it was not just ok. It was delicious. Thank you Anthony for showing me some weird-sounding foods aren't anything to be afraid of!
The pork belly had a nice, crunchy baby turnip & kohlrabi slaw with bordeaux spinach vinaigrette and was created by Global Restaurant.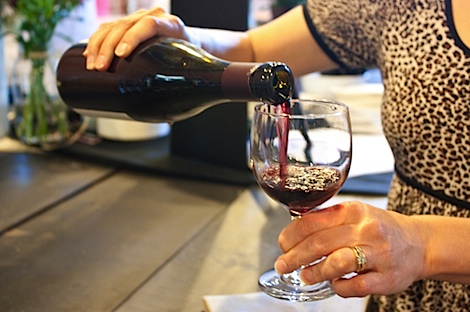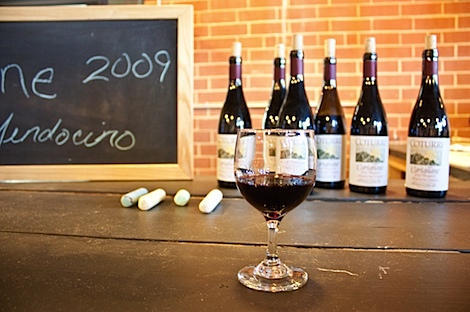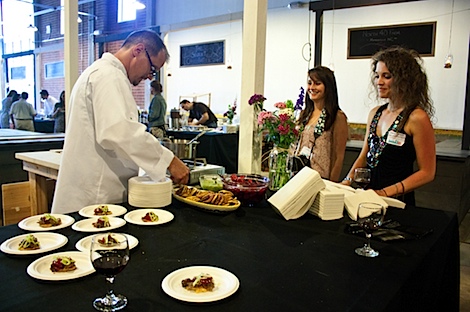 We made our way around to more wine and food booths.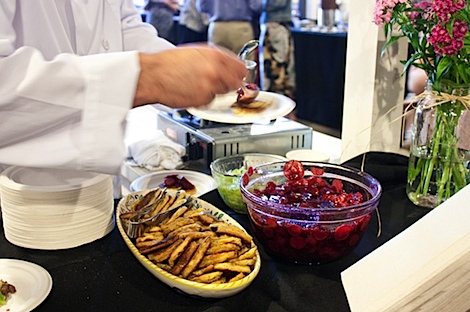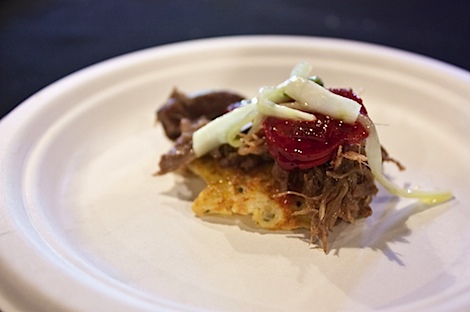 This sample with a radish and strawberry compote was really tasty, too.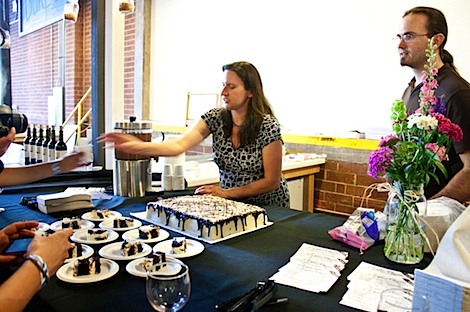 And of course, we had to hit up the sweets table.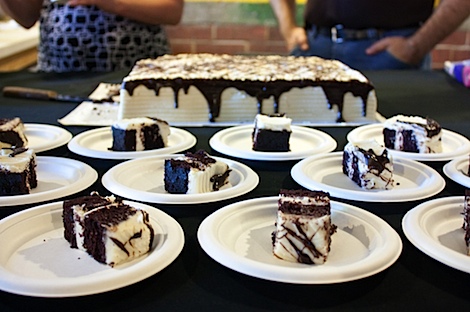 The Secret Chocolatier had cake…delicious cake…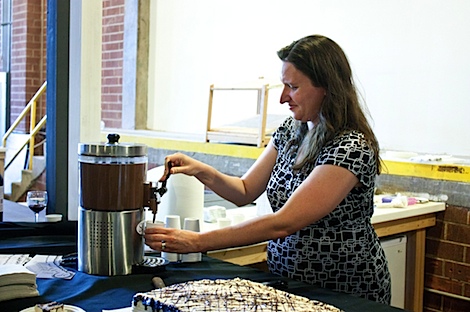 …and lavender tasting chocolate.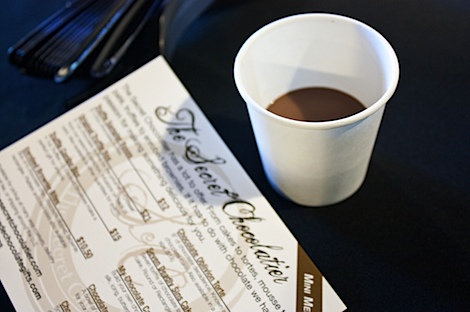 Food coma! Nommmmmmmmm!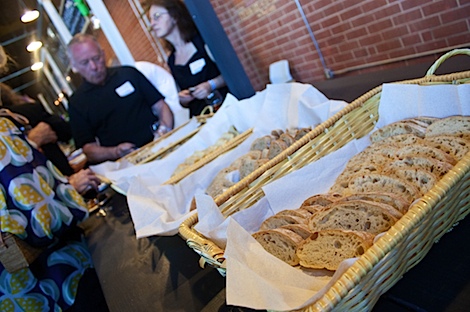 There were also baskets of bread.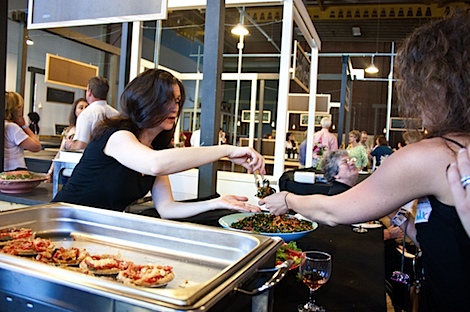 And I was really excited to try my first Beverly's Gourmet foods sample –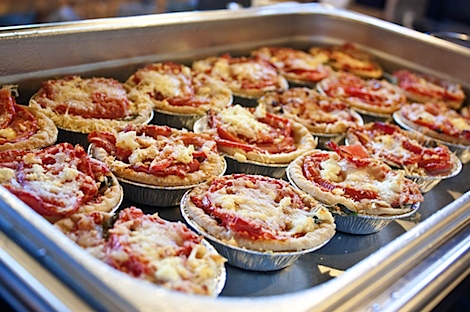 a delicious spinach tomato tart…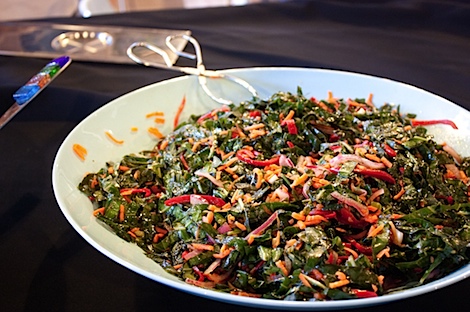 …and collard green slaw.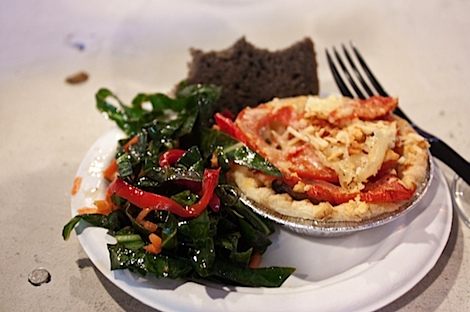 Both so, so good!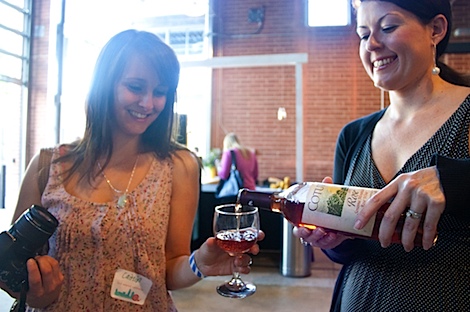 The wines all night were amazing, but the surprise favorite for me was this Rose. I can't remember all the details, but this rose was unlike traditional ones.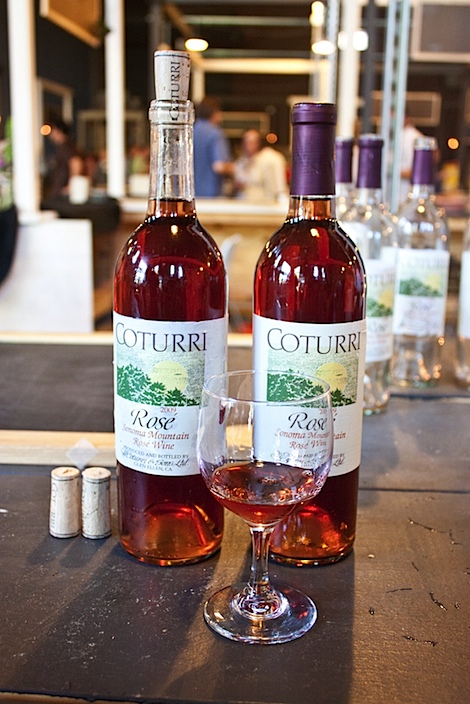 I believe it was made with white merlot grapes or something crazy-cool like that. Don't quote me. 😉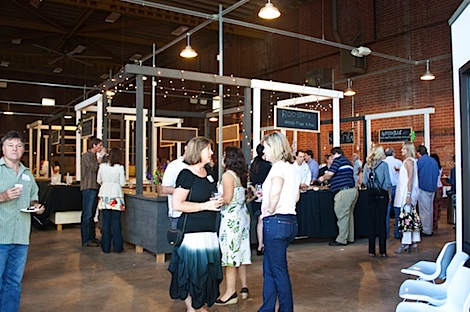 Soon enough, it was time to bid adieu to the market and head out for another very special event.
Thank you Slow Food Charlotte for the wonderful opportunity to check out your event! 🙂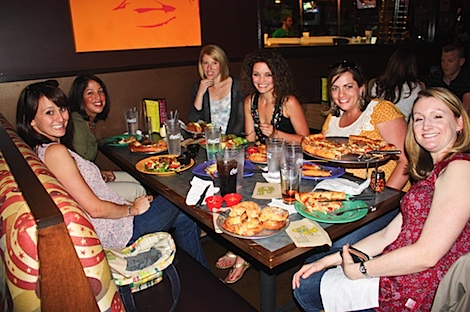 Next up, we met up with friends at Mellow Mushroom to celebrate Brittney's birthday!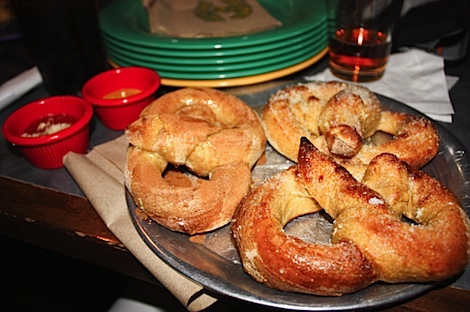 Since I was so full from the Slow Food Charlotte event, I didn't really know what to get. I ordered a half order of the pretzels (one of every flavor – salt, parmesan, cinnamon/sugar) figuring hubby would appreciate the leftovers.
And then I headed out with my Zumba peeps to visit a few bars in town and show the locals how we roll. The Zumba event was very fun, but I was so tired I forgot to take photos. Whoops!
Question #1: Did you do anything fun this weekend?
Question #2: Are you familiar with the Slow Food Movement? What do you think about it?