While Sis drove to the big city in the horizon (Atlanta!), I researched restaurants on yelp and requested recommendations on twitter.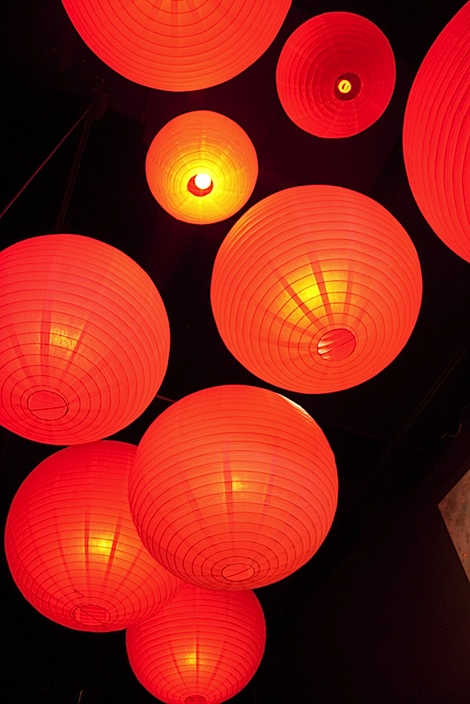 We got lots of fabulous recommendations, but one was not only close to our destination, but sounded like it would be a great experience for my sister.
We ended up checking out Cafe Sunflower, thanks to a recommendation by Kristy of Kristy Runs. The restaurant had lots of great reviews on yelp and thanks to those, we pretty much already knew that we had to try the Sesame "Chicken" for my meat-loving sister (it was the entree that all the meat-eaters adored in the reviews). Sis was a bit skeptical since she'd never been to a vegetarian restaurant, but I assured her that the meal would be fabulous.
Even though I'm not vegetarian, I love eating at vegetarian restaurants. I find the dishes to be often times more-creative and much lighter than traditional fare.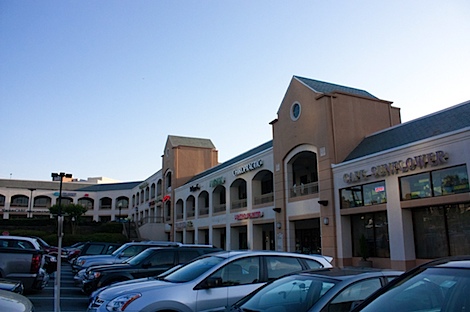 Cafe Sunflower is located in a strip mall on a very busy road. After froggering our way into the parking lot, we quickly found the restaurant – almost straight ahead. Easy-peasy!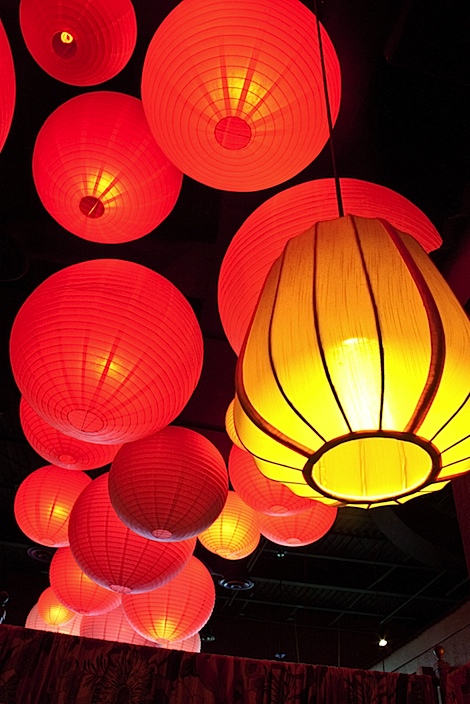 I loved the swanky decor and especially their giant, glowing, beautiful lanterns seemingly hovering overhead.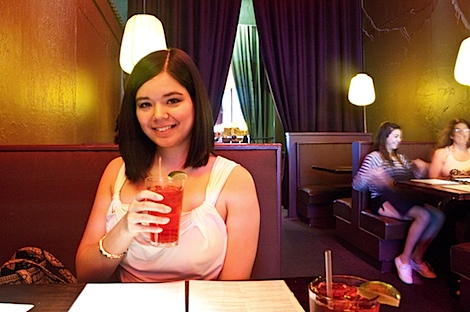 Sis and I opted for the iced herbal tea of the evening – a mixed berry sans sweetener.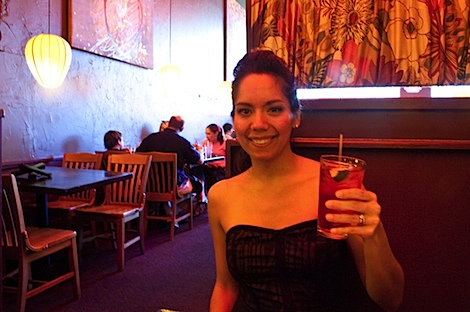 Cheers!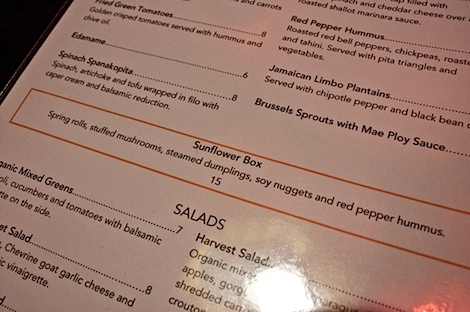 We started with the Sunflower Box – a sampler of some of their various appetizers.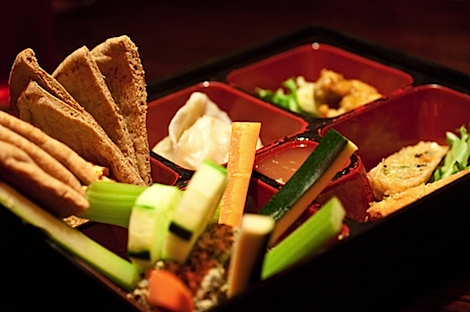 They were super accommodating and even let us sub out spinach dip for the stuffed mushrooms since neither SIs nor I like mushrooms.
In the box, we had: spinach dip with fresh veggies, hummus with whole wheat pita triangles (non-toasted),
spring rolls, "chicken" nuggets,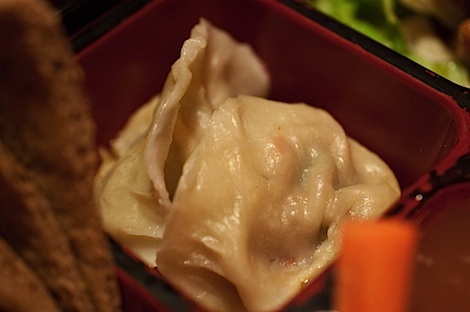 …and dumplings!
Everything was really tasty. Sis and I liked the dumplings the best (but as you'll see in one of the upcoming posts, we're big dumpling fans 😉 ).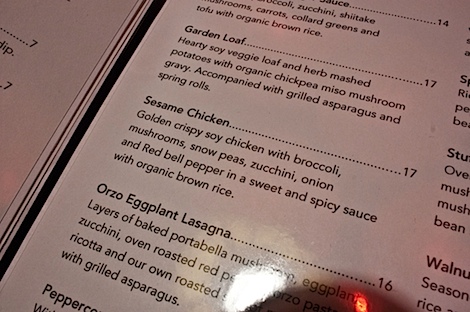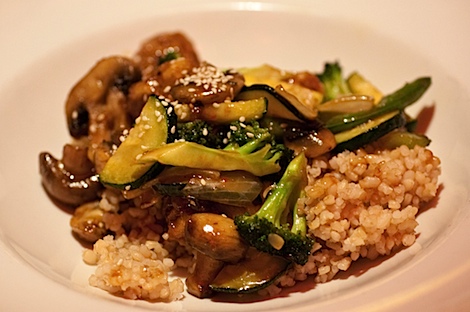 Many of the reviewers who were either meat-eaters or vegetarians bringing their die-hard-meat-loving SOs said the sesame chicken was amazing. Although there were several dishes that I probably would have rather ordered (did you see the ravioli!?), we decided to get the Sesame "Chicken", since we were sharing.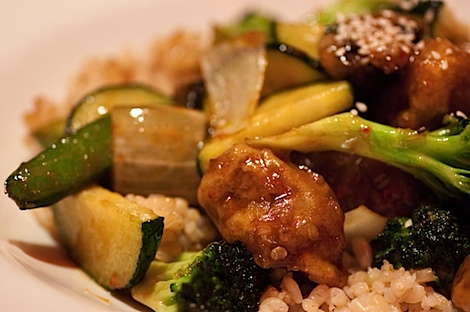 The dish did not disappoint. Think of your traditional Sesame Chicken, but imagine if there were actually vegetables added (shocker!), a lighter breading, less goopy sauce, and overall better flavor. The sauce was light, sweet, and spicy. The "chicken" was tender with a delightfully crispy breading. The vegetables were cooked perfectly – just crisp-tender. And the whole thing was served over chewy organic brown rice. WIN!
I thoroughly enjoyed my entree and more importantly, even Sis was a fan! 🙂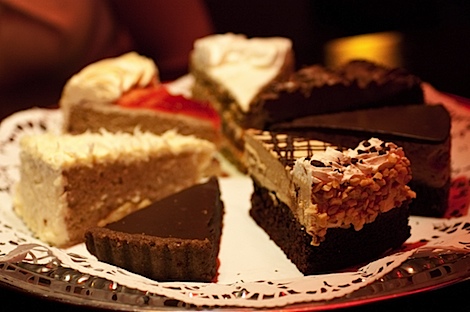 We shared our appetizer and entree so we could save room for dessert!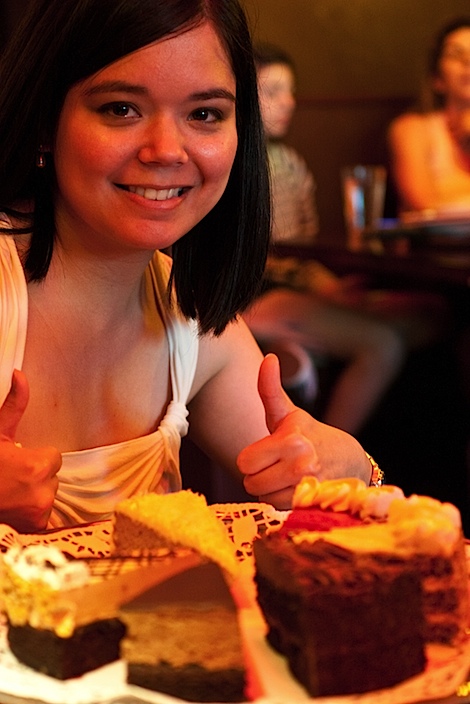 Oh yea!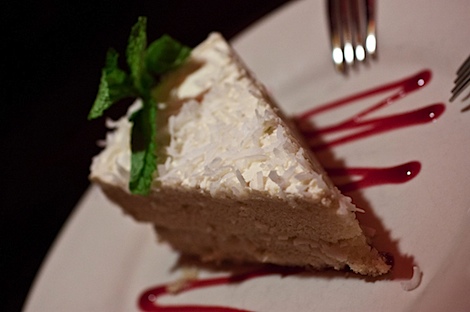 We split a slice of the coconut cream cake, which ended up being the literal icing on the cake of a fabulous meal. Every bite was heaven. The cake was just sweet enough, and I loved the tender bites of shredded coconut in the two layers of frosting.
Did I mention the cake was vegan?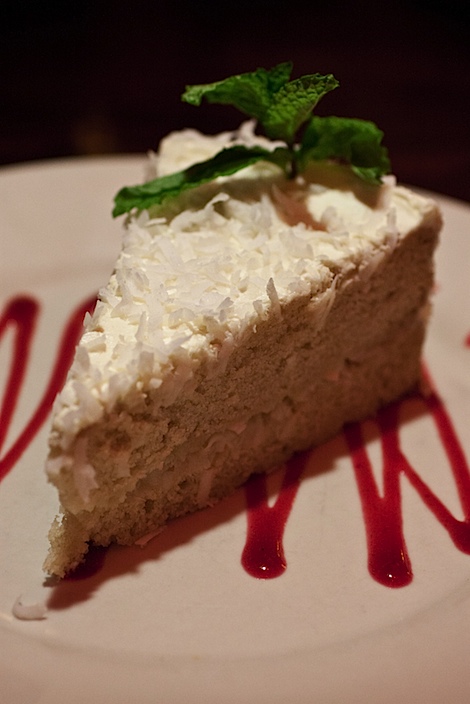 But the major win of the meal? Sis declared this cake the best cake she's EVER eaten. That's right. She didn't say it was the best "vegan cake" she's ever eaten. It was the. best. cake. PERIOD!
Naturally, I'm hoping to try to re-create it in the near future. Since I'm not that close to Atlanta, I have to have some hopes of enjoying it again, right?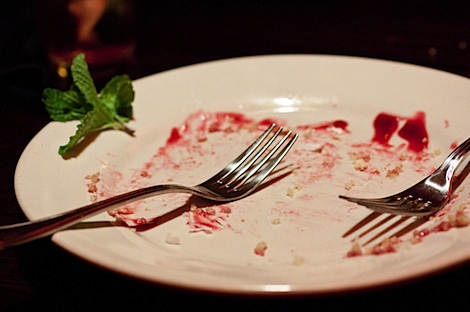 I think this picture says it all.
By the way, I read some reviews on Yelp saying the service was so-so. I'd like to add that I thought our service was excellent! Everyone we spoke with was super friendly, welcoming to my new-to-vegetarian-eating-sister, and took great care of us in the overall dining experience category.
Cafe Sunflower = Big Yum! Go there…even if you're a meat eater, you'll love it! 🙂