What do you do when you want cake, but you don't want to be tempted or forced to eat cake leftovers (slice after slice after slice) for the next week? You bake Cake Minis!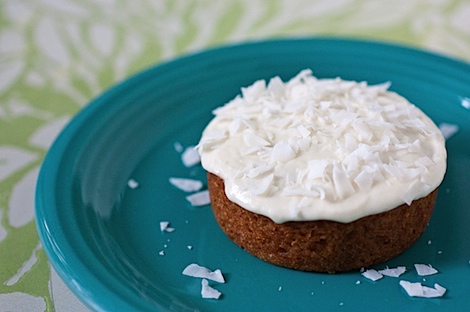 I've created this recipe to make just enough cake to give two people their own, individual, no-share cake. My first flavor – Coconut Cream! I got inspired to bake these after that fab meal at Cafe Sunflower a couple weeks ago.
I posted the preview of these awhile ago and didn't think any one would think much of them. But thanks to all your emails and tweets, I'm happily posting the recipe for your pleasure. I'm so glad you're as excited about these as I am! Plus, I got more than the 10-Like minimum on my Facebook post, so this recipe is going up before I go to bed. Coconut Cream Cake Mini or bust!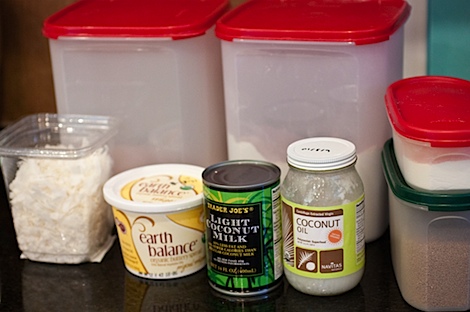 I used mostly standard ingredients with a couple "health-food" versions thrown in, but I'll list substitutions below.
And why "vegan" do you ask? Well…why not? I'm not vegan…I'm not even vegetarian. I am, however, a fan of vegan baking. This vegan version tastes like regular cake…I mean, I don't think a non-vegan would take a bite of this cake and say, "Heeeeyyy, this is pretty good…for a vegan cake." I think they'd just think, "Mmm…cake!"
Anywho, the additional benefit is that it's easier to portion out the "egg" amounts by going vegan. Not sure if you've tried it before, but it's pretty difficult (impossible?). But flaxseed-eggs (the vegan substitute for eggs) can be made in nearly any size or amount needed. Vegan-Baking-Win!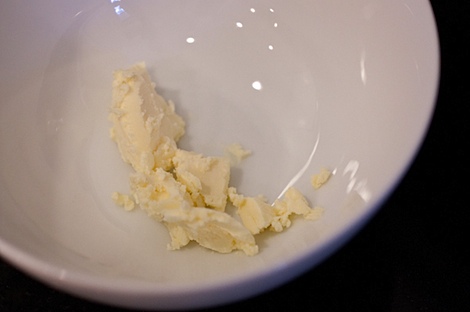 First things first, when I get started, I like to set aside the Earth Balance (or butter if you're going non-vegan or don't have Earth Balance) for the frosting so it can come to room temperature.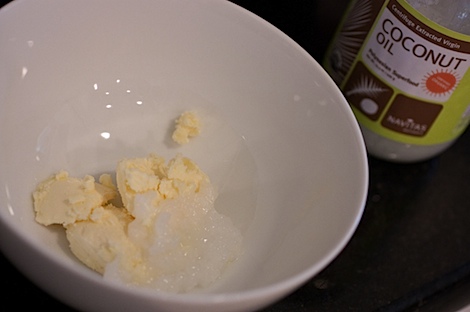 And then I measured out the Earth Balance needed for the cakes, along with the coconut oil, to start coming to room temperature.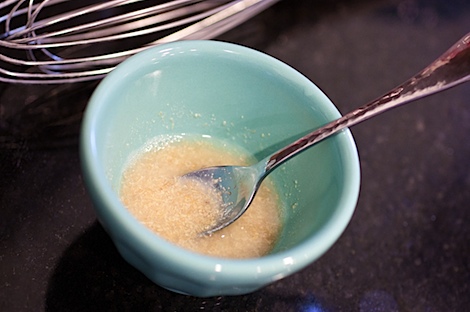 Next up, mixing the flaxseed egg. I find it binds nicer if you let the flaxseed egg mixture sit for a few minutes.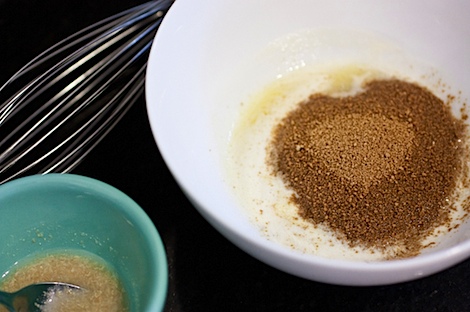 Actually, you need the coconut oil in liquid form, so you'll want to warm it up just a bit in the microwave.
After that, the recipe is pretty standard – mix liquid ingredients, mix dry ingredients, mix both of those mixes together, portion out, and bake.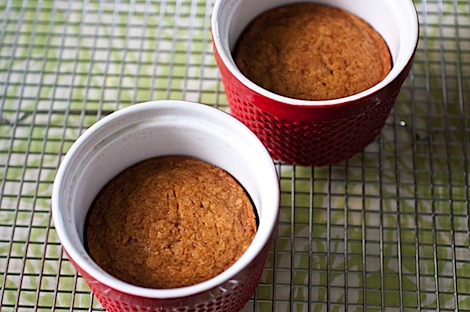 Be sure to let you cakes cool to room temperature.
Confession: Ok, the first time I made these, I was a little impatient and frosted the cakes while they were still a little warm. I couldn't resist!! The frosting melted just a bit and everything worked out just fine. But a cooler cake will get a better frosting application.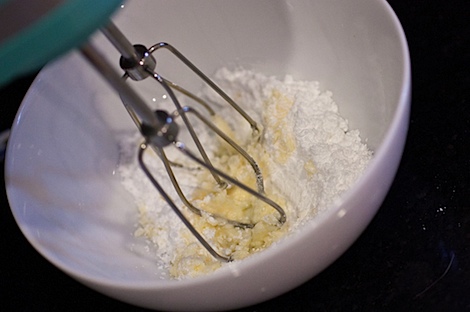 Anywho, while your cakes are cooling, you can make your frosting. By the time you've baked your cakes and let them cool, your Earth Balance should be pretty easy to work with.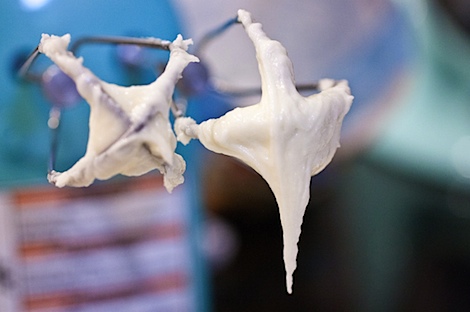 Whipped coconut-y, creamy goodness!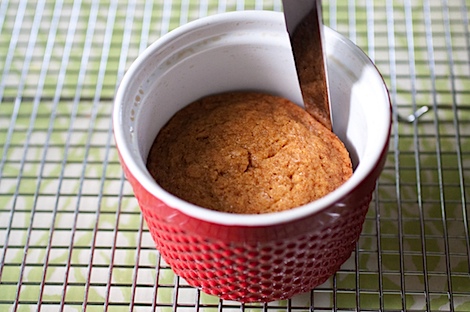 Run a knife around the edge of the cake to gently loosen the cake from the ramekin. I had to run mine around a few times before the bottom released.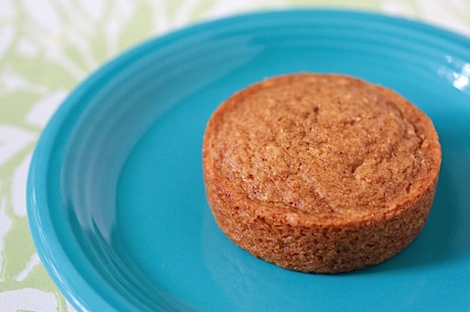 But there you have it…a pretty little cake.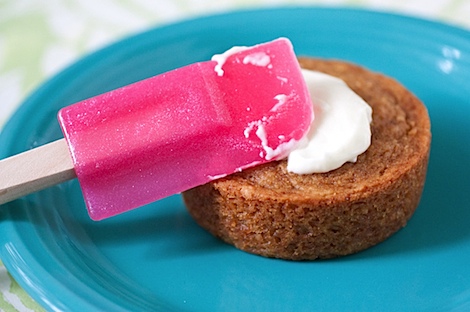 It just needs a little frosting…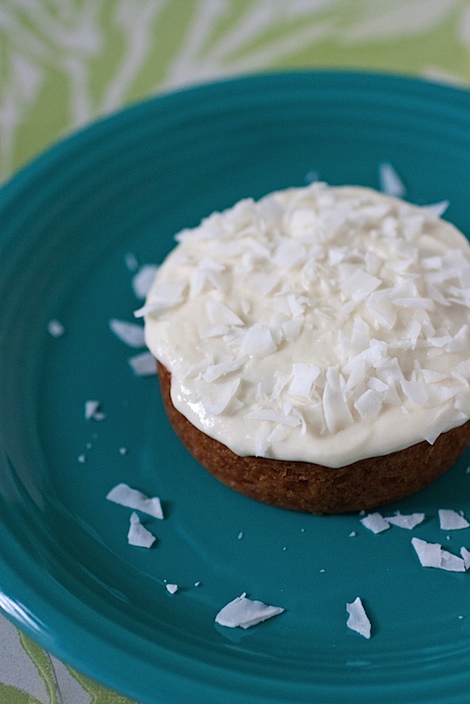 …and some coconut flakes.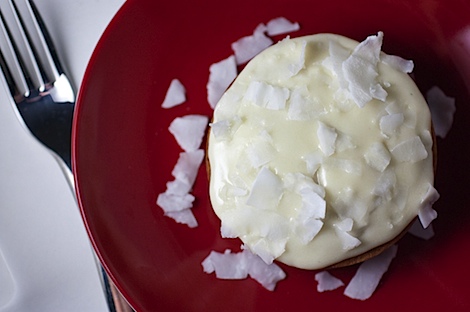 And then you're ready to dig in!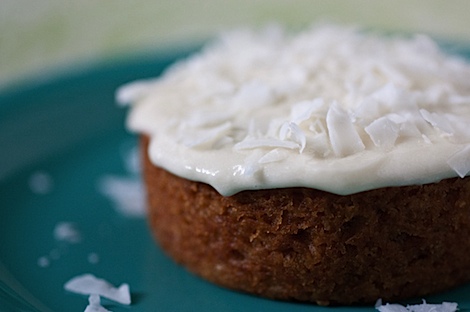 Coconut Cream Cake Minis (for 2)
This recipe makes just enough cake to satisfy two sweet tooths or one sweet tooth twice. No more staring at tons of cake leftovers. No more feeling obligated to eat the rest of the cake lest it go to waste. Now you can make just enough for one meal and be done with it! This version is lightly coconut flavored for a slightly tropical and fully tasty dessert.
Don't have flaxseeds or flaxseed meal? You could use a chia seed egg or just use 4 teaspoons of liquid eggs. Or I guess you could attempt to measure 4 teaspoons of a regular egg, but that just seems difficult and messy. Get thee some flaxseeds/flaxseed meal! 😉
*Vegan*
Makes 2 Cake Minis
Ingredients:
1 teaspoon flaxseed meal
3 teaspoons water
6 tablespoons flour
1/2 teaspoons baking powder
pinch salt
2 tablespoons Earth Balance (or butter if you're not vegan)
1 tablespoon coconut oil
3 tablespoons sucanat (or sub sugar, but the cake will be more sweet)
2 tablespoons coconut milk
1/2 teaspoon vanilla
Directions:
Pre-heat oven to 350 degrees F. Prepare two ramekins (3 inch diameter) with non-stick cooking spray.
Mix flaxseed meal and water together and set aside to bind while you continue with the rest of the recipe.
In a large bowl, whisk together flour, baking powder, and salt until ingredients are well-combined.
In a medium bowl, combine Earth Balance and coconut oil. Microwave Earth Balance and coconut oil until the coconut oil just turns liquid. Stir in sucanat until well-combined. Stir in flaxseed/water mixture, coconut milk, and vanilla until well-combined.
Stir wet mixture into dry mixture until just combined (careful that no flour bits remain, but that you also do not over-mix).
Evenly distribute batter into the two ramekins. Bake until top is golden brown and cake is cooked through (or a toothpick inserted in the center of the cake comes out clean), about 19-22 minutes.
Cool cakes to room temperature. Run a knife around the edge of the cake in the ramekin to loosen the cake (circling a couple times until you see the cake loosening from the bottom)
Frost cake with Coconut Cream Frosting, recipe follows, and top Cake Minis with coconut flakes.
Enjoy!
Coconut Cream Frosting
*Vegan*
Makes enough to top 2 Cake Minis
Ingredients:
1 tablespoon Earth Balance or butter, room temperature
4 tablespoons powdered sugar
1/2 teaspoon coconut milk
Directions:
Combine Earth Balance and 3 tablespoons powdered sugar in a medium bowl. Using a handheld mixer, slowly mix Earth Balance and powdered sugar until dry sugar is mixed into the Earth Balance.
Add coconut milk and last tablespoon powdered sugar. Slowly mix until dry is mixed into wet. Then on medium to medium/high speed, whip frosting for a couple minutes to get it light and fluffy.
Apply frosting to Cake Minis from previous recipe.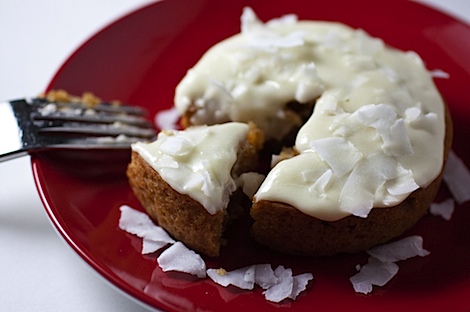 I've tested out another Cake Mini recipe and it's wonderful! Can't wait to share with you guys!
Other reader Cake Mini flavor requests:
Butter Pecan
Chocolate
Ginger
Red Velvet
Spice Cake
Strawberry
Pina Colada
Boston Cream Pie
Have one to add?
Yeaaa…I love my sweet tooth readers! 😉 It's going to be fun working on some of these other flavors!! Thanks for the suggestions.
What's your current favorite cake flavor? I used to love yellow with chocolate frosting, but I'm on a big almond cake kick lately (speaking of almond cake…I should add that to the list of Cake Mini future flavors!). What about you?