After our amazing dinner in Atlanta, we headed just two miles down the road for the entire reason for our trip – a concert at the Atlanta Symphony Orchestra.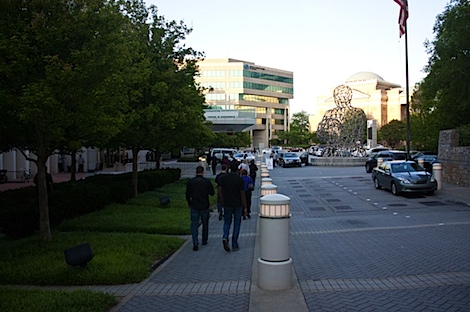 Not just any concert…a concert my sister invited me to back in January because she wanted to see it so badly.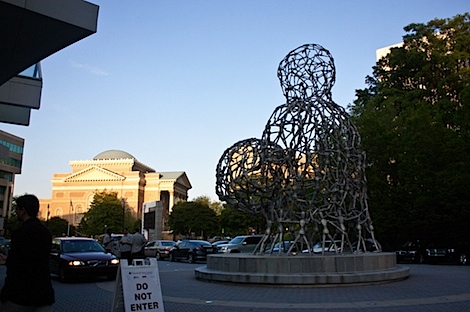 No, it wasn't Usher. My sis is a gamer and was super excited when she found out that Distant Worlds – the orchestra version of songs from the Final Fantasy game series was coming to the South. This was conducted by Arnie Roth and composed by Nobuo Uematsu and Masashi Hamauzu.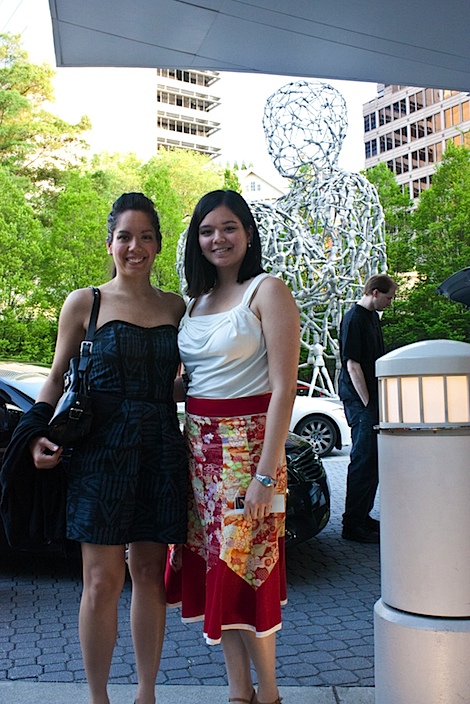 Sis and I before the show.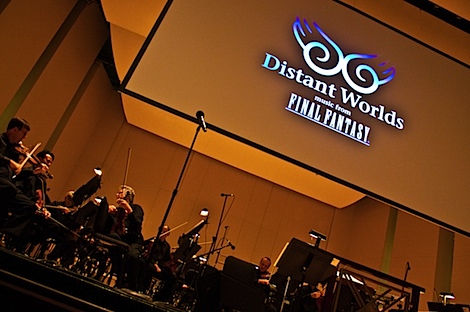 The concert was better than I expected. Actually, I didn't even know what to expect, but either way, I enjoyed the experience. The Atlanta Symphony Orchestra played various songs throughout the show while video clips, drawings, and other images were displayed on the screen above. I'm a big classical music fan, and this was right up my alley music-wise. The songs reminded me a bit of Phantom of the Opera, but sometimes without singers. Although, there were two songs with opera singers – the one with the trio being possibly my favorite of the evening. They also had the Georgia Tech choir on stage to perform some of the songs!
Some of the concert was definitely lost on me since I wasn't familiar with the song names or characters. I could only look around to appreciate the enthusiasm as the Grammy-award-winning conductor gleefully listed off song names. Perhaps the biggest game-word of the night – Chocobo. Oh yes. The conductor said they were going to play the "Chocobo" song and the crowd went wild! I leaned over to my sister and whispered, "What's a chocobo." Click here if you'd like to learn, yourself.
The crowd went the most crazy every time the composer himself, Nobuo Uematsu, stepped out onto the stage.
Also…curious about the show? Click here for a sample video!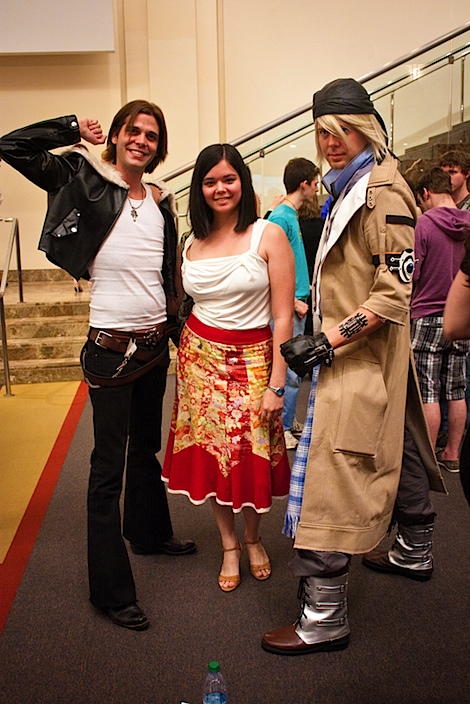 Sis expected lots of people in costume, but we only saw a handful. These two had the best costumes of the evening.
Overall, I had a great time and really enjoyed the music.
And one fun fact for you non-gamers…Final Fantasy was named because the software company who developed it was going out of business. Thus…it was their "final fantasy." But, as it turns out, the game was a big hit and they're now on their fourteenth version! I love a good success story. 🙂
***
After the concert, sis and I headed to our cousin's house. I was worried about waking my aunt and uncle up since we weren't getting there until just after 11pm, but would you know it…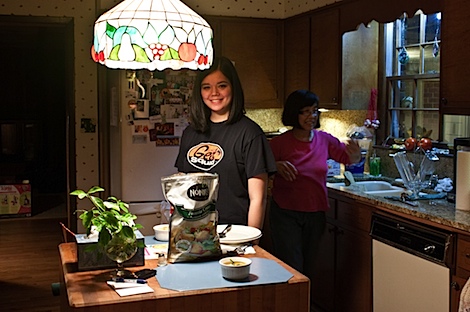 …we got there and my aunt was buzzing around the kitchen like a happy little bee. She even had late night snacks ready for us – Filipino-style: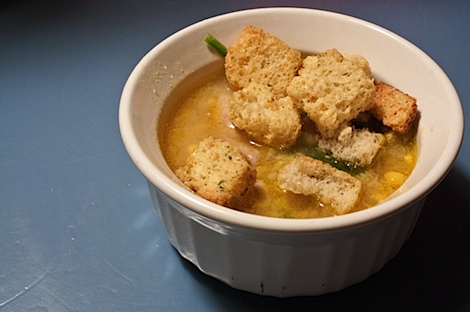 A corn and pork stew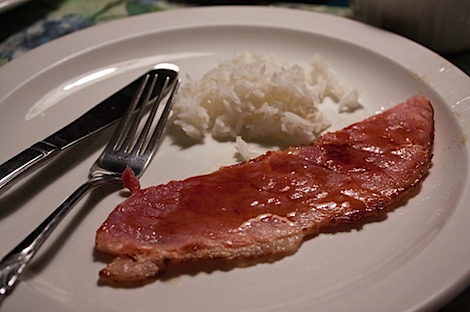 ham with a sweet sauce and rice
(Can you tell Filipinos like pork?)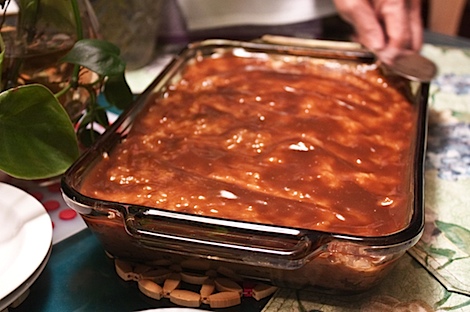 And the best part – dessert! This may not look like much, but this sweet rice is a beloved family favorite. It's made simply with sticky rice, coconut milk, and brown sugar. Yup…it's vegan! I'll have to post a recipe some time. It's easy, cheap, and delicious.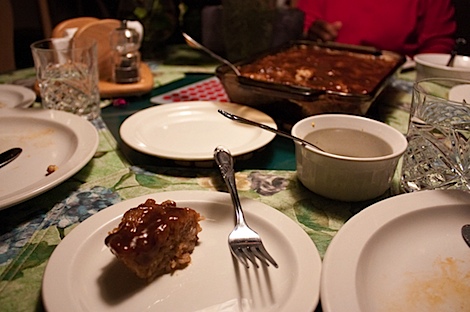 Nom!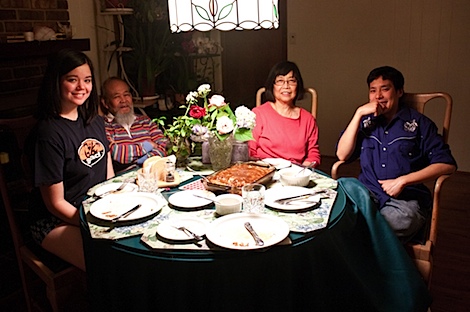 I really wanted to take Monday off to spend more time with my family, but I have too many projects at work right now. 🙁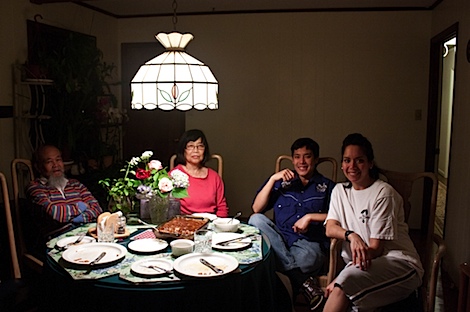 We'll have to come back soon! We grew up visiting this side of our family. Our aunt is actually distant cousins with my mom, but we lived relatively close and have always gotten along swimmingly. My cousins are like my brothers, so they're a closer section of our family. 🙂
After late night snacks, we enjoyed some music by my cousin Leo who is quite the guitar rock star.
Are you a gamer? What's your favorite video game to play?