First up, I just want to send out a big WELCOME with a giant hug to all my new readers and blog friends. I've been seeing a lot of new commenters, twitter followers, and Facebook friends. I'm not always the fastest at replying to comments and stuff, but I did want to say that I noticed you're here (and you too seasoned readers!) and your comments and tweets mean the world to me! It's so nice to have you here!
***
Did you guys like my teaser photo yesterday?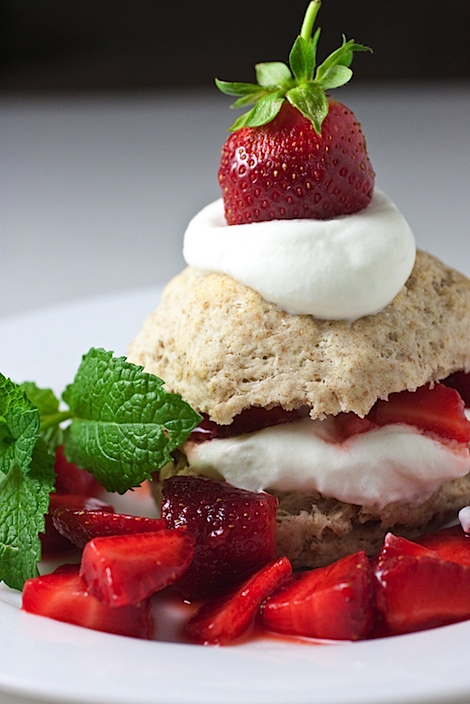 I guess it was pretty obvious what I made – Strawberry Shortcakes! I made them with the strawberries I picked on Sunday! Details in a minute, but first…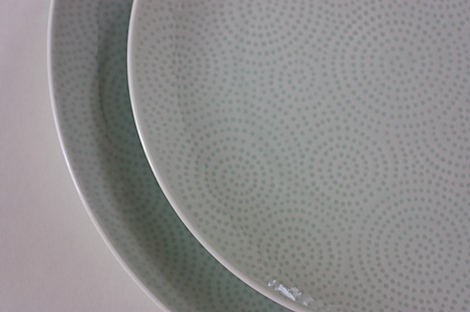 Another teaser photo! This one from my recent Crate & Barrel shopping spree. You can see a couple more photos on my Facebook page. 😉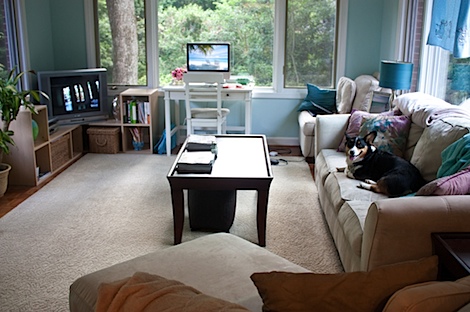 After strawberry picking…I got my living room organized. The furniture is a little awkward in here, but it will do till we have money to buy furniture for the space.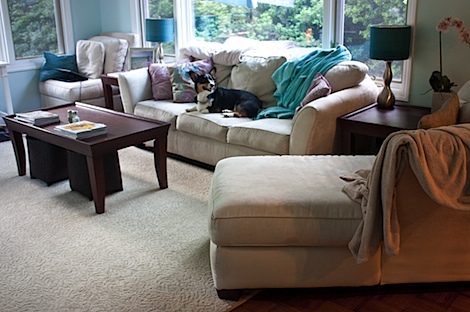 This stuff has been with me since my last 3 homes (2 apartments and 1 townhome!). The sofa and table set was one of my first big "adult" purchases after college.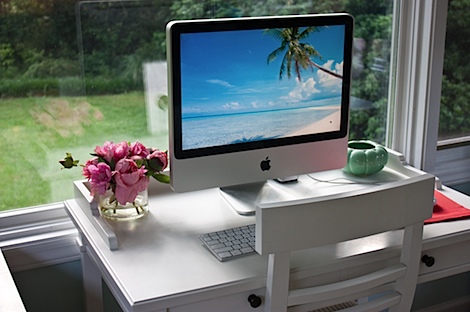 I especially love how the desk is so nice and clear now. My desk top tends to get cluttered with random papers (which I use to jot down ideas, blog post thoughts, zumba playlists, and other randomness). Right now it looks clear and clean!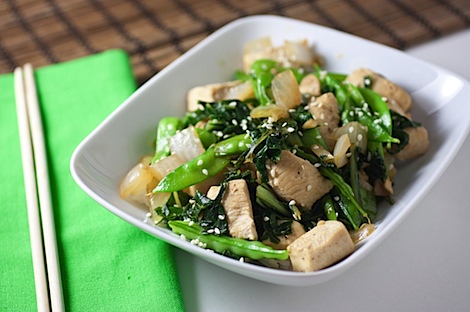 I was excited about using my farmer's market veggies in a stir fry Sunday night.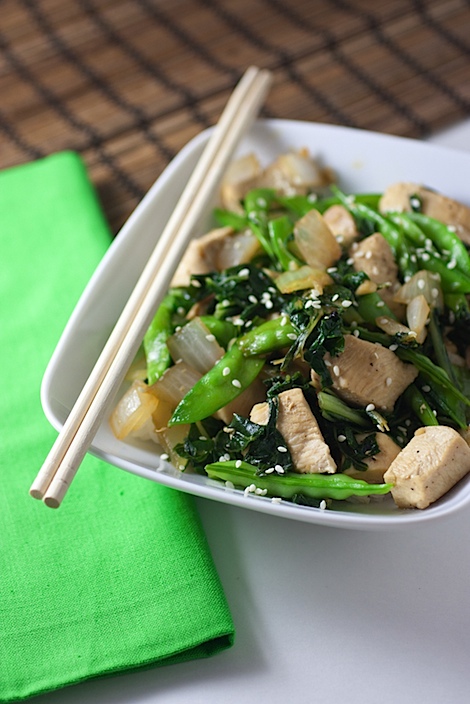 In the mix are organic bok choy and snap peas from the local market.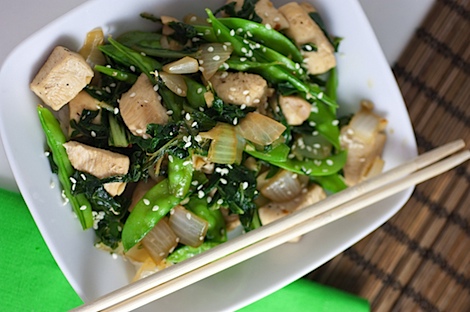 I've never been big on adding snap peas to stir fries, but boy were they amazing in this one! They added a sweet, bright flavor and plenty of crispy crrrunch!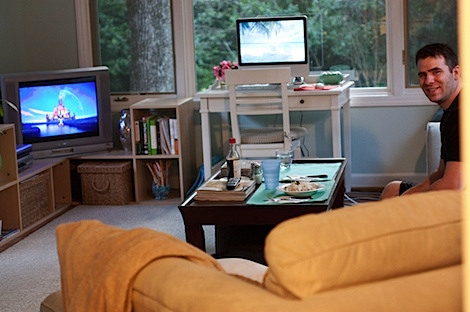 Hubby and I enjoyed movie night in the newly organized living room. We saw Tangled! Have you seen it? I love a good Disney movie. I thought Tangled was super cute.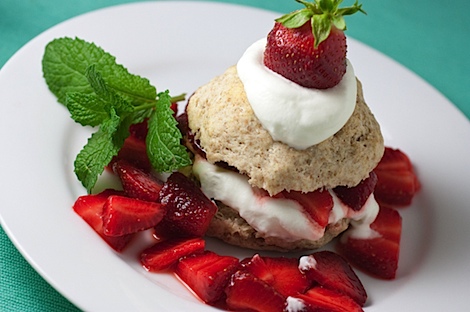 And then there was dessert. I knew it had to involve some of those fresh-picked strawberries I'd just gathered earlier in the day.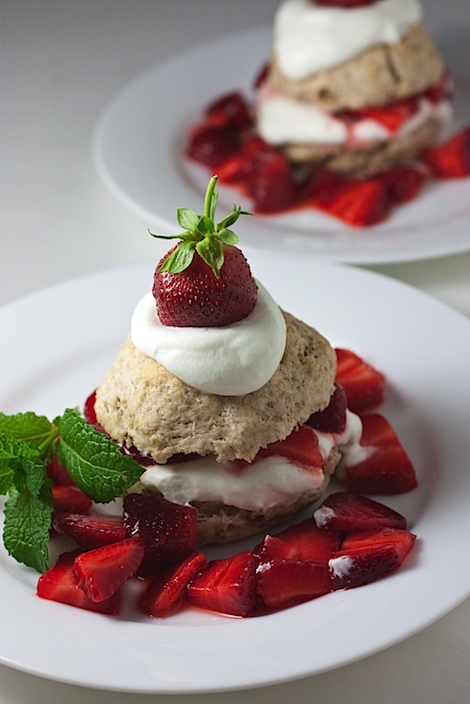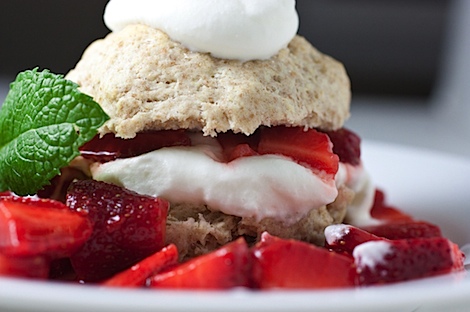 My favorite thing to do with fresh strawberries is make short cakes!
Remember that time I made shortcakes for farewell pot luck at the KERF house? Meeeemories! 🙂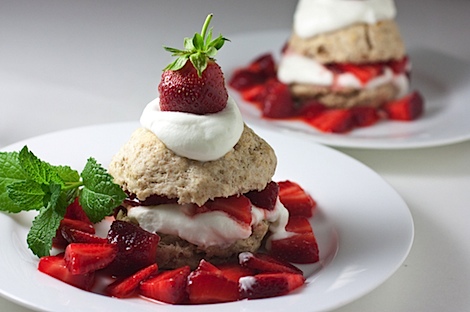 I used to use the Bisquick recipe for short cakes, but now I try to avoid boxed mixes. I like mixing my own ingredients together!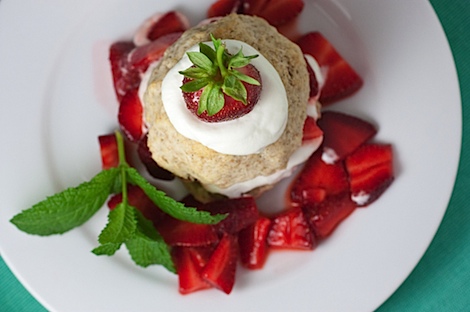 I did a play on the Alton Brown version I made for the KERF party.
Multigrain Shortcakes
Adapted from Alton Brown's shortcake recipe
These shortcakes are light, just chewy enough, and plenty tender. They're also Not So Sweet, since you get most of the sweetening from the strawberries and whipped cream. I used 3 types of flours in my recipe, but you can use whatever flours you want or 100% all purpose. Spelt is the key to keeping the fluffy texture with less processed flours, but All Purpose would work, too.
*Vegan options*
Ingredients:
2 cups flour (I used 1 cup spelt, 1/2 cup whole wheat, and 1/2 cup unbleached all purpose)
1 tablespoon sugar
2 teaspoons baking powder
3/4 teaspoon salt
2 tablespoons Earth Balance (I used it cold – straight out of the fridge) or butter (cut into tablespoon-sized pieces)
2 tablespoons All Vegetable shortening (I used Spectrum brand, which is made with organic palm oil)
3/4 cup milk or non-dairy milk
extra sugar for sprinkling on top of shortcakes, about 1 tablespoon
Directions:
Pre-heat oven to 400 degrees F. Line a baking sheet with parchment paper.
Combine flour(s), sugar, baking powder, and salt in a large bowl. Whisk together.
Cut in Earth Balance and shortening into the flour mixture using dough cutter or forks until Earth Balance and shortening are pea-sized.
Gently stir in the milk/non-dairy milk until just combined (careful to not over-mix, but do ensure all flour combined into dough).
Separate into 6 portions. Roll each portion into a ball and place on prepared baking sheet.
Bake for 15-18 minutes, until golden brown on top and cooked through (if a toothpick inserted in the center comes out clean).
Allow to cool to room temperature.
How to Make Strawberry Shortcakes
Strawberry shortcakes are an insanely forgiving recipe. The tough part is just making the shortcakes and that's a piece of cake…err…shortcake! 😉 Here are some non-recipes to get you going (because you don't need full recipes for the berries or the whipped cream). I made mine Amaretto-spiked! You can make yours plain by leaving the Amaretto out.
Strawberries (use about 1/4-1/2 cup per person, depending on how much you like strawberries!): Remove green tops (hull if you want) and chop strawberries into small pieces 1/4 to 1/2 inch large. Place strawberries in a bowl. Squeeze in some fresh lemon juice or add a drizzle of Amaretto and add a sprinkling of sugar. Stir mixture and allow flavors to combine (a pretty pink juice will form) while you make the shortcakes (or at least 5 minutes).
Shortcakes: See recipe above. Allow to cool.
Amaretto-spiked whipped cream: Pour whipping cream into a bowl (about a couple tablespoons per person). Using handheld mixer on medium high speed, whip cream until it just starts to thicken up, just a couple minutes. Add in some powdered sugar (about 1 tablespoon at a time). Mix in. Taste test. Add additional sugar as needed. Continue whipping until mixture is fully whipped (it should have the texture of whipped cream and hold its shape fairly well). Stir in a drizzle of Amaretto to taste.
Assembling: Cut shortcakes in half, top bottom half with dollop of whipped cream, top that with a spoonful or two of strawberry mixture, add shortcake top. Add additional whipped cream and strawberries as you wish. Garnish with mint (you eat with your eyes!).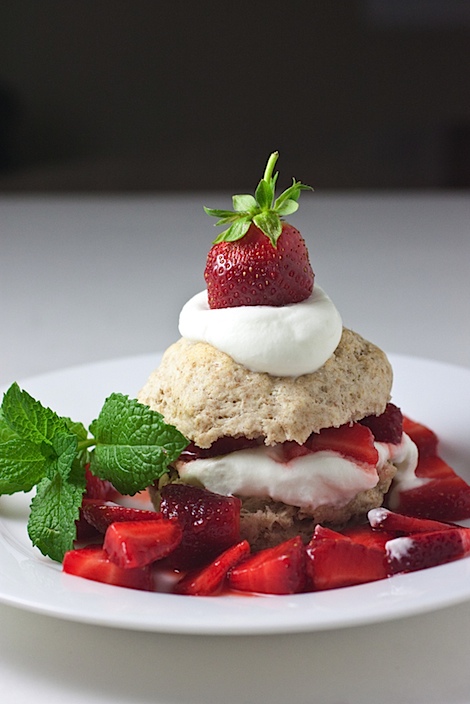 Enjoy!
Reader question #1: What would you spike your whipped cream with if you were having strawberry shortcakes?
Reader question #2: How often do you organize particular rooms. I used to have a schedule, but now I just kind of do it as I have time. What about you?