So glad to hear all the positive feedback about those yummy strawberry shortcakes! They're really tasty! You guys should definitely try them out. And then, if you have any strawberries leftover…make these for a sweet summer breakfast.
Strawberry Muffins!!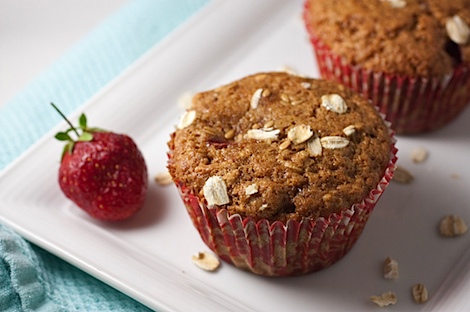 Hey baby! 😉
I mean…I must confess, the idea for this recipe really came for the need to do something good with my strawberries since they were on their last legs.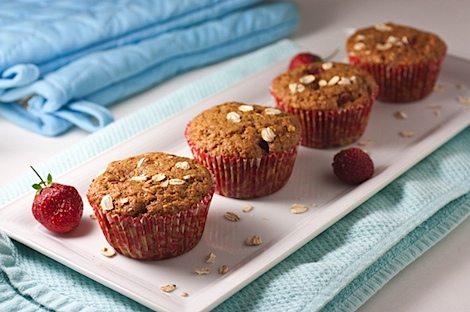 Although we just picked them on Sunday, they were a week past peak when we picked them and were not as perky as they could have been. They were tasty yes, but I knew they wouldn't last very long.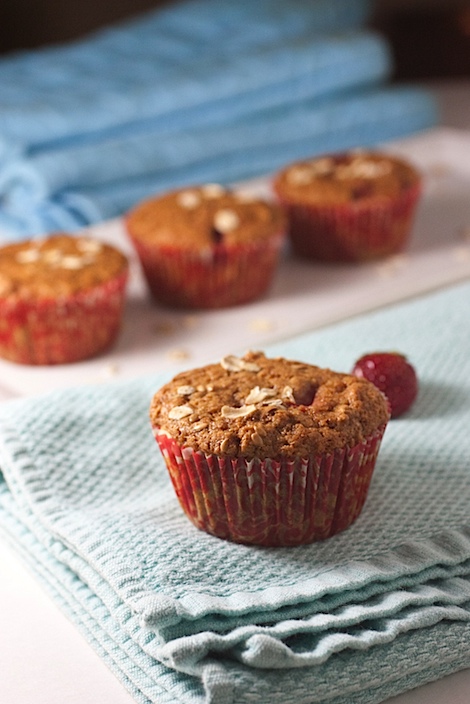 Staring into my sad box of slightly wilted berries, I wondered what to do with them. Toss them? How wasteful! I could only shake my head at not freezing them the day I brought them home.
But then…another thought…bake them! Yes, bake them in something so they didn't need to have their crisp texture to be enjoyable.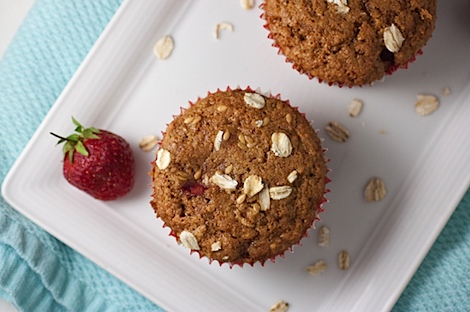 Summer Strawberry Muffins Recipe (Oats + Flaxseed Version)
These muffins make good use of your leftover strawberries, but you could also substitute frozen berries if you wanted. Be sure to cut the berries small – about 1/4 inch cubes – so they distribute nicely throughout the muffins. You can sub sugar for the sucanat, but sugar is generally more sweet, so you may want to use less.
*Vegan options included below*
Makes 12 muffins
Ingredients:
1 1/2 cups flour (I used 3/4 cup spelt, 1/2 cup whole wheat, and 1/4 cup flaxseed meal – but you can use whatever flour you want)
1/4 cup oats
2 teaspoons baking powder
1/2 teaspoon salt
3/4 cup sucanat (or use 1/2-3/4 cup sugar, depending on how sweet you want it)
1/4 cup butter, softened (or sub vegan butter substitute)
1 egg (or sub 1 tablespoon flaxseed meal mixed with 3 tablespoons of water – combine and let rest 5 minutes)
1/2 cup milk
1/2 teaspoon vanilla
1 cup chopped strawberries (cut to about 1/4 inch pieces)
rolled oats and flaxseeds, optional – for sprinkling on top
Directions:
Pre-heat oven to 350 degrees F. Prepare a 12 cup muffin tin with non-stick spray or paper liners.
In a large bowl, whisk together flour(s), oats, baking powder, and salt until ingredients are evenly distributed.
In a medium bowl, whip butter (or butter substitute) and sucanat till well combined. Mix in egg (or egg substitute). Mix in milk and vanilla until well combined.
Add wet ingredients to dry ingredients and gently mix together until just combined (careful to not over-mix).
Stir in chopped strawberries.
Evenly distribute muffin mix into prepared muffin tin. Note: I used an ice cream scoop, filled to well-rounded.
If using, sprinkle oats and flaxseeds on top of muffin batter.
Bake muffins for 17-20 minutes, until edges just start to brown and muffins are cooked through (when a toothpick inserted into the middle of the muffin comes out clean).
Allow muffins to cool 5-10 minutes before serving. Careful, they're hot!!
Enjoy! 🙂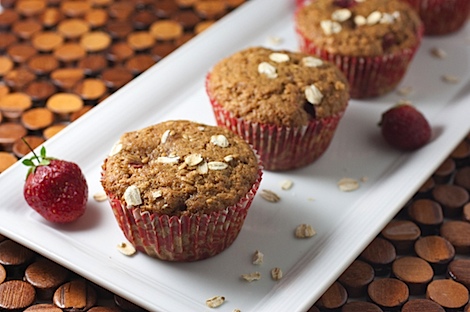 Reader question: What's your favorite thing to do with strawberries? Eat them straight up? Put them in a smoothie? Do tell!