Riddle: What do a fried deviled egg and red velvet froyo have in common?
Answer: They're both things I ate on the same night earlier this week.
More on the froyo next time, but for now, more on…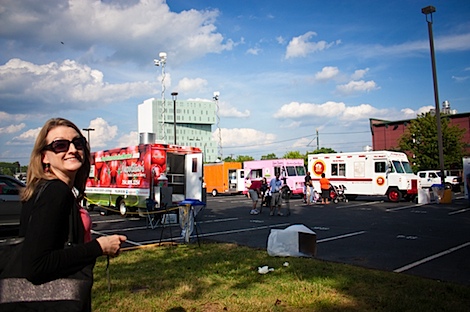 I had the pleasure of attending Charlotte's Food Truck Rally with my friend Brittney.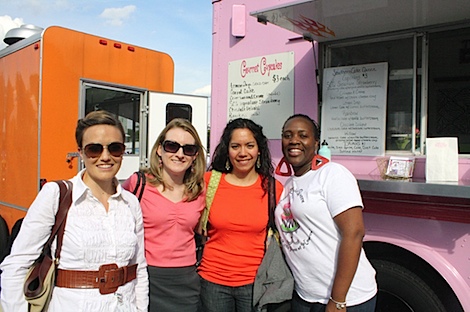 We also ran into fellow blog buddy Kelly who was just stopping by for a cupcake from the Southern Cake Queen. (If we'd known how successful the event would be, we would have gone ahead and gotten our cupcakes, too.)
There were more food trucks and eats than I had space in my stomach, but Brittney and I managed to make a fair sampling from three.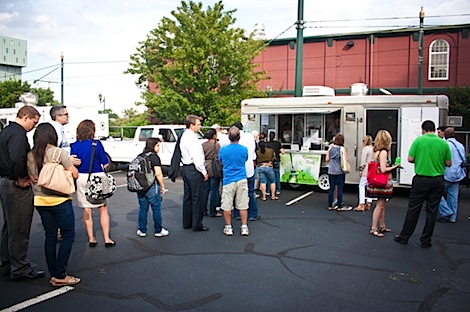 First, we hit up the Roaming Fork.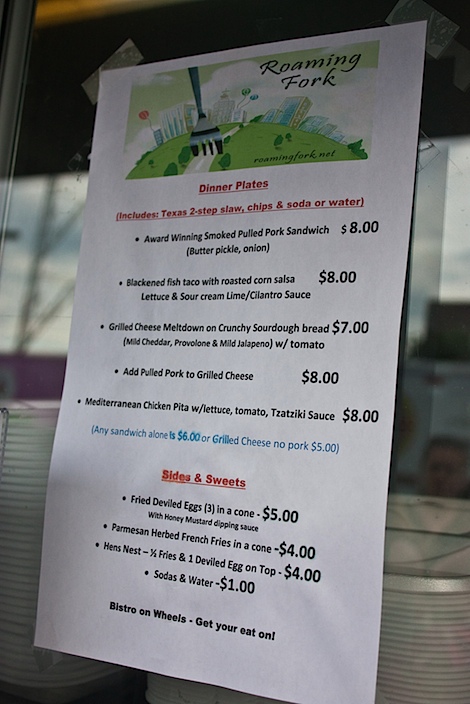 I'd never heard of the Roaming Fork before the festival, but their web site menu looked promising. I was hoping to try the macaroni and cheese balls they had on their web site, but they didn't have them at the rally.
They did, however, have some tasty looking Fish Tacos and some very curious deep-fried deviled eggs.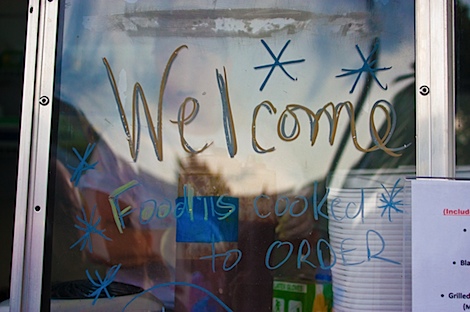 "Food is cooked to order"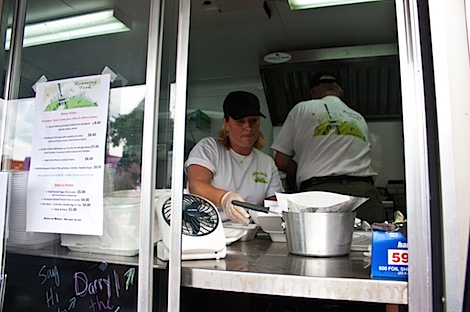 I recognized Kelli from the Roaming Fork web site.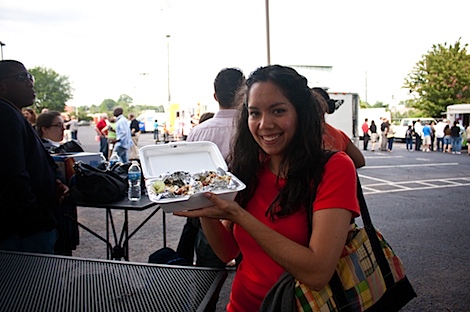 Happy food blogger.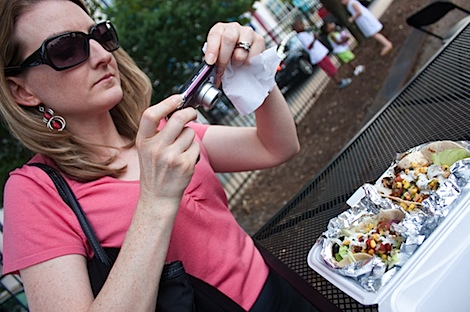 Fish tacos get a photo shoot.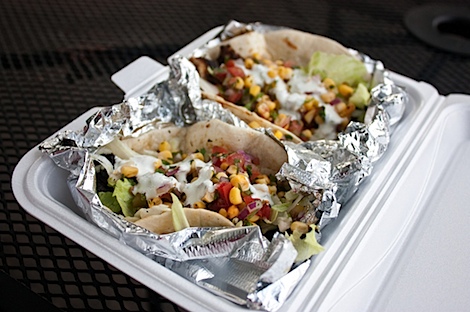 Work it…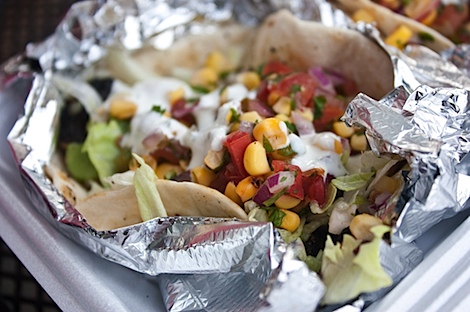 Work itttttt!
The fish tacos were served with roasted corn salsa and a cilantro / lime sauce. I thought they were really tasty. The fish was well-seasoned with a bit of a spicy kick, and I liked all the toppings.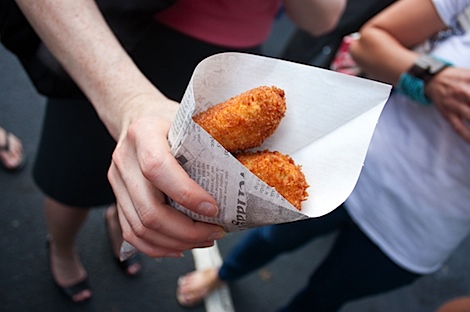 We also had to try one of their signatures – the fried deviled eggs.
I expected a deviled egg…fried. I mean…I guess I expected someone to pluck a deviled egg from a platter of deviled eggs, cover it in breading, and deep dry it (you know…intact). Instead, the fried deviled egg was basically like a deviled egg plucked from a platter and chopped into smaller pieces…then formed into a ball, breaded, and deep fried. I think they did it the right way. hehe It was really tasty and definitely worth trying if you have the opportunity.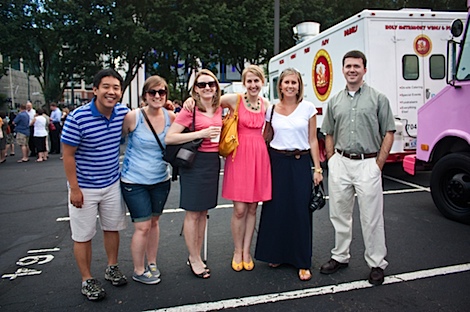 We ran into more food bloggers and friends Kevin, Lauren, Brittney, Julie, Brooke, and Paul.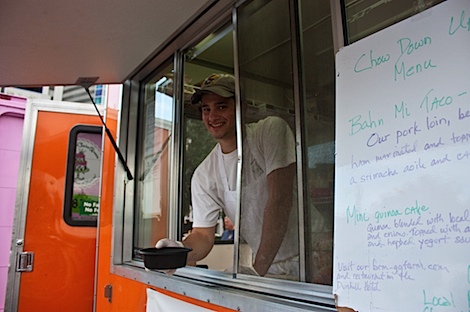 And then we hit up the Harvest Moon Food truck. We were feeling pretty full from the fish tacos, but we did really want to try the Mini Quinoa Cake.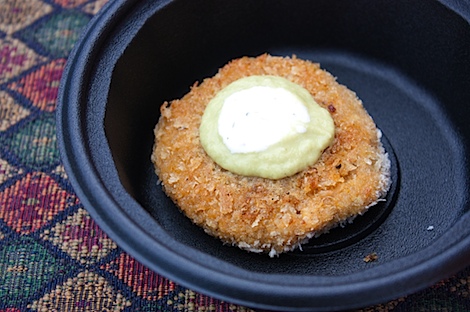 From the menu, "quinoa blended with local sweet potatoes and onions. Topped with an asparagus puree and herbed yogurt sauce."
The cake had a nice lightly crispy exterior and tender inside. I love that they mixed the quinoa with sweet potatoes. Yum!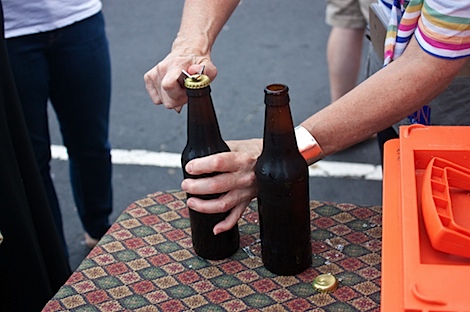 Brittney and I couldn't resist some local root beer, which the Harvest Moon truck was selling.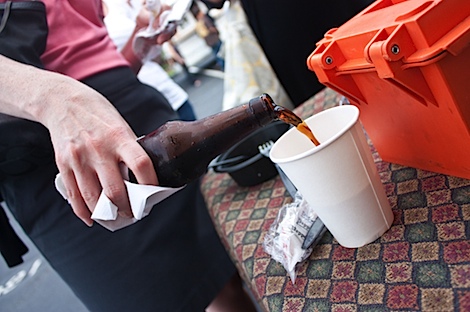 I love this locally made root beer. It's Uncle Scott's, and I get it every once in awhile from a couple local restaurants that carry it. The ice cold, bubby drink hit the spot on this hot and sunny day.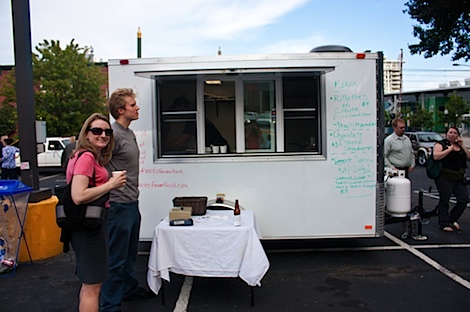 Next up, we visited one of my favorite food trucks – Roots Farm Food. You may remember I've visited this truck a couple times before here and here.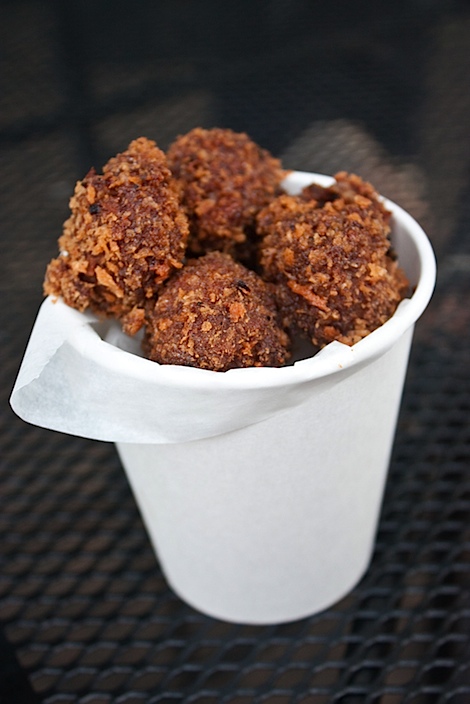 Julie let me try a bite of the Rillettes en Croute she got from Roots.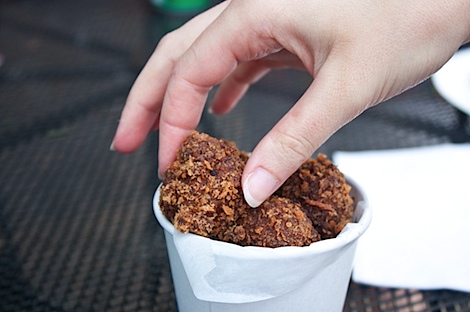 Think gourmet sausage ball. They were crispy and dee-lish! I really loved the just-right crispy outside.
Nom!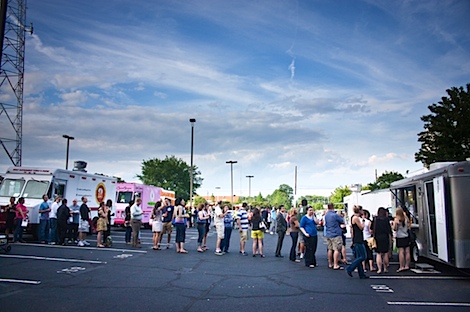 As I mentioned earlier, we tried to hit up the Southern Cake Queen, but she was sold out by the time we stopped by! Whoops.
In fact, most vendors sold out by 7 or 8pm if you can believe it. In other words, the event was a huge success. This is awesome for multiple reasons, but the main one being that Center City said if the first event went well, they'd try to make it a weekly event! Hazzah! I can't wait to see what new dishes the food trucks come up with for future events.
Up next on TCL – there's a new froyo in town, and I have photos to prove it!
Reader question: Which food truck dish from this post do you most wish you could eat right now?