We had plenty of more activities planned for our last full day at the beach.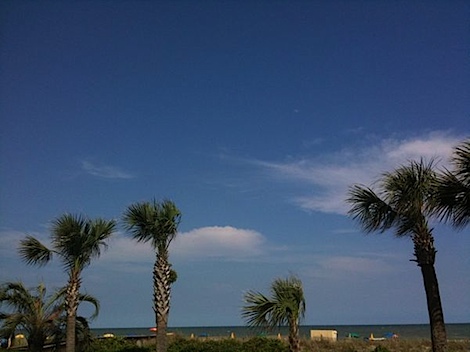 Of course there was QT at the beach, as well as at the Lazy River.
We made a game out of the Lazy River when we noticed three people at the end of the Lazy River loop had watched us go by a couple times. We decided to do a little something different every time we passed them.
We coordinated the following, such that we synchronized every time we passed the end with the people-watchers:
Hear no evil, see no evil, speak no evil, with each of us covering one of the types and Michael doing an impromptu version of his own. 😉 (I was speak no evil, I believe)
YMCA (I was the 'M')
A wave (like the kind they do at sports games)
Fish mouths
We basically would get into the pose right before our tubes floated by the people watchers. I didn't actually make eye contact with the people watchers, but let's just pretend they got a kick out of our shenanigans. 😉
We also drove off many-a-guest from the Lazy River by singing Disney tunes: Just Around the River Bend, Colors of the Wind, a Little Mermaid Tune, and a Beauty and the Beast. Whoops. Guess that means we shouldn't audition for American Idol, eh?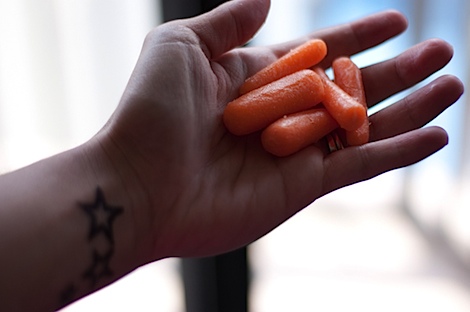 I found a bag of baby carrots to make for a great beach snack, as well as a great way to veg-up.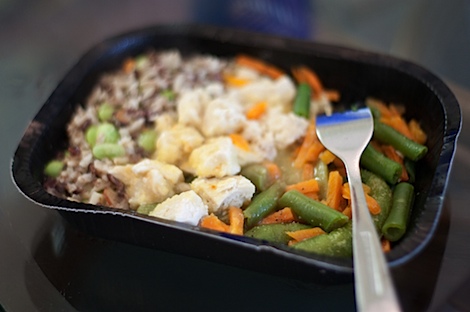 To save money, we got frozen meals at the local grocery store for lunch. The hotel had a mini kitchen, but the frozen meals were just more convenient. I got this Organic Bistro meal – it's a fave for lunches at work when I don't have time to leave the office. Freshly prepared food would be better, but for convenience, this little guy isn't too bad.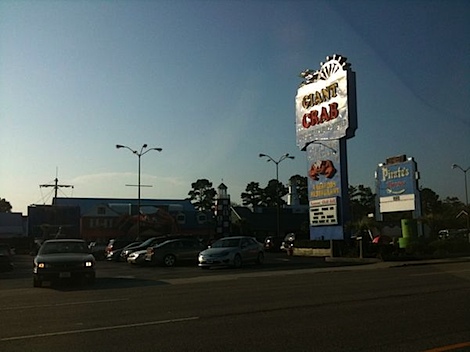 We had a very exciting dinner planned at the Giant Crab Seafood buffet. Megan had been raving about it since we arrived at the beach, so we were all looking forward to the meal.
Too bad I forgot my camera and had to take all my photos with my iPhone for the rest of the night!
I must admit, I was a little intimidated since I didn't grow up eating much seafood and don't eat much nowadays. I eat shrimp and once in awhile, I eat fish. But, I've never ordered clams, mussels, or crabs. I've only ordered lobster once (on our honeymoon) at a restaurant. I certainly never tried cooking clams, mussels, lobsters, or crabs and even cooking fish scares me a little.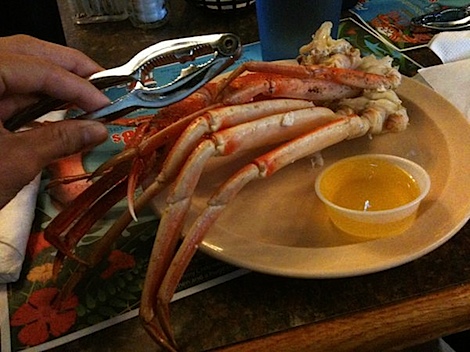 The highlight of the buffet was obviously crab legs. I had no idea how to eat them. Luckily, Megan is a crab leg eating expert and taught us all her easy method for getting into the crabs. We didn't even need the cracker-tools.
I figured I'd eat one, maybe two pieces of crab leg. But, I surprised myself by eating a whole plate all on my own (in addition to some other yummy buffet eats)!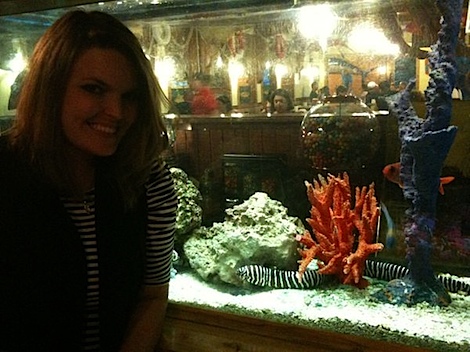 Please take a moment to observe how Megan's outfit matched this eel's at the buffet! lol 😛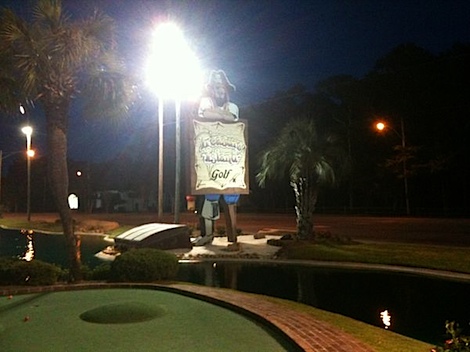 After the buffet, we headed out for some putt-putt! I love putt-putt, but there aren't many places around my town to play, so I like to do it on vacay.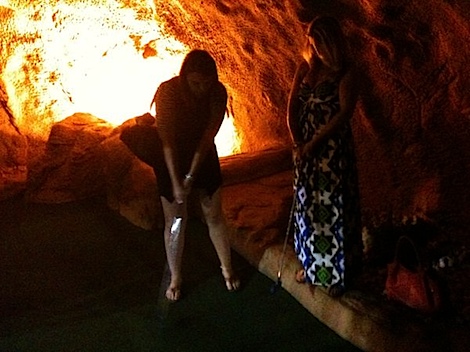 I'm so glad we waited till nighttime to play because it felt really pleasant outside at night. We would have burned up had we tried this during the day. Phew! Michael ended up kicking all our butts, but we had a great time.
It was the perfect close to our awesome beach vacation! 🙂
Reader Question #1: Have you ever made up a game at the pool/lazy river? What did you play?
Reader Question #2: What's your favorite beach activity?