Hey guys!
I've asked my friends to write some fabulous, fruit-and-vegetable related posts and recipes to help you out with Project Veg-Up (PVU) – my challenge for you to eat 5 servings of fruits and vegetables every day – click for details. First up is Kelly with some personal tips and not one but two recipes!
Take it away, Kelly!
***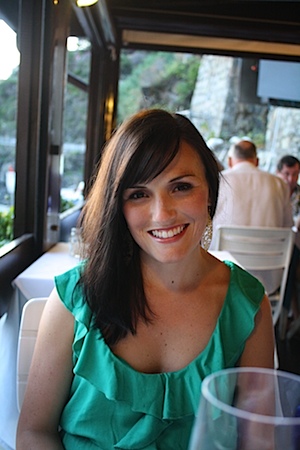 Hi! I'm Kelly and I write all about my adventures in food, fitness, and sometime even fashion over at my blog Foodie Fresh. Diana isn't just my friend in "real-life"; I also consider her a great role model in the journey to live a healthy life. She comes up with some pretty creative and delicious recipes, so it's a real honor to be asked to guest post here on The Chic Life.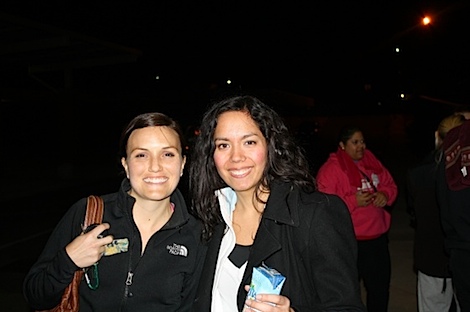 When she announced that she was going to challenge her readers to eat at least three servings of vegetables and two serving of fruit every day, I knew Project Veg-Up Challenge was something I could do and something I should do. You see, even though I consider most of my diet to be pretty healthy, I admit that I struggle sometimes to get in an adequate amount of veggies. What better way to ensure I'm eating enough, than to accept the Project Veg-Up Challenge and actually track my veggie intake.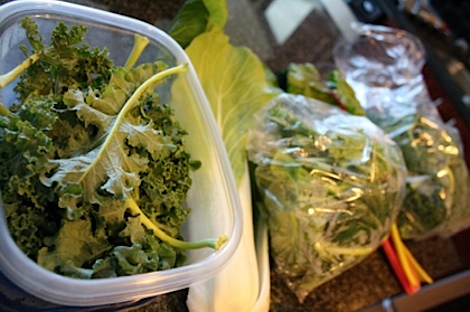 And also, what better way to use up the massive amount of leafy green veggies that have been showing up weekly in my CSA box!
Often I find it difficult to eat a lot of veggies during breakfast and lunch: 1. Because I often want something sweet for breakfast (like oatmeal and fruit) and 2. Sometimes I don't feel like eating a salad for lunch (the easiest veggie option) or a salad just isn't accessible. So when dinner time rolls around and I think back on my previous two meals, it often becomes a necessity to incorporate at least two servings of vegetables in my dinner if I want to get in full three servings.
Here's an example of two servings of veggies at dinner and proof that a veg-full dinner can be easy and delicious!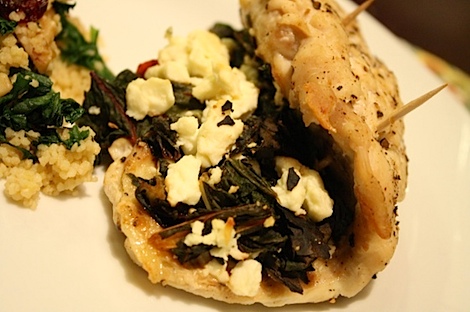 Chard and Feta Stuffed Chicken Breast (serves 3-4*)
16 oz. chicken breast
4 Tbsp. feta cheese
5 cups rainbow or Swiss chard
1 tsp. honey
1 tsp. nutmeg
1 tsp. red pepper flakes
1/4 tsp. sea salt
2 tsp. extra virgin olive oil
salt and pepper
toothpicks
Preheat oven to 350 degrees F. Cut chicken into serving sizes.* Use a meat mallet to pound chicken until double in surface area. Sprinkle lightly with salt and pepper on both sides and seer in 1 tsp. olive oil until chicken is starting to brown on medium high heat.
Meanwhile sauté chard in 1 tsp. of olive oil on medium high in a large pot. Once chard has almost completely wilted, add honey, nutmeg, red pepper flakes, and sea salt.
Remove chicken from pan and place on a plate. Add about 1/2 cup of chard to the chicken and about 1 Tbsp. of feta to the chicken. Fold chicken over and secure with toothpicks. Place chicken in a baking dish and cook for 15 additional minutes.
*Serving size often depends on who is eating. For my husband, I typically serve him a 6-8 oz. portion, while 4-5 oz. is plenty for me. If you make a 6-8 oz. serving of chicken, you can obviously stuff more chard and feta inside it.
For a vegetarian option, stuff the chard and feta in between two pieces of thinly sliced and baked tofu. Or mix the chard and feta with cubed tofu, like my salt and pepper tofu.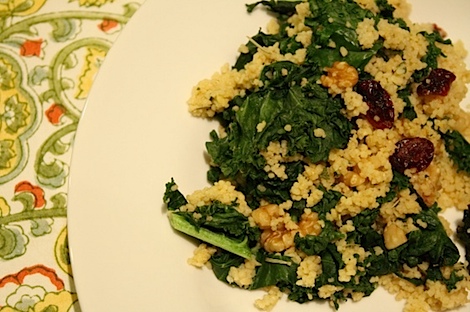 Kale & Cranberry Couscous (serves 4)
2/3 cup of whole wheat couscous
1 1/3 cup vegetable broth
4 cups kale, chopped
1/2 cup green onion, chopped
1/4 cup dried cranberries
1/4 walnuts, chopped
1 tsp. dried rosemary
1 tsp. dried parsley
1/4 tsp. salt
3 tsp. nutritional yeast*
1 tsp. extra virgin olive oil
Cook couscous in vegetable broth according to package direction. Meanwhile, sauté onion and kale in olive oil until kale has completely wilted.
Add herbs, salt, and nutritional yeast to couscous. Stir in kale, dried cranberries, and walnuts. Taste and add more salt if needed.
*You can substitute three tablespoons of grated parmesan cheese for nutritional yeast for a similar cheesy flavor.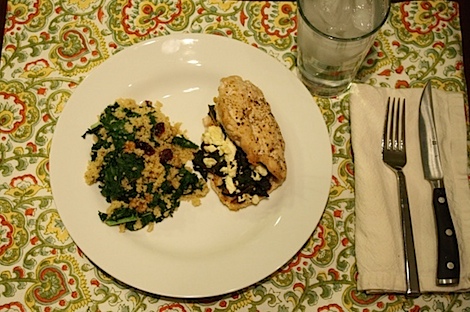 Serve and enjoy!
Still need one more serving of fruit? Well, that's easy! Frozen whipped banana (or banana soft-serve) will fix that!
For more veggie and fruit inspiration, check out my recipe page for all kinds of creative ways to incorporate delicious and healthy ingredients into your everyday meals.
***
Thank you so much Kelly !
I hope everyone enjoyed the first of this series of Project Veg-Up guest posts. There are many more on the way, and I'll be posting them all month as we work our way through this month's challenge! 🙂
How's everyone doing with the challenge so far?
Any questions on vegetables or fruits or requests for recipes for certain ingredients (fruits/vegs)?