There are many things that I procrastinate doing, and they're not all bad.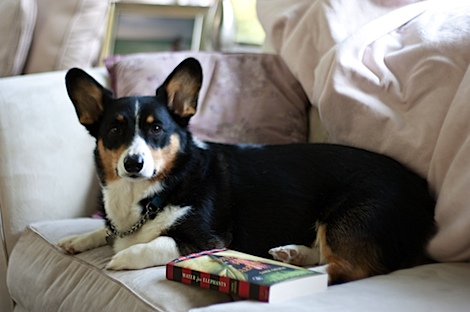 Take, for example, finishing Water for Elephants. Sure, I could have finished the book weeks ago. But instead…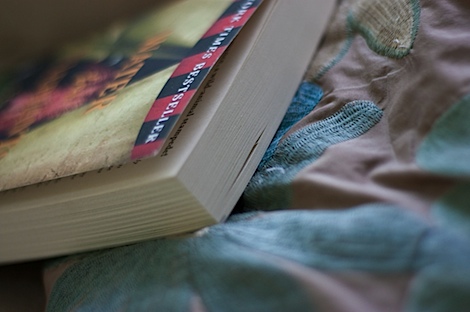 …instead, I folded a corner near one of the final chapters down and decided to wait. I guess I didn't actually decide to wait, I just never decided to finish the book. I just don't want the story to end. The last couple chapters are becoming precious pages of reading material that must only be enjoyed on special occasion. Part of me knows how silly this is, and yet part of me wants Mr. Jankowski (the young and old versions) to live on in page after page of typed black letters and heart-wrenching stories.
After waiting several weeks, I think I'm finally to finish reading the last couple chapters…just maybe. 😉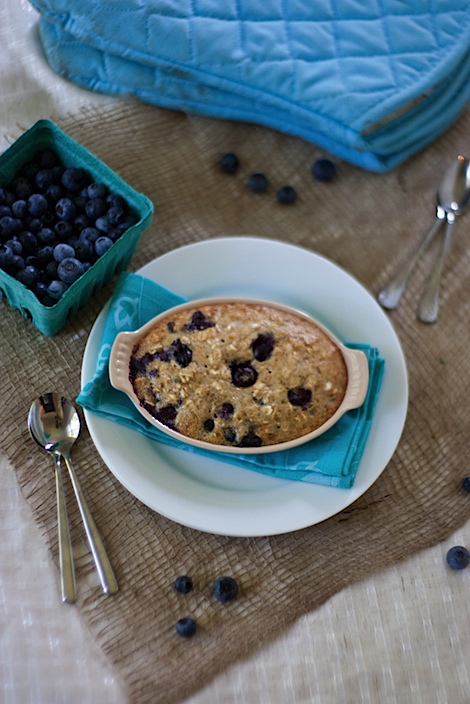 On Sunday, I woke up wanting to do something fun and new with the blueberries I picked up at the farmer's market the day before.
In my head, I envisioned something like an individual berry breakfast crisp, but with the oat topping mixed throughout the berries. But, I also wanted to mix an egg into the batter for protein (to keep you full!), and I figured that would throw the proportions off, making more of an individual breakfast cake.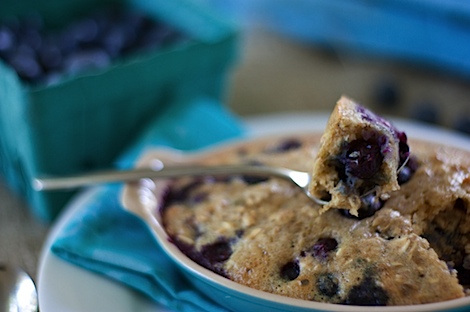 I think the end result wasn't far from a cake. It's either cake or muffin like. I'm thinking of calling it an Individual Blueberry Breakfast Scoop-Cake, since you eat it with a spoon. 😉 It's also a new Not So Sweet recipe, and a cinch to whip up. I think you guys will like it! I'll be sharing the recipe some time this week.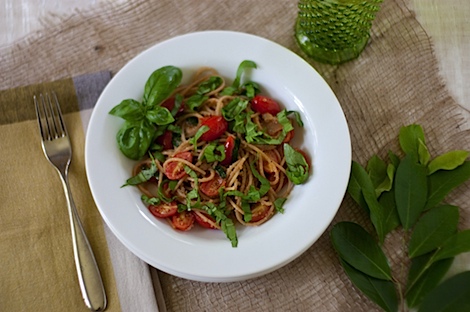 Although we did great picking up produce at the market yesterday, we didn't get any proteins.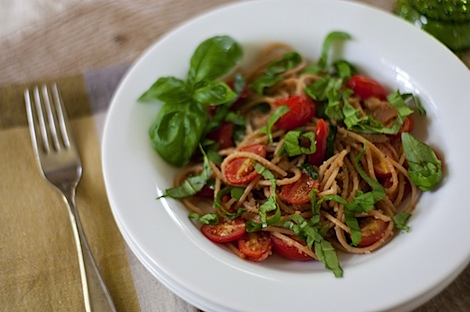 So, I just whipped up a noodle bowl, Italian-themed this time, for a quick lunch. I used frozen onions, pasta water, organic cherry tomatoes, fresh basil from my herb garden, and bread crumbs. Pasta water helped make the sauce. It was simple, tasty, and made the house smell amazing!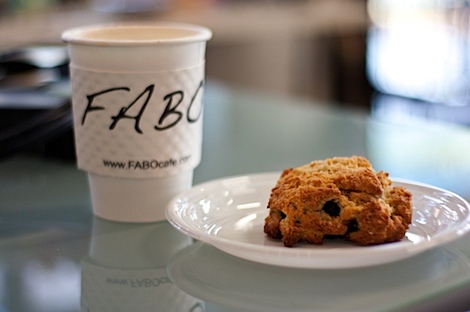 Another thing I procrastinate doing is responding to blog comments. Oops. I don't know why I procrastinate this since reading and responding to blog comments is one of my absolutely favorite parts of blogging! Seriously you guys, I read each and every comment you all post. They make me smile, laugh, think, and overall feel good. They are wonderful, so please, keep em coming.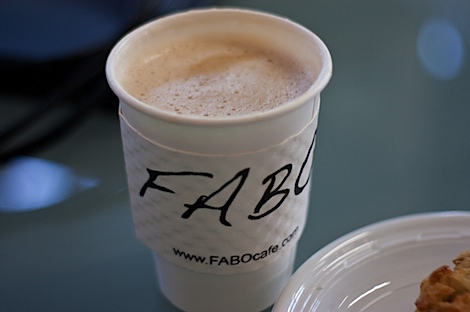 And if you saw a slew of comment responses hit your email inbox on Sunday, that's because I like to set aside some time to reply to comments to make it even extra special. Lately, I've been hitting up local coffee shops, finding a nice quiet table, and sipping on some sort of flavored latte whilst reading and responding to you all. It is one of my favorite things to do on the weekend!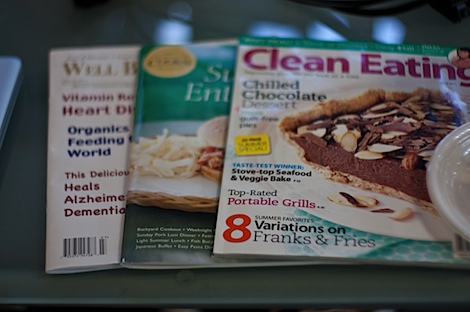 I also brought some reading material to the coffee shop – Well Being Journal, Summer Entertaining, and Clean Eating magazine – the 3 purchases I made at the book shop the night before.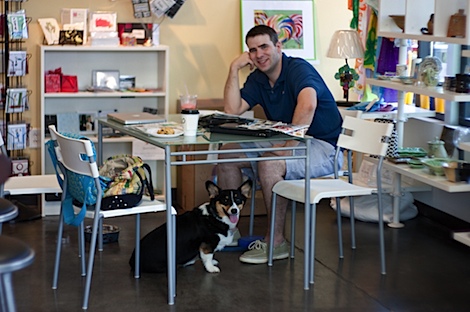 And even hubby and Bailey made the trip to FABO. I love how they let you bring your pets inside! And being surrounded by so much beautiful, locally made art helps fuel my creative spirit.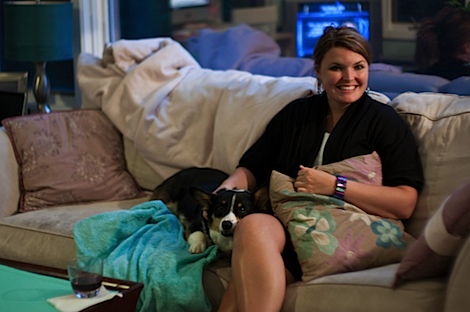 After the coffee shop, Megan came over for dinner.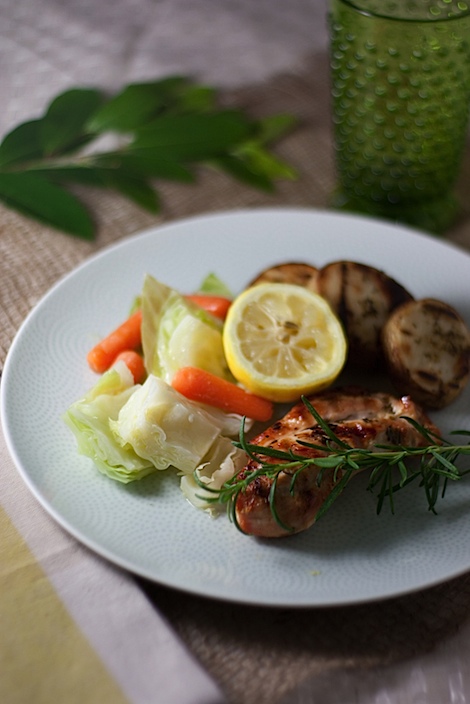 Hubby and I made grilled chicken breasts and grilled potatoes – both with a lemon/rosemary vinaigrette with rosemary from our backyard. I also made steamed cabbage (from the market!) and carrots.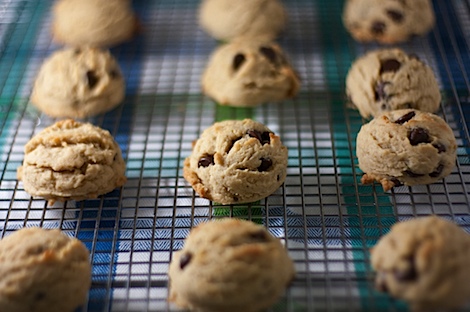 And for dessert…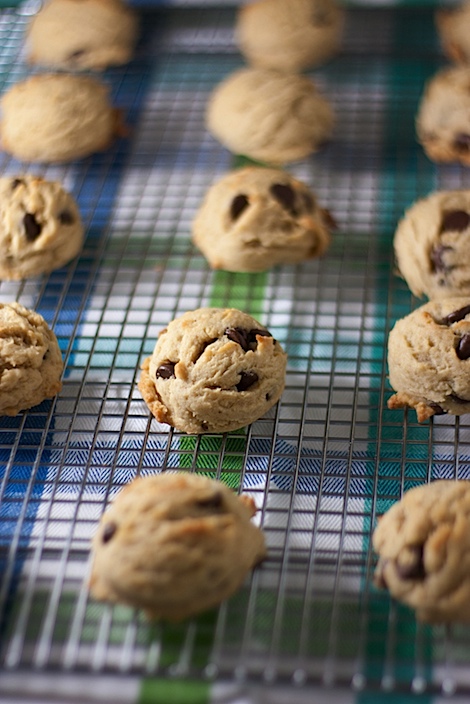 …a little something I've been missing – Chocolate Chip Cookie Dough Balls (click for recipe)!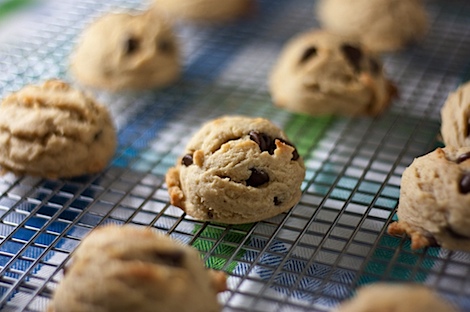 After watching the Food TV show (several weeks ago) where Annie the Baker showed the audience how to make her sugar cookie dough balls, I was inspired to try a new preparation method. It worked…and was actually one of the methods I utilized when I went through my trial batch period perfecting my own version of the "dough ball." I'm thinking the method will mean having dough balls at your beckoning call, which means you guys will flip! Or maybe it's just me flipping…because I'd have just cause to procrastinate baking them? 😉 You'll see…
***
Want to get my blog posts delivered to your email? Click here to get it free!
You can also get exclusive content on my Facebook page or via twitter (click each to view).
***
Reader Question #1: What are you guilty of procrastinating?
Reader Question #2: Did you ever delay finishing a book because you don't want the story to end? Which book was it?