Have you ever wanted to try new beauty products but been intimidated by the whole process? From picking out the correct product for your skin, to knowing if it will mesh well, there are all kinds of complications that can arise and send you into a panic. Don't worry. I have some suggestions.
Read on for the dets, but first…some food photos…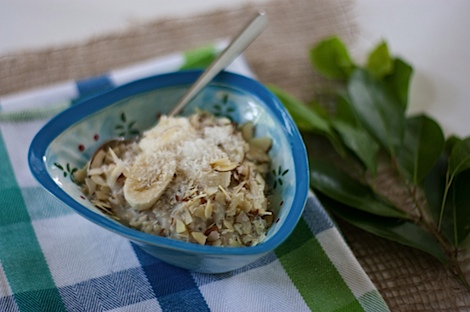 I made a tropical-style bowl of oats with rolled oats, banana, and coconut. I just had to put the creation in my Bahamas bowl.
After my beach vacay most of last week, I wasn't looking forward to spending a day out of the fun and sun and in my windowless cubicle. But, it did feel good to work my way through my inbox and start being productive at the office.
***
After the (what seemed like a longer than normal) work day, I headed to Zumba!
Song #3 was a killer squat song, and I helped co-lead it, which meant I was on the stage in front of all the other participants. This means no half-a$$ing the squats, peeps. I was going all out and it took all the energy from my legs for the rest of class! lol. Thank you Press It Up for kicking my hiney. Phew! It hurts so good, though. 😉
I also really enjoyed doing:
My First Kiss
Prumm
Pompis Pa'Arriba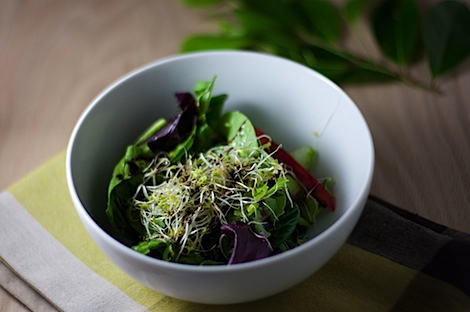 Hubby was a doll and made dinner yet again – Earthfare salad bar…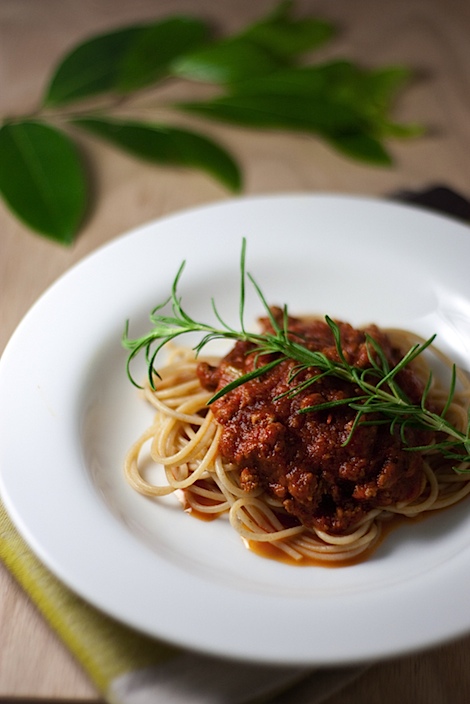 …and whole wheat spaghetti with grass-fed beef/tomato sauce.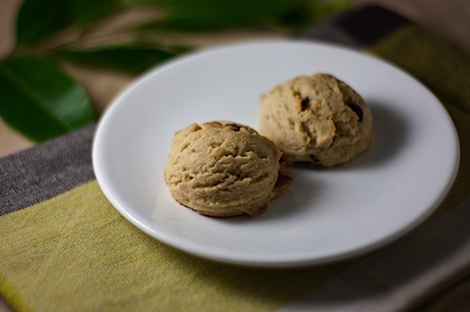 And for dessert…none other than chocolate chip cookie dough balls! It's so nice having these back in the house again. I wonder if I'll be baking these for the rest of my life? Will dough balls be the next jello mold? 😉
***
My Secrets to Finding & Testing New Skin Care Products

Consult a Professional
Let me start by admitting that I'm a bit of a make-up/beauty product snob. I had pretty bad acne when I was a kid/teen, and tried nearly every product available at the drug store. What I finally determined was that it was better to consult a professional and pay more for 1 product than try 5 "cheap ones" that didn't, or only semi, worked.
If you can afford it, definitely see a dermatologist. Actually, it's safe/best to consult them before making a change to your beauty routine, especially if you have health concerns or sensitive skin.
Either way, the "professional" I'm actually talking about here is the one behind the make-up counter of your favorite shop. Not only are they trained to use the products they're selling, they are usually expert users of the products. They've seen everything come through their shop, and they'll probably be able to utilize all that training and experience to give you some great help.
Note: If you can pick a product off the shelf at CVS and have it work perfectly, then more power to you. Seriously, I'm jealous. 😉 But, if you're like me…keep reading for more tips. Not to mention, playing with new beauty products can be fun!
Get Referrals
So, like I was saying, check with the consultants of your favorite shop. Now, you may not yet know which shop is your favorite. Or, perhaps you had a favorite, but you want to try something new. Personally, I like to get referrals when I try new products/companies…preferably from people I know and trust (my mom is the one who told me about Origins).
Play the Field
When you are in the market for a new product, the world is your oyster. All the peeps at the make-up counters are ready to help you and will do anything in their power to assist you. Some may be a bit more into pressure sales than others (personally, I find that really annoying and prefer to take my business elsewhere), but don't cave. Now is the time to play the field, try as many products as you want, and really see what's out there.
Get a Free Consultation
Almost every make-up counter will do a free consultation, make-over, or mini facial. And places like Sephora and Ulta will be able to provide consultations for lots of different products, sometimes even suggestion a combination of products from multiple companies.
You'll probably need an appointment, though some places do walk-ins. Your best bet is to call ahead. And while you have them on the phone, you should verify the visit will be free. Some charge money and some have minimum product purchases. Don't get caught off-guard or allow yourself to be tricked into sales. And yes, this happened to me. I got snookered into purchasing 3 items from a not-so-cheap make-up company. Grr…
Ask Questions
While you're having your consultation, be sure to ask as many questions as you can think of. You have the expert right there in front of you. Use their knowledge to empower yourself so you can make the best decision. Ask how to use the product (usually they show you this during your consultation), what skin types it's best for, how long it will last, how much it costs…anything.
Samples First, Purchase Later
Given that my skin isn't always the most agreeable, I find that I need a couple weeks testing out the product before I commit to purchase. Request free samples. They may not advertise or offer them, but they usually can provide samples. They should be able to either put a small amount in a mini pot, and sometimes they even have sample sized portions pre-packaged (like the plantscriptions sample pictured on this post). Usually, they'll give you enough to last one week. I can often milk mine to last longer. 😉
Note: While you should play the field and test out multiple products, I don't recommend mixing the products during test phase, unless you plan to use a mixture of products in the future. In other words, if you want to use Company A's face wash and Company B's moisturizer, that's cool. But, if you're not sure if you want to buy A or B's moisturizer, don't test them both out during the same week – you won't know which one your skin likes best since you won't know which one is working or not working.
Taking the Plunge
Test out the product with your samples. Make sure it meshes with your skin. And if you like it…go back and take the plunge by purchasing a new product or two. You don't have to get everything at once. Sometimes there are discounts for purchasing "start up kits" or multiple products. Usually, you can just add a new product here and there until you have the whole "suite." Just work with your schedule and budget.
And if you didn't like the samples, fret not, just go back to playing the field!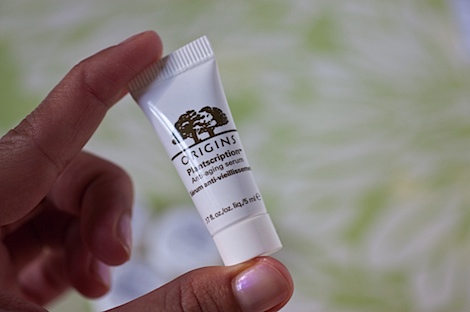 You may remember that I was considering buying into a new brand – Origins! After my mom recommended the brand, I researched the product online, but found there were too many options. I went into the store to learn more and got that free mini facial (it was glorious!). I came home with 3 samples: a scrub, a moisturizing mask, and some plantscriptions. I've been enjoying using my samples. My skin seems to be taking the new products pretty well so far, so yay! Can you believe I still have some of these samples left!?
***
Randomness – A Book & TV Show
I have 14 pages left of Water for Elephants! I tried finishing the book near midnight last night, but I wanted to be fully awake to enjoy the ending. You guys know how I feel about finishing this book, but I'm thinking today is the day. I'm sad the story will be over, but I'm also really excited to see how the book comes to a close. Wheeee!
Also, I'm counting down the days until Drop Dead Diva starts up again. There are few shows that I actually try to watch on a regular basis, but DDD is one of them, and Season 3 starts Sunday!!! They left us with quite the cliff hanger at the end of Season 2, so I'm SO curious to see what happens next. Is he alive? Is he dead? Are you going to tune in?
***
What are your tips for finding & testing new beauty/skin care products?
What skin care products/lines do you use?