Before I jump into this blog post, I just want to give a big, warm "Welcome!" to everyone who has signed up for the Project Veg-Up challenge (to eat more fruits and veggies) via the blog, email, and twitter. So glad to have you on board! I can't wait to hear how you're all doing! And it's never too late to sign up – you can join at any time if you're just hearing about the challenge. Click here to learn more.
***
Sorry I've been a bit MIA this week. The last two days have been some of the longest in awhile. On Wednesday and Thursday, I left my house around 8:30am and didn't come home again till 11:30pm!!!! And yes, I still had to blog and check email after getting home. Phew!
Here's a quick catch-up post of what I've been up to. Basically, I've spent some time prepping for vegging. If I wasn't actually preparing fruits and vegetables to kick off my Project Veg-Up challenge, I was trying to be conscious of what I was consuming and how I could add more fruits and veggies to the mix.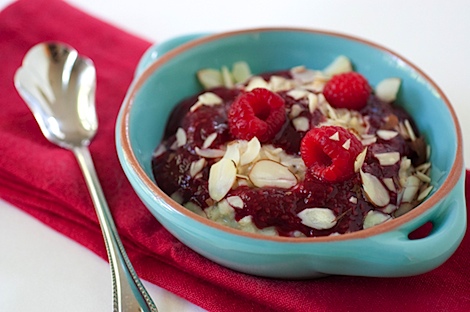 First up, I must share with you this beautiful bowl of raspberry oats.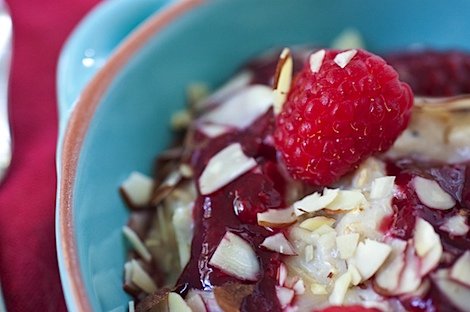 I put leftover raspberry sauce (from those pancakes) on top of the oats and added a couple of fresh berries. The sauce is mostly made of raspberries, and I poured it on pretty heavy, so I think this was almost 3/4 serving of fruits right here!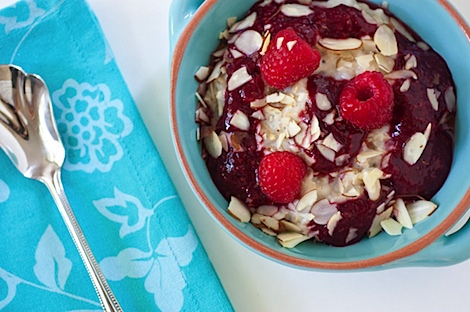 I think that raspberry sauce may be one of my favorite oatmeal toppings yet! Sweet, tangy, fruity, and just right in so many ways. And the sauce is a great way to sneak a fruit serving into your diet – whether it's on pancakes, oatmeal, or something else. Wa-ha-ha-ha! 😉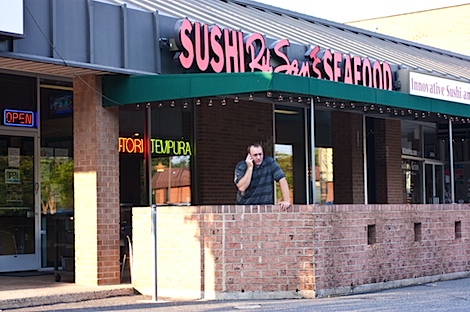 And earlier this week, we had a special double date with our newest Charlotte friends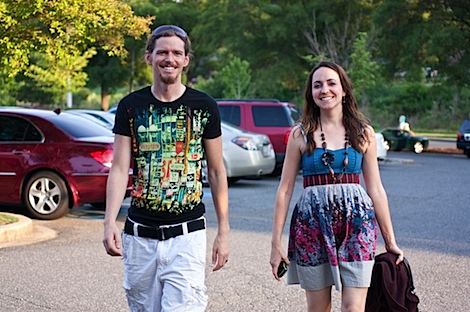 Sean and Heather! These guys are so fun to talk to. I think we could all sit around and talk for hours. Heather is a life coach and has an inspirational blog called Bliss Fix, and Sean is a very talented photographer. I wish I could hire him to do some Zumba instructor photos for me. He can make regular people look like super heros!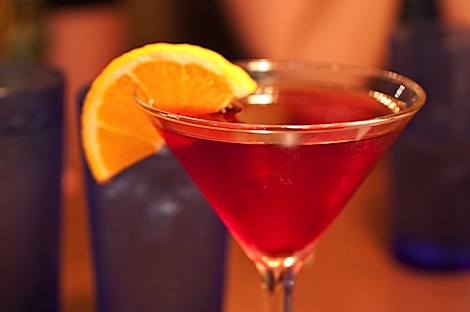 We met up at one of our mutually favorite restaurants – RuSan's. I kicked things off with a Saki Pomegranate martini.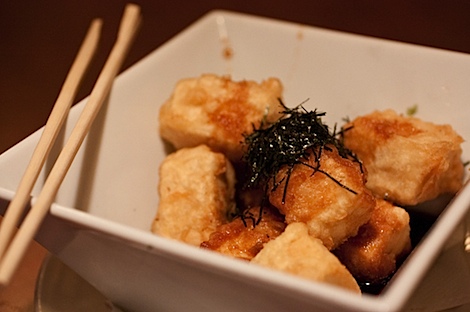 Heather let me try a bite of her tofu appetizer (I've always wanted to try this!) – breaded and fried tofu in a (I think) soy based sauce.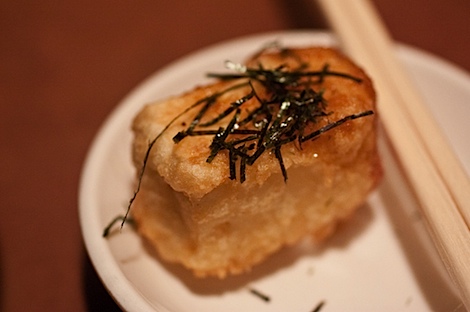 Nommm!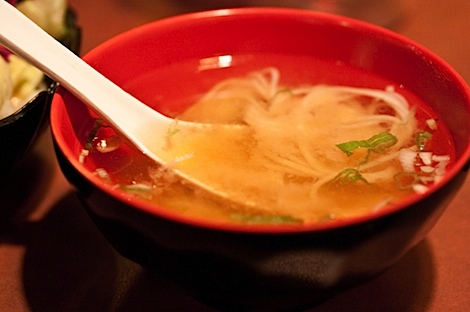 I started the eats with 2 of my usuals – miso soup…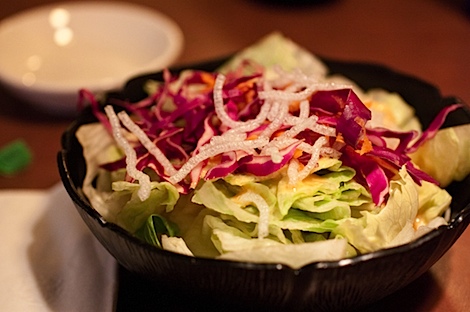 …and a side salad with ginger dressing.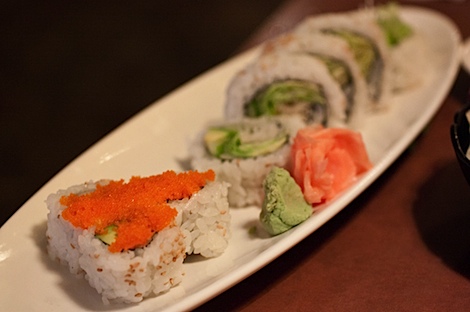 And for the main event – a California roll and a new roll – a salad roll. The description said it had beet in it, but I didn't see any. Our best guess was that they just used whatever veggies were most fresh. Who knows. It had an assortment of veggies inside and that's what I was going for! 🙂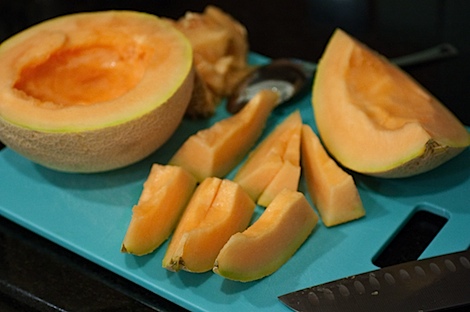 For dessert, hubby and I headed home to "veg-up" and eat some organic cantaloupe.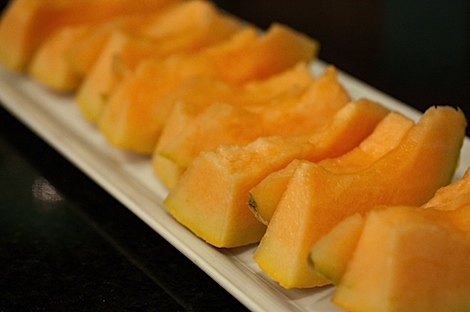 I cut up enough slices for that night and cut the rest into chunks to eat later in the week.
And earlier this week I also prepped one of my fave veggies to take to work – marinated kale (click for recipe).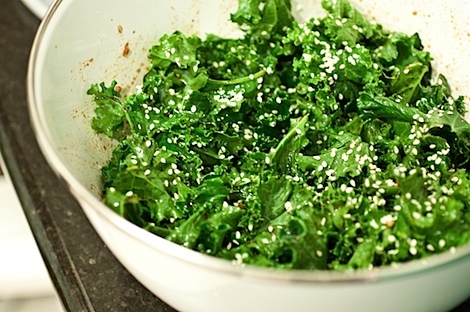 I love this stuff because you make it in advance and then just package it in individual containers to take to work. It's perfect for busy girls like me.
***
Next time on TCL, I talk about how my first couple days with the Project Veg-Up challenge went.
And hubby and I are going to a wedding this weekend! You know what that means, right? Wedding cake! 🙂
***
Do you have a favorite fruit or vegetable recipe? Whether it's one you've written/adapted & posted on your blog or you've found one online that you make all the time, please pimp it out on my Facebook Discussion for awesome fruit/veg recipes – click to share.
***
What types of fruits/vegetables do you like to prepare in advance? Feel free to share your eats and/or a recipe.