I've owed you guys this recipe for ages now, but thanks to a reminder from reader Karen, I'm actually posting it!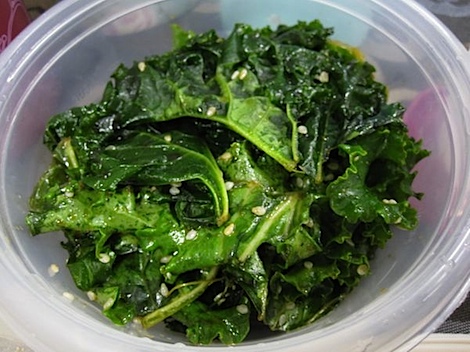 Here it is – my recipe for Marinated Kale! It's so easy (no cooking!), tasty and healthful – give it a go!
What does it taste like? Well, kale to me, in general, is sort of like spinach except with a much heartier texture. Spinach is tender and bruises easily while kale holds up nicely (which is why a lot of recipes ask you to "massage" the kale – it tenderizes without bruising). Once marinated, the kale will soften up a bit, but it will still have a bite to it, texture-wise. The flavor mostly comes from the sauce ingredients, which end up being salty yet sweet with the lovely flavor of sesame oil ever prevalent and bits of fresh garlic and ginger popping up here and there.
Anywho, I LOVE to make a big batch of this to start a week. It's an easy side veggie to take to work – just pack some into a tupperware – no re-heating necessary. You just need a fork! Makes a great vegetable serving.
On to the recipe…
First up – some visuals: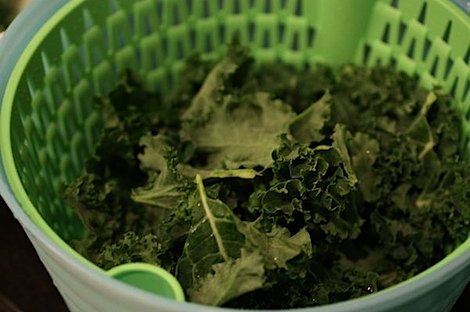 Be sure to triple wash your kale – it's usually pretty gritty when you get it home from the store. I usually tear my kale into smaller pieces with my hands while I'm doing the washing part, but you can also chop it with a knife.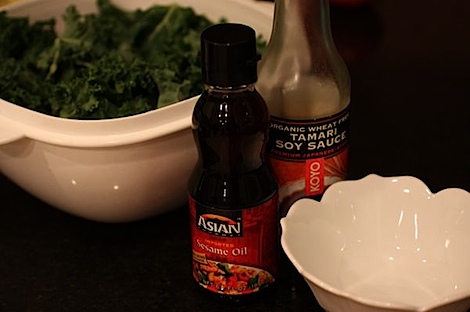 Other key ingredients: Tamari, Sesame Oil.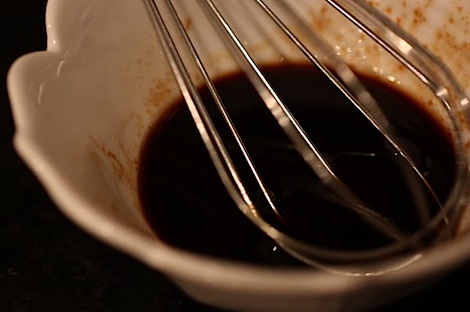 Whisk up sauce.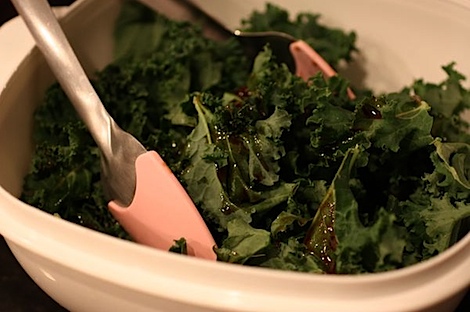 Add sauce to kale and massage – preferably with your hands. Why? Well, it seems like you can get away with using less sauce if you just rub it in a little. I believe most people massage their kale to tenderize it, but I just like to ensure my kale is well-coated without being in a puddle of sauce.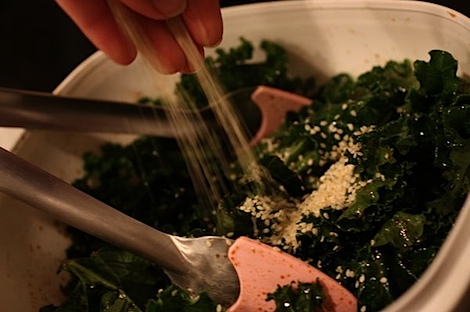 Add sesame seeds. Done-zo!
***
Marinated Kale Recipe
Raw, Vegetarian, Vegan and Gluten-Free
Ingredients:
1 bunch kale (curly leaves, not dinosaur), triple-washed, cut or ripped into small 1-2 inch pieces (1 inch pieces will be easier to eat later)
2 tbsp sesame oil
1 1/2 tbsp tamari (use wheat-free if you're going GF)
1 tsp minced garlic (you can omit this but it's so much more flavorful with it!)
1 tsp minced ginger (same note as for garlic)
1-3 tbsp sesame seeds depending on how much you like them.
Directions:
Place prepped kale into a large bowl.
In a separate small to medium bowl, whisk together sesame oil and tamari till emulsified/combined nicely. Whisk in garlic and ginger.
Pour sauce over kale and massage sauce into the kale (this will help ensure all pieces of kale are covered.
Add sesame seeds to the kale (if you're not sure if you'd rather go 1 or 3 tbsp, I suggest adding 1 and mixing up and checking coverage. You can always add more sesame seeds but you can't take them back out…not easily at least).
Store in an air-tight container. NOTE: You may wish to make your kale the night before you want to eat it so it has time for the flavors to combine.
Enjoy!