So, I guess you're probably wondering where I've been all weekend, eh? Well, I've been crazy-busy all weekend long hanging out with 6000 other Zumba instructors at…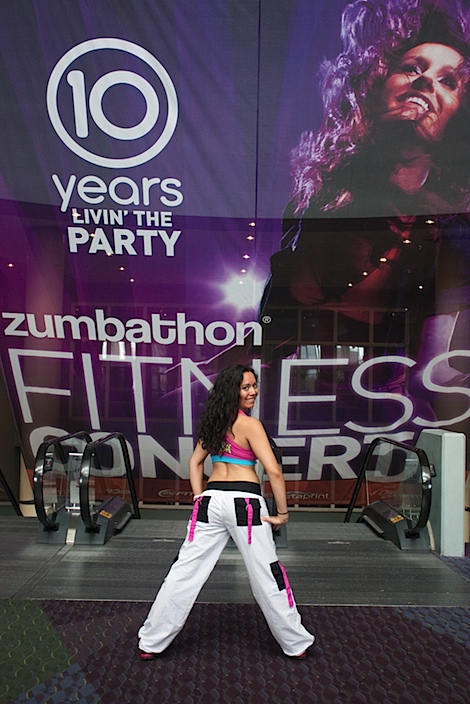 The Zumba Convention – 2011 in Orlando, FL!
I flew in with 3 other Zumba instructors from my company on the first day of the conference – Thursday. There were classes and certifications on Thursday, but we didn't arrive in Orlando till 3pm, so we just used the day to get organized and check out the conference. It was nice to have the down time to get ready for the craziness ahead.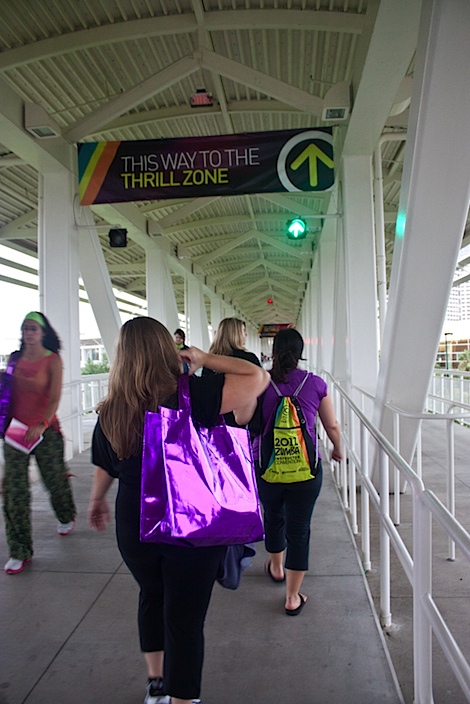 I'm not sure if you'll see brighter colors and accessories anywhere else. Zumba instructors love fun colors!
Anywho, we took the long hike from our hotel to some of the other conference buildings to do some shopping soon after arriving.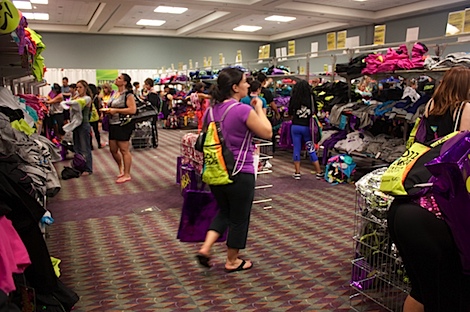 Here's a photo of the clearance store – discounted Zumbawear galore! The place was kind of crazy and yet also very organized at the same time. The other Zumba instructors were running around grabbing clothes and trying things on. You know how people get when they discount shop! 😉 The crew manning the store ran a tight ship and kept everything quite need and orderly, though.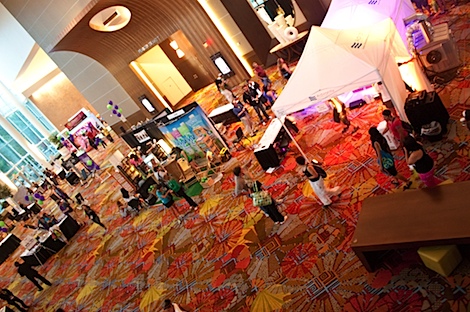 Next, we headed to the vendor booth area.
There was a lot going on.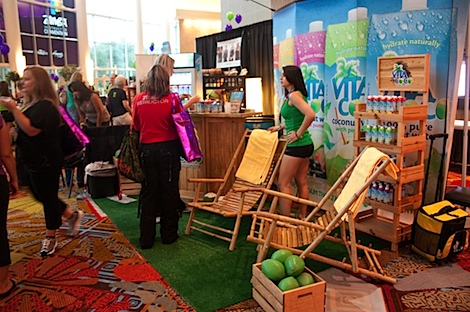 The main booth I wanted to visit was the Vita Coco booth. You guys know how I feel about coconut water. I sampled some of their flavored coconut waters (ok, I tried all of them), and though they were all tasty…I preferred the plain coconut water still.
After some shopping in the Wonderland Super store (the full price Zumbawear store featuring the latest styles), we headed back to the hotel to get ready for dinner.
We had reservations at Cafe Tu Tu Tango – a wonderful tapas restaurant in Orlando. (Psst…def make reservations if you want to go, or expect a 2 hour wait)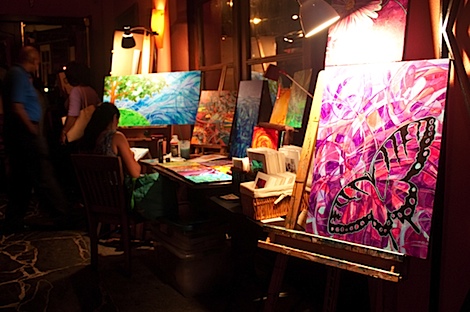 I love the restaurant because they feature local artists who actually work in the restaurant. The restaurant also sells artist artwork on the walls of the restaurant.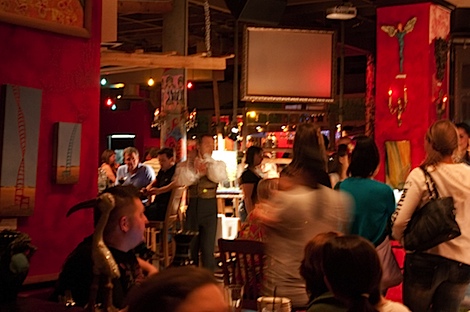 And they also have…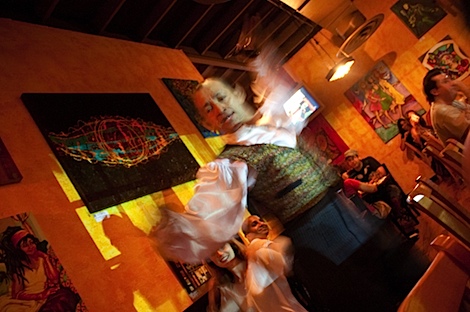 …live entertainment! Like this fabulous dancer. Ole!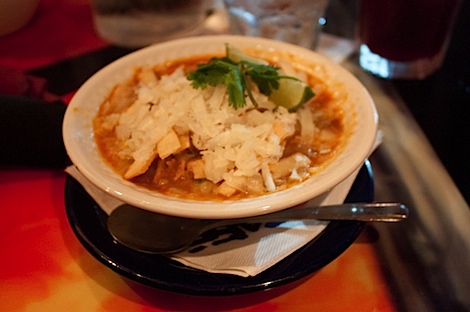 We ordered dinner tapas style with lots of small plates. We started with some soup (the chicken/chorizo/bean one), which ended up being one of my favorite dishes.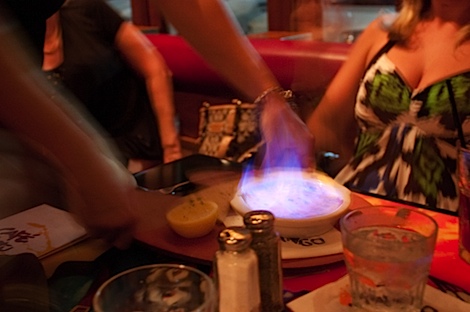 We also had…flaming cheese
empanadas, tomato/goat cheese flatbread
potstickers, crab chop sticks
pork with sweet potato salad, mushrooms rockafeller (a mushroom dish I tried and actually enjoyed! woohoo!)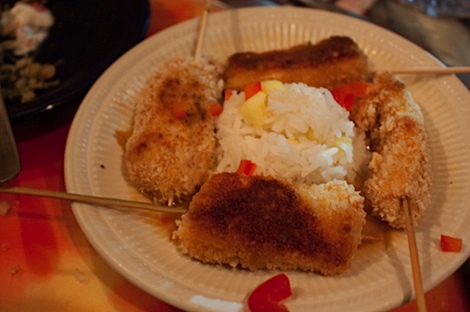 …and macadamian crusted mahi mahi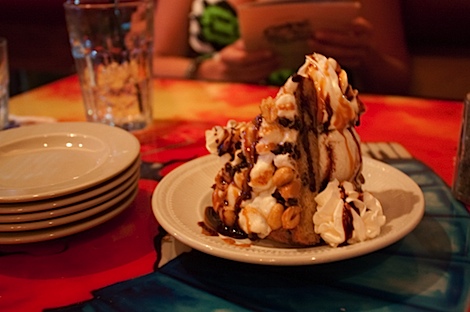 We also ordered this Rocky Road cookie pizza for dessert. Yum!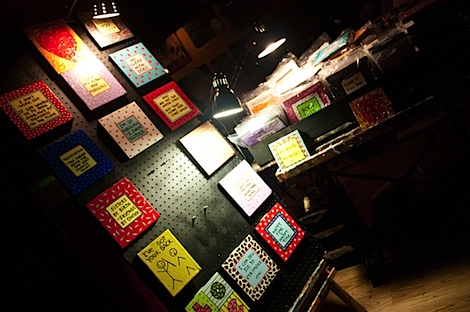 And on our way out, we checked out some of the paintings by one of the local artists in the restaurant that night.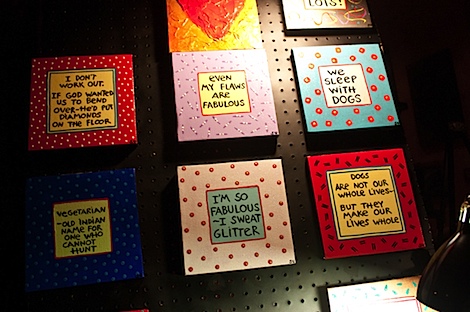 We actually each ended up taking home a sign. Mine isn't in the photo, but I'll share it later. Any guesses what it says? Hint: it's not in the photo.
Which sign would you most likely buy? (can be in the photo or a quote/line you make up)