Day 2 of Zumba Convention started with a bang and ended with one, too. We had special guest appearances by 2 very famous people! Read on to see who I'm talking about…
Our second day (click here for the Day 1 post) at Zumba convention was really like our first, since it was the first day we actually had classes to attend.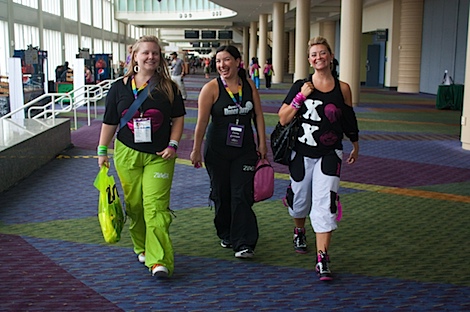 We were really excited to get started! 😀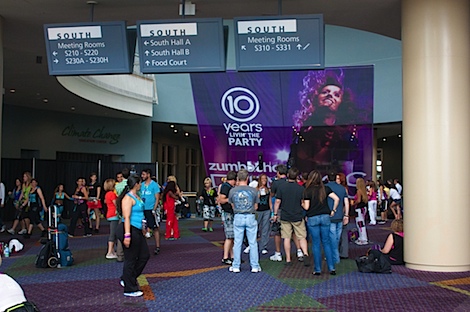 First up – the fitness concert.
I wasn't sure what to expect at a "fitness concert." I'd never been to one before. And now that I've seen the craziness that is the "fitness concert," I'm not sure I'll see it again anywhere else…ever!
Conference Tip: If you're reading this to see what to expect for a future conference, please note that – at least at the 2011 conference – you weren't allowed to bring any personal items inside, so you may want to leave the purses and bags at your hotel while you dance away at the fitness concert. 😉
I found this nifty video from the 2010 conference, and it totally captures the energy of the fitness concert. It's only two minutes long…watch it! You won't believe it, but it's real and just like the video shows…promise. Thousands of zumba instructors dancing away in one giant room. It was so cool to see in person and to experience.
We actually came a bit late (people were coming and going as we arrived – it was pretty casual, which I liked), and only danced for a short period of time to save up our energy for the rest of the conference. And boy was I glad I did by the last day! 😆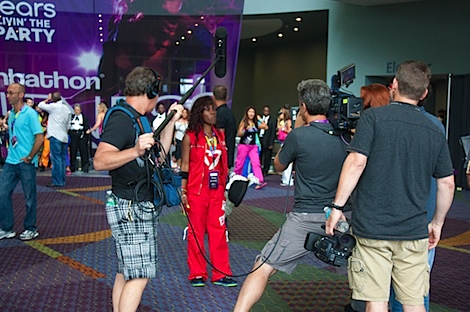 Back outside they were interviewing people left and right.
I headed back to our hotel with the girls to grab a quick bite to eat before classes started.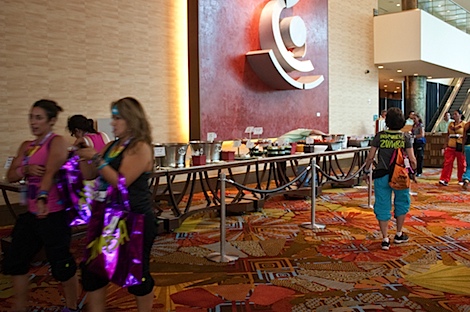 You may be wondering what to eat at the Zumba Convention. At the Peabody Hotel, there were lots of cash bar tables set up with eats and drinks.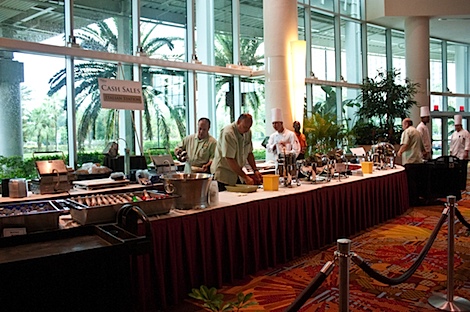 They were pretty pricey, but certainly convenient.
The convention center had a few food booths, as well (Asian, crepes, Cuban coffee/pastries, giant pretzels, sandwiches).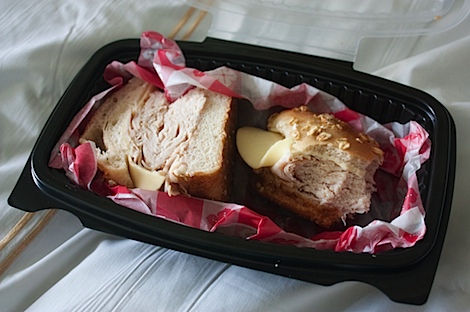 Since we were staying at the Hilton, I got food at the Marketplace in the lobby of the hotel. This tasty turkey sandwich was only $5! A steal compared to prices elsewhere.
After lunch, Erica and I headed to our first class.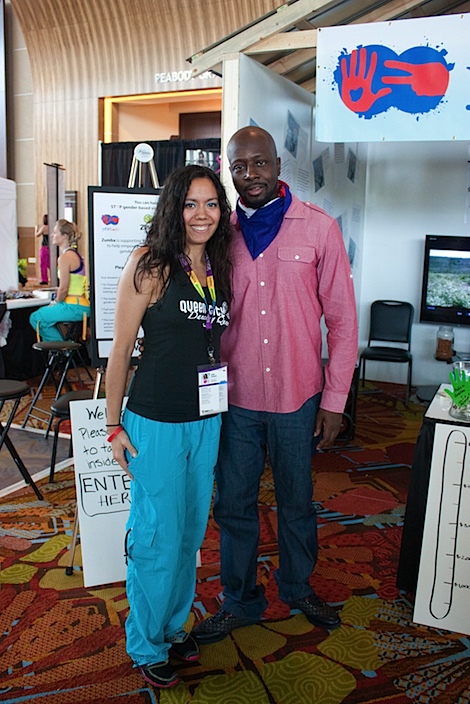 But not before seeing Wyclef Jean in the booth area! I happened to see him standing at the Yele Haiti booth. Yele Haiti is the charity Wyclef founded with Jerry Duplessis (click here to read more about the charity). Erica and I were just sitting on a wall in the Peabody lobby waiting for them to start letting us into the conference room for our class when I saw him.
Me: Um…is that…Wyclef over there? (said nonchalantly)
Erica: Where?
Me: Right there (pointing to the man standing only about 20 feet away from us).
Erica: *immediately and wordlessly gets up to go wait in the (short) line to take a picture with him*
We only had to wait for about 15 other people to take photos with Wyclef before it was our turn! So cool! We even made a little donation to the charity – a really great cause. (You may recall I hosted that online bake sale in January 2010 to raise money for Haiti. We raised just under $3,000!! Click to read about the bake sale.)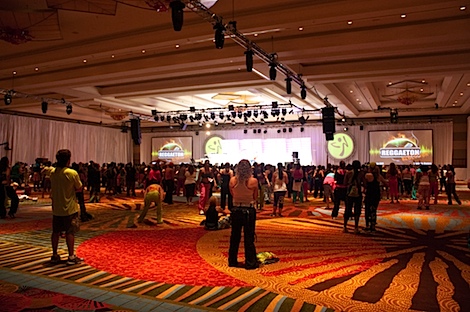 After our star-sighting, we headed to our first class of the day and of convention – Reggaeton.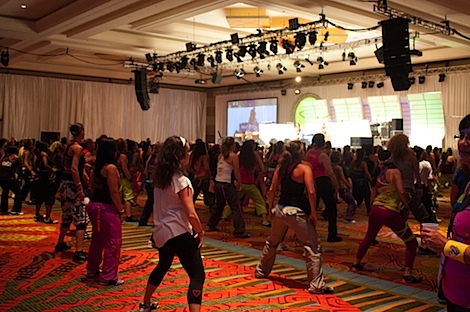 This class (and pretty much all the classes) started with some cardio, followed up by breakdown and powerpoints, and then a little more cardio/choreography to go over the powerpoints in action.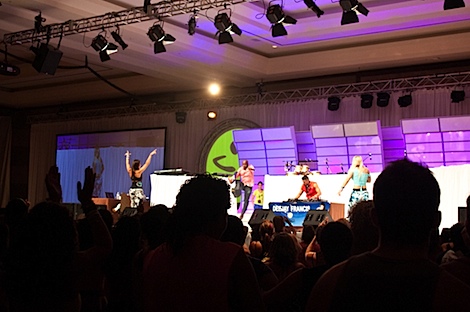 Except, we had a little surprise in store for us…a LIVE performance with Wyclef himself! What?!?!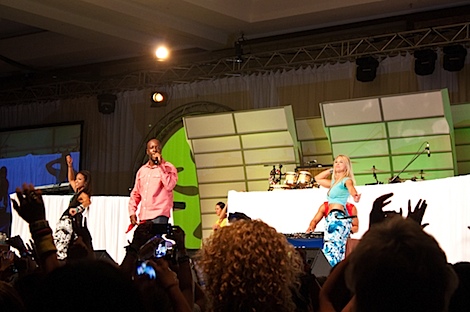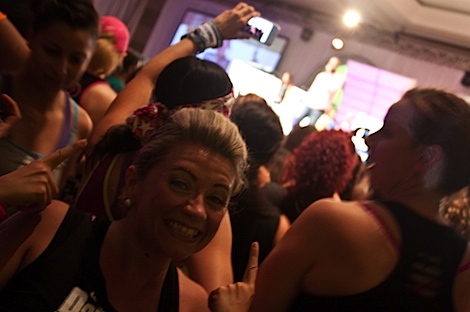 It was so cool!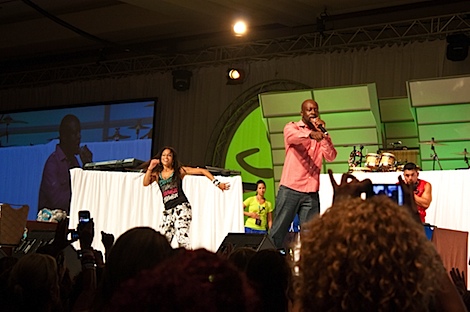 Yea Wyclef!
By the way, class was led by two ZESs, including Loretta Bates who did a master class with us recently (click to view). And did I mention they had a live DJ! 🙂 Yup. They all did a wonderful job, and we took notes from some cute moves to hopefully put into some choreo back home.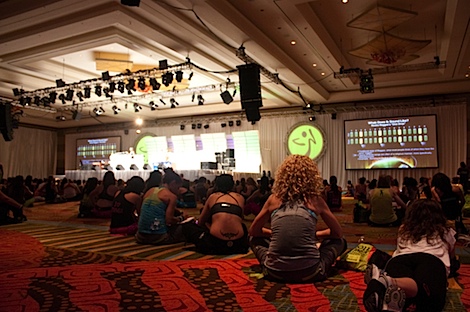 After the cardio and the impromptu concert, it was time for the breakdown. After another quick stint of choreo, class was over. One down, more fun to go!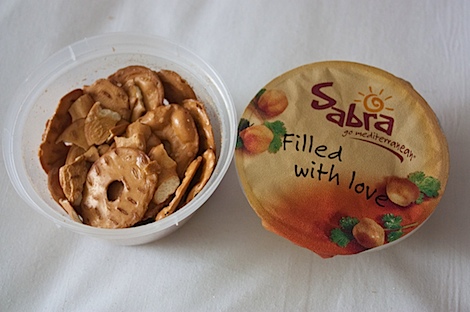 I headed back to the hotel for a snack – hummus and pretzels. It was very welcome.
Convention Snack Tip: I also snacked on several Larabars over the course of the weekend, but I didn't take photos of them all. They made a fabulous snack, if you're interested in portable snack ideas for convention.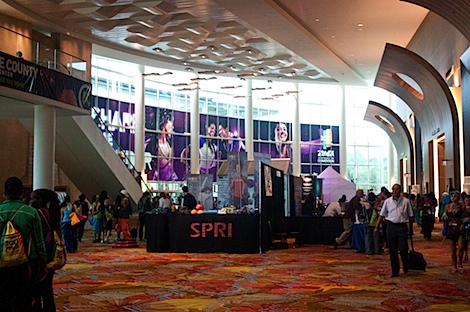 And then it was back to the Peabody again for the last class of the day.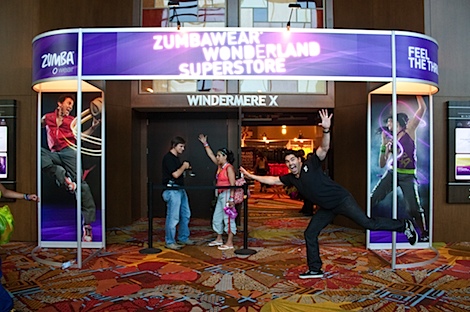 And I may or may not have stopped by the Zumbawear Wonderland Superstore. 😉 Honestly, I went in and out of both the superstore and clearance store so many times, I lost count. Luckily, I did not lose count of the Zumbawear I actually purchased (yay for not being a total shopaholic). hehe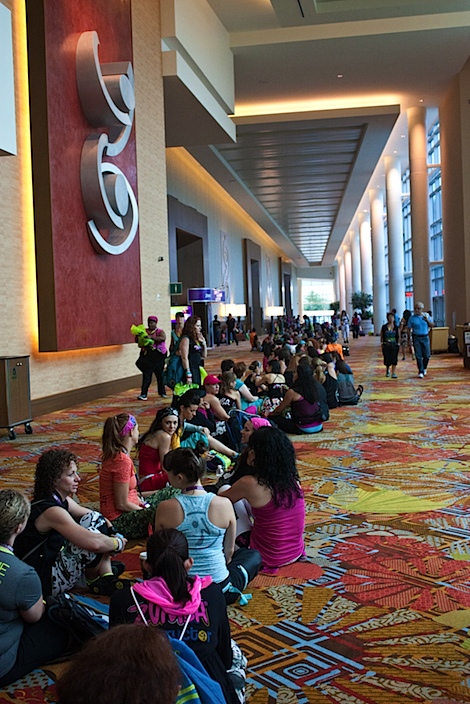 Anywho, the line for the 4:15pm class was way long. Why? Because it was with Tanya Beardsley!!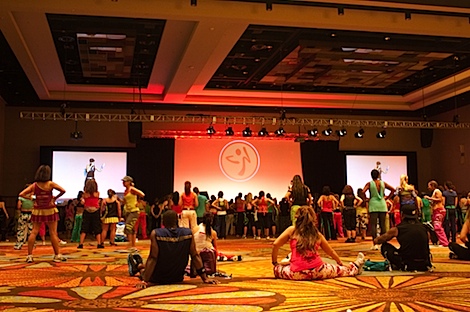 I had warm-ups and cool-downs for my last class of the day. I'd heard so much about Tanya's amazing dancing and teaching skills, I was really looking forward to seeing her live and in person. She totally lived up to all the hype. Tanya rocks!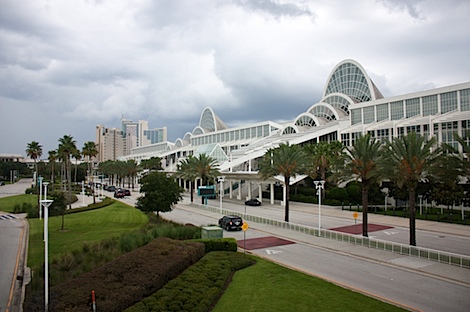 Did I mention that our hike from the hotel to the convention was forever-long? I named it The White Mile because all you see is white columns and railing for what felt like a mile of walking.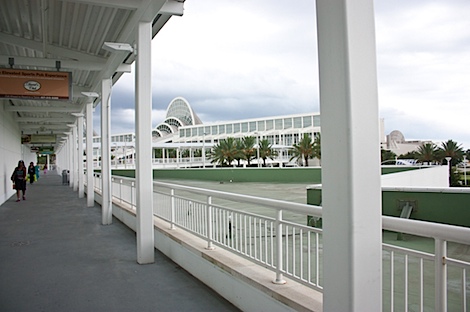 Actually…scratch that. I mapped it. And it is a mile. Ok, it's only just over a half mile, but still…that's a lot of walking when you go back and forth multiple times. 😆
***
After classes ended, we went back to the hotels to get ready for dinner! We headed out with some of our friends in Roanoke, VA for a fabulous dinner at Maggiano's. Nom. I figured the dinner room would be pretty dark, so I left my camera at home. I had a great dinner and even shared some Rigatoni D with a fellow corgi lover (hello Ashley and Rhett – her tri-color corgi).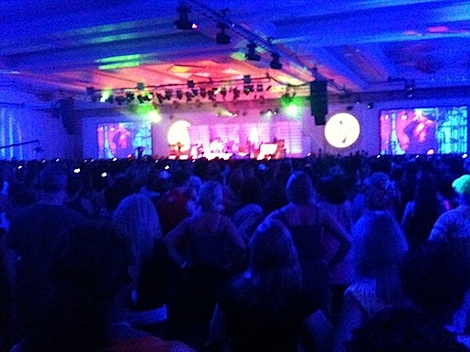 And then we came back to the hotel to change for a special concert with…Pitbull!! That's right.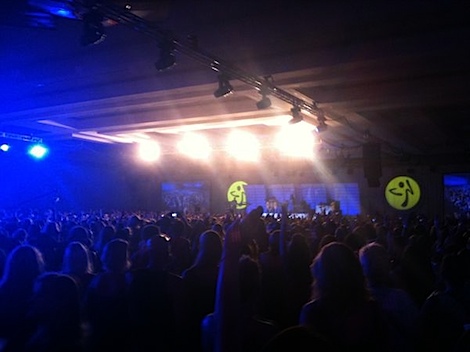 It was so fun to do some of our Zumba dances in the audience with Pitbull live!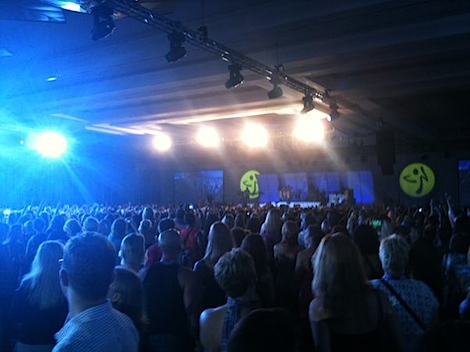 In fact, I think we choreographed at least two songs while we were at the concert. Woohoo!
***
And that pretty much wraps up Day #2. Phew! Busy, but wonderful day!
Have you ever been surprised to see a celebrity really close to you? Who was it?