So, I know we just talked about eating in and what not yesterday, but upon meeting hubby after work yesterday, he proposed we eat out. I've been (somewhat half-heartedly, let's be honest) trying to combat his recent suggestions at eating out by pointing out the lesson learned from those action mantras, which is that we should eat out for the social experience and not convenience. But, he did make a valid point that I'm currently celebrating birthday week, so I caved.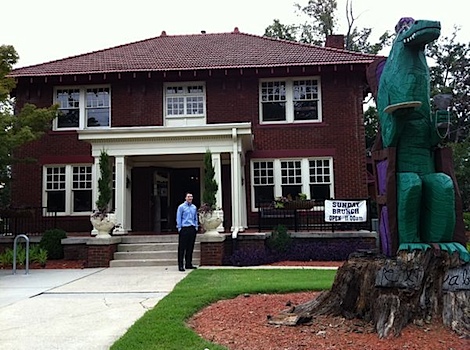 We literally drove straight from work to a restaurant I've always wanted to try – Cajun Queen. Armed with a Groupon and hungry stomach, I was ready to experience the restaurant in all its pre-dinner-rush glory.
I did some research on our way to the restaurant by reading some yelp reviews on my iPhone.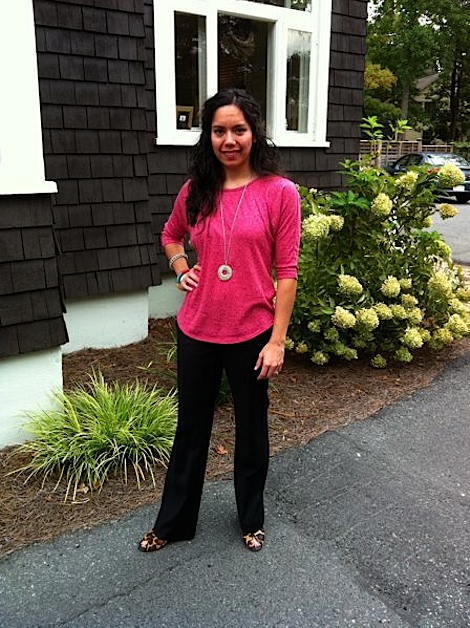 I was dressed in my finest work attire (ok, I just threw this together). Details on the outfit at the end of the post.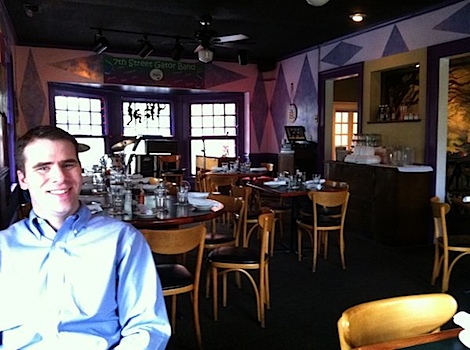 The restaurant was converted from an old house, which made the interior was cute and cozy. I loved the local art on the walls, the ecclectic atsmosphere, and funky colors.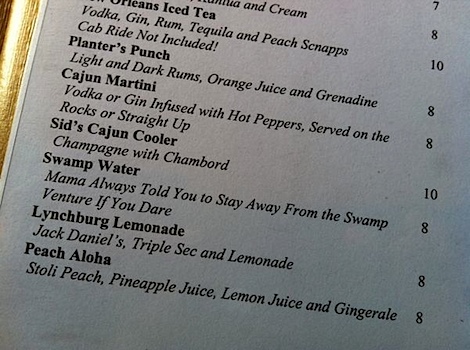 Also, I love restaurants that have good cocktails menus. So many places just have "a stocked bar", but I like it when a restaurant creates signature cocktails.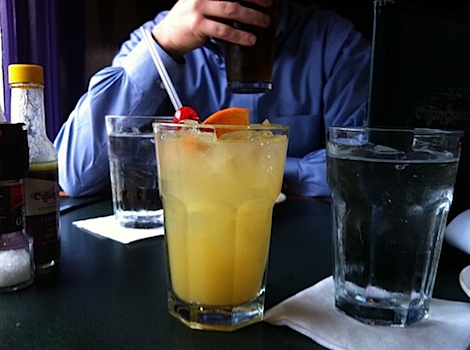 I tried the Peach Aloha (Stoli Peach, pineapple juice, lemon juice, and gingerale) after the waitress said it was "refreshing." I was feeling a little zombie-like after getting my a$$ handed to me at work and looking at one too many spreadsheets and database queries, so it seemed like a good choice. One sip confirmed the waitress was correct. The drink was refreshing and hit the spot.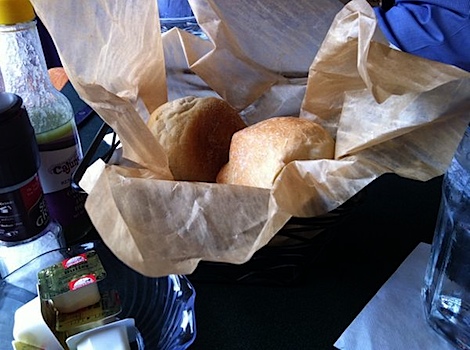 We were quickly served warm bread. The bread was fab, but I wish the restaurant made their own special butter. I would expect a unique and high-quality-eats place like this to do some neat take on whipped butter with a Cajun-Queen-twist like spicy honey butter or something, though the butter they had worked.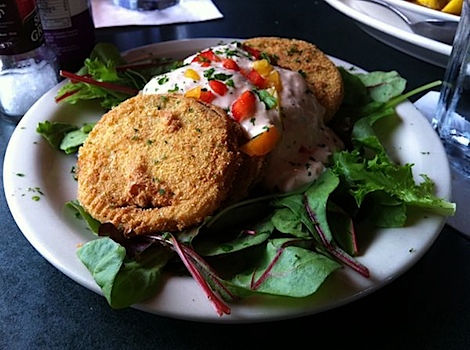 Hubby and I wanted to get a good experience at the restaurant and try a lot of different flavors. So, we opted to get two appetizers (both had high remarks in the yelp reviews), an entree, and dessert.
We ordered the fried green tomatoes, which had a lovely, crispy crust and creamy tomato remlouade on top.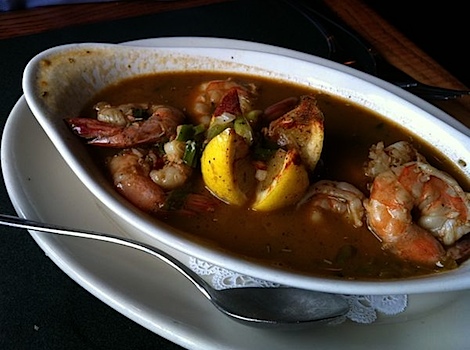 The BBQ shrimp were unexpected, but delicious. When I hear BBQ, I think sticky-sweet sauce. This one was more of a spiced broth, but it worked and tasted great.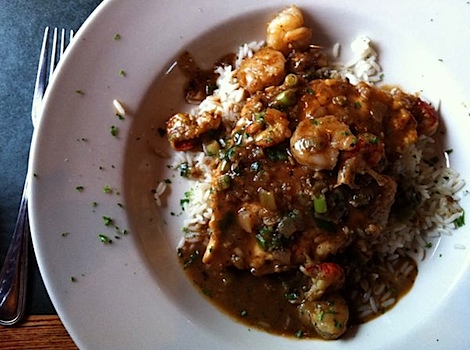 And for the main event, we had to try the etouffee (a spicy roux-based sauce) with shrimp, chicken, and crawfish (served over rice)!  This was actually my first time eating crawfish, which may surprise those who remember (which is no one…except maybe my sister) my childhood obsession with My Side of the Mountain. I may be referencing the book incorrectly since I haven't actually read that book since about 5th grade, but if I remember correctly, Sam Gribley ate quite a few crawfish in the book. (Does anyone remember?) 
We shared the etouffee so we could save room for the other dishes. This ran us a $5 split plate charge, but our waiter did do a great job of telling us about it when we ordered. Anywho, the etouffee was quite tasty and had a great comfort-food quality, which was perfect for the dreary day. Must have been the gravy-like sauce. I liked everything about the dish…even the crawfish (which tasted sort of like a cross between shrimp and crab to this non-seafood-expert)!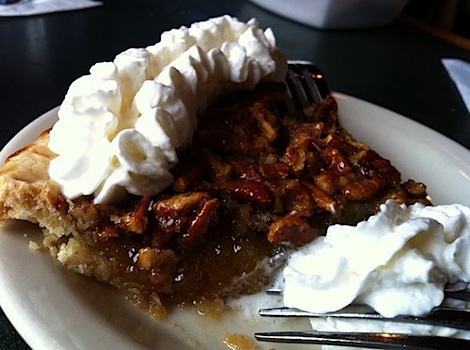 For dessert, hubby tried to sway me to order the bread pudding, but (since it's my birthday week) we got the the dessert I was really eying – the Bourbon Pecan Pie. The pie was so good that hubby almost lost a finger after he polished his half of the pie in record time and his fork meandered to my side of the plate. Don't get between me and my dessert!
All in all, we had a great meal. The food was high quality and prepared with care, and the service was attentive and friendly. I'd really like to come back sometime to sample some of Cajun Queen's other dishes.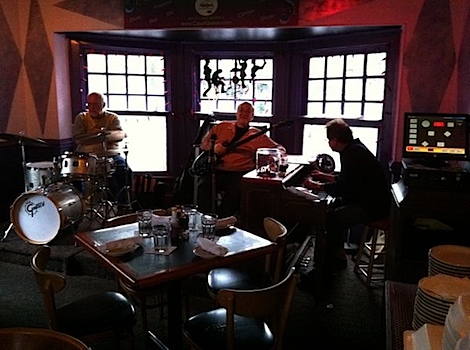 Oh, and we even got to enjoy dinner with a life jazz band!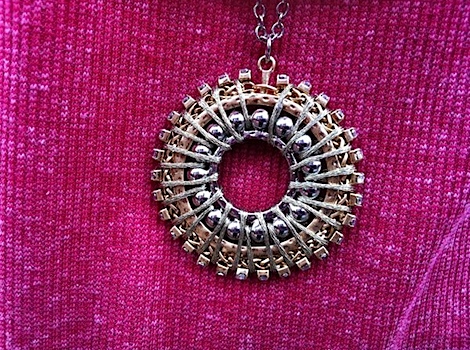 As for the outfit details I promised, here's a closer shot of a new necklace I picked up at Banana Republic when their jewelry was marked 40% off. I love this because it has an overall simple design that I can pair with lots of outfits, but my favorite part is the mix of silver and gold metals, which will help me tie accessories together.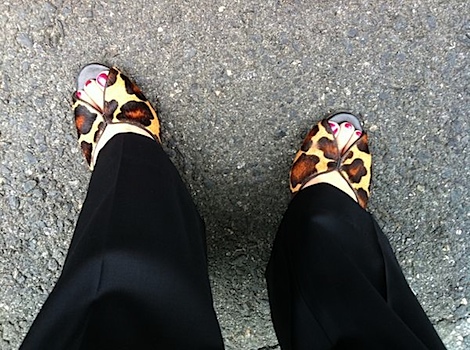 Ensemble:
Pants – J Crew
Top – Gap (scored on sale, plus an additional 30% off)
Shoes – Vaneli
Necklace – Banana Republic (scored 40% off)
Bangles – Local boutique and a gift from my MIL
***
Reader question #1: Do you remember My Side of the Mountain?
Reader question #2: Have you had crawfish? How would you describe it to someone who hasn't had it before?