Did you guys notice my new blog header? If you're reading in Google Reader or another feed engine, you can click here to visit the blog and see for yourself. What do you think?
I wanted to create a new header that helps people visiting my blog to more easily see and instantaneously get what The Chic Life is all about – Food (eats and recipes), Fashion (outfits and shopping), and Life (everything in between with lots of Bailey photos). I'm hoping to include more home posts soon, but since I rarely blog about that currently, I kept it off the header. One day!
Anywho, hope you guys like it! On to today's post…
***
We're not even all that close to Christmas, and yet I'm feeling busier than ever. I've been having lots of those nights where your to-do list is never quite complete, even though you will yourself to stay awake till midnight or later to get just one more thing done. And there's nothing like being done with the day's activities well after the grocery store closes to keep you eating out more than you should. Oh yes, I've been eating out way more than I should. Ruh-roh. But finally, on Monday, I had a day where I felt prepared eats-wise, thanks to some planning and a good grocery trip on Sunday.
It's nothing special, but here are some photos of the day's eats…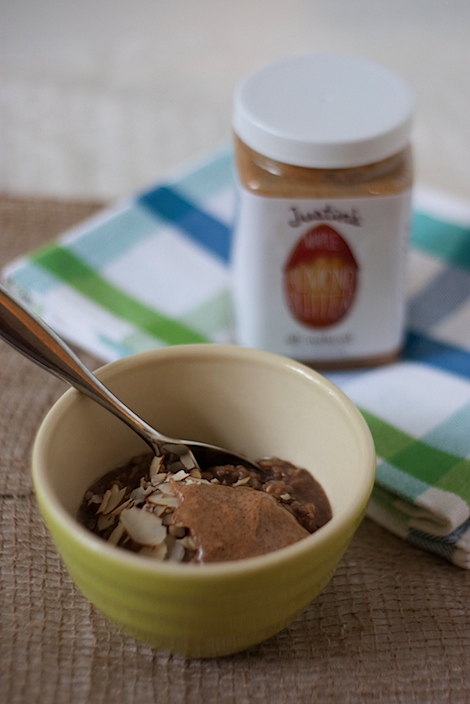 In fact, on Monday, I was finally excited about breakfast again. I've turned into more of an eggs and toast kind of girl in recent months. But, I picked up a new jar of Justin's nut butter on Sunday in a flavor (maple) that I hadn't tried before that had me excited about oatmeal again!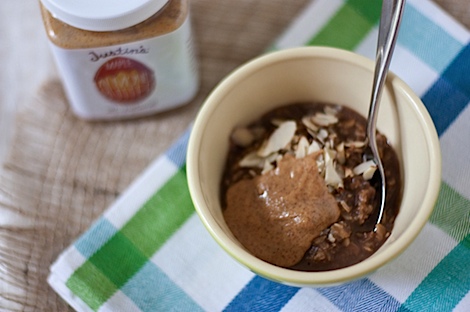 I've been keeping my oats pretty simple, and I've been using non-dairy milks because I find they're easier to cook and prevent from curdling. I used 1 part water, 1 part soy milk, and 1 part oats for my base. I also added chia seeds (for energy), carob powder (for flavor), and some honey (for sweetener). And on top, I added sliced almonds and a nice, big dollop of the new, maple almond butter. Who knew that maple and carob made such a great pair?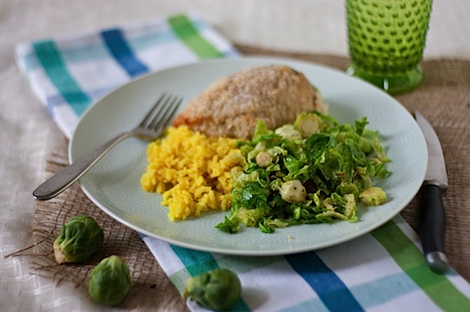 I ended up picking up a chicken roller from Earthfare on Sunday with plans of enjoying it for lunch Monday since I was WFH. You'd think I have all the time in the world to cook when I WFH, but I actually try to keep my breaks short – 15-30 minutes on average (and that's for the whole day!). This doesn't leave much cooking time, so something like this chicken roller is perfect! You just pop it in the oven and forget about it. Well, don't completely forget about it!
Actually, while the chicken baked, I took a couple quick minutes to throw dinner together in the slow cooker…but more on that in a minute.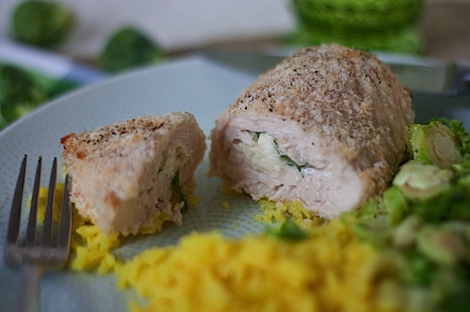 I served the chicken roller with leftover saffron rice (from last night's dinner) and some sauteed, shredded brussels sprouts (using this easy recipe).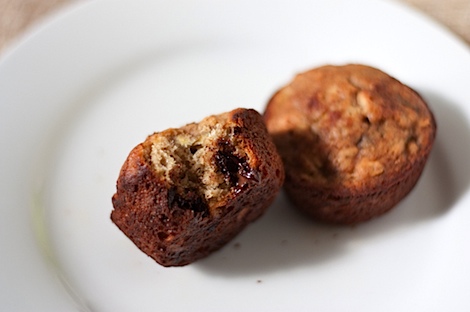 And for an afternoon snack, I de-frosted and re-baked the last two of the Banana Chocolate Muffins that Erica made me for Susan's bake sale. So tasty!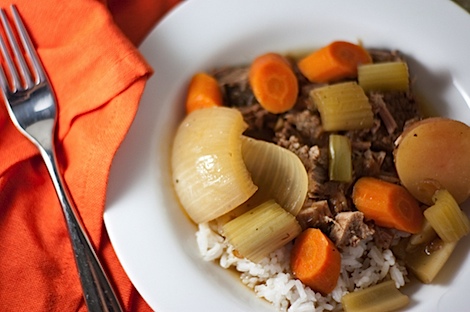 And as for dinner, the slow cooker made that a breeze. I mean, a couple minutes spent at lunch yielded a delicious dinner and made my house smell so cozy, too! I used this recipe for my Mom's Pot Roast. As we neared dinnertime, I only had to use my rice cooker to quickly cook some rice. If you've ever used a rice cooker, you know that's about as easy as pouring a glass of water (ok…almost!).
All in all – a good day's eats. I need to incorporate more of these into my life! Why has this been so difficult lately? Seriously, I've been getting kind of irritated with myself for all the eating out, but work has just been so crazy. Ugh, I think I need another Eat in Month! 😆
Reader Question #1: Do you have a hectic work schedule? How do you keep yourself from leaning on the convenience of eating out?
Reader Question #2: Which meal do you eat out the most: breakfast, lunch, dinner, or snacks?