Well folks, we have about one week of summer officially left in the year. Are you ready for it to be over? I guess I am, but I'm still celebrating the last week of summer with some favorites – flirty skirts & flip flops and of course eats.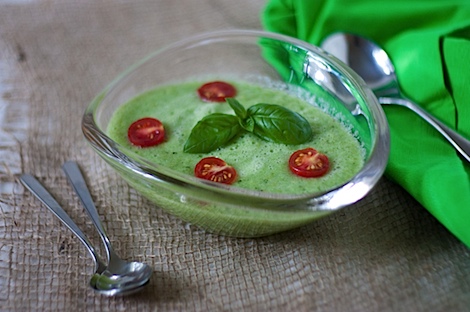 Not sure what to do with the last of your tomatoes? Why not try this End of Summer Chilled Cucumber-Tomato Soup?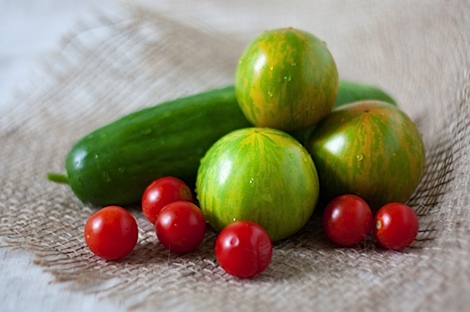 I used Green Zebra and Sweet 100 tomatoes from my garden, along with this cucumber that we got from I forgot where – my mom? A co-worker? Who knows. But I had it.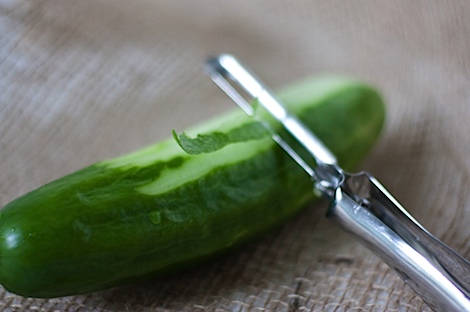 Since it was a traditional cucumber, I peeled it…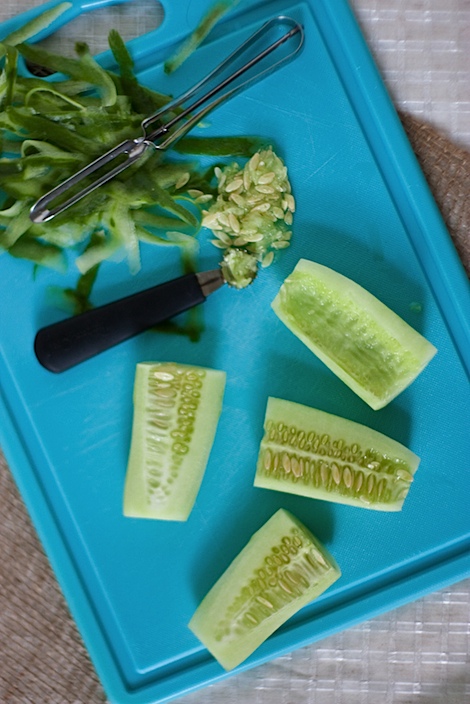 …and seeded it.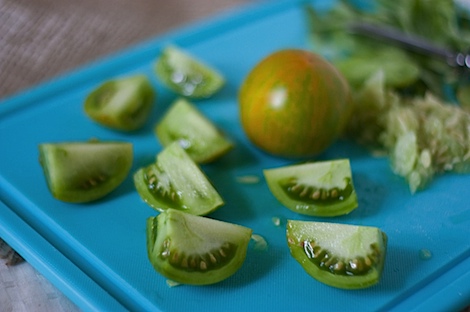 And these Green Zebras are really fun to work with – check out the bizarre green color! If you don't have these, don't worry, other tomatoes will work. See recipe notes for tips.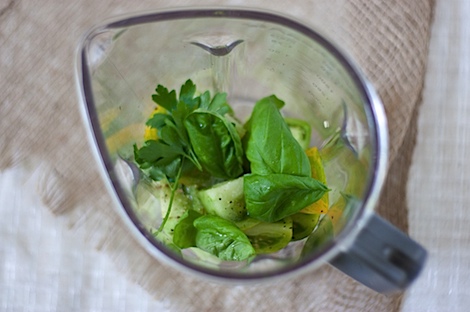 Anywho, this has to be one of the easiest recipes I've ever made. You basically just put all the ingredients (save for the cherry tomatoes) into a blender, blend…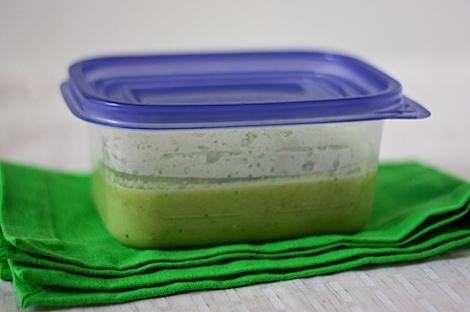 …chill…stir in some extra flavors and…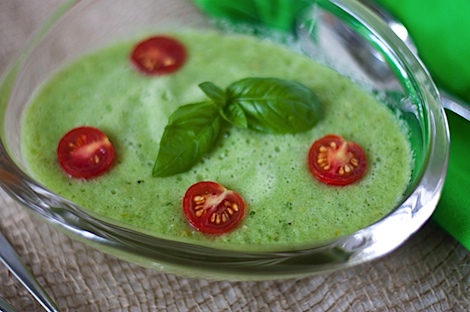 Voila! Lunch is served…with maybe a nice, hearty piece of buttered whole grain toast. Gotta have my carbs.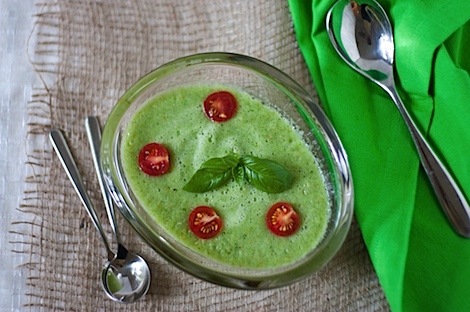 End of Summer Chilled Cucumber Tomato Soup
This chilled soup is similar to a gazpacho but with a shorter ingredient list. It uses what I like to think of as the most common summer vegetable garden ingredients: cucumber, tomato, and basil. And is it supposed to be eaten cold? Why yes. You know those days where it's so hot outside, you almost don't want to eat? This would be perfect for such a day…or really any warm weather day where you just want something cold on your tongue – like a day you want a smoothie, but aren't feeling something sweet.
Don't have Green Zebra tomatoes? Sub roma – the smaller ones are similar in size.
*Vegetarian, Vegan*
Serves 1
Prep time: Does rinsing and chopping count? No, since I put prepped ingredients in the list? Ok, then I'd like to say 0, but let's go with 5 minutes to be safe.
Cook time: Hmm…is this a trick question? Also 0. There is no cooking involved in this recipe. But there is 1 hour of chilling and some mixing involved, so let's say 1 hour (for chilling) and 10 minutes (for blending and stirring).
Ingredients:
1 medium cucumber, peeled and de-seeded and cut into chunks
3 green zebra tomatoes, quartered
6-8 fresh basil leaves
1 small sprig fresh Italian parsley
1/4 teaspoon kosher salt
fresh cracked black pepper
1 teaspoon red wine vinegar (or go a little heavier for a more tangy flavor)
small handful cherry tomatoes (about 6), halved
drizzle of extra virgin olive oil
salt and pepper, to taste
Directions:
Place cucumber, tomatoes, basil, parsley, salt and pepper into a blender. Blend until smooth, about 3-5 minutes.
Pour soup into a container and cover. Place in refrigerator and chill for at least one hour. Note: You can probably eat it sooner – temperature is up to your personal taste.
Stir in vinegar and salt and pepper, if needed.
Pour soup into a bowl, add cherry tomato halves, drizzle with extra virgin olive oil, serve and enjoy.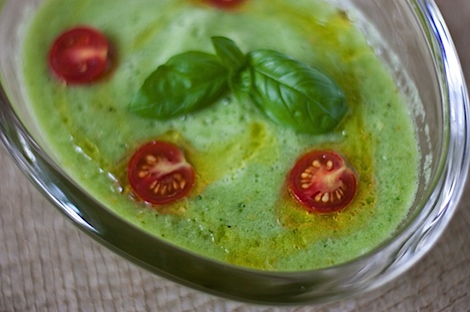 Don't forget the extra virgin olive oil drizzle!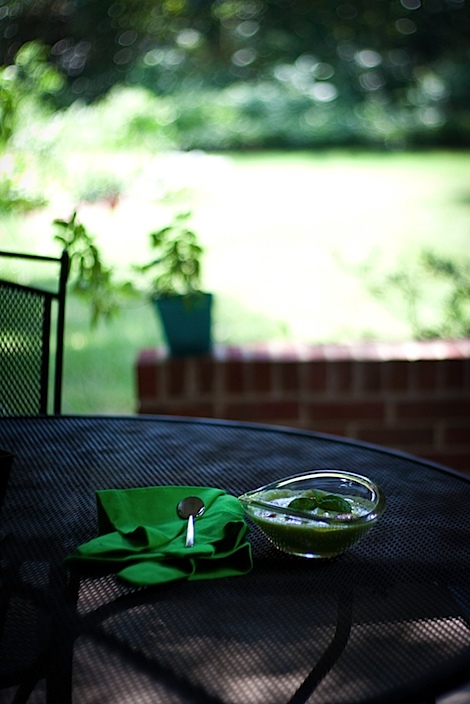 Now, go enjoy this somewhere warm. Stop and smell the roses. Admire the sunlight. Enjoy the fresh air.
Reader question: Which summer fruit or vegetable will you miss most?