What do you get when you mix 12 girls and honey badgers shirts? Read on to find out…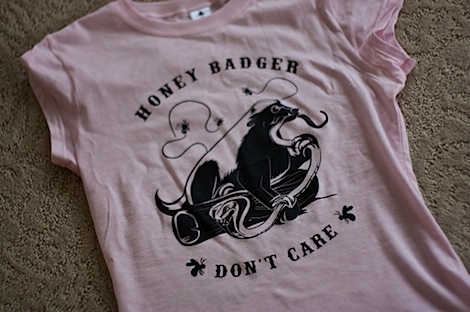 (Best shirt everrrrrr!!!)
But let's get to the weekend…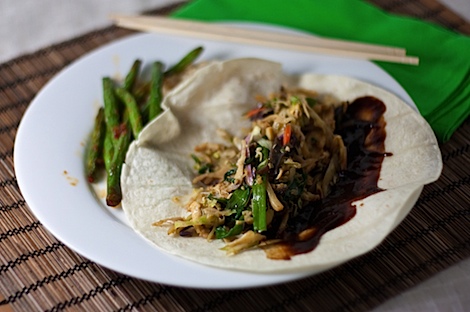 You may be wondering why I haven't been posting more food photos on the blog lately. They've been pretty boring, that's why. For example, check out this lovely plate of PF Changs Take-out from Friday night: Mu Shu Chicken, Spicy Green Beans, and Brown Rice. Not very interesting, eh? 😛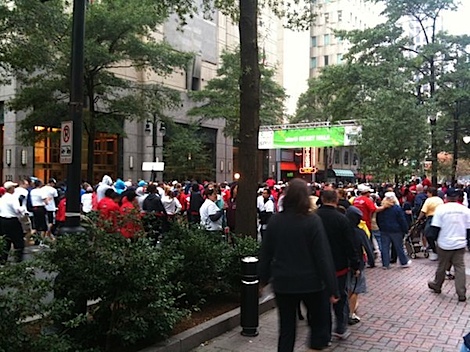 On Saturday morning, I woke up extra early for a special event. My Zumba company was scheduled to help the walkers of the Heart Walk with the American Heart Association with a warm up. I did one of our merengue routines with six fellow Zumba instructor to help get the crowd prep for the walk ahead. There were so many people at the walk, but the coolest part was seeing all the survivors! The adults who were heart disease survivors had on red hats, while children survivors had red capes on. On one hand, it broke my heart a little to see so many children with red capes on because it seemed so unfair for someone so young to suffer that. But on the other hand, they had on red capes, which meant they were survivors! 🙂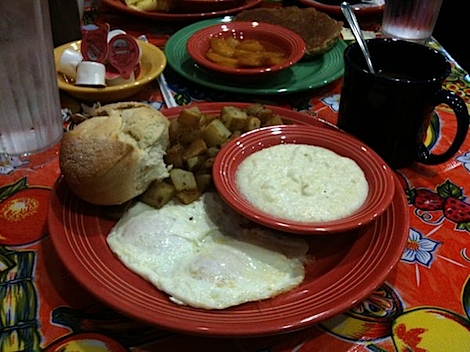 Sarah (one of the fellow Zumba instructors) and I headed out to brunch at The Flying Biscuit afterwards. Nommm!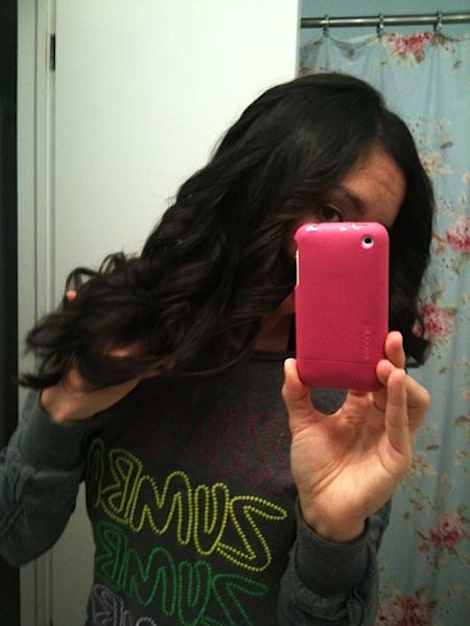 And shortly thereafter it was time to get ready for some shopping with Sarah! I recently ordered a new curling iron and was excited to test it out. I am not very skilled with hair styling, so I was apprehensive, but look at this "after" photo – my hair is not a train wreck! Hooray! The curling iron worked great! I'll have to do a more detailed review another time.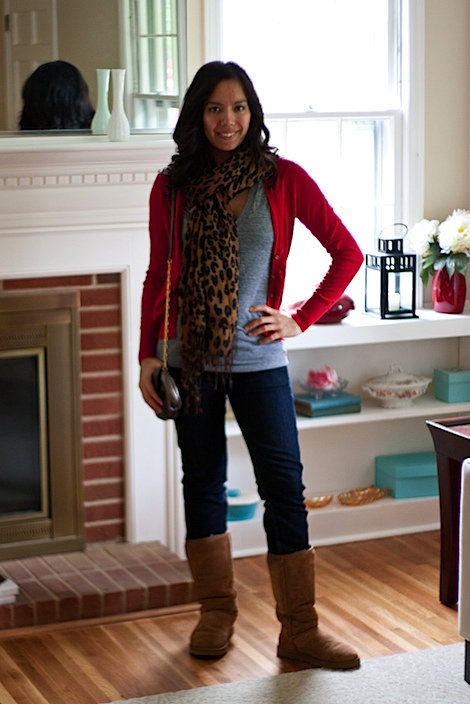 I decided to dress extra comfy and cozy for the shopping spree. The weather has taken a sharp turn for the colder, so I bundled up a bit.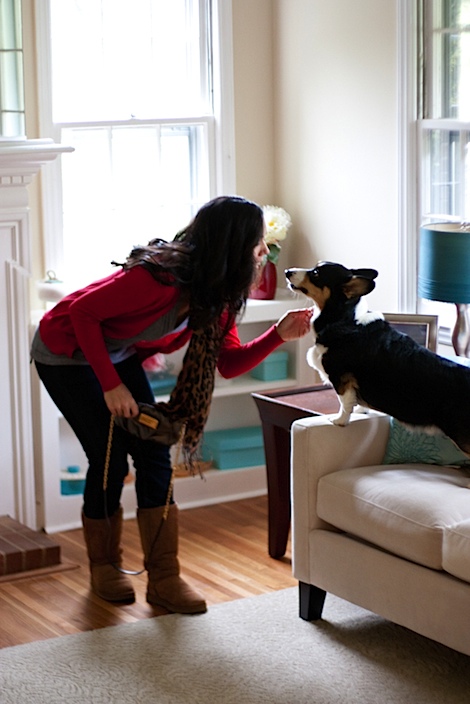 I went with Uggs for shoes – not because it was cold, but because they are so darn comfortable, and I knew we had lots of walking ahead of us! Truth be told, my ankle has been bothering me a bit lately, and I'm not trying to let anything else get between me and Zumba. So, heels were out.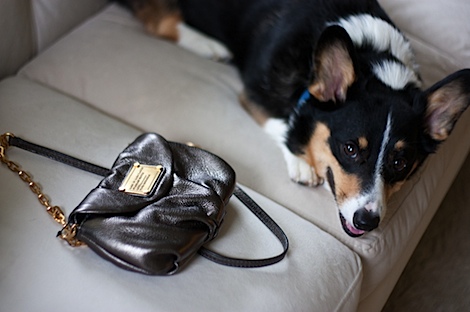 Here's a closer look at my cross body purse…and Bailey. That ham! He just loves to work his way into the photos!
Ensemble:
Jeans – Hudson (via a consignment store)
T-shirt – American Apparel
Cardigan – Banana Republic
Boots – Uggs
Scarf – H&M
Cross-body purse – Marc by Marc Jacobs
Anywho, the shopping trip was a success, but the highlight was a dual makeover with my fave make-up artist at the MAC booth for me and my friend Sarah (my shopping enabler buddy). I requested a "bright lip" look and Sarah got a "bright eye" look. I ended up with a perky lip color in hot-hot pink (one of MAC's latest lipsticks!), and Sarah had a smokey eye finish in pretty purple. I would have taken an iPhone photo, but I left the silly thing at home. Whoops!
***
But the fun couldn't end there. We had way more fun ahead – Nicole's bachelorette party!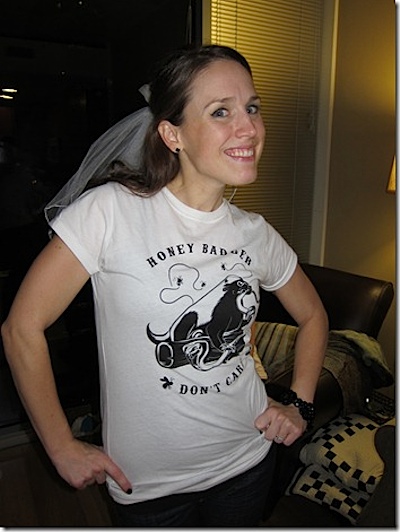 (Nicole photo credit – Healthy Tipping Point)
Caitlin ordered the awesome honey badger shirts for us – pink for the girls – white for the bride.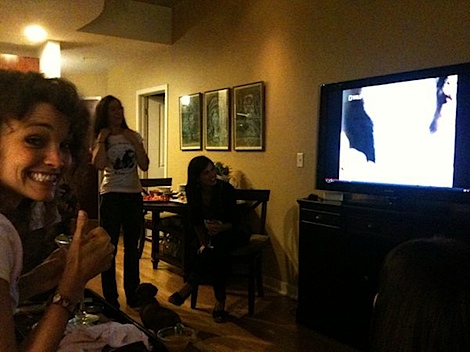 Kelly had us over to her condo where enjoyed some snacks and beverages. And we all took a moment to observe the honey badger video. If you have no idea what the honey badger is, I encourage you to watch this video – click – if you don't mind a bit of foul language and if you want a good laugh. Or don't click...honey badger doesn't give a sh*t.
There were plenty of cocktails and plenty of vino, but I was feeling beer for the night. So, I headed to the nearest mart for a brewski. I had my choice of six packs or singles, and I decided on a single (Yuengling), which was promptly placed in a paper bag after purchase.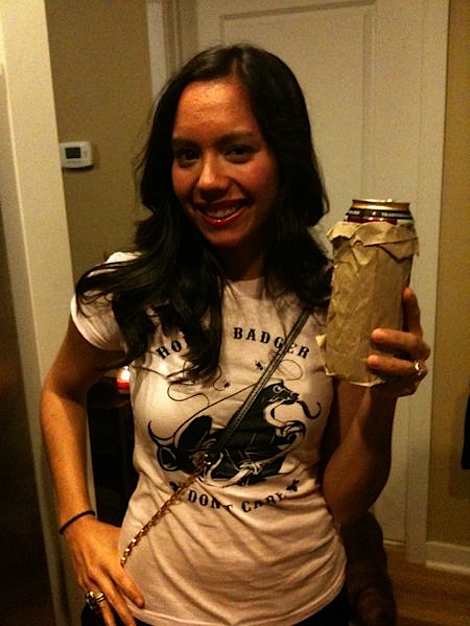 Oh yes, beer in a bag…I'm classy like that. But it's ok, because honey badger don't care.
Anywho, after our pre-party, we headed out for a night on the town.
Hungry for more? Check out this hilarious recap by Katie.
Or you can just watch the honey badger video again. I know I'm going to after I publish this post.
Cheers!
Reader Question #1: What's the best bachelorette party theme outfit you've worn?
Reader Question #2: Which do you think is more bada$$: the honey badger, lion, or crocodile?