Apologies for being a bit MIA. It's been a stressful week for me, but overall, I'm in good spirits.
The downs: This week has been extremely stressful at work. We've had some important projects get into full swing recently, and everyone on the team is a bit on the fritz. I'm still working with 17 Excel files and 5 databases open on my computer (yes, at one time). You knew I was a bit of a geek, right?
The ups: I'm getting back into the groove with Zumba. This was pretty much my second week of being back in the routine of things, and I'm more thankful than ever for my health. I'm hoping to continue my normal routine of Zumba about 3-4 times a week. I'm back to teaching 2 nights, and I'm loving it. Good health is such a blessing.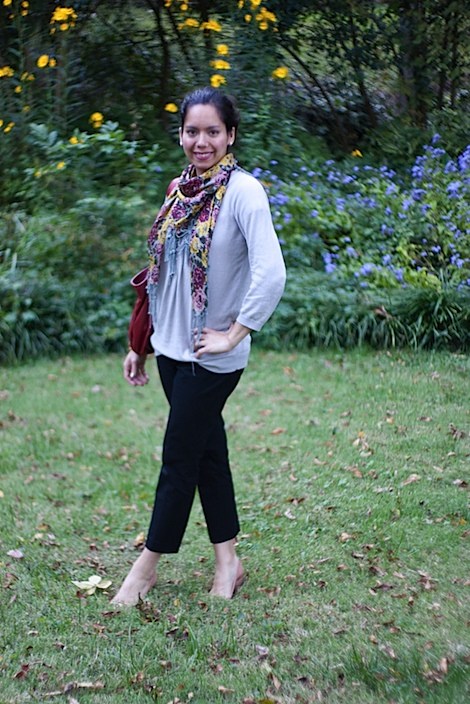 In outfit news, the work stress has me pulling more comfortable clothes to wear to the office. Take for example this slightly (ok, very) oversized gray sweater. Do you ever look at something in your closet and wonder why the heck you bought it? That's what I've been thinking with this sweater. It's pretty cute, comfortable, and machine washable/dryable (which I love for convenience purposes), and I even got it on mega-sale, but it's just so darn big. I bought it in my normal size, but I think I should have gone down one. I like oversized sweaters that are meant to be oversized, but I think this one just looks a bit like it doesn't fit.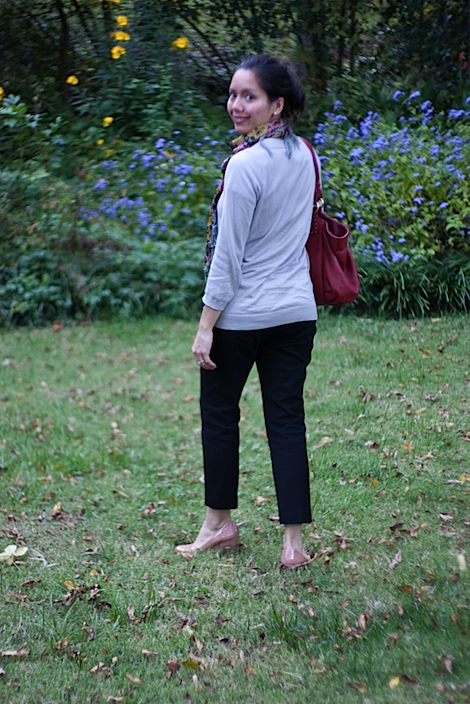 I've also been questioning the sizes I purchase, just in the last couple months. My weight has fluctuated quite a bit over the last 10 years causing my size to range about 3-4 sizes, but while I tend to adjust my bottoms accordingly, I've tended to order the same size top. No clue why. I've started actually trying on one size smaller in tops just to see. As you know, the fit varies from style and brand, so it looks like I'm just going to have to be more careful and pay closer attention when I'm trying things on. This will suck for my new found love of online shopping. I really prefer trying things on, but I do love the convenience of online.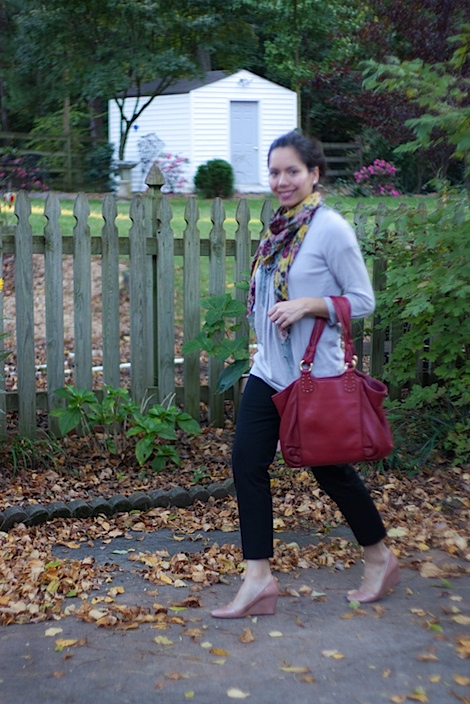 Ensemble:
Black pants: Banana Republic (scored on sale and extra mark down for about $30)
Sweater: Ann Taylor Loft
Scarf: Urban Outfitters
Nude Wedges: J Crew (also seen here)
Purse: Sigrid Olsen
Pearl Studs: family gift (from my college graduation!)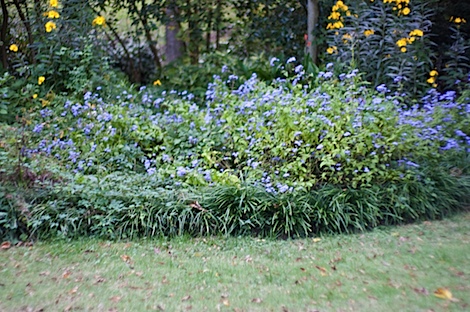 In home & yard news, here are the last flowers of 2011 for the Chic house backyard. They're so tall and pretty. I think my neighbor called the purple ones "weeds", but I'm enjoying them.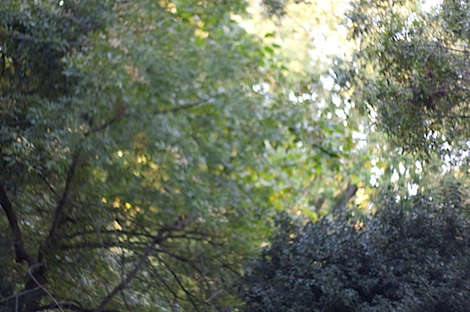 And I'm waiting for these leaves to start turning tan, gold, red, and orange. Can't wait…I love fall. 🙂
***
Thank you so much for reading! Hope you have a great rest of the week.
***
Reader question #1: Do you purchase any type of clothes in the same size every time?
Reader question #2: Do you dress more comfortably when you know you're going to have a stressful day at work?
Reader question #3: What color are the leaves in your yard?