Sundays are for sleeping in and taking your time making breakfast. Not that you need to cook for hours to have something delicious on your plate. But if you're like me, you rush around during the work week whipping up whatever is relatively quick and easy. But on Sunday. Ahh…when Sunday rolls around, you can sip coffee and take your time sautéing up some tasty potatoes and onions. At least that's what I did this past Sunday.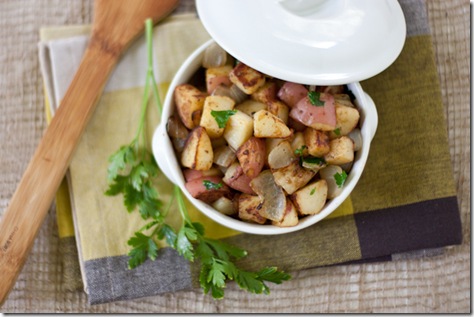 I love eating breakfast potatoes, but they aren't always the quickest thing to throw together. I typically only enjoy them at my parents' house or when I'm out at a restaurant for brunch. While my parents make a mean batch of breakfast potatoes, they also live  almost 2 hours away. And the problem with eating them at a restaurant is that 1. they're more expensive and 2. they're usually doused in excess oil and butter. By making them at home, you can better control the price and fat level.
The recipe is at the end of this post, but here are some photos and tips: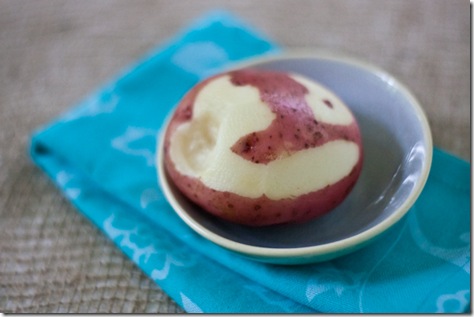 You can peel all the skin off your potatoes if you like, but I prefer the texture of the potatoes with the skin on. After scrubbing my potatoes, I usually only take off the bad parts (where it's dark or rough) and the eyes. And in case you need another good reason to leave the skins on, consider that the skins contain vitamins, phytochemicals, and most of the potato's fiber. (source – whfoods.com)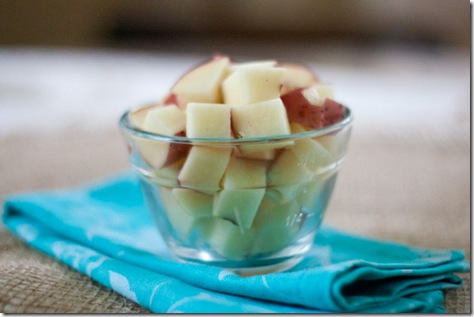 Anywho, after scrubbing and removing the bad parts off the potato, just cut it into roughly 1/2" cubes.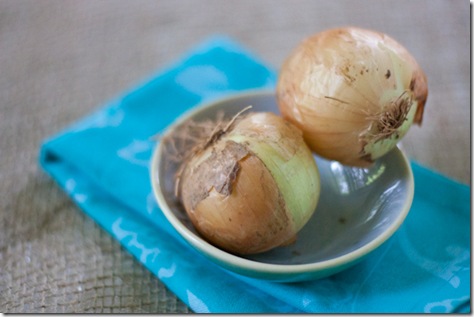 As for the onion, you can use one small onion. I happened to have two teeny-tiny onions, so I used both of those.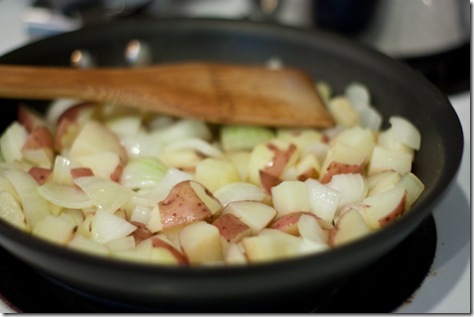 After tossing the potatoes in the oil and butter to coat them, spread them to an even layer.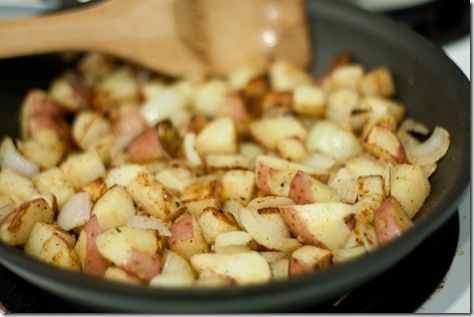 After a few minutes, turn and spread to an even layer again.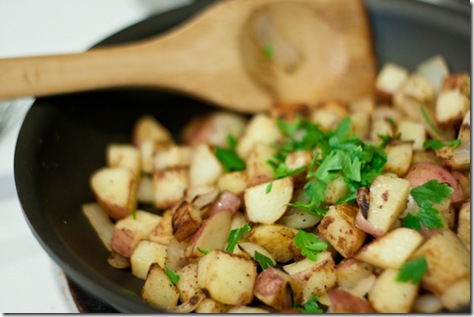 When the potatoes are done, toss in some fresh, green parsley for color and a fresh bite.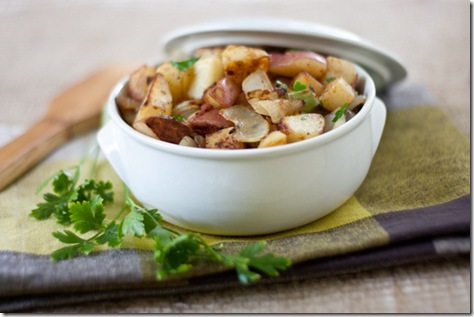 Stuff-Your-Face Breakfast Potatoes
Unlike most restaurant breakfast potatoes, these potatoes are not overly cooked (squishy potatoes and onions…ew!) and are also not cooked in an excessive amount of butter and oil. The onions have a bit of a bite to them, so cook them for a couple minutes before adding the potatoes if you like them more tender.
By the way, while I prefer to use as few pots and pans as needed, I find the boiling step necessary. Sorry, but these potatoes are worth a little extra dish-washing! 🙂
Oh, and although I usually reserve my weekend mornings for making these potatoes, they actually come together pretty quickly and easily.
*Vegan options listed*
Serves 2
Ingredients:
1 teaspoon extra virgin olive oil
1 teaspoon butter (or vegan substitute)
1 small onion, chopped
3 medium/large red potatoes, scrubbed, bad parts of skin and eyes removed, cut into 1/2" dice, about 2 1/2 cups
1/2 teaspoon salt, plus extra salt for the boiling water (about 1 teaspoon total)
1/8 – 1/4 teaspoon garlic powder
1/4 teaspoon paprika
1/4 teaspoon fresh-cracked black pepper
1 tablespoon fresh parsley, chopped
Directions:
Boil potatoes for 3 minutes in salted water. Drain potatoes and place back into the same pot you just used to boil the potatoes. Place the pot back on the burner, but make sure the burner is turned off. Note: the residual heat will help the potatoes dry out.
Pre-heat a saute pan over medium heat. Add oil and butter and stir butter to melt. Add onions and potatoes to the pan. Sprinkle mixture with salt, garlic powder, paprika and pepper, and toss until well-coated and spices are evenly distributed.
Spread mixture to an even layer and let brown on bottom, about 3-5 minutes.
Flip potatoes (it's ok if you don't flip every single piece over), spread to an even layer and let brown, about 3-5 minutes.
If needed, toss again and continue cooking to desired doneness. (I didn't need this step, but everyone likes their potatoes a little more or less crispy, so just cook to your liking)
Stir in parsley just before serving.
Enjoy!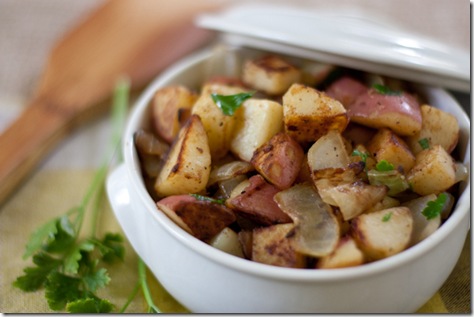 What foods do you cook on the weekend that you don't normally make during the week?