I had the pleasure of visiting one of the world's most famous restaurants last Thursday with Foodbuzz roomie Mara of What's for Dinner? I have to thank Mara for making the restaurant suggestion when we were deciding where to go for our splurge meal of the trip to San Francisco, CA.
Chez Panisse was co-founded by Alice Waters (chef/author) and Paul Aratow (film producer/professor) in 1971 and is famous for using local and organic ingredients. The restaurant has been entertaining foodies for many years – I like to think of it as the type of place my dad would love to visit. You may recognize Alice as being a pioneer of the local/organic/slow food movement, and she has even been called the "mother of American cooking."
Note: Both of my nicer lenses broke before Foodbuzz, so I used the factory lens for my Foodbuzz trip. It works well with good natural lighting, but the quality of photos won't be that great in low-lighting like the type we had at this dinner. Sorry!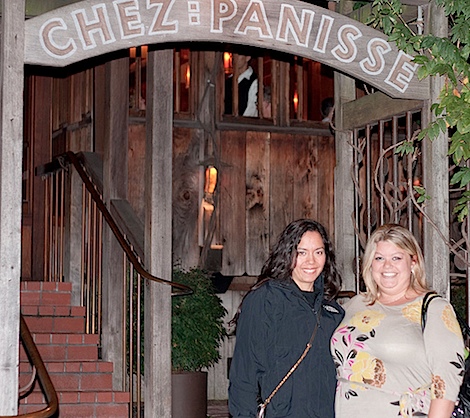 (this photo – credit – Mara – What's for Dinner?)
From the Chez Panisse web site:
"Alice and Chez Panisse are convinced that the best-tasting food is organically and locally grown and harvested in ways that are ecologically sound by people who are taking care of the land for future generations. The quest for such ingredients has always determined the restaurant's cuisine. Since 1971, Chez Panisse has invited diners to partake of the immediacy and excitement of vegetables just out of the garden, fruit right off the branch, and fish straight out of the sea. In doing so, Chez Panisse has established a network of nearby suppliers who, like the restaurant, are striving for both environmental harmony and delicious flavor."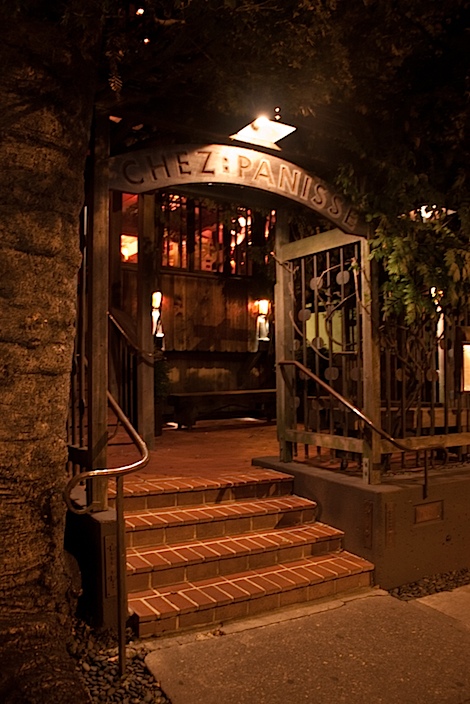 We took a long cab ride from San Francisco to Berkeley for our late dinner out. A nice woman waiting outside offered to take the photo of Mara and me. As it turned out, the lady was Mary Jo – a pastry chef of the restaurant. She gave us the inside scoop to ask Pete (a busboy at the restaurant) to give us a kitchen tour, saying he did a wonderful job.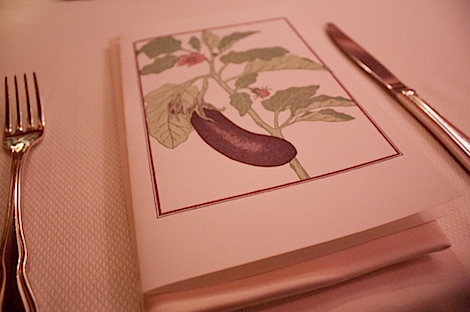 The menu at Chez Panisse is particularly interesting.
I found this note about the menu on the Chez Panisse web site:
"The menu which changes every night is designed to be appropriate to the season and composed to feature the finest sustainably-sourced, organic, and seasonal ingredients including meat, fish, and poultry."
The restaurant has the same menu for all guests on any given day. I'd never been to a restaurant that didn't offer at least a choice of two options per course, but I was down for whatever Chez Panisse had to offer. It was kind of like an eating adventure.
The menu turned out to be quite the experience for me, providing dishes that contained many ingredients I don't typically like. I was ready for the challenge, though with an open mind and empty stomach.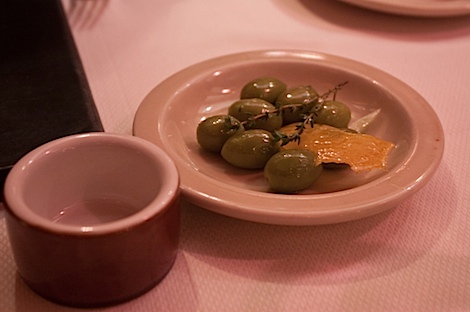 The starter proved to be the first challenge – olives with fresh herbs and orange peel. I've never been a big fan of olives, but I recognize them as a delicious food item. I've been trying to eat them over and over the last couple years to no avail. But, on this night…they were absolutely delicious! I absolutely loved them and was really excited to finally get why everyone seems to rave about olives so much. I've been enjoying tangy flavors lately, so I'm thinking that helped me enjoy the flavor of these olives. The firm texture also helped.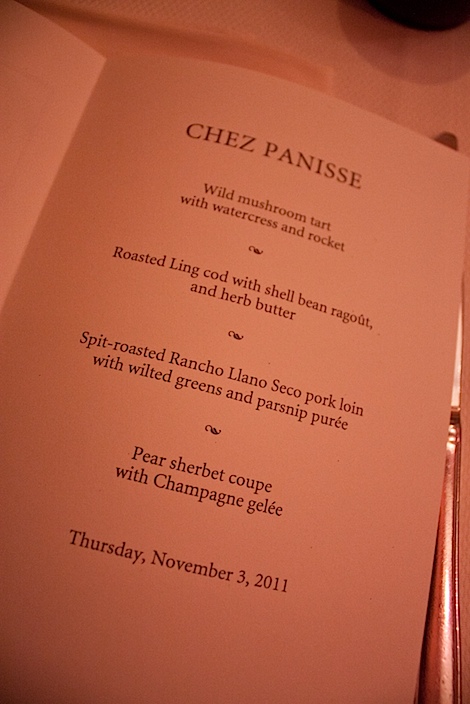 Our menu for the evening.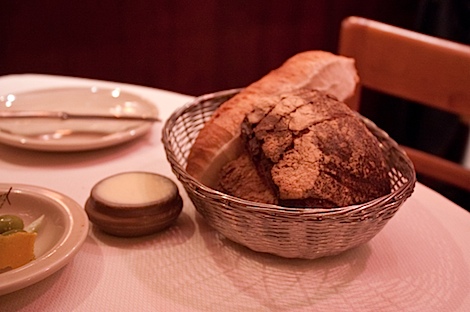 Nice hearty bread with butter.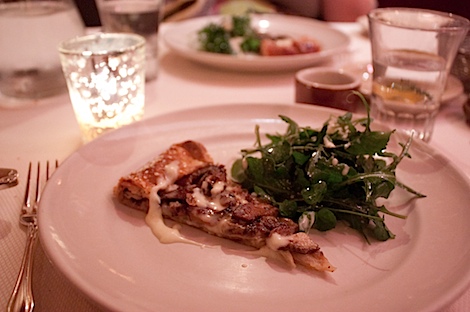 First course – from the menu – "Wild mushroom tart with watercress and rocket"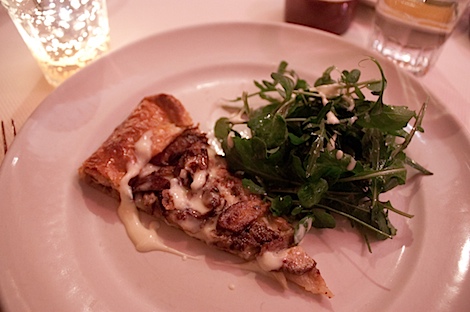 The first course was another challenge. Mushrooms and I have never really gotten along over the years. There's something about the texture of mushrooms that I find unappetizing, though I adore the flavor. I frequently leave mushrooms in foods cooked with them, and though I will try to eat them, I can usually only down one or two in a sitting.
Of course, tonight was special, and I managed to eat the whole tart! This meal may have contained the most mushrooms I've ever eaten in one meal. And did I mention I enjoyed them? The tender mushrooms paired with the crisp tart shell – yum! The side salad was pretty nice, too – I love my greens.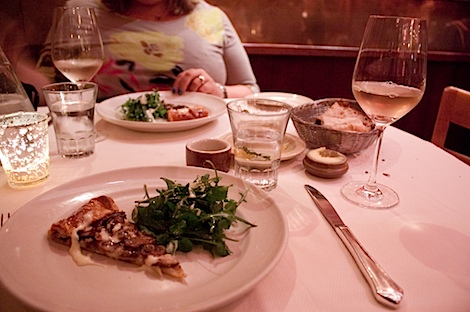 Mara and I opted for the wine pairing that came with the meal.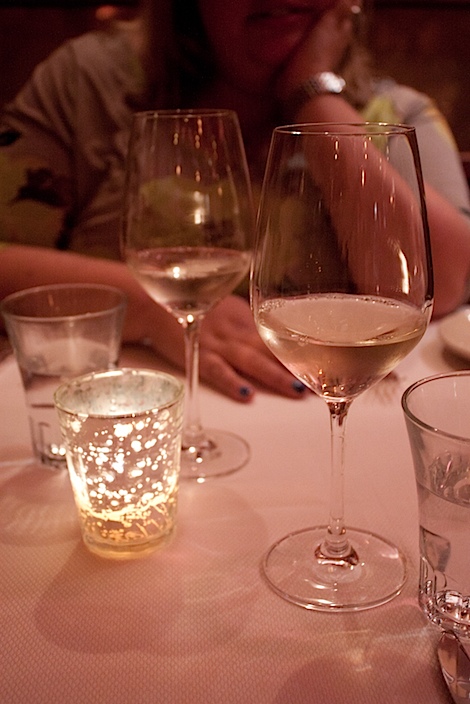 The wine matched the dish perfectly.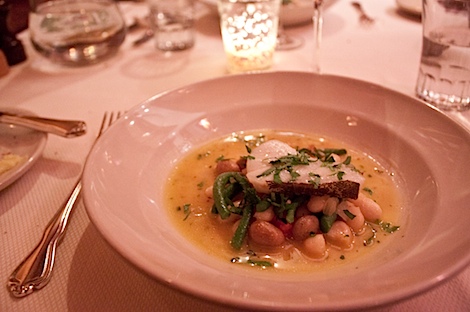 Second course – (from the menu) – "Roasted Ling cod with shell bean ragout and herb butter"
I'm not much of a big seafood person, but I wasn't going to let that throw me off. I was really excited about tasting such a well prepared piece of fish. The funniest part of the night was when Mara and I tried to figure out what the delicious "broth" in the bowl was. "It's so rich…and…buttery? What is it?" Yeaaa, a quick check of the menu revealed that the "broth" was in fact melted butter with herbs. Niiice. 😛
The fish was lovely, the shell beans were tasty, and the green beans were cooked perfectly crisp-tender. This course was paired with another white wine that again matched the course exactly.
As we were wrapping up the second course, I noticed that the same guy had been clearing our plates. Clearing plates => bussing => busboy Pete? As he collected the plates from our second course, I decided to go ahead and inquire further – "excuse me…are you…Pete?" He seemed surprised I knew who he was (even though I didn't really know who he was…hehe), but when Mara and I referenced Mary Jo, he was all in. We asked if he'd have time for a kitchen tour, and Pete suggested we do one after finishing our entrees.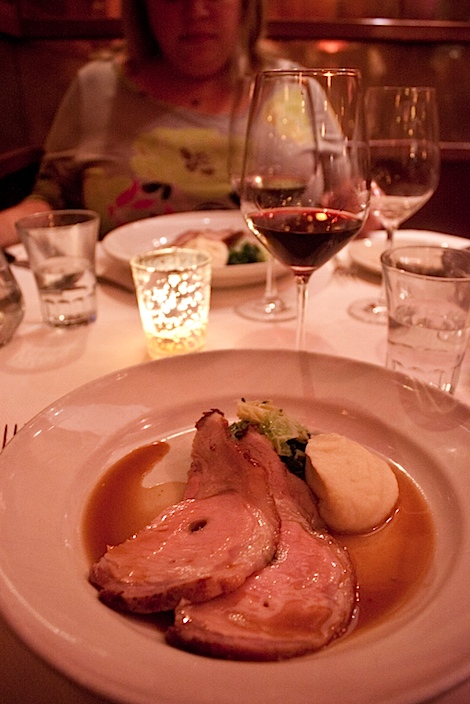 Third course – (from the menu) – "Spit-roasted Rancho Llano Seco pork loin with wilted greens and parsnip puree."
The pork was melt-in-your-mouth tender, and though I normally like to trim all the fat off of my meat, the outside crust had an amazing flavor that couldn't be missed, so I ended up eating some of it. The puree was silky and the greens was cooked just how I like them (not too soft, not too firm). Everything was seasoned perfectly and tasted amazing.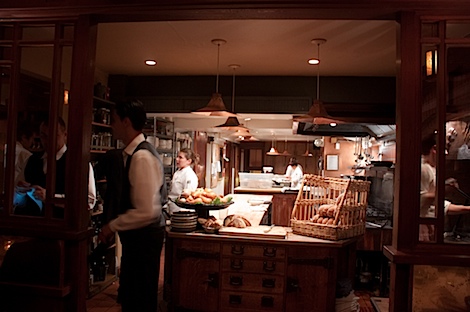 Within a couple quick minutes of finishing our main course, Pete whisked us away to the kitchen for the grand tour.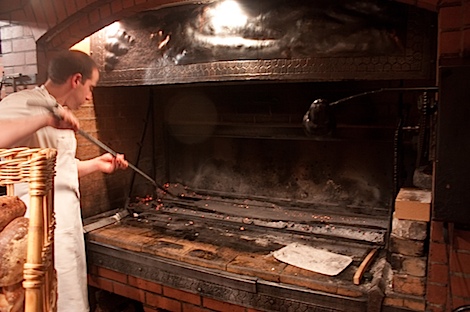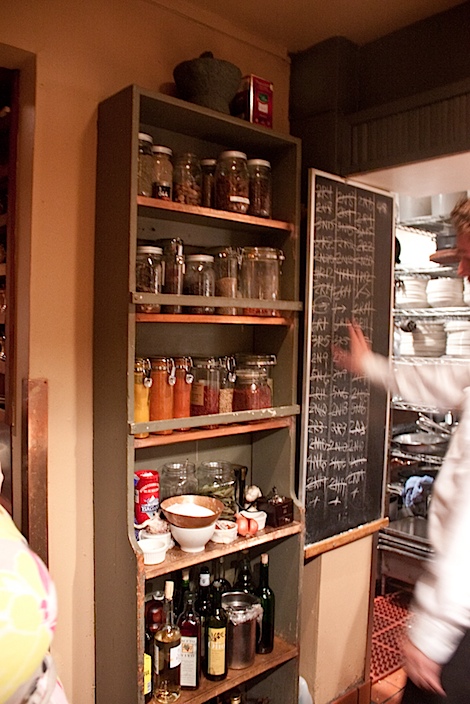 Spices and the old-school order board.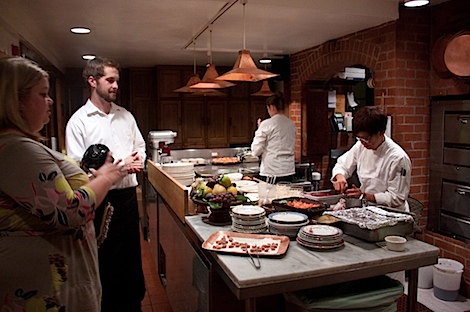 Dessert in the works.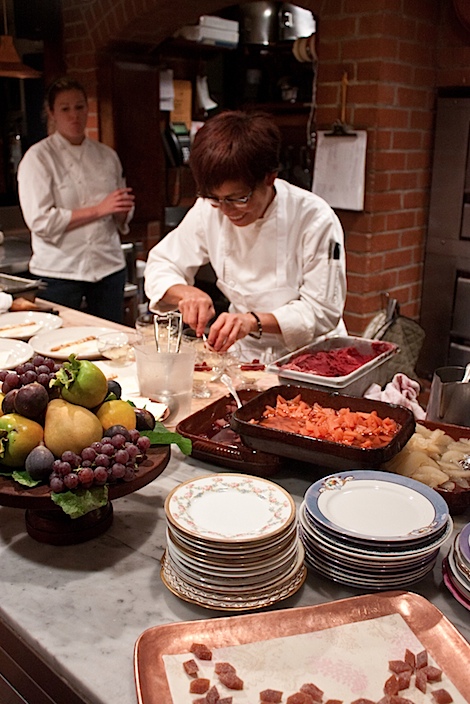 I kind of wanted to have a Veruca-Salt-moment and jump onto the table digging into all the sweets. But I refrained.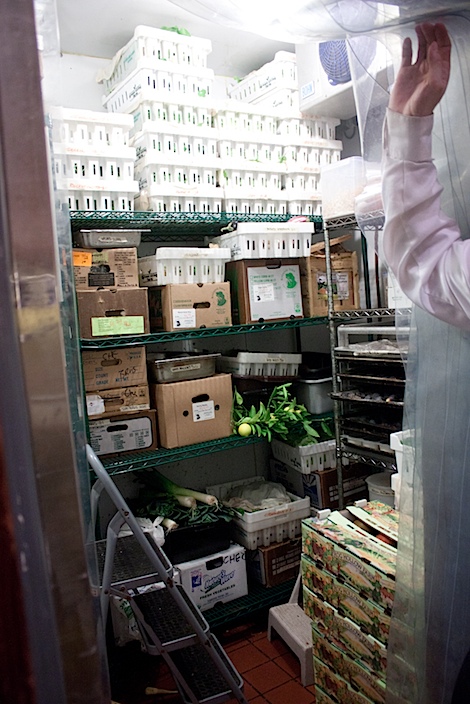 Local produce!
The restaurant also had a map on a corkboard in the kitchen showing where all the farms in their network were located.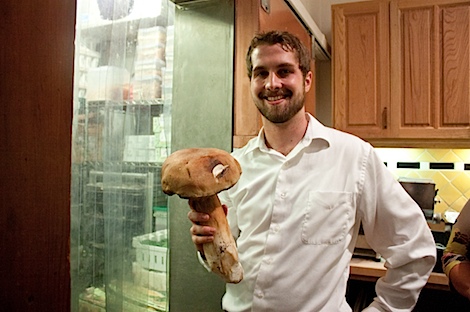 Our fabulous tour guide Pete showed us the biggest mushroom I've ever seen! Scary!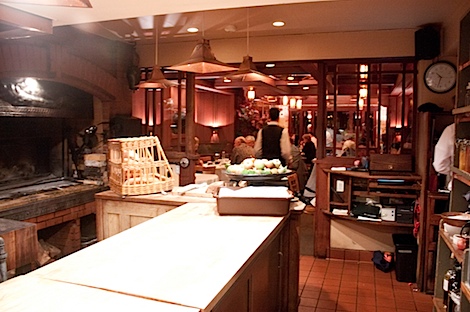 Back to the table – the view of the restaurant from the kitchen.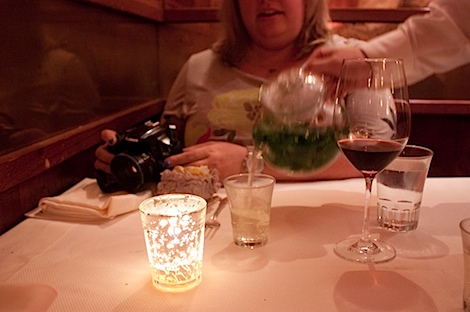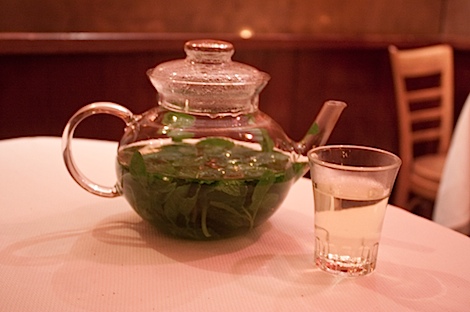 Pete surprised us with mint tea before the dessert course. The tea was piping hot when it came out…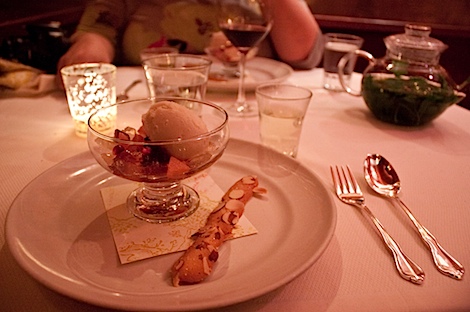 …but just ready for drinking by the time they served dessert. I'm not sure if they did that on purpose, but I like to think they planned the timing perfectly on purpose.
Dessert course: "Pear sherbet coupe with Champagne glee"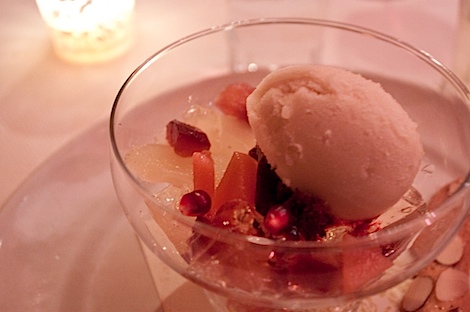 I'm not a big sorbet/ice cream person when it comes to dessert (give me baked goods!), but I loved every bite of this.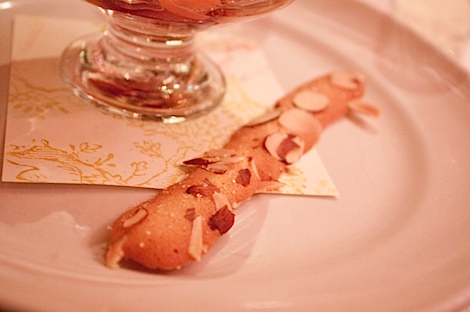 This crispy cookie with almonds was quite nice, too.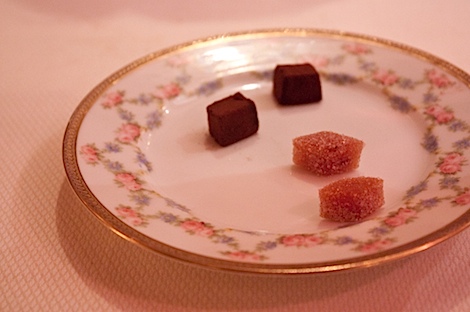 And as though we hadn't gotten enough nice little touches to our dining experience, Chez Panisse gave us a small plate containing tiny pieces of chocolate and pate de fruit. The chocolate was lush and creamy and the pate de fruit was chewy and sweet. They were both delicious, and I kind of wished I could buy more to take home.
Oh, and I can't end this post without mentioning what a wonderful job the staff at Chez Panisse did for Mara and me. From the host who greeted us to the pastry chef waiting for her ride to the busboy who gave us a tour of the kitchen, everyone made us feel so welcome.
I was so thrilled to have dined at a restaurant so integral to the local food movement, and I can definitely see why Chez Panisse frequently ranks in the top 100 restaurants of the world. The biggest lesson – simplicity can be powerfully delicious. Each meal was so special and detailed as to appear extravagant, and yet it was so simply prepared. Though I already tend to be a simple cook, but this experience was great inspiration for me to strive to make simple excellent.
Reader question #1: Have you ever been to a restaurant that inspired you to change the way you cook?
Reader question #2: What's the most famous restaurant you've been to?