As soon as I found out Anthony Bourdain and Eric Ripert were coming to town, I knew I had to go see them. Since I don't see concerts or shows very often, I decided to splurge on VIP tickets. Oh yea!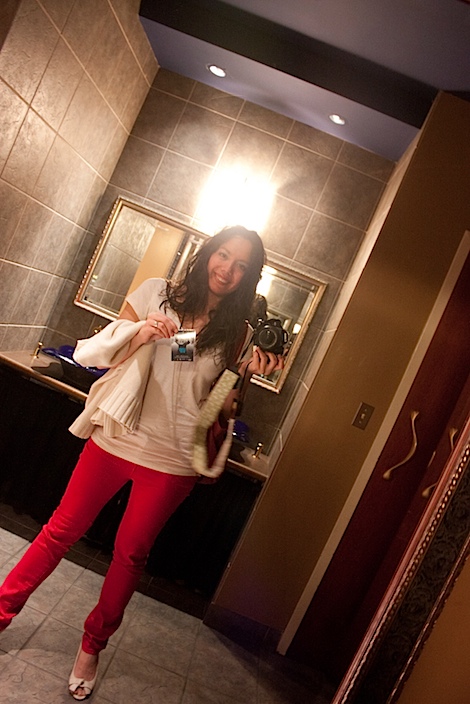 The show – Good vs Evil: An Evening with Anthony Bourdain and Eric Ripert.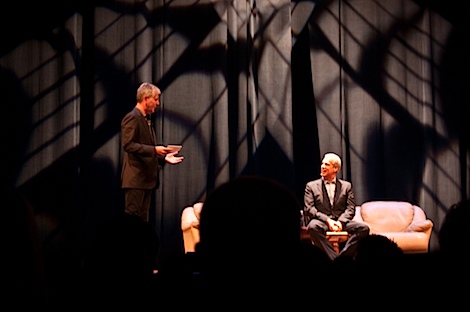 The show started off with Anthony interrogating Eric.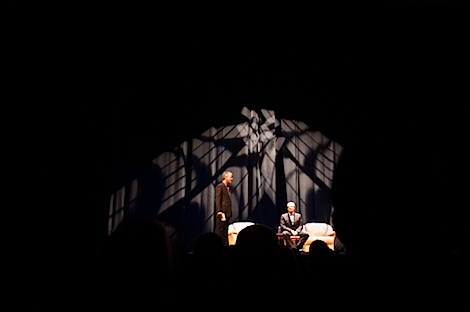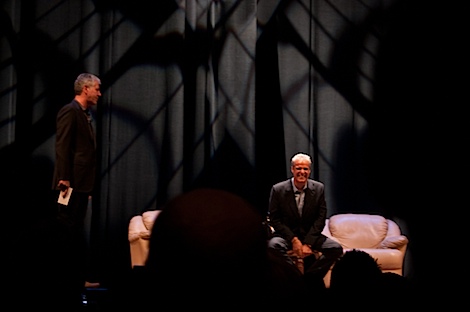 Some were serious, but many questions were funny.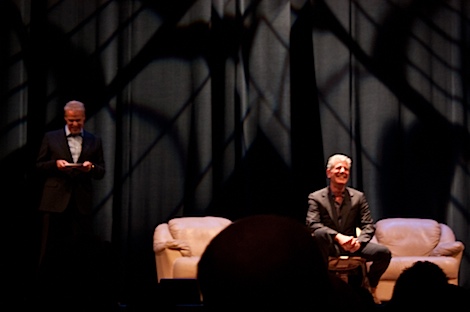 Then, they switched places and Eric questioned Anthony. His turn to sit in the (very tiny) hot seat.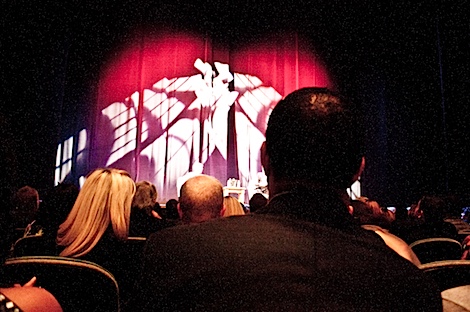 Then, they got cozy in two big arm chairs. Unfortunately, this was my view. But, I was able to lean over to my friend Erica's side to catch better views.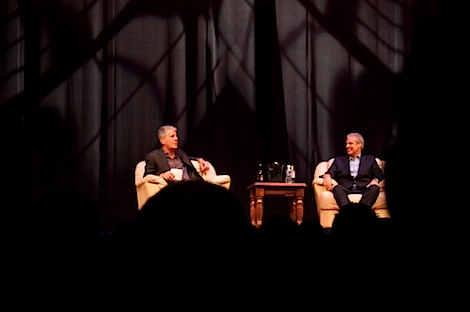 See!
I didn't think to take notes until near the end of the show, but I learned some interesting things.
Both Anthony and Eric purchase organic for them families. But they agree that people shouldn't be looked down upon for not getting organic. They think you should just do the best you can.
Anthony really liked Julia Child because she lifted people up in the cooking realm. She inspired people to actually get in the kitchen and cook things.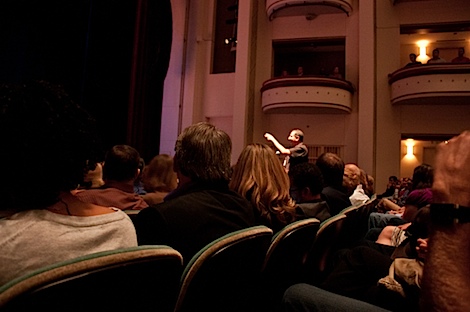 They ended the show by taking questions from the audience.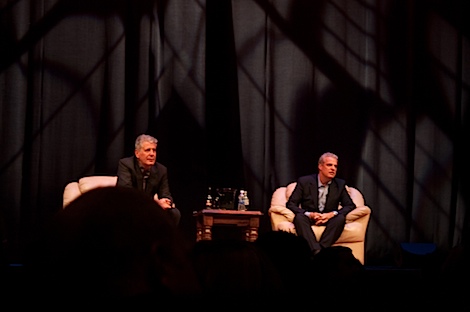 I learned some interesting things here, too:
Their won't eat foods:
Anthony – doesn't really like scallops, natto (fermented soybeans), and doesn't care much for sweets (ok, not "won't eat" but that was his answer)
Eric – brains
Upon being asked if the Sandra Lee pseudo-food phenomenon was related to both parents working, Anthony said it makes you feel like it's ok to be lazy. Eric mentioned that he was doing a new series called "Get Toasted – Avec Eric" which features videos with easy recipes you can make real time.
Anthony said sometimes the best food is due to context – where you are, the smell of the room, etc.
Their last meal of choice:
Anthony – sushi (except he described it much more in depth and I didn't get all the details of the description – it was really detailed!)
Eric – country bread, shaved truffle, and a good bottle of Bordeaux
My favorite line – (I think I got this quote word for word) – "I don't have to agree with you to respect you". Well said.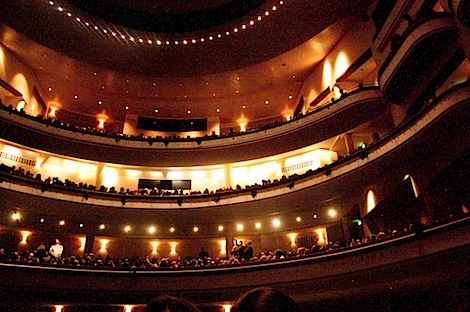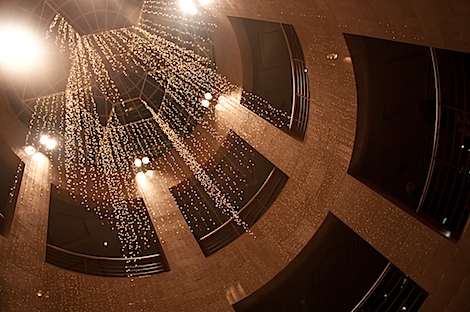 After the show, we headed to the VIP after party at local restaurant Blue.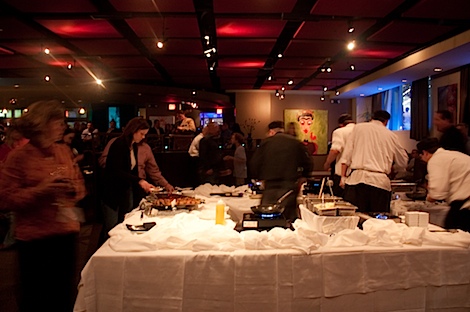 They had a buffet style serving of mini tasting plates.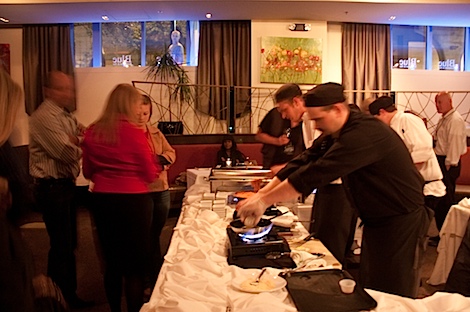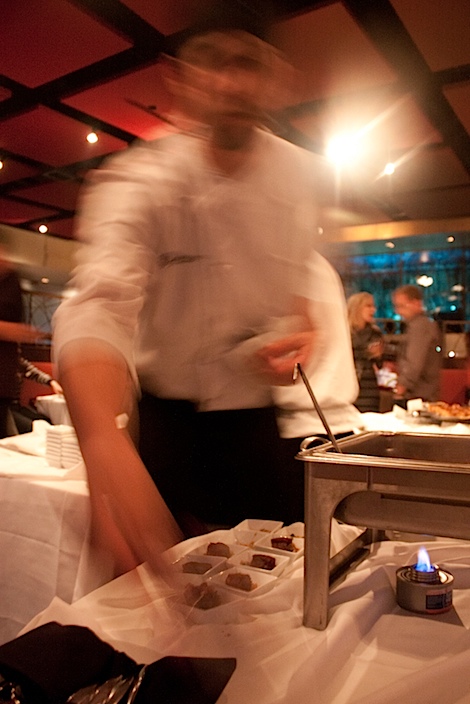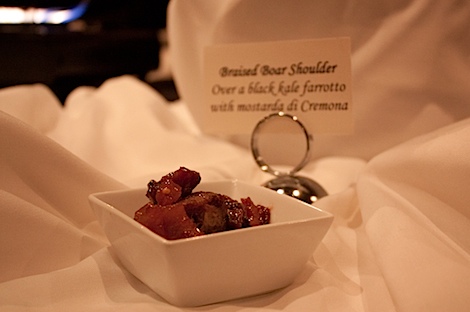 My favorite was the braised boar shoulder over black kale farrotto with mustard di Cremona.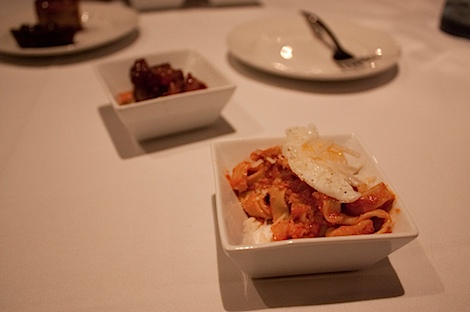 There was also a duck pasta…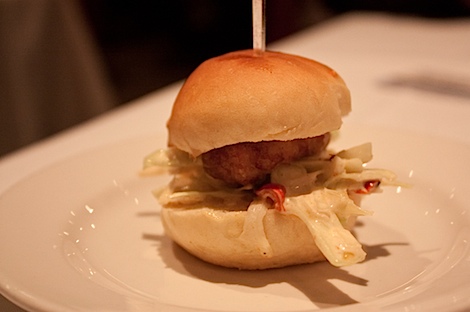 …and pork belly slider. You may recall I had to channel Anthony the first time I had pork belly (recently), and this would actually only be my second time trying it. Not too shabby! I think I'm growing to like it.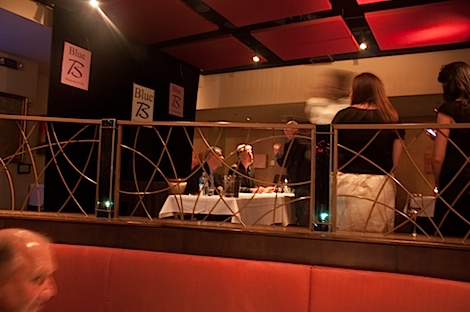 Anthony and Eric actually sat so close to us. They were just one table away from where we were eating!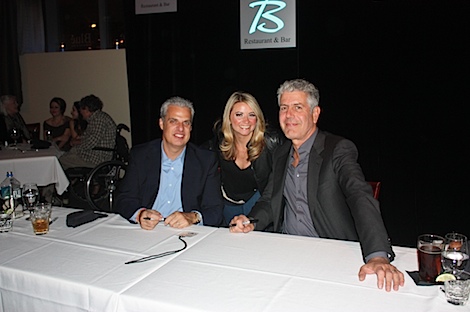 And soon enough, Erica and I jumped in line to meet them both.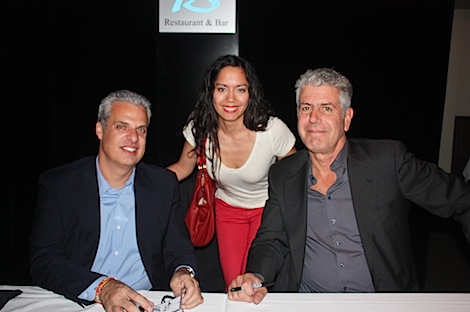 I actually got kind of nervous before meeting them. I think I awkwardly said something to Anthony thanking him for inspiring me to try pork belly for the first time. I managed to request their autographs and get one photo. I only wish I had brought their books to be signed!
All in all, a fun time, though!
Do you own any books by Eric or Anthony? Which one is your favorite?