How is your new year going so far? I hope it's been fabulous!
Mine has been a little crazy….mostly on the work-front. The next couple weeks (maybe even several) are going to be pretty busy. Today was a longer than usual day. I pulled 11 hours with only a 15 minute break. Phew! I went to work till about 5:15pm, came home, and had my laptop back up and running by about 5:45pm.
Luckily, hubby saved the day and cooked dinner!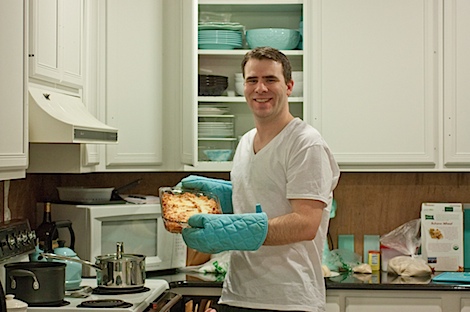 While I typed and calculated away, he turned some leftover spaghetti sauce into baked ziti.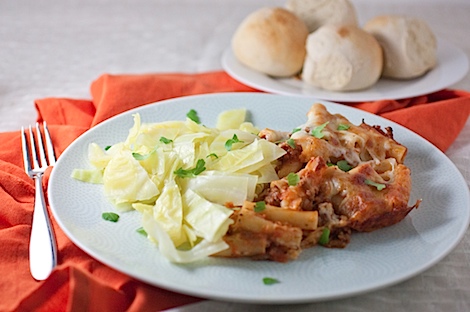 Just before 8pm, I called it quits for the day and got some cabbage steamed up to go with our pasta.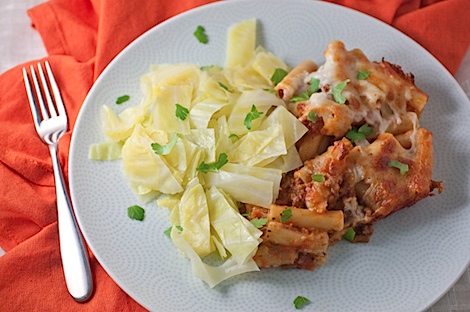 Dinner was great – hubby is a better chef than he thinks!
***
Anywho, on to the camera discussion…
I've been thinking for awhile that it's time to upgrade my camera. I don't take camera purchases lightly, though. They're so expensive! No, no, I think long and hard when deciding on such a big purchase. The first time I considered getting a DSLR, it was 2006 and I was researching what kind of camera I needed to shoot photos for my handmade jewelry business (for the web site and promotional material). I was a member to online jewelry-makers groups, I researched web sites, and I read through indie business forums for hours and hours and hours. I studied for a long time and finally decided on the one – the Canon Rebel. But, I couldn't afford it. 🙁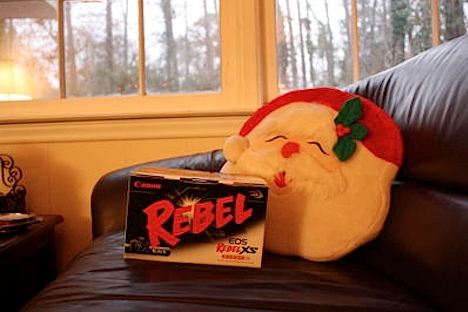 Yup, I didn't end up getting the Rebel till a couple years later when hubby organized a group gift from him and some of his family to get the Rebel for my Christmas present in 2008. I used the camera for a whole year and exactly one year after hubby purchased it, it died. 🙁 Luckily, since it was the last day of the warranty, the camera was covered. Phew! Since the camera was trashed, I had my choice – get the same exact camera or get a credit for the same camera and use it to buy a new one. Instead of getting the exact same camera, I got the Rebel XSi (just one step up) because I found the extra auto-focus points really helpful. So, at this point, I've been using the same camera since 2009, and she's been doing great work for me…But, I'm ready for an upgrade.
I actually almost got a new camera last year around this time. If money weren't an object, I probably would have gotten the Canon Mark 2D, but do you know how much those cost?! You have to either be a professional photographer, a really-really serious hobbyist (and I consider myself pretty serious, but…), or just plain rich. Instead, I asked around to some of my favorite food photographers/bloggers and researched online at a price point I was more comfortable with and decided on the Nikon D7000. Then, I got cold feet.
What if the D7000 was the wrong camera? What if I invest all this money in a camera, and it's the wrong one? I worried I'd be trapped with the wrong camera forever! Ok, I knew it wouldn't really be forever, but it would be a long time before I could gather the funds for a replacement. It's not like I'm just getting a latte. Like I said, I don't take camera purchases lightly. Not to mention a jump from Canon to Nikon would be a big leap since I'm already comfortable with a Canon camera. Ultimately, I decided that I needed to think about it for a couple more weeks. And a couple more weeks turned into a couple more months, and now here we are, and it's been a year.
So, in the last couple weeks, I've researched cameras more, still leaning towards the D7000, and I tried to really think about if I was making the right decision with the D7000. After some time, and lots of reading, I decided on the D7000 again. At least, I did until…I couldn't really find it in stock (at the price I wanted to pay). It seems to be out almost everywhere! Some online sources say the flooding could have destroyed a lot of the stock, though I don't know if that's true. But you know what rumor I think is even more interesting?
Word on the street is that Nikon is having a press conference tomorrow (January 6th) in Thailand and that they may announce a replacement for the D7000….the D7100! What-what! Yea, if I'm going to spend this much money on something, I'm definitely going to wait to see if those rumors are true. No point in getting the old version if there's a newer, better one coming out soon, right? I hope we find out some good news tomorrow from the conference!
What's your dream camera?
Do you get nervous and second guess yourself when you make a big purchase?