Note: I've tried to post this blog about 10 times now to no avail….so, now I'm trying it sans photos. If this goes up, I'll go back and add the photos (if it lets me). Silly blogging software…
Note 2: I was able to use my blogging software to get the text up, but I had to manually upload the photos. Sorry for the inconvenience! Hopefully, my blogging software resumes normal processing soon. *fingers crossed*
After lunch, Sis and I headed out for some girl time with plans of shopping and a return to Dobra Tea.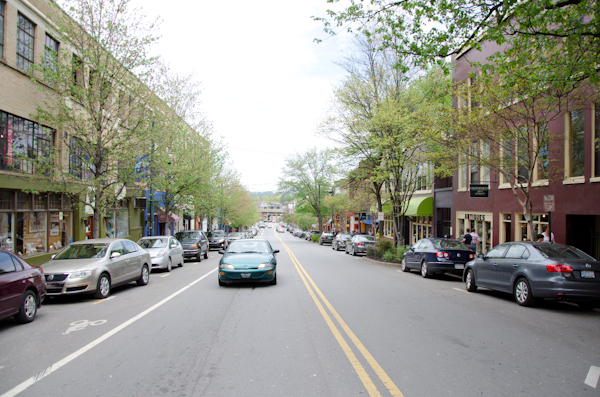 We headed out to what seems to be my favorite street in Asheville – Lexington! This street has Dobra tea, French Broad Chocolate, and some cute boutiques and shops.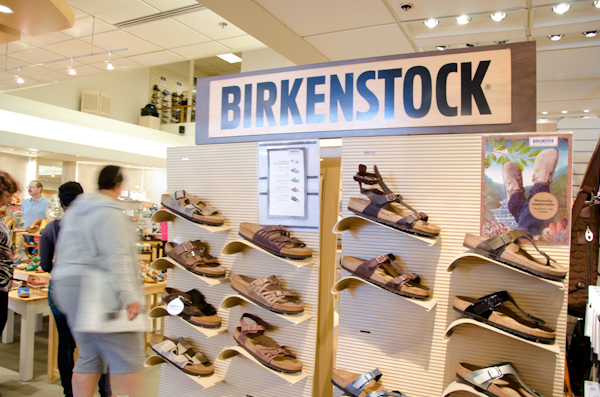 Did I mention that I don't think I've seen this much tie-dye or Birkenstock wearing since high school?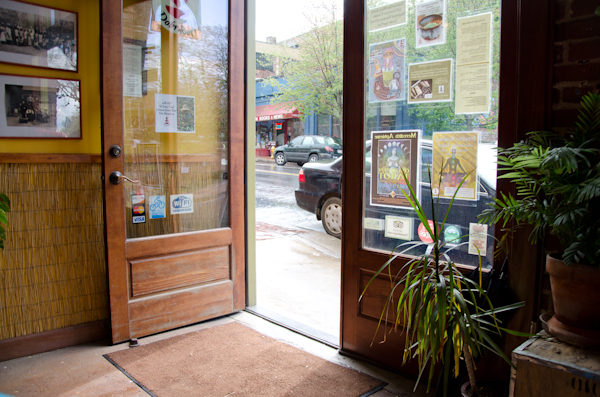 Anywho, after checking out a couple boutiques (Minx, a bead store, a hippie-dress shop), Sis and I headed to Dobra Tea (which we visited earlier on the vacay) to wait out the rain that started up while we were shopping.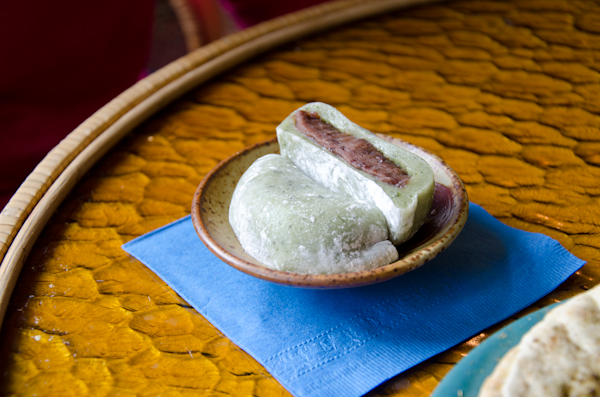 We decided on a couple snacks – the mochi for Sis…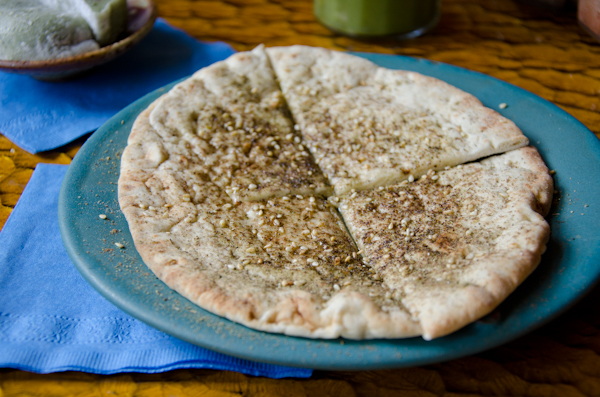 …the Pita Lebanon (warm pita with olive oil & spices) for me.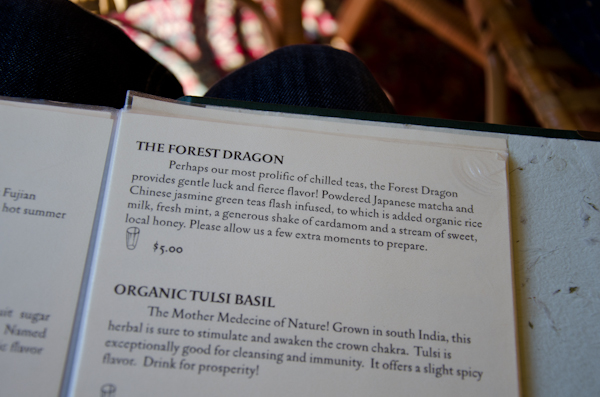 Sis ordered The Forest Dragon (from the menu) – "Perhaps our most prolific of chilled teas, the Forest Dragon provides gentle luck and fierce flavor! Powdered Japanese matcha and Chinese jasmine green teas flash infused, to which is added organic rice milk, fresh mint, a generous shake of cardamom and a stream of sweet, local honey."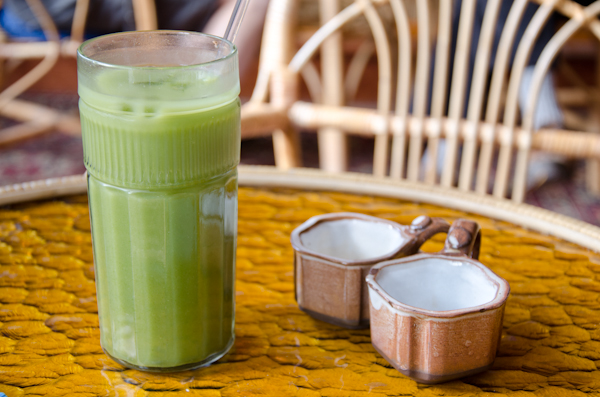 We decided to share a taste of each others' drinks, so we got two small cups for sharing. Her Forest Dragon was really good and unique – I'd love to try to re-create this one at home (mostly because we don't have a Dobra Tea in town where I can order one!).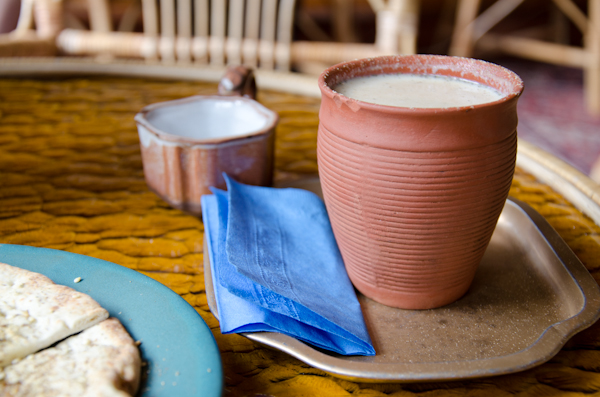 I had the Tulsi Chai. I'm a big fan of tulsi teas, and this one was great. It was cozy and warm and perfect to sip while we watched the rain sprinkling down outside.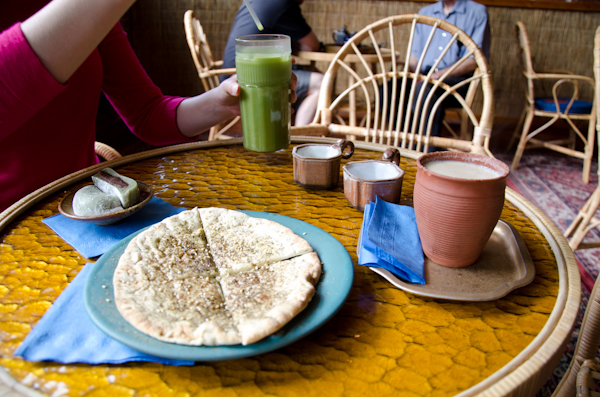 We had a great spread.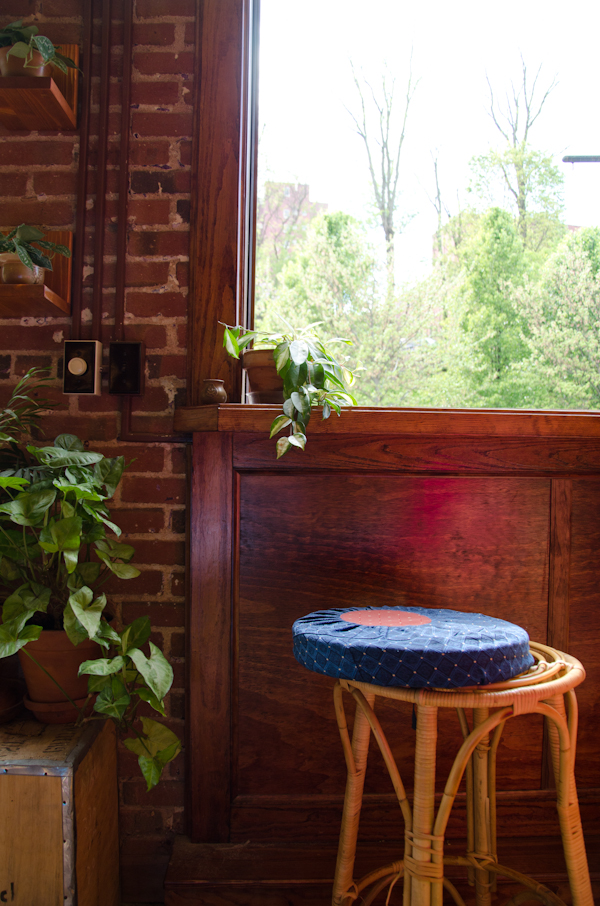 The tea room was a great pit stop – very relaxing!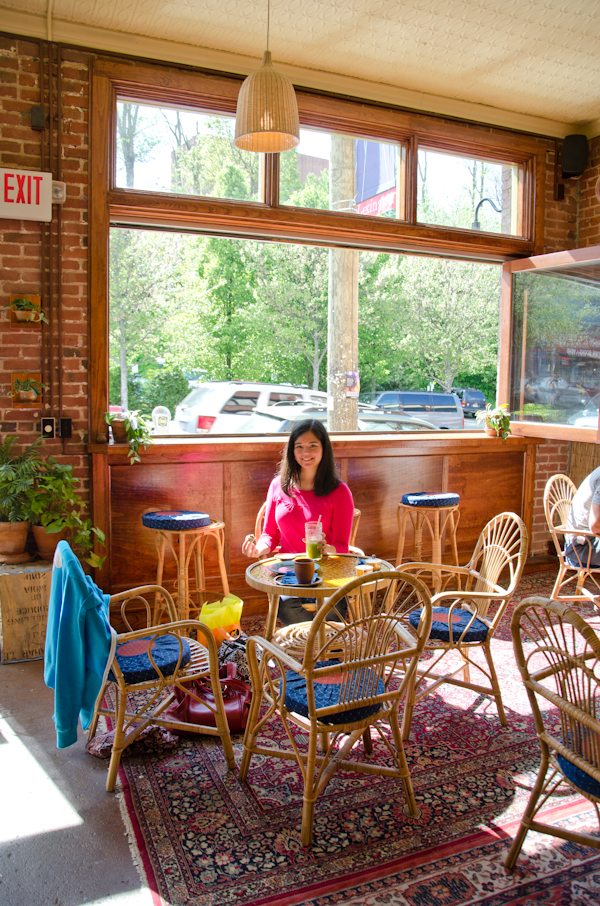 Eventually, the sun came out and lit the room up.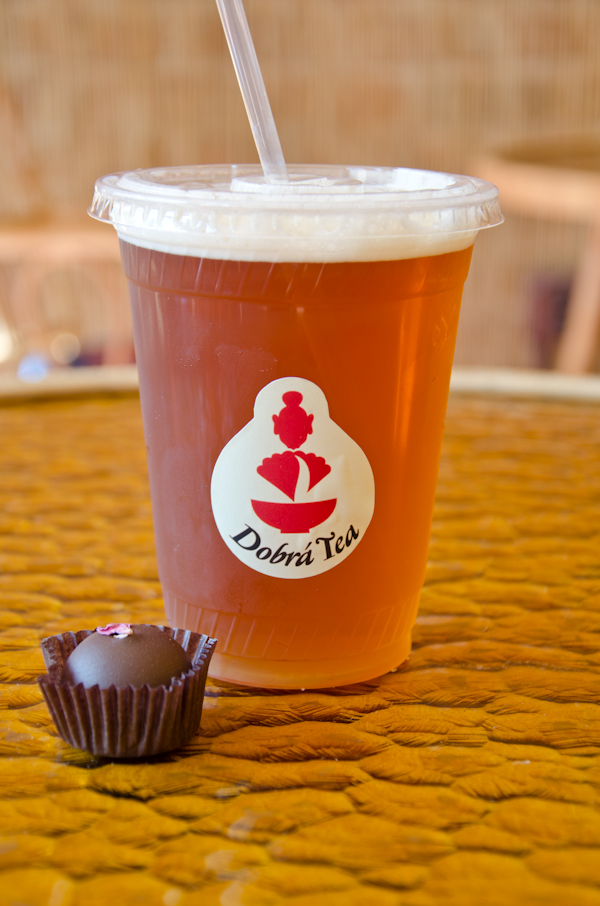 And since there were a couple more things I wanted to try, and I didn't want to wait till the next vacation to do so, I got a couple things to go – an iced oolang tea, shaken with sugar (they said on the menu this one looked like beer, and it did!) and a tulsi tea truffle – a marriage of French Broad Chocolate and Dobra's tea. The tea was great, as was the chocolate, though I wish I could have tasted the tea a bit more.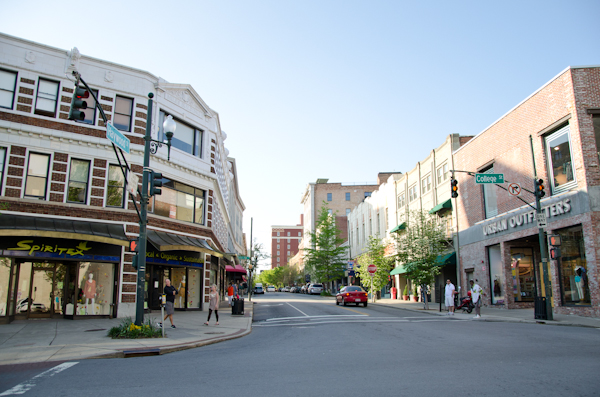 We visited a couple more shops before calling it a day. Surprisingly, this shopaholic was being very careful and only came home with a new bracelet despite all the shops we visited.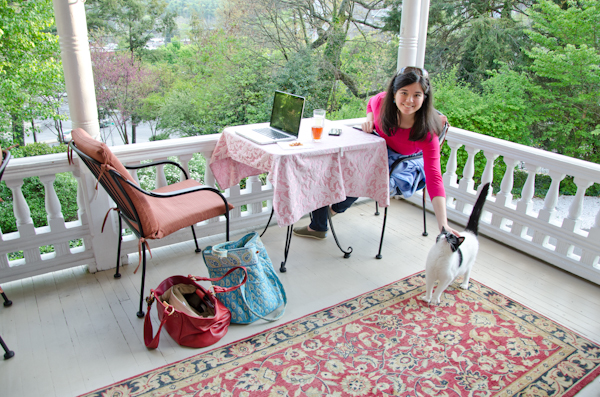 We headed back to the B&B for some downtime. We enjoyed the fresh air from the front porch. I blogged, and Sis read The Art of Racing in the Rain. I had hoped to spend more time lounging on this porch, but I was glad we got this trip in before dinner.
Up next, Spanish tapas in Asheville.
Reader question: are there any must-see shops or boutiques in downtown Asheville that you recommend?