Wednesday's photos were awkward in numbers. I debated on whether I should break them into two posts or three, but 38 photos in one post seemed excessive, so three it is!
If you're catching up, here are my previous Asheville posts: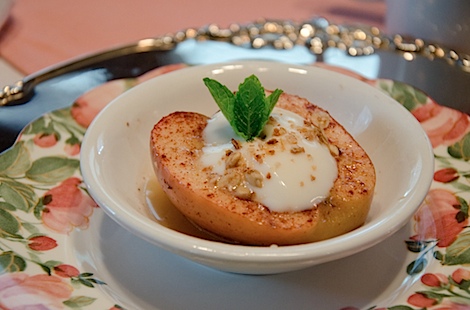 We had another tasty breakfast at the B&B, starting with a baked apple topped with a dollop of vanilla yogurt and cinnamon. I'm going to have to try re-create this one for the blog sometime – it was really good!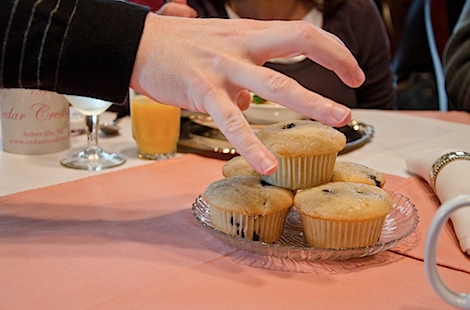 Here's hubby trying to swipe all of the blueberry muffins.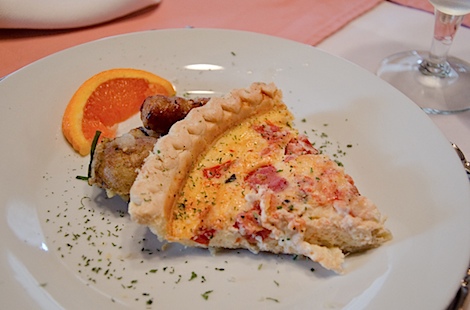 And we had tomato quiche for the main event with sausage and potato. It was a great, filling start to the day.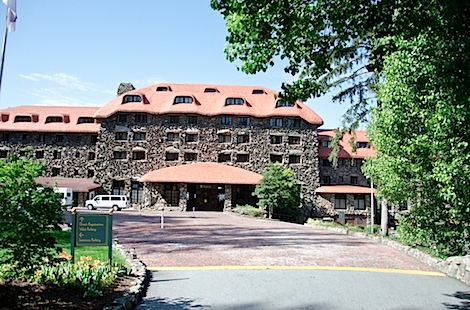 My dad really wanted to see the Grove Park Inn, so we took a quick trip over for a peek.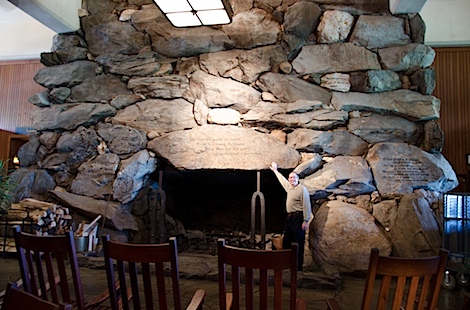 Grove Park reminded me of a mountain-themed Disney resort. It was huge and had tons of themed decorations around.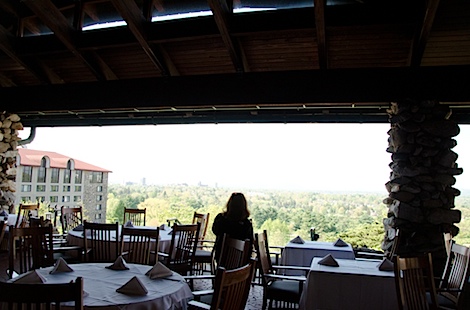 Mom really wanted to take us to the terrace to check out the view.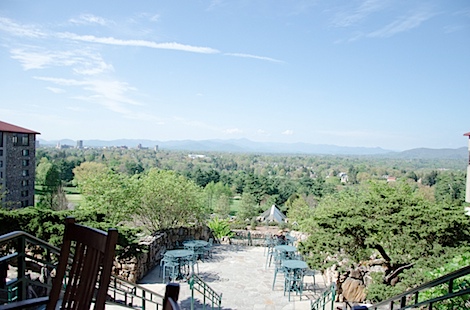 She had a dinner here once after a work conference and remembered how gorgeous the view was. Just look at it!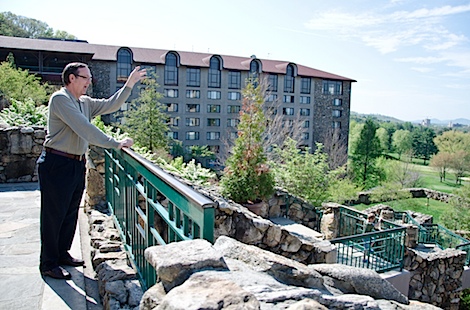 Dad gave us pennies to make wishes into the waterfalls and pools behind the main building.
I had considered staying at the Grove Park Inn when I was researching places for Asheville, and though it was pet-friendly, I was looking for something a little smaller and personable. Has anyone stayed here? I bet it's really nice!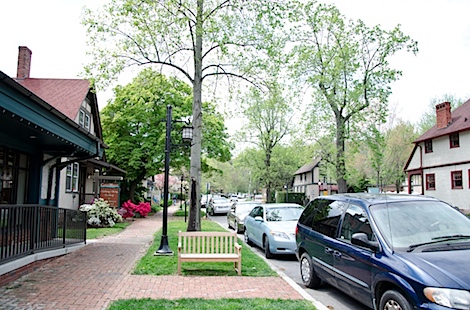 After our trip to Grove Park, we headed to Biltmore Village for lunch.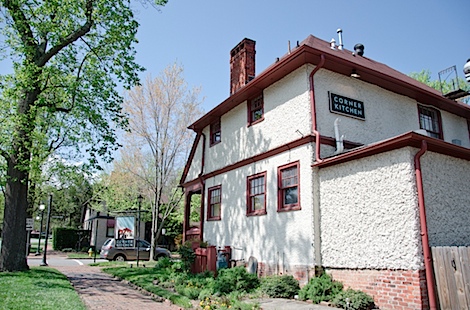 Of all the places I researched and had heard about when I asked others for recommendations, The Corner Kitchen came up over and over again. I was really excited to try it.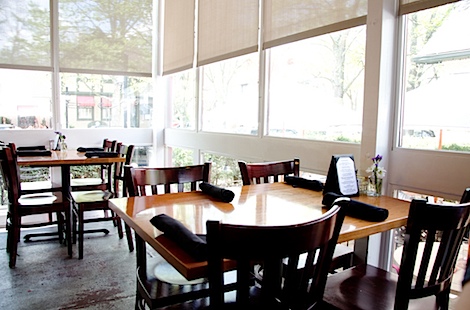 The inside was small-ish, but very bright, open, and airy. It was very refreshing.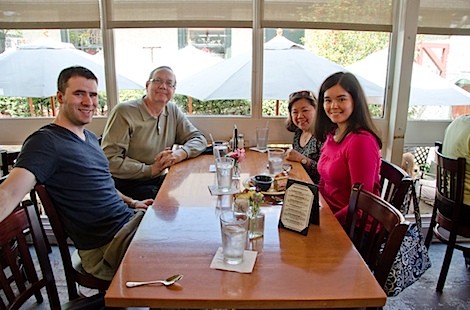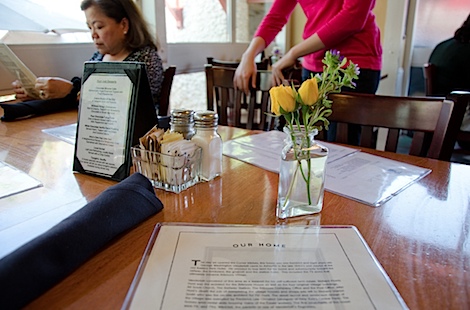 I liked the fresh flowers on the table.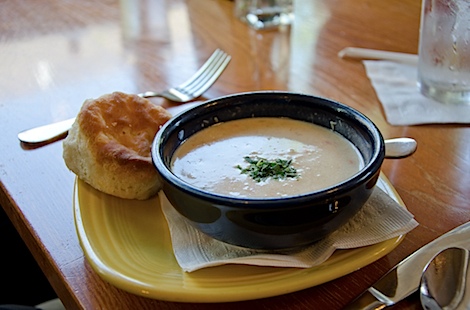 Hubby had the crab and corn chowder and shared a bite. It was really good (as was the biscuit, which I also got to taste).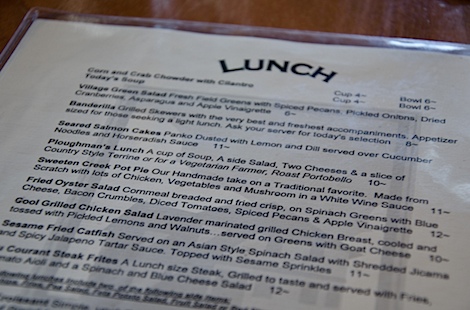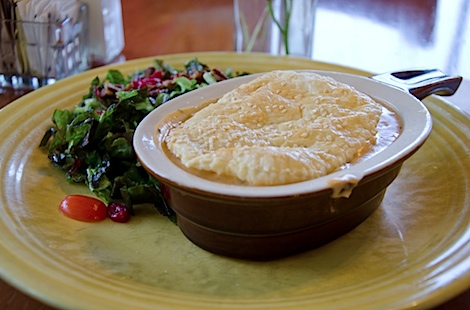 I had the chicken pot pie. Probably not the best choice for lunch (pot pie makes me think dinner for some reason), but I really wanted to try it, and I knew we wouldn't have time to go back for dinner this trip.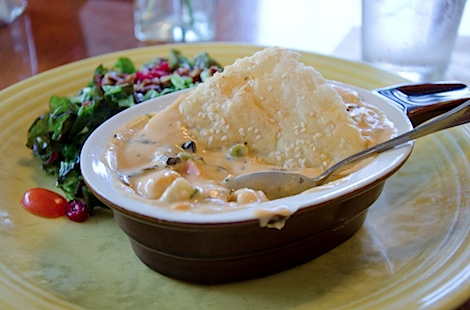 The filling was really, really creamy and had a slight orange tinge to it. My dad thought maybe it was from tomatoes? I thought it was really tasty, as was the side salad that came with it.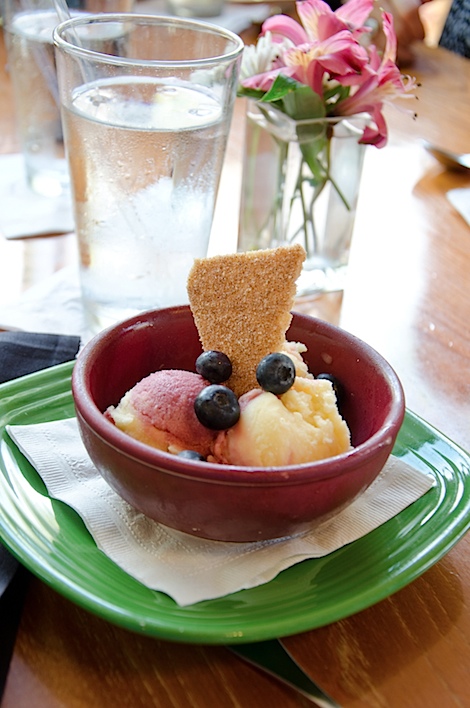 Sis had the sorbet with blueberries. I got to try a bite of this one, too, and it was really good and had an excellent after-taste that was almost better than the original bite!
Overall, I really liked The Corner Kitchen. I'd definitely like to come back here for dinner next time we're in town…and possibly for lunch to try their lavender chicken salad. That one sounded really interesting. Oh, and they do a souffle dessert, but it's only available at dinner – I'd really like to try that sometime, too!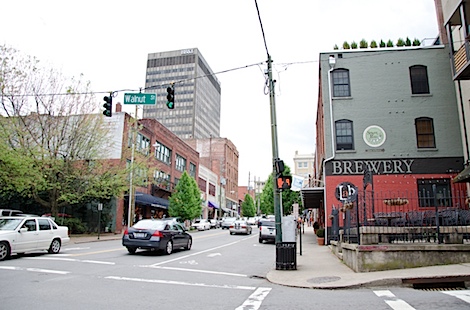 After lunch, I headed out to downtown Asheville with my sister for shopping. More on that next time!
Reader question: have you been to Asheville before? Where did you stay and would you recommend it? Has anyone out there tried the Grove Park Inn?