Since I love seeing what other people buy (from clothes to accessories to, well…even groceries), I thought it may be fun to share a couple of my fashion-related finds from time to time.
Here's a bracelet I recently scored 50% off at J Crew: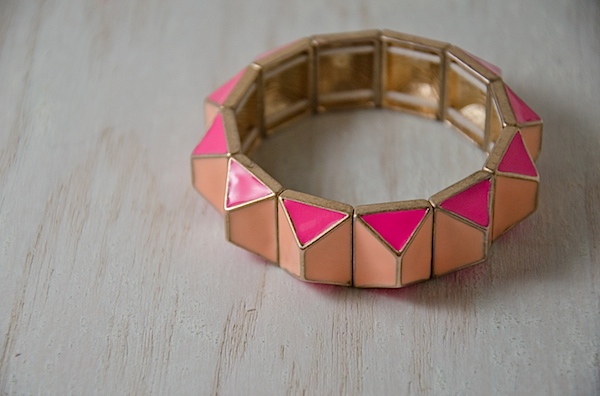 I actually first noticed the bracelet in a recent J Crew catalog, but decided to go into the store to scope it out since I don't like purchasing things via catalog or online…especially when they don't even have free shipping (c'mon J Crew…get with the times). I couldn't find the bracelet in the store, but luckily, one of the girls working there asked me if I needed any help. Why yes, yes I did. I asked her if they had the "pyramid bracelet" in the store, and she found it while I was trying on a couple other things. The best part – it was about 50% off, which was a nice surprise. Price – $16.99. Not too shabby.
I really like this bracelet because it has a pretty simple design with a pop of color. Since the pink is on the sides, it's not too-too pink. I've been enjoying wearing it with neutral clothes and my hot pink purse. It's also fairly easy to dress up or down. I also appreciate that the design isn't terrible clunky since most bracelets drive me crazy at work when they bang around on my keyboard or on the desk. This bracelet has actually become somewhat of a go-to bracelet for me. I'm pretty terrible at accessorizing, so I lean towards minimalism when it comes to jewelry. I find this easy to pick up and throw on with many of my recent outfits. So far, it's been a great buy!
Reader question: Jewelry – less is more or more is more? Do you like wearing very little jewelry or lots of different pieces of jewelry at one time?