I keep thinking the temperature is going to go down a bit, but we had another 100+ degree F weekend here in North Carolina. This is definitely one of those times of the year when I'm especially thankful for AC in my house, office, and car (I once had a car without AC in the middle of a Carolina summer…yowch!).
I'm continuing to dress strategically for the weather, and this outfit has been a recent favorite. I wore this look to work on Friday. Easy, breezy, flowy materials make for a much more comfortable day both in and out of the office. This skirt is actually one of my all time favorite pieces because it is just so darn cozy. The layers of soft fabric make me feel like I'm wearing pajamas all day. For the last few years, I've worn the skirt too long for my shorty-self, but I actually just got this skirt hemmed at the tailor last week, and I'm so happy with the result.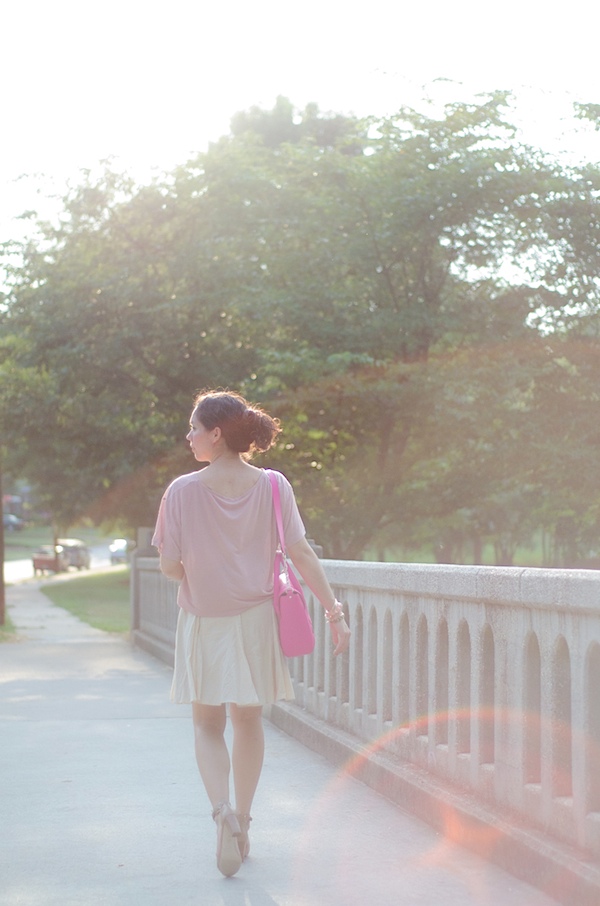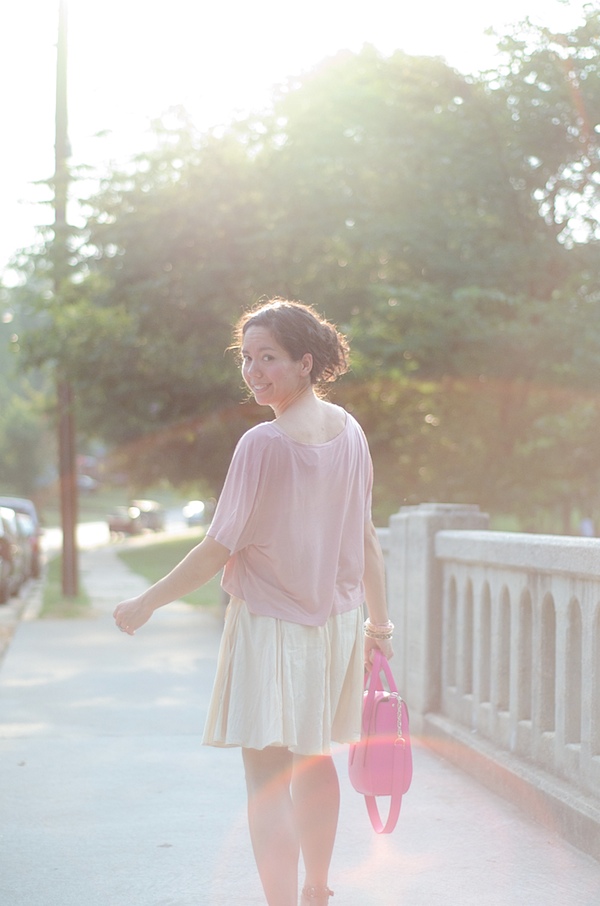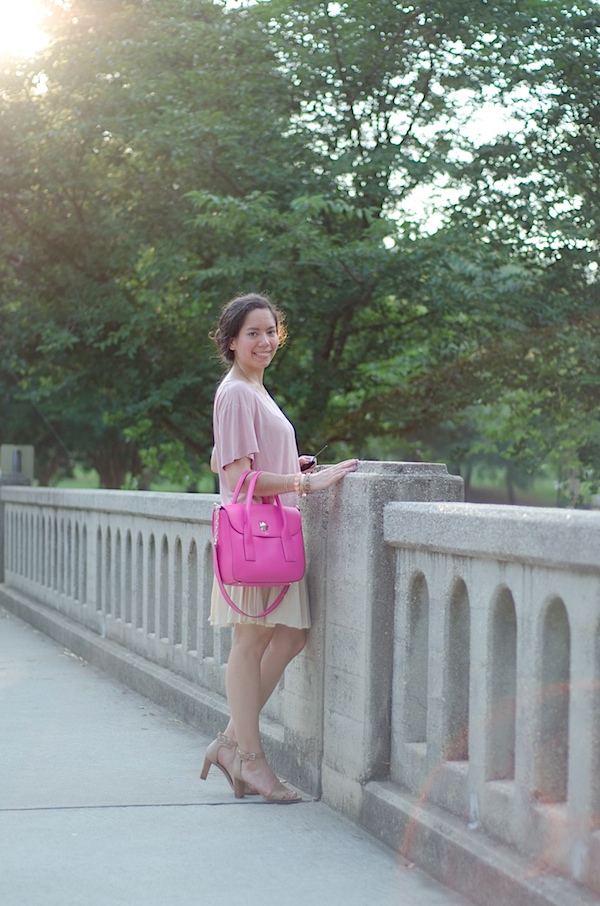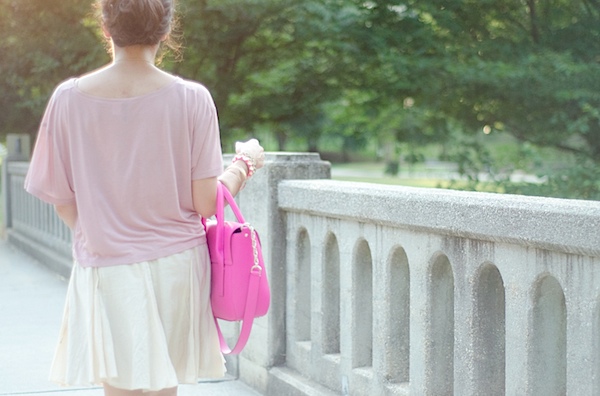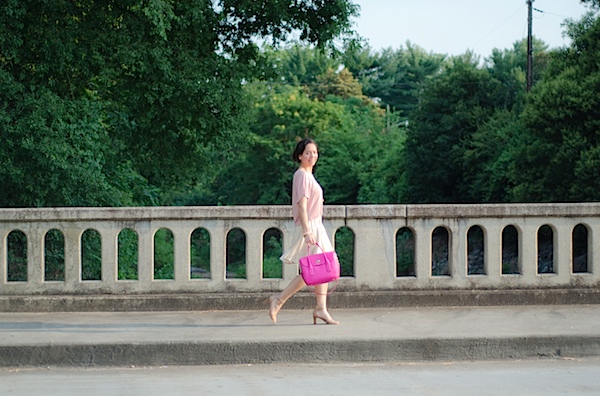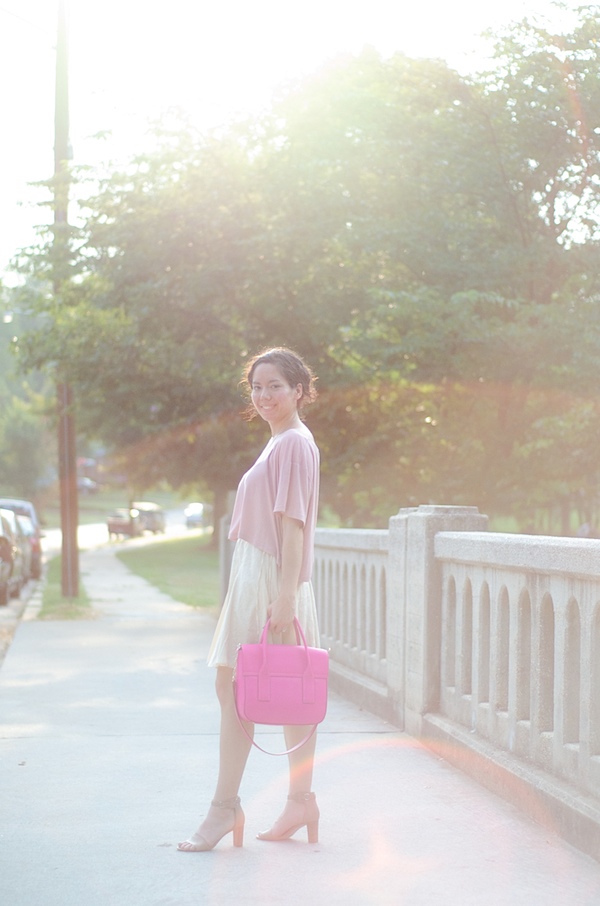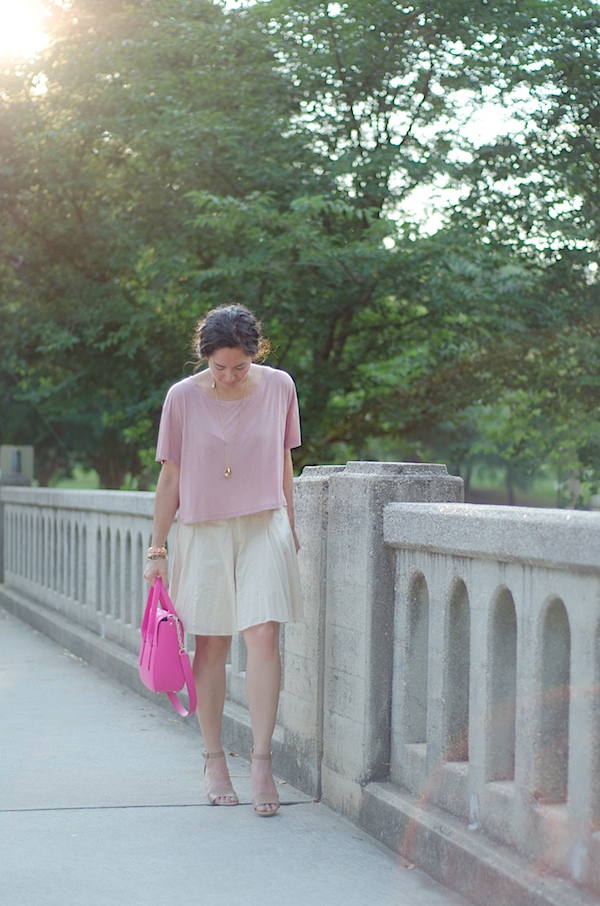 Outfit:
Skirt: Banana Republic (old)
Top: H&M
Nude strappy heels: Via Spiga "Christina" Sandal
Hot pink purse: Kate Spade
Necklace: Low Luv x Erin Wasson – purchased via shopbop.com on sale with an additional 15% off (available here, unfortunately full price, in silver)
Bracelets: J. Crew, Banana Republic, Aldo
Is anyone else taking advantage of all the amazing sales out there? I think I messed up this year following my debt diet by buying things too soon. I'm usually much more of a bargain shopper, and I prefer to buy things on sale. In fact, I generally try to buy everything on sale unless it's something classic that will never ever be discounted or is that one unique thing that I'd rather pay full price to buy than not have (and these are pretty rare for me). I got the necklace in this post at the shopbop sale when they did the extra 15% off. I've also hit up the Zara and J. Crew sales. I got a couple cool things at the Zara one, but I really scored at the J. Crew sale yesterday. I'd like to check out some of the other sales going on, but like I said, I overdid it earlier in the year, and I'm trying to be more conservative now. Hopefully, I'll do better with the fall sales later this year.
Now I just need to figure out how my old clothes and new clothes are going to fit with my Parisian Wardrobe goal.
Reader question: Are you a bargain shopper or do you prefer to get things full price when you see something you like?