I must start this post by saying that I wasn't even sure if I was going to blog about convention this year. Not because it's not awesome, but because it's so wonderful, I really wanted to spend the majority of my time enjoying the experience instead of trying to capture it in photos. So, I left my DSLR at home and brought my ninja camera. I also planned to take lots of Instagram photos with my (older and not so great) iPhone camera. As a result, I actually didn't take very many photos at all (partially because I ended up losing my iPhone on the trip…and yea, it hasn't been found yet), but I would still like to share the few I have.
Zumba Convention 2011 was one of the coolest experiences I've had. Ever. I knew last year that I had to go back this year. No question.
Unlike last year, for Zumba Convention 2012, we didn't get a choice of a 3-day or 4-day event. Everyone had the latter. So, I flew in Thursday morning with several fellow Zumba instructors from my team. We missed the opening session, unfortunately, but did make it to everything else.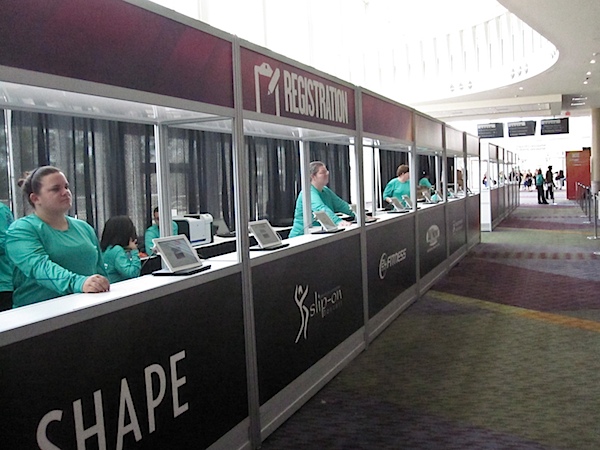 The registration process at convention and really all the working components of the event overall are always so smooth and efficiently run. They really know how to run a convention.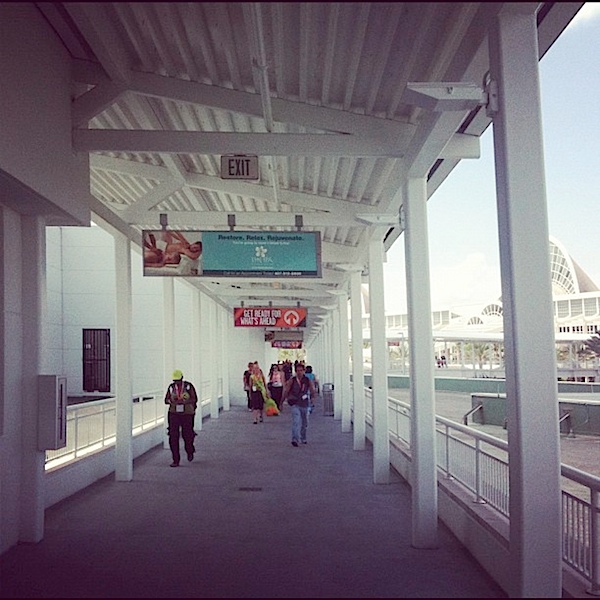 I quickly got reacquainted to the "white mile", a name I made up when I decided last year to see just how far the walk was since it felt like a mile. Turns out, thanks to a quick google search…it is a mile. A mile from the Hilton (where we stayed) to the Peabody (where most of the classes are held). Hey, at least the walkway is covered, right? Let's focus on the positives.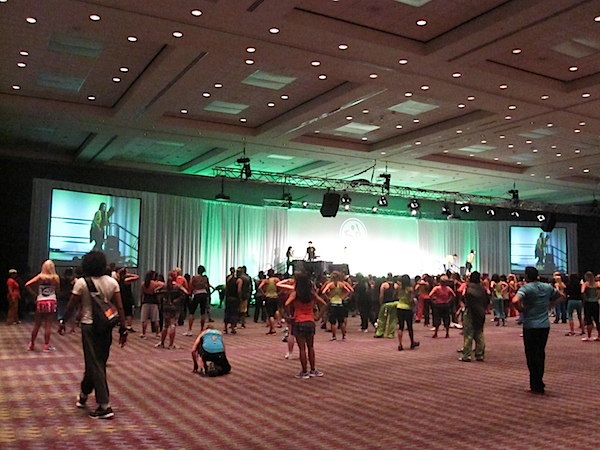 My first session was the Brazilian Carnival. It was so fun! I was only aware of samba, capoeira, and axe as being Brazilian dances, but we learned about two other types: forro and funk carioca. I also learned how to move my hips more during a samba…and that I can do both the girl and guy versions. I liked how they taught the moves before we did the master class so I knew what I was doing when we got to the dancing. It was a strong session to kick off my 2012 convention experience.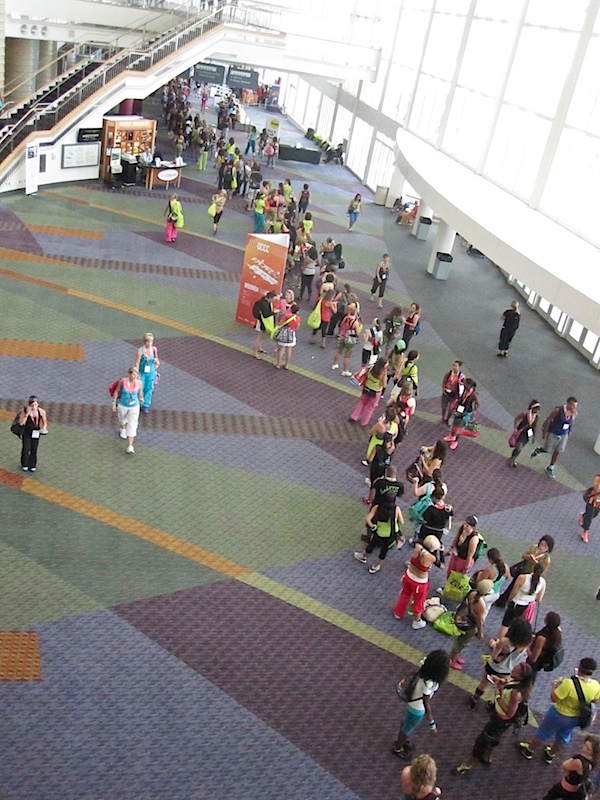 Here's what I color the "neon mile". It's the line of people waiting to enter the outlet store where they sell discounted Zumbawear. I decided to skip the store until the line died down.
On Thursday night, we had our Fitness concert. It's hard to find the words to describe this, so I'll let this video (from last year's concert) speak. Zumba puts on a good show with their fitness concert, and it's just such a unique experience.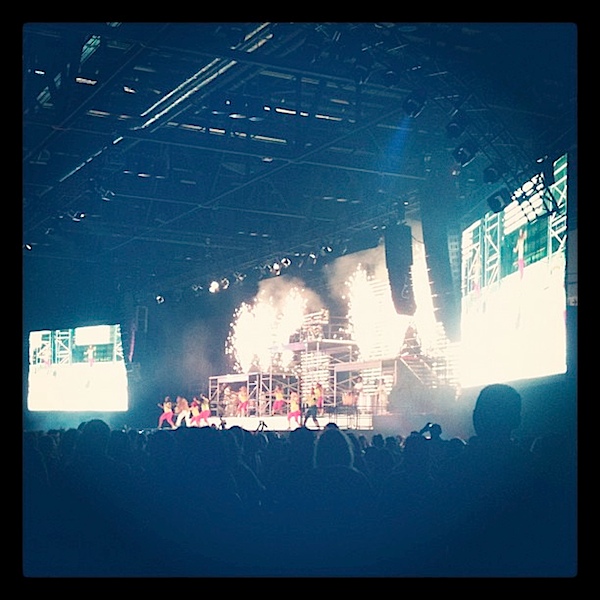 Where else can you dance with thousands of other Zumba fanatics with the best Zumba instructors from around the world leading you?
***
I don't know what happened on Friday, but I didn't really take any photos. Oops.
My first Friday session was bellydance. I didn't really know what to expect from this one, but it was one of my favorites! Portia is an amazing presenter. She was funny, engaging, and really good at teaching. I felt like I learned a lot from this workshop, and I appreciated all the pointers she gave out about safety and effectiveness – especially since I hurt my knee recently. I also liked how she had a couple other dancers with her who went out in the crowd to help ensure you were doing the moves right. I was in the back of the room, and they made it to my area several times and gave me a couple useful pointers.
Between my morning and afternoon sessions, my friend Sarah and I had lunch and hit up the shop for new zumbawear.
Our afternoon session was the Bollywood workshop. I did this one last year and decided to repeat it. I really like Bollywood and Bhangra dancing, so I thought it would be fun. And it was! The Bollywood instructor took a cool approach and showed us how to convert common Zumba moves (like the cumbia) to a Bollywood move. The bhangra instructors from last year returned, and showed us how some bhangra variations. We even ended up doing a bhangra dance to "Walk It Out", which reminded me of our Kanye West "Stronger" bhangra battle from last year.
After our sessions, we had a team dinner at Cafe Tu Tu Tango. Things took a turn for the worse on the way to the restaurant when I lost my cell phone in the cab that picked us up from the hotel. My initial reaction was to skip dinner, crawl back into my hotel bed, and cry myself to sleep. But, I decided that a better approach would be to remain calm and not let it ruin the rest of my convention…not even one night. After calling the cab company to put in a lost item claim and then the cell phone company to report the phone as being lost, I decided that there wasn't really anything else I could do, so I needed to let it go…at least for the night.
After the team dinner, we headed to the Peabody for a concert with Daddy Yankee. He was one of the first artists whose music I purchased after starting Zumba classes back in 2007. His song "Machucando" was one of my first, favorite Zumba tunes and one I requested all the time. It was really something to finally see him live. He had great energy and was really good live.
Next time – Saturday and Sunday of convention.
***
Did anyone else reading go to convention? Which sessions did you do on your first 2 days?