Here's a fun weekend project for those with a dehydrator…
…a new coconut macaroon flavor! Cinnamon Pecan Coconut Macaroons!
I had been wanting to make some more macaroons recently, but I was low on almonds. However, I did have some pecans in the house since I've been trying to eat (and develop recipes) more seasonally. I wondered if they'd work in an adaptation of my Irresistible Coconut Macaroons, and they did! Scroll down for the full recipe.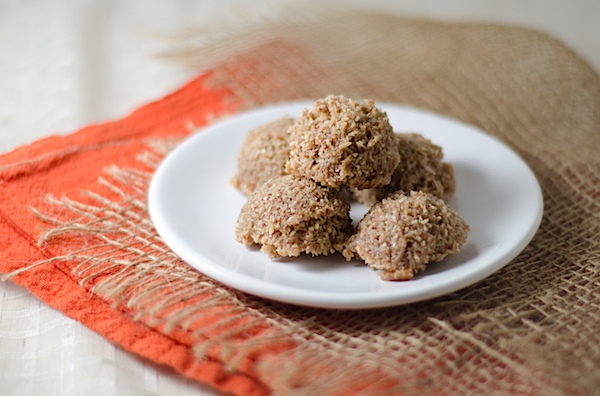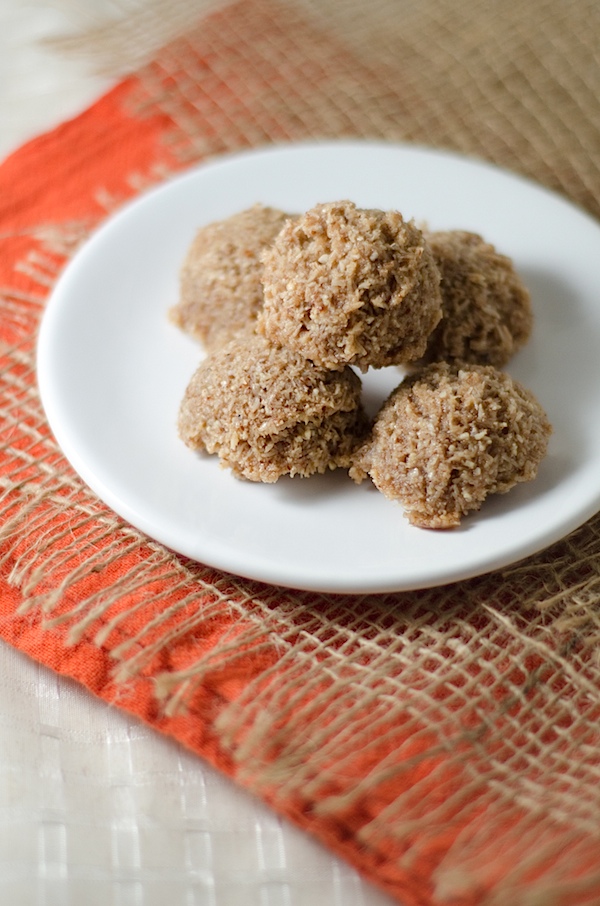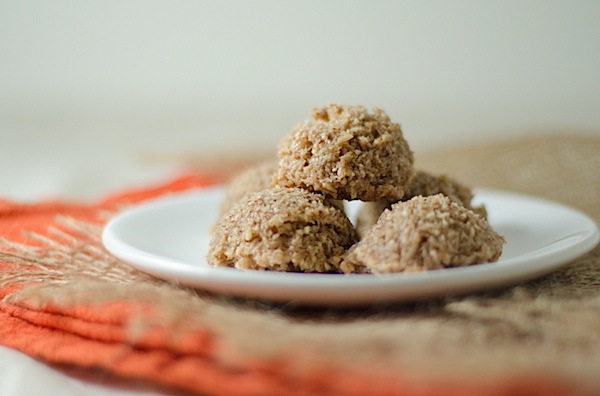 Cinnamon Pecan Dehydrated Coconut Macaroons
Here's a healthy treat made with coconut, cinnamon, and pecans. These sweet, chewy bites are fun to make but hard to resist. Yum! They'd probably even be a fun project to do with your kiddos (except for the food processor part, of course) – they'd probably rather help mix ingredients and form the macaroons, riiight? Either way, they'd make a fun weekend project you can prep for the week ahead.
I like to prep these in the evening and let them work overnight. Just make sure you leave enough time for them in the morning to cool to room temperature before you pack them up in tupperware (or whatever you use for storage).
Prep time: 20 minutes
Dehydrating time: 8-12 hours
Total time: 8 hours 20 minutes – 12 hours 20 minutes
Yields: about 2 dozen macaroons
*Vegetarian, Vegan*
Ingredients:
2 cups shredded coconut (finely shredded, not long flakes)
3/4 cups raw almonds, processed in a food processor to coarse flour consistency, about 1-2 minutes (or sub almond flour/meal)
3/4 cup pecans, processed in a food processor to flour consistency, about 1-2 minutes (or sub pecan meal)
2 teaspoon cinnamon
1/4 tsp salt
1/4 cup agave syrup
1/4 cup maple syrup
1/4 cup coconut oil, melted
1/4 cup brown rice syrup
1 tsp vanilla
1 tsp almond extract
Directions:
Combine all ingredients in a large bowl and mix till all ingredients are evenly combined.
Using a small ice cream scoop (1-inch deep), scoop mixture, pressing mixture into scoop to tightly pack. Remove macaroon from scoop, press together to create a well-formed macaroon with a rounded top. Note: it may get a little wonky when you remove it from the scoop, so just carefully re-form. Also, this mixture is quite wet, so it may seem tricky to form the macaroons, but be patient and try to pack them really tightly in the scoop before removing.
Place macaroons, well-spaced, on dehydrator trays.
Dehydrate for 8-12 hours, depending on how fast your machine works or how you like the texture of your macaroons. NOTE: 8 hours should yield very tender macaroons. The 12 hour batch is a little tougher on the outside and super-tender on the inside. I found I liked mine dehydrated a bit longer than the original macaroon recipe since this mixture is more wet.
Allow them to cool before eating. I like mine at room temperature. Enjoy!
Click here to check out my original dehydrated coconut macaroon recipe!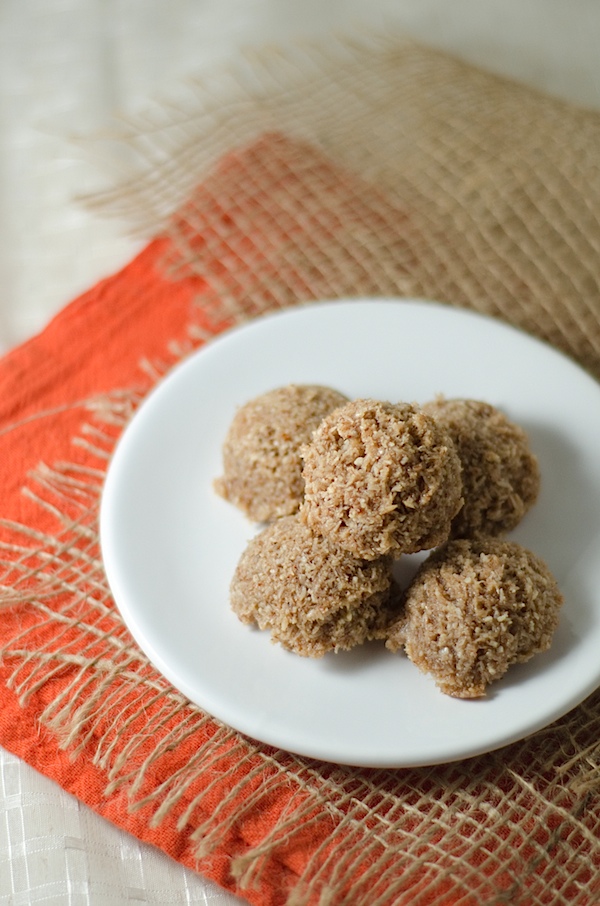 Make them in the evening and wake up to fresh-made coconut macaroons!
Reader question: What macaroon flavor would you like to see next?