New Holiday Cookie Recipe
Here's another idea for a great cookie to make this holiday season – melt-in-your-mouth Cinnamon Maple Peanut Butter Cookies.
When I saw some organic peanut butter on sale for $1.99 a jar, I knew I had to get some. Specifically, I had to purchase some so I could experiment with a recipe I've always wanted to play with – the classic peanut butter cookie. In researching the recipe, I discovered there are two main types of peanut butter cookie – with and without flour. While the idea of a flourless peanut butter cookie sounded interesting, I decided to work up a batch that had flour. But, I wanted to change it up a bit. I used maple syrup for the sweetener and added a touch of cinnamon.
The maple syrup gave these cookies a really interesting and smooth texture. In fact, I first thought these cookies would be a fail. I noticed when I was rolling the dough balls in a bowl of cinnamon sugar that the dough was wetter than I thought it would be. It wasn't difficult to work with, just not as firm as I expected. And the baked up cookie crumbled a little easier than I would have liked. The worst part – I'd made an experiment recipe to take to a pot luck hot dog party with some of my friends. Oh no…would they hate them?
I went ahead and brought the cookies to my friend's house and hoped for the best. I didn't ask any of them what they thought of the cookie because I felt like that would fishing for compliments and they'd say they were good even if they thought they were terrible. Still, several of my friends told me the cookies were really good. I didn't believe them. Surely, they were being polite. Then, one of them told me how much she liked the flavor twist. She wasn't sure what it was but when I confirmed it was maple syrup and cinnamon, she got really excited and said she loved maple syrup. Things were looking promising. But, I was still unconvinced that the cookies were worthy of being shared here on the blog.
It wasn't until we were headed back to the kitchen to get our tupperware to take home that I believed this recipe could go up here on The Chic Life. As we entered the kitchen, there was a man standing there I'd never seen before, and he was gobbling up the cookies and saying they were delicious and that it was like they "melted in your mouth." Yesssssss! For a stranger to say he liked the cookies without knowing I made them, that had to mean they were good. I told him we brought them and offered for him to take some before we left. He quickly grabbed another two. I offered more to my friends who had hosted they party, and they took some more, too. And with that, it was decided – I would share the recipe with you guys!
Cinnamon Maple Peanut Butter Cookies Recipe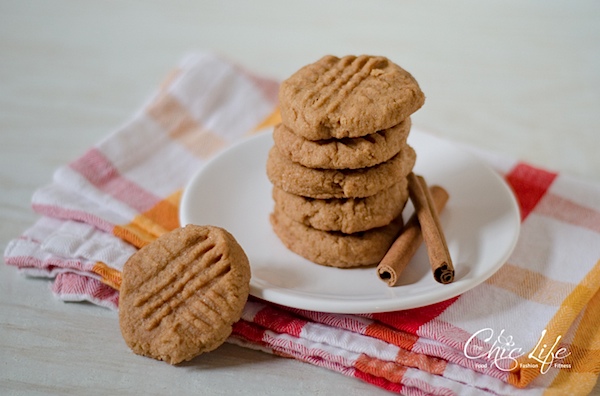 Oh, and that whole crumbly-texture thing…definitely more of a melt-in-your-mouth quality. That's what I'm going with, at least.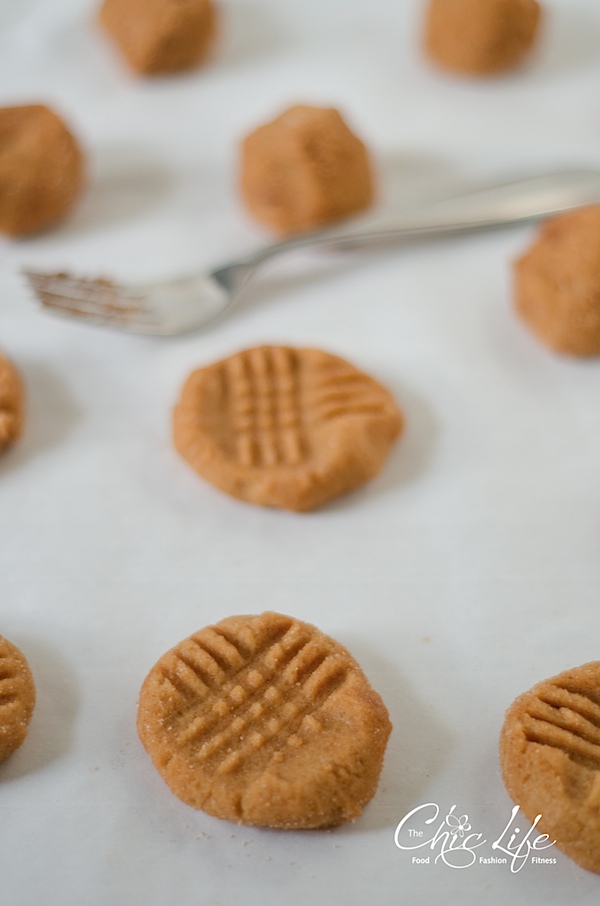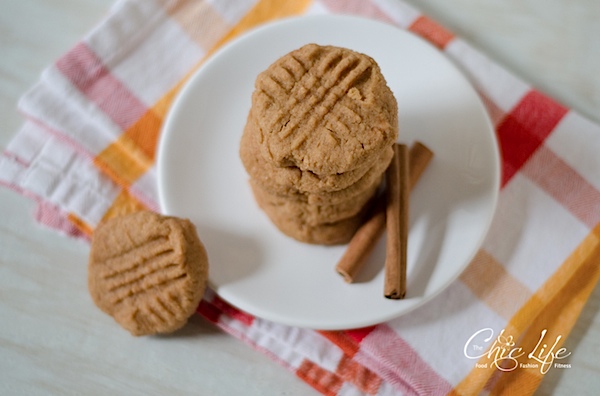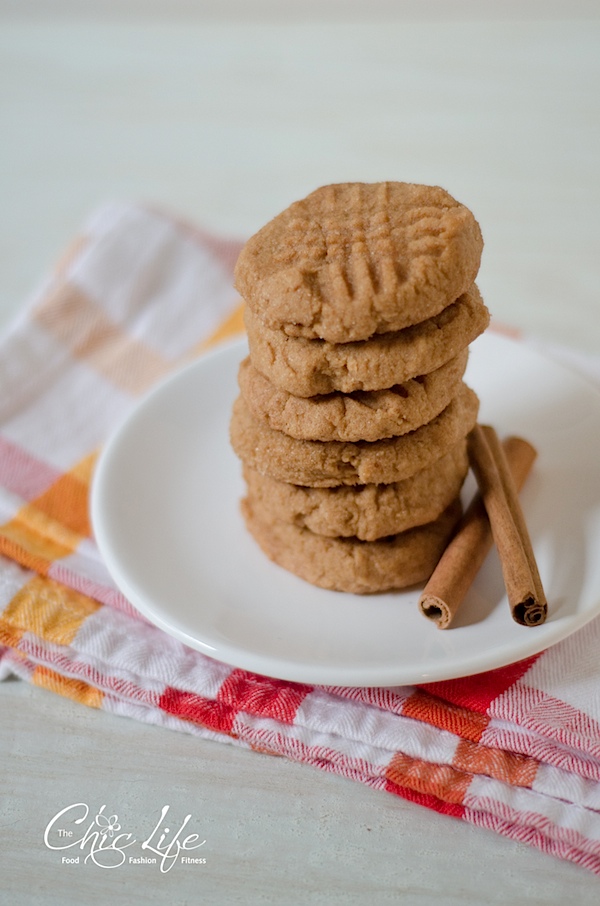 You can use coconut sugar instead of granulated sugar to keep this recipe refined sugar free.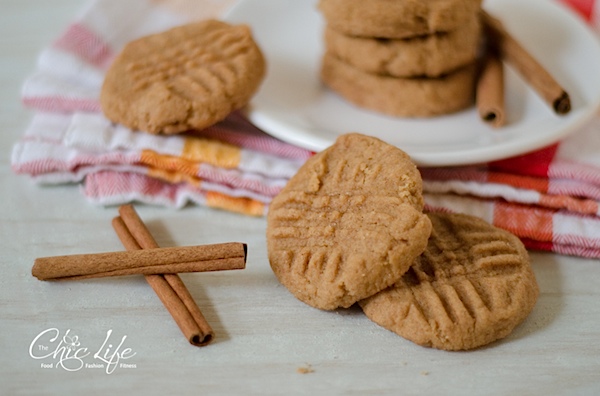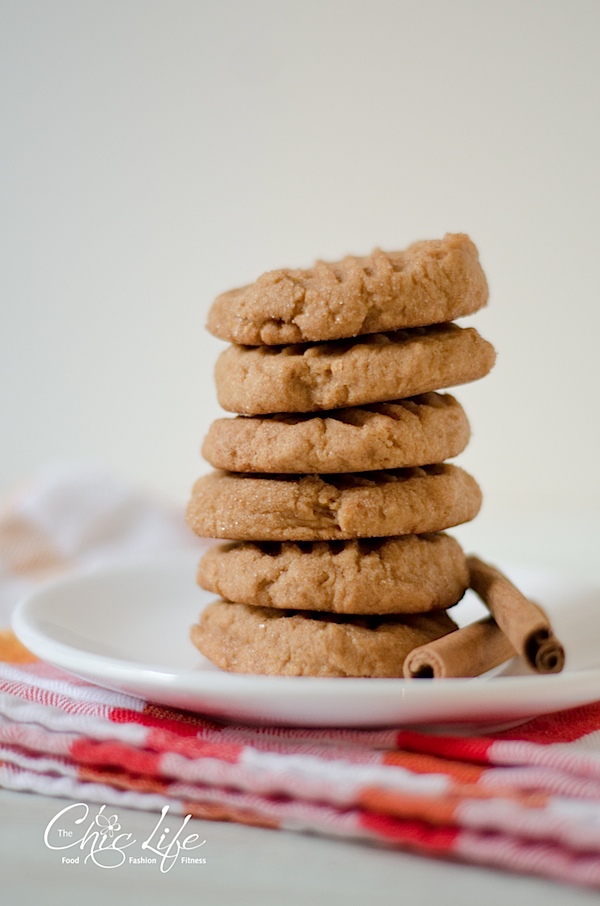 Print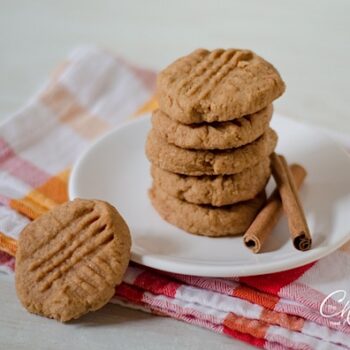 Cinnamon Maple Peanut Butter Cookies Recipe
Author:

Prep Time:

15 mins

Cook Time:

10 mins

Total Time:

25 mins
---
Description
I switched up the flavors of the class peanut butter cookie by using maple syrup as the sweetener and adding cinnamon for a little extra kick. Rolling the dough balls in a cinnamon sugar mixture helps drive the cinnamon flavor home. The resulting flavor is familiar but new. The texture isn't chewy, but more of a melt-in-your-mouth bite.
*Vegetarian*
---
1 1/2 cups

all-purpose flour

1/2 teaspoon

ground cinnamon, plus 1/2 teaspoon

1/4 teaspoons

baking soda

1/4 teaspoon

baking powder

1/4 teaspoon

salt

1/2 cup

unsalted butter (or sub vegan butter, like Earth Balance)

1 cup

crunchy peanut butter

3/4 cup

maple syrup

1

egg (or sub flaxseed egg – stir together 1 tablespoon ground flaxseed with 3 tablespoons water and let sit for

10

minutes)

1/4 teaspoon

vanilla extract

1/4 cup

granulated sugar (preferably raw)
---
Instructions
Pre-heat oven to 350 degrees F. Prepare baking sheets with parchment paper.
Mix sugar and cinnamon together in a small bowl and set aside.
Whisk dry together
Mix butter and peanut butter till creamy (I used a handheld mixer). Add maple syrup, egg, and vanilla and mix till just combined.
Mix wet into dry till just combined (careful to not overmix).
Use small sorbet scoop (or two spoons) to form small balls (about 1″ in diameter). Dough will be very soft, but gently roll each ball in cinnamon sugar mixture and return to baking sheet. Use a fork to press criss-crosses into the top of each cookie, pressing gently. Cookies should be about 1/4-1/3″ tall/thick.
Bake 8-12 minutes depending on oven temperature variation (if using 2 racks in oven, rotate baking sheets halfway through baking process) Note: Mine were done at 10 minutes.
---
Recipe Card powered by
Hope you like this Cinnamon Maple Peanut Butter Cookies Recipe.
***
More Cookie Recipes
Here are more holiday cookie ideas:
And be sure to check out this holiday cookie round up by Snappy Gourmet (click).
***
Your Feedback
And I LOVE your comments! Thank you so much for your feedback – whether you stop by here and leave a comment, post on my Facebook wall, tweet me, or email me. I love hearing from you!
Here's a sweet comment from Facebook about these cookies – Thank you so much, Nicole!:

And here's a comment on Pinterest about this hot chocolate recipe – Thank you, Sherene!: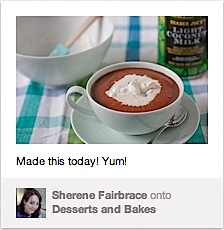 ***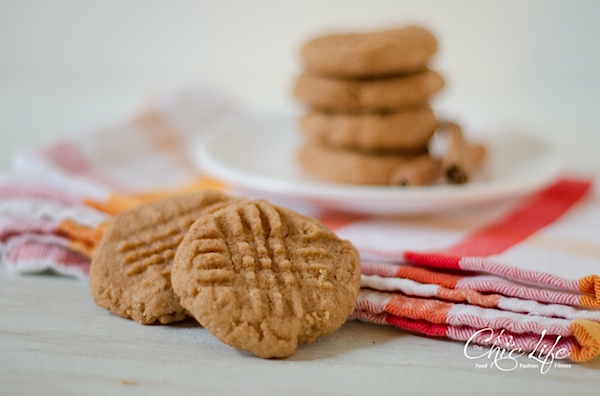 Christmas Vacation
I got some last minute shopping done yesterday morning. I woke up super early to beat the mall traffic and take advantage of the extended hours. The strategy totally worked as the mall was almost empty. Yes! I have all my gifts lined up…now, I just have to wrap all of them. One of these years I'll get this done earlier.
We're getting ready to head out to visit my family for Christmas. I have the next week off from work, and I'm SO excited! I've been hoarding these days all year, and I'm so ready for a vacation! I'm hoping for a good mix of downtime with our families with some time to get stuff done at our house.
Reader question: Christmas gift shopping – what's your style – early or late?
Also, what are your plans for the holiday season?