For my US friends, it's almost Thanksgiving time!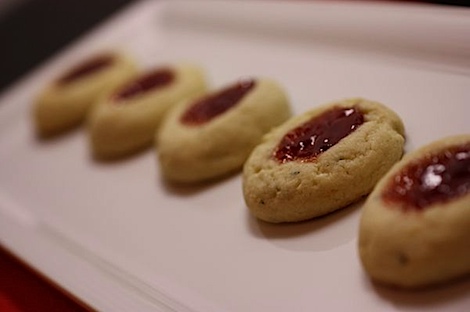 I have a fun new cookie recipe to share with you guys, but first…today's eats.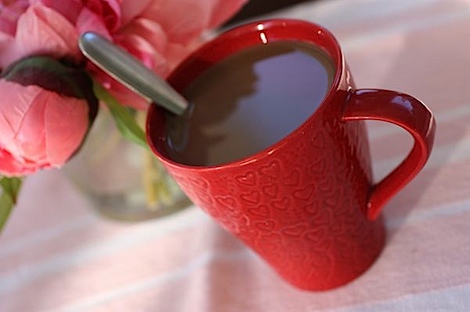 I haven't done a coffee photo in awhile, so here's my cuppa joe from today. It's a locally roasted coffee that hubby and I got from the farmer's market.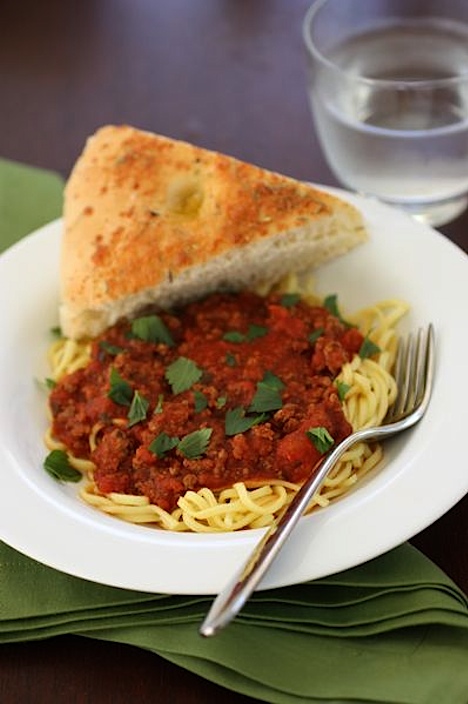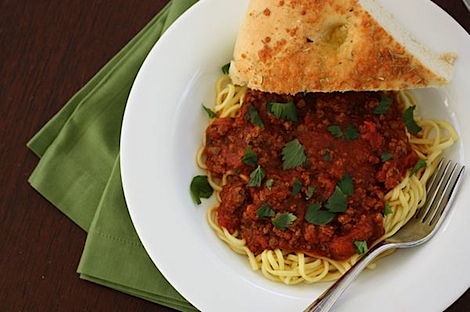 Lunch was simply leftover spaghetti and foccacia from last night. I love how spaghetti is pretty tasty the day-after.
Re-heating fresh pasta tip: just drop the pasta into boiling water for 30-60 seconds till it's warm again. It's sooooo much better this way than using the microwave.
***
I ended up taking a half day today. I was ready for my holiday to start. I'll probably wish I had my half day still when it comes time for Christmas, but I was happy to take off from work around 1pm today and get into a more festive mood with some baking.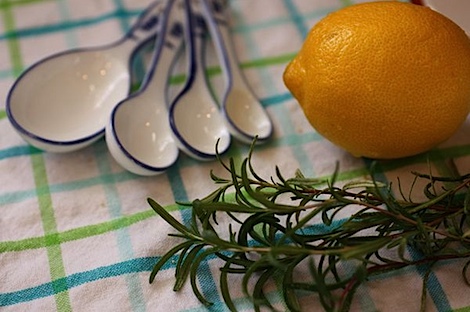 I had a really special project in the works – an original creation utilizing rosemary and lemon.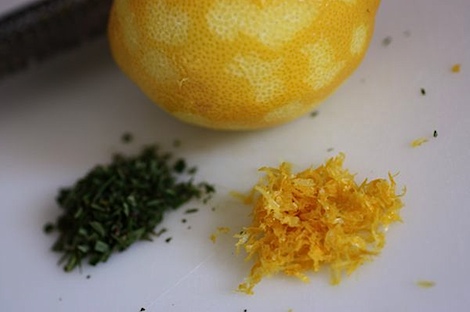 The rosemary is actually from my herb garden. Woohoo!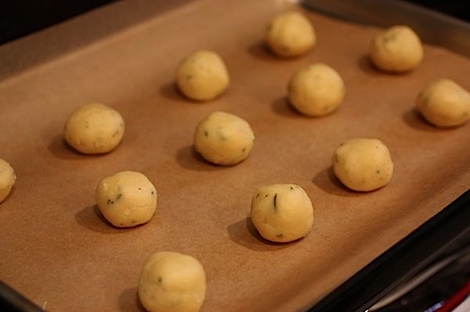 I decided to try a new flavor profile for thumbprint cookies. I started by rolling my chilled cookie dough into about 1-inch balls.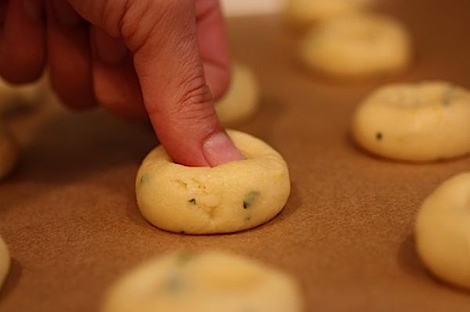 Then I pressed an indentation into the top of each ball…thus the name. 😉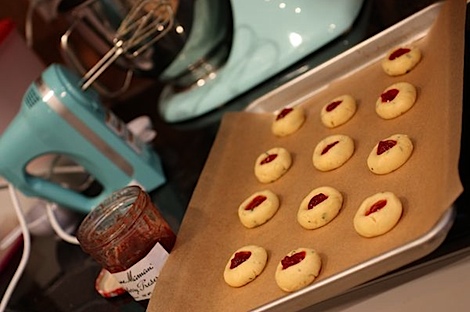 The last step before baking is to fill the cookies with strawberry preserves.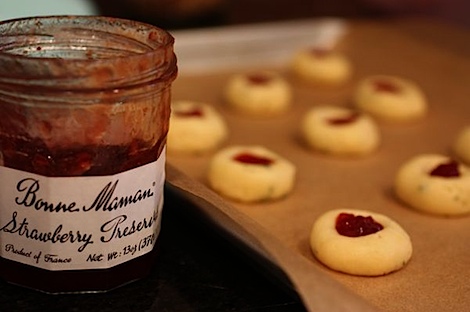 I like the Bonne Maman brand, though I typically wait till it's on sale to buy it.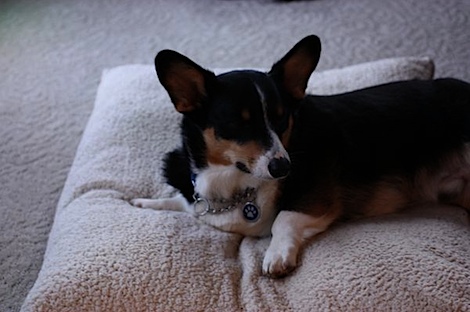 While my cookies baked, I got ready for the day and snapped a couple Bailey shots.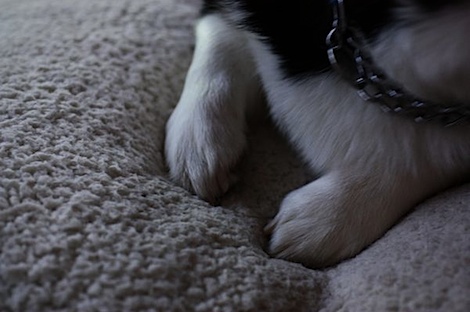 I just love his little pawsl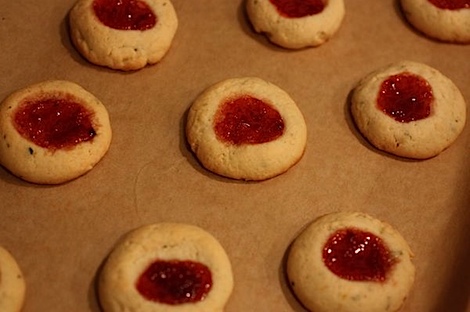 Post-baking. These guys made my kitchen smell so divine!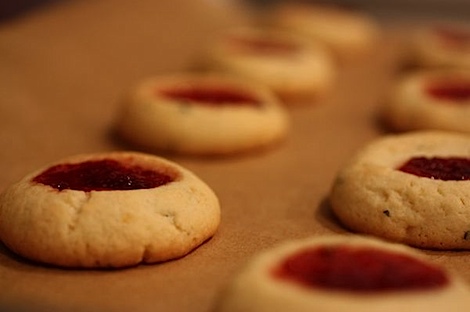 Much like the dough balls, they won't really brown much on top. You can tell they're done with they start to brown just so around the bottom edge of the cookie.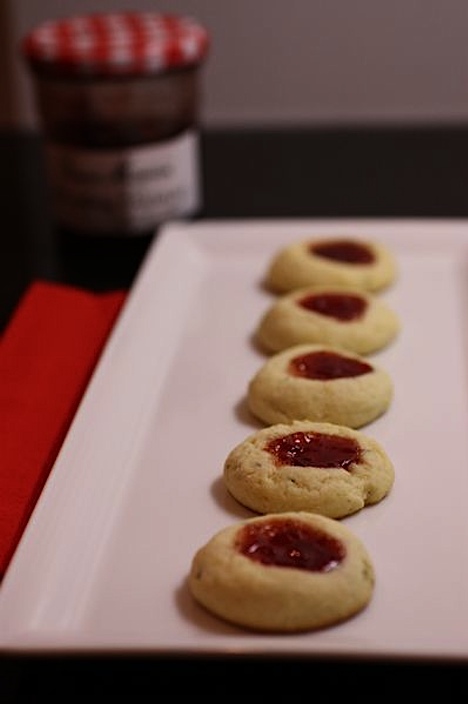 I'm not typically very good at coming up with baking ideas (working on it, though), so I'm especially proud of this little concoction. I don't even know where I got the flavor idea from…guess that's what happens when you constantly brainstorm recipe ideas. 🙂 lol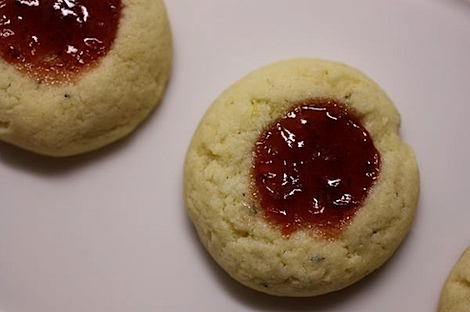 The cookies were so darn good I ended up eating 4 of them after they came out of the oven (with a little time for cooling of course)!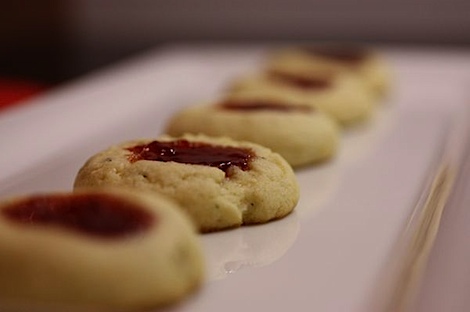 I think the recipe may possibly be better for a spring recipe…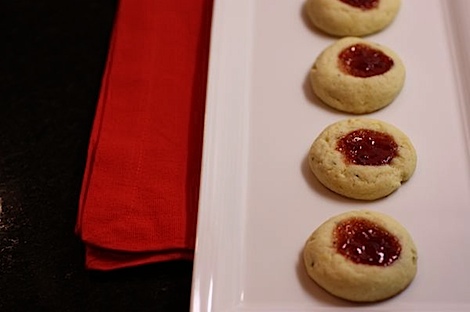 …but who cares, right? To me, these cookies are good any time.
Lemon Rosemary Thumbprint Cookies with Strawberry Preserves
Makes 20 cookies
Ingredients:
1 1/2 cups unbleached all-purpose flour
1/2 tsp salt
1/2 cup plus 1 tbsp granulated sugar
3/4 stick butter, softened/room-temp
1 egg (or flaxseed-egg)
1 tsp fresh rosemary chopped fine (this amount is for a subtle flavor, use more rosemary for a stronger flavor)
1 tsp fresh-squeezed lemon juice
1/2 lemon zested
strawberry preserves (suggested brand is Bonne Maman)
Directions:
Pre-heat oven to 350 degrees F. Prepare baking sheets with parchment paper.
In a large bowl, whisk together flour and salt.
In a medium bowl, mix sugar and butter till creamy. (I used a handheld mixer, but you could probably just use a whisk). Add egg, rosemary, lemon zest, and lemon juice and mix till combined.
Mix wet into the dry. Note: it may appear there is not enough liquid for the amount of dry ingredients, but continue mixing. It will form into a dough, it will just be a firm dough. See tips above for combining. Careful to not overmix.
Refrigerate dough for at least 30 minutes before forming dough into 1-inch balls. Press your thumb into the top of the dough balls to form an indentation. Fill each indentation with 1/4 tsp of strawberry preserves. Note: Be careful to not cross-contaminate your preserves. Don't let the spoon you're using to fill the cookies touch your preserves container. If you're worried, move a small amount into a bowl separate from the preserves container.
Bake balls for 13-17 minutes, depending on how soft or crunchy you want your cookies, plus to allow for differences in over temperatures. Note: The tops will not really brown, but the bottoms will. You can tell your cookies are done if the bottom edges start to brown.
Let your thumbprint cookies rest on the baking sheet to cool at least 5-10 minutes.
Enjoy!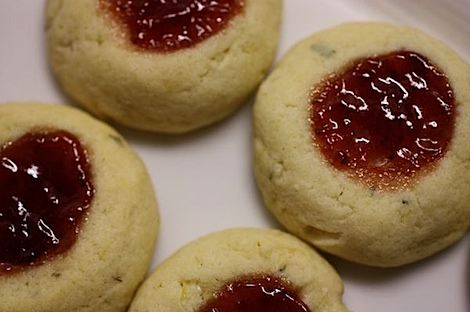 Hello beautiful cookies!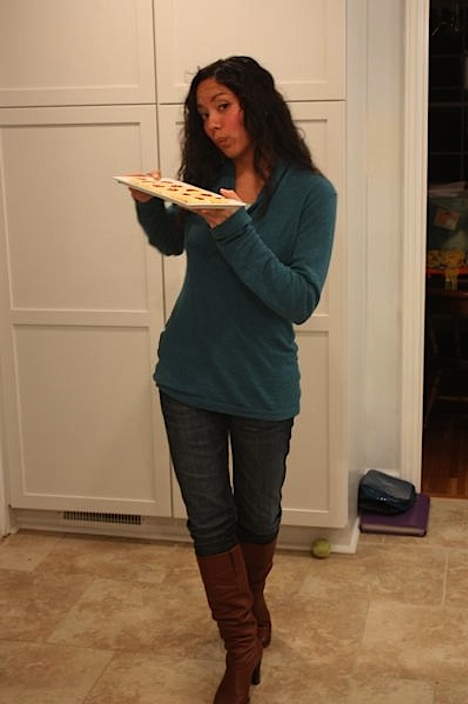 I actually also baked some butterscotch dough balls along with this new flavor to take to a Thanksgiving Eve party.
(not sure what's going on with my mouth but the rest of my photos from tonight look weird, too, so this will have to do. haha)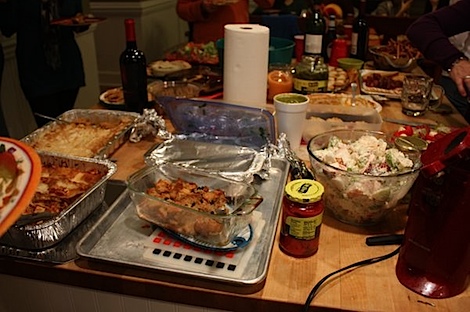 There was an insane amount of food at the party!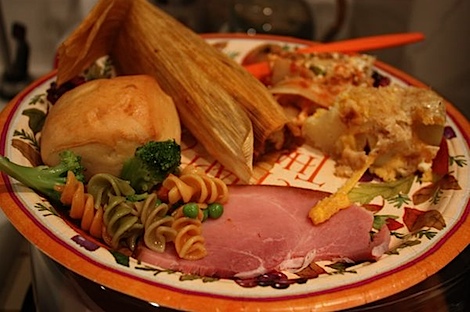 I normally try to get a bit of everything, but there was just too much! I ended up with some pasta salad, ham, a tamale (love!), cheesy baked potatoes, lasagna, and a roll.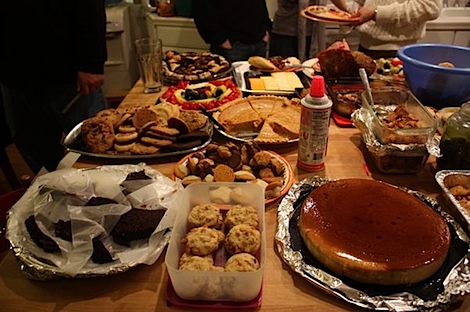 I was actually so full from the savory eats that I didn't dig too far into the dessert table. I had a Caribbean coconut cookie and some thin Moravian-like cookies.
Wishing everyone safe travels and fun times with your friends and family!
Happy Thanksgiving Eve friends!
And congrats to Kate and Nate on the birth of their adorable son! 🙂
What food item are you MOST looking forward to on the Thanksgiving table?