How's everyone doing with their new year resolutions, goals, and (if you're playing) Eat in Month? I haven't done an "eats" post in awhile, so I thought I'd share what I had on January 1st to kick off the new year and Eat in Month. I had the day off from work, so I had time to whip up some great dishes. Look for some of these coming back on the blog in recipe form! Oh, and be sure to check the blog on Friday when I'll share a recipe round-up of some *quick* (about 30 minutes or less) recipes.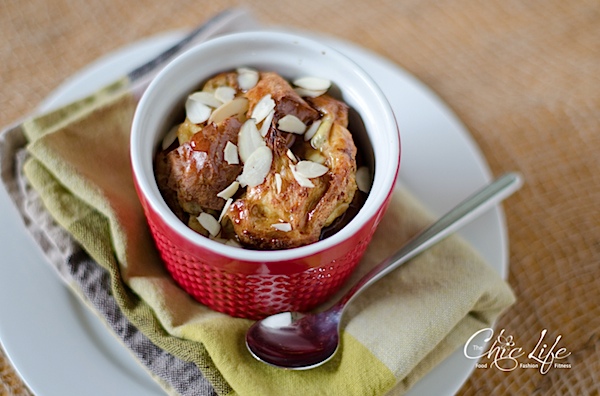 I had some leftover challah in the fridge, so I thought I'd do a play on French toast but more in the form of bread pudding for this Individual Challah Breakfast bread pudding.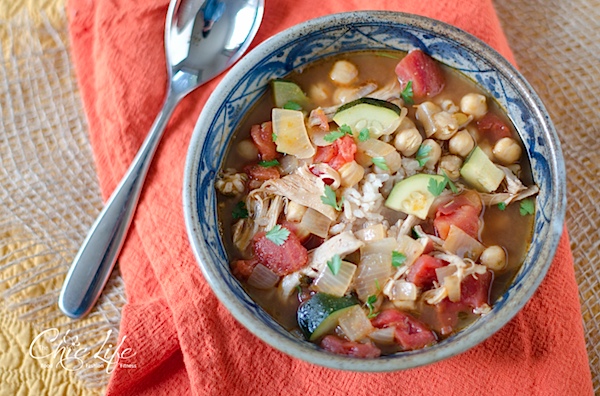 I had leftover Spiced Chickpea Stew over brown rice for lunch. Can't wait to share this recipe! It made about 8-10 servings, so will yield plenty you can freeze for a rainy day.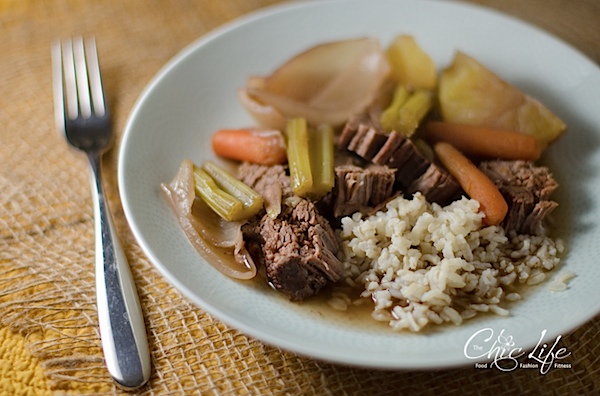 I tried a new type of pot roast, this time braised in red wine. I was on the fence about the result, but hubby really liked it, so I may share. Slow cookers are going to be my friend in January. Plus, I love how roasts usually yield plenty of leftovers for later.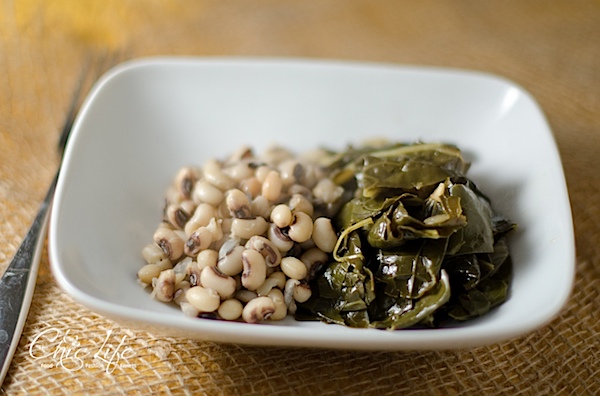 And since it was the new year, I definitely had to have some black eyed peas and collard greens. I had actually forgotten about this tradition until I was the grocery store stocking up for Eat in Month. I went to see if any beans were on sale, but only one kind was…and it was wiped out. What was it? Black eyed peas! Doh. I was worried I'd blown my chance at bringing home some black eyed peas until I remembered that I'd seen some in the fresh produce area one time before. Lucky me, there were a couple of the fresh packaged ones left (and they were on sale, too). I didn't like them as much as the canned ones. I have a quick and easy way to cook the canned kind, but this one just said to boil in water for 20 minutes and to not overcook. I played with it a bit, and it still came out good, but not quite as good as the version I normally do.
I actually went to a Zumba class on the first day of the year, so I didn't get home till a little late. I had intended to slow-cook the collards, but just did a quick braise since it was already so late. They actually came out really good despite the short cook time. Oh, and chocolate chip dough balls were my new year dessert. I did the frozen-dough version, so I have more stocked away in the freezer to bake away whenever I'm feeling one. Yes!
I'm so happy with the first day of 2013 eats. I hope I can keep this up the rest of the month and the rest of the year!
Happy New Year! Thanks for reading!